Appendices
Appendix D: The HealthMap System
SYSTEM OVERVIEW
In the past 15 years, internet technology has become an integral part of public health surveillance. Information about infectious disease outbreaks is disseminated not only through online communications by government agencies but also through informal channels, ranging from press reports to blogs to chat rooms. Collectively, these sources provide a view of global health that is fundamentally different from that yielded by traditional public health infrastructure. Web-based sources provide valuable epidemic intelligence by disseminating current, highly localized information about outbreaks, especially in areas that have limited public health capacity.
HealthMap (www.healthmap.org) was developed with the aim of creating an integrated global view of emerging infectious diseases, based not solely on traditional public health datasets but rather on a broad range of available information sources, including these informal Internet channels. HealthMap is a publicly available online resource that collects, filters, and visualizes disease outbreak reports in real time, by means of a series of automated text-processing algorithms. Sources include online news through aggregators such as Google News, expert-curated discussion such as ProMED-mail, and validated official reports from organizations such as the World Health Organization (WHO). Disease outbreak reports are collected in 7 languages (English, French, Russian, Spanish, Arabic, Chinese, and Portuguese), classified by disease and location, and then mapped to a user-friendly, interactive display (see Figure D-01).
The system also allows disease experts and public health professionals to submit events not collected by the automated system, through both the web interface and by mobile applications (www.healthmap.org/outbreaksnearme). The "Outbreaks Near Me" mobile application uses GPS technology to show health alerts and ongoing outbreak news in the vicinity of the user. The application also allows users to search for outbreaks in specific locations worldwide.
Currently, HealthMap serves as a direct information source for over a million visitors a year and serves as a resource for libraries, physicians, international travelers, local health departments, governments, and multinational agencies (such as WHO), which use the HealthMap data stream for day-to-day surveillance activities. CDC has a relationship with HealthMap that includes a specific layer of the map used to geolocate travel-related illness detected by the GeoSentinel global surveillance system. HealthMap extracts data and provides a user interface that is particularly focused on providing users with news of immediate interest, while reducing information overload.
HEALTHMAP DATA VISUALIZATION AND DISSEMINATION
The freely available HealthMap site presents users with a customizable map view of worldwide infectious disease alerts. An advanced search area allows users to control the map view, including the ability to filter by source, date, disease, and region. "Full screen" mode expands the map to cover the full browser window, allowing richer visual display and navigation.
Automated e-mail alerts of infectious disease reports are also available from HealthMap. As with the website, users may customize these e-mails to receive only information corresponding to specific parameters.
Automated surveillance of Internet information sources provides a method for creating a timely, sensitive, and comprehensive view of worldwide emerging infectious diseases. Mining the web is a valuable new approach that can play a useful role in the efforts of public health practitioners and clinicians. Ultimately, HealthMap's integration of real-time, web-based infectious disease surveillance works to augment epidemic intelligence with information from outside the traditional public health infrastructure to enhance situational awareness of disease threats.
Figure D-01. Screenshot of HealthMap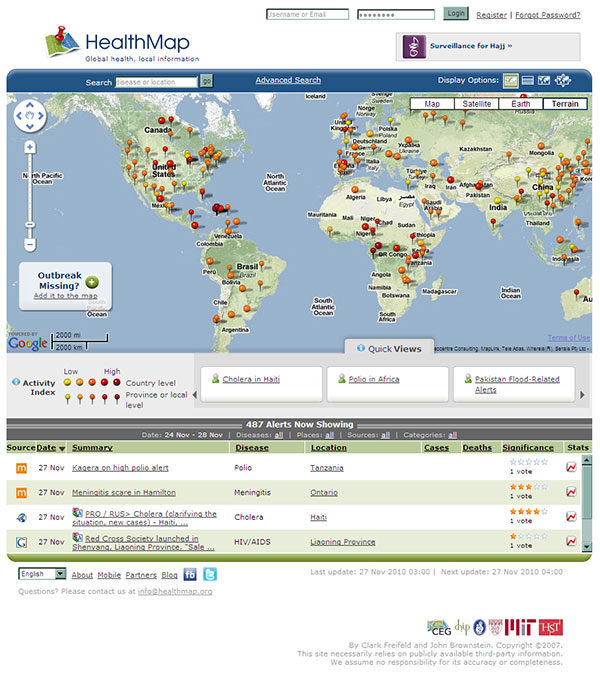 BIBLIOGRAPHY
Brownstein JS, Freifeld CC, Madoff LC. Digital disease detection—harnessing the web for public health surveillance. N Engl J Med. 2009 May 21;360(21):2153–5, 7.
Brownstein JS, Freifeld CC, Reis BY, Mandl KD. Surveillance sans frontieres: internet-based emerging infectious disease intelligence and the HealthMap project. PLoS Med. 2008 Jul 8;5(7):e151.
Freifeld CC, Mandl KD, Reis BY, Brownstein JS. HealthMap: global infectious disease monitoring through automated classification and visualization of Internet media reports. J Am Med Inform Assoc. 2008 Mar–Apr;15(2):150–7.
Contact Us:
Centers for Disease Control and Prevention
1600 Clifton Rd
Atlanta, GA 30333
800-CDC-INFO
(800-232-4636)
TTY: (888) 232-6348
New Hours of Operation
8am-8pm ET/Monday-Friday
Closed Holidays