Chapter 3
Infectious Diseases Related To Travel
Dengue Fever & Dengue Hemorrhagic Fever
INFECTIOUS AGENT
The 4 dengue viruses (DENV) are immunologically related, positive-strand RNA viruses of the genus Flavivirus, family Flaviviridae. These viruses cause both dengue fever (DF) and dengue hemorrhagic fever (DHF). Asymptomatic infection also occurs. Infection with 1 DENV produces lifelong immunity against reinfection with that DENV type but no long-term cross-protection against the other 3 DENV types (any cross-protection is ≤2 months).
MODE OF TRANSMISSION
Transmission occurs principally from the bite of an infected Aedes aegypti (and, less commonly, Ae. albopictus or Ae. polynesiensis) mosquito. Female mosquitoes acquire DENV by biting viremic humans and become infective after an extrinsic incubation period of 8–12 days. The infected mosquito can then transmit DENV for the rest of its life (the mosquito lifespan is approximately 1 month).
Less common modes of DENV transmission include through exposure to DENV-infected blood, organs, or other tissues via blood transfusion, solid organ or bone marrow transplantation, and nosocomial injury (needlestick or mucous membrane contact with spilled blood). DENV can be vertically transmitted from an infected woman to her fetus in utero or to the infant during childbirth. Direct person-to-person transmission has not been documented.
EPIDEMIOLOGY
DENV infections have been reported in over 100 countries in Africa, the Americas, the Caribbean, Eastern Mediterranean, Southeast Asia and the Western Pacific regions (Maps 3-01 and 3-02). The World Health Organization (WHO) estimates that 50 million cases of dengue occur every year, and 500,000 (1%) require hospitalization. The geographic spread of dengue is similar to that of malaria, but unlike malaria, dengue is often found in populated urban and residential areas of tropical nations. Travelers are advised to consult CDC (www.cdc.gov/dengue/travelOutbreaks/index.html) and WHO (http://www.who.int/topics/dengue/en/ websites to determine if dengue is endemic in the country they plan to visit and if an outbreak is ongoing.
Several dengue outbreaks have been detected in the continental United States since 1980, including 7 outbreaks in southern Texas along the United States-Mexico border, one outbreak in Hawaii in 2001, and 2 outbreaks in southern Florida in 2009 and 2010. Several southeastern states have a nearly year-round Aedes population, a susceptible human population, and ample opportunity for viral introduction from international visitors and returning US travelers. Differences in housing (use of air conditioning and screens, for example) and lifestyle, however, may prevent dengue from becoming endemic in these states.
Cases of DF and DHF are confirmed every year among travelers returning to the United States. However, it was not until June 2009 that DENV infections became nationally reportable in the United States, so case reporting among travelers before January 2010 is limited. Infection rates (based on serology) among febrile travelers returning from dengue-endemic areas in the tropics are 3%–8%. In a recent study of 17,353 ill travelers seen at GeoSentinel surveillance network clinics, dengue was the leading cause of systemic febrile illness among travelers returning from the Caribbean, South America, south-central Asia, and Southeast Asia. In some case studies, dengue is the second most common cause of hospitalization (malaria is the most common) among travelers returning from the tropics.
Published data are limited on the health outcomes associated with DENV infection among pregnant women and the effects of maternal DENV infection on a developing fetus. Vertical transmission can occur, and peripartum maternal infections may increase the likelihood of symptomatic disease in the newborn. Of the 24 vertical transmission cases described in the literature, average time of onset between maternal and neonatal onset of fever was 7 days (range, 5–13 days). All cases presented with fever and thrombocytopenia, and many also had hepatomegaly and hemorrhage. Transplacental transfer of maternal IgG anti-DENV (from a previous maternal infection) may place infants at higher risk for DHF if they acquire DENV infection during the second half of their first year of life.
Map 3-01. Distribution of dengue, Western Hemisphere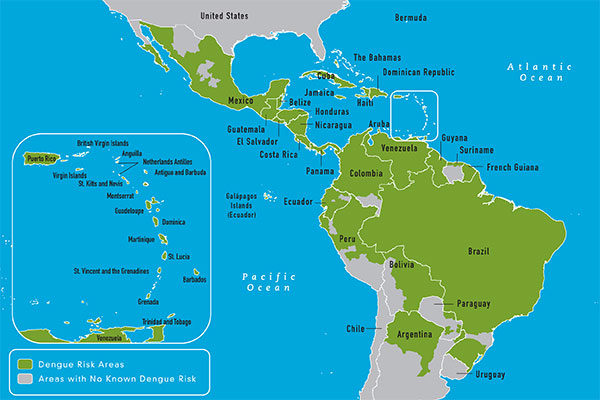 Map 3-02. Distribution of dengue, Eastern Hemisphere
CLINICAL PRESENTATION
Dengue should be considered in the differential diagnosis of all febrile patients with a history of travel to the tropics and subtropics in the 2 weeks before symptom onset. The incubation period is typically 4–7 days (range, 3–14 days). A mild febrile infection with DENV may not be identified as DF. Many travelers infected with DENV for the first time have mild, undifferentiated febrile illness or are asymptomatic. However, subsequent infections with DENV are usually associated with more severe disease. DF is defined clinically by WHO as an acute febrile illness with 2 or more of the following: headache, retroorbital pain, muscle aches, joint pain, rash, hemorrhagic manifestation, or leukopenia. The rash usually appears as the fever subsides and lasts 2–4 days. The rash is either macular or maculopapular and generalized, often confluent with small patches of normal skin, and it may become scaly and pruritic. Other signs and symptoms include flushed skin (usually during the first 24–48 hours), nausea, and vomiting. Approximately 1% of patients with DF develop DHF as the fever subsides (usually 3–8 days after the onset of fever). Subsequent infection with a different DENV is usually associated with more severe disease.
Increased vascular permeability and plasma leakage differentiates DHF from DF. DHF is characterized by all of the following: fever or history of fever lasting 2–7 days, evidence of hemorrhagic manifestation or a positive tourniquet test, thrombocytopenia (≤100,000 cells/mm3), evidence of plasma leakage including hemoconcentration (an increase in hematocrit ≥20% above average for age or a decrease in hematocrit ≥20% of baseline after fluid replacement therapy), pleural effusion, ascites, or hypoproteinemia. Thrombocytopenia by itself does not indicate DHF. Dengue shock syndrome (DSS) is defined as a syndrome in a patient who meets the criteria for DHF and has hypotension, narrow pulse pressure (≤20 mm Hg), or frank shock.
DIAGNOSIS
A suspected case of dengue can be laboratory confirmed by using a combination of the following in a single serum specimen: detection of DENV genomic sequences or detection of DENV antigens (nonstructural protein 1; NS1 antigen) and serologic testing for IgM anti-DENV. Detection of DENV genomes or NS1 antigen is used primarily in the acute febrile stage of the illness (≤5 days after symptom onset), and testing for IgM anti-DENV is used primarily >5 days after fever onset.
Although DENV can be isolated in cell culture from serum, cerebrospinal fluid, or autopsy tissue specimens, this method is not particularly useful in this era of molecular diagnostic testing. Specific DENV genomes can be routinely identified by RT-PCR from serum or plasma, cerebrospinal fluid, or autopsy tissue specimens. NS1 antigen circulates in blood during the period of viremia, and several immunoassays are available. DENV antigens can be identified in tissue specimens by immunofluorescence or immunohistochemical analysis. The primary serologic test for DENV in patients with acute illness is IgM anti-DENV, which becomes positive >5 days after symptom onset.
Other approaches to laboratory confirmation include the following:
Seroconversion (negative to positive) to IgM anti-DENV from acute-phase (<5 days after fever onset) specimens to convalescent-phase (>5 days after symptom onset) specimens
≥4-fold rise in reciprocal IgG anti-DENV titer or hemagglutination inhibition titer to DENV antigens in acute- and convalescent-phase serum samples
IgM anti-DENV in cerebrospinal fluid
In combination with a compatible travel history and symptom profile, IgM anti-DENV in a single serum sample suggests a probable recent DENV infection. However, IgG anti-DENV in a single serum sample can indicate either a recent or past DENV infection. Caution should be exercised when using only antibody testing results (IgM or IgG anti-DENV) from a single specimen, because DENV antibodies cross-react with antibodies from other flaviviruses, such as West Nile, yellow fever, and Japanese encephalitis viruses. Previous infection or vaccination with another flavivirus may result in false-positive IgG or IgM anti-DENV results.
There are several commercially available diagnostic tests for dengue; however, none have been approved by the Food and Drug Administration. Testing is available at some state laboratories. Testing is also available through CDC (see "Requesting Dengue Laboratory Testing and Reporting" at www.cdc.gov/Dengue/clinicalLab/index.html). Acute- and convalescent-phase serum samples should be sent through state or territorial health department laboratories to CDC at 1324 Calle Cañada, San Juan, Puerto Rico 00920-3860. Serum samples should be accompanied by clinical and epidemiologic information, including the date of disease onset and sample collection and the patient's detailed recent travel history. For additional information, contact the CDC Dengue Branch (787-706-2399) or see www.cdc.gov/dengue.
TREATMENT
No specific therapeutic agents exist for dengue virus infections. Encourage bed rest and maintenance of fluids to prevent dehydration while the patient is febrile. Control fever with acetaminophen. Headache, eye pain, joint pain, and muscle ache may require narcotics. Aspirin, aspirin-containing drugs, and other nonsteroidal anti-inflammatory drugs (such as ibuprofen) should be avoided because of their anticoagulant properties. Aspirin and other salicylates should be especially avoided in children because of the association with Reye syndrome.
Ask patients to watch for warning signs of DHF or DSS as the fever declines, and instruct them to go to the hospital if they develop any of the following warning signs: abrupt change from fever to hypothermia, severe abdominal pain, persistent vomiting, bleeding, difficulties breathing, or altered mental status (such as irritability, confusion, lethargy). Prompt and judicious intravenous administration of isotonic crystalloids and colloids in patients with DHF or DSS can improve outcomes. In patients with DHF or DSS, hospitalization with close monitoring of vital signs, fluid balance, and hematologic parameters (hematocrit, platelet count) is indicated, as well as additional supportive measures.
PREVENTIVE MEASURES FOR TRAVELERS
Neither vaccine nor drugs for preventing infection are available. The bite of one infected mosquito can result in infection. The risk of being bitten is highest during the early morning, several hours after daybreak, and in the late afternoon before sunset. However, mosquitoes may feed at any time during the day. Aedes mosquitoes typically live indoors and are often found in dark, cool places such as in closets, under beds, behind curtains, and in bathrooms. Travelers should be advised to use insecticides to get rid of mosquitoes in these areas and to select accommodations with well-screened windows or air conditioning when possible. Additionally, travelers should take measures to avoid being bitten by mosquitoes (see Chapter 2, Protection against Mosquitos, Ticks, and Other Arthropods). Long-term travelers and expatriates can take extra precautions to reduce mosquito-breeding sites around their accommodations by emptying and cleaning or covering any standing water (such as in water storage tanks and flowerpot trays).
BIBLIOGRAPHY
Cobelens FG, Groen J, Osterhaus AD, Leentvaar-Kuipers A, Wertheim-van Dillen PM, Kager PA. Incidence and risk factors of probable dengue virus infection among Dutch travellers to Asia. Trop Med Int Health. 2002 Apr;7(4):331–8.
Freedman DO, Weld LH, Kozarsky PE, Fisk T, Robins R, von Sonnenburg F, et al. Spectrum of disease and relation to place of exposure among ill returned travelers. N Engl J Med. 2006 Jan 12;354(2):119–30.
Gubler DJ. The global emergence/resurgence of arboviral diseases as public health problems. Arch Med Res. 2002 Jul–Aug;33(4):330–42.
Hunsperger EA, Yoksan S, Buchy P, Nguyen VC, Sekaran SD, Enria DA, et al. Evaluation of commercially available anti-dengue virus immunoglobulin M tests. Emerg Infect Dis. 2009 Mar;15(3):436–40.
Jelinek T, Dobler G, Holscher M, Loscher T, Nothdurft HD. Prevalence of infection with dengue virus among international travelers. Arch Intern Med. 1997 Nov 10;157(20):2367–70.
Lindback H, Lindback J, Tegnell A, Janzon R, Vene S, Ekdahl K. Dengue fever in travelers to the tropics, 1998 and 1999. Emerg Infect Dis. 2003 Apr;9(4):438–42.
O'Brien D, Tobin S, Brown GV, Torresi J. Fever in returned travelers: review of hospital admissions for a 3-year period. Clin Infect Dis. 2001 Sep 1;33(5):603–9.
Potasman I, Srugo I, Schwartz E. Dengue seroconversion among Israeli travelers to tropical countries. Emerg Infect Dis. 1999 Nov-Dec;5(6):824–7.
Schwartz E, Mendelson E, Sidi Y. Dengue fever among travelers. Am J Med. 1996 Nov;101(5):516–20.
Wichmann O, Lauschke A, Frank C, Shu PY, Niedrig M, Huang JH, et al. Dengue antibody prevalence in German travelers. Emerg Infect Dis. 2005 May;11(5):762–5.
Wilder-Smith A, Schwartz E. Dengue in travelers. N Engl J Med. 2005 Sep 1;353(9):924–32.
World Health Organization. Dengue haemorrhagic fever: diagnosis, treatment, prevention and control. 3rd ed. Geneva: World Health Organization; 2008.
Contact Us:
Centers for Disease Control and Prevention
1600 Clifton Rd
Atlanta, GA 30333
800-CDC-INFO
(800-232-4636)
TTY: (888) 232-6348
New Hours of Operation
8am-8pm ET/Monday-Friday
Closed Holidays