Chapter 4
Select Destinations
Egypt & Nile River Cruises
DESTINATION OVERVIEW
The Arab Republic of Egypt covers a land area of over 1,000,000 km2, approximately the same size as Texas and New Mexico combined, and >95% of the country is desert. With an estimated 80 million people, Egypt accounts for one-fourth of the Arab world's population. Egypt has long been considered the cradle of civilization and may be the oldest tourist destination on earth. Throughout the world, Egypt is synonymous with the legends of the Pharaohs, the Great Pyramids, treasure-laden tombs, and hieroglyphs. Millions of travelers visit Egypt each year to see the ancient monuments and timeless river vistas along the Nile Valley.
A typical visit to Egypt includes arrival in the capital city of Cairo, the largest city in Africa and the Middle East, with a population of over 16 million. Considered the "Mother of the World" by Arabs, Cairo today is a modern, cosmopolitan mix of Arab, African, and European influences. Travelers generally spend at least a few days in Cairo seeing the Egyptian Antiquities Museum, the Pyramids at Giza, the Citadel and Mosque of Al-Azhar, and Khan al-Khalili bazaar.
Most travelers include an Upper Nile River cruise as part of their itineraries. Nile River cruises are usually 3–7 days, with embarkation in either Luxor or Aswan. Riverboats do not sail through Middle Egypt because of security concerns; therefore, most travelers take short domestic flights or trains from Cairo to Luxor or Aswan. Approximately 200 large riverboats cruise the Nile, and the average boat accommodates 120 passengers. The largest boats accommodate upwards of 300 passengers; chartered yachts might have just a few cabins. Riverboats have a range of accommodations from basic to 5-star luxury, and nights aboard are generally spent cruising from one port to the next.
Virtually all Nile cruises sail between Luxor and Aswan. There are 3 usual Nile cruise durations and itineraries: a 3-night cruise from Aswan to Luxor, a 4-night cruise from Luxor to Aswan, and a 7-night cruise roundtrip from Luxor. A standard itinerary is as follows:
Day 1: Fly from Cairo to Aswan or Luxor. Stay in a hotel for the first night and spend the afternoon and early the next morning visiting the sites (High Dam and Abu Simbel temple in Aswan or Karnak Temple, Luxor Temple, Valley of the Kings, and Hapshepsut Temple in Luxor).
Day 2: Board the Nile riverboat and begin cruise.
Days 3–6: Visit temples of Edfu, Esna, and Kom Ombo and enjoy the passing riverside scenes of ancient villages, minarets, farmers in white galabiyas, and traditional feluccas. Most travelers have an early breakfast aboard and then depart the boat for sightseeing early in the day to avoid the crowds and heat. Most travelers will be back aboard by early afternoon. Dinner and entertainment follow in the evening.
Day 5–9: Disembark and spend the night in a hotel. Return to Cairo via air or train.
Egypt is also a beach destination, with thousands of kilometers of Mediterranean and Red Sea coastlines. Alexandria, Egypt's second largest city, is located on the Mediterranean Sea and has a string of beaches and wonderful seafood restaurants. The World War II battlefield of El-Alamein lies along the Mediterranean coast, and divers will find an array of sunken cities and wartime wrecks to explore offshore. Edged by coral reefs and teeming with tropical fish, the Sinai Peninsula has excellent diving, snorkeling, and palm-fringed beaches. Visits to Mount Sinai (7,500 ft [2,285 m] above sea level) and Saint Catherine's Monastery in the mountainous interior are also popular destinations. Egypt's Red Sea coast has more reefs offshore, with diving and snorkeling traditionally centered around Hurghada.
Popular among adventure travelers are desert jeep safaris and camel treks to remote oases and spectacular wadis. Many travelers start in Cairo or Assyut and follow the "Great Desert Circuit" through 4 oases and the White Desert.
HEALTH ISSUES
Hepatitis A and B and typhoid vaccines are recommended for travelers to Egypt. There is no risk of malaria. The prevalence of HCV infection is >15% in Egypt; travelers should be reminded to protect themselves from bloodborne pathogens, including HCV.
Travelers' Diarrhea
In most large international tourist hotels, the tap water is heavily chlorinated and generally safe to drink but unpalatable. Tap water is not safe to drink in other locations. Eating thoroughly cooked meat and vegetables in tourist hotels, on Nile River cruise ships, and in tourist restaurants is generally safe. Eating raw or undercooked ground meat or shellfish should be avoided. As in many developing countries, the safety of uncooked vegetables and salads may be in question. The risk of diarrhea in Egypt is high. Travelers to Egypt should be provided with an antibiotic for empiric self-treatment of diarrhea.
Schistosomiasis
Schistosoma mansoni and S. haematobium are endemic in Egypt. Travelers to Egypt should avoid wading, swimming, or other contact with freshwater, including the Nile River and irrigation canals. Swimming in saline pools of desert oases, chlorinated swimming pools, and the Mediterranean Sea or Red Sea is virtually always safe.
Rabies
As in most other developing countries, rabies is endemic throughout Egypt. For most travelers on a packaged tour, the risk will be minimal. However, travelers should be aware that there are large numbers of stray dogs and cats in urban areas. Modern hospitals and travel clinics cater to the large expatriate communities in Cairo and Alexandria. Rabies vaccine is readily available for preexposure and postexposure, and human rabies immunoglobulin (HRIG) is also available. Both rabies vaccine and HRIG are produced locally, but it is also possible to find imported rabies vaccine and HRIG (manufactured in the United States or Europe).
Environmental Concerns
Temperature and weather conditions vary widely in Egypt. The desert is extremely hot in the summer (>100°F; >38°C) and can be cold in the winter (32°F; 0°C). Thirst is a late indicator of mild dehydration, and travelers should drink fluids regularly in the heat. Because sweat evaporates immediately, people can become dehydrated without realizing it. Travelers who are elderly or take diuretic, anticholinergic, or neuroleptic medications are at increased risk of heat-associated illnesses. To stay cool and protect themselves from sun exposure, travelers should wear a hat and lightweight, loose-fitting clothing and use sunscreen.
Sandstorms occur sporadically in the desert. Desert sand, dust, and smog can cause eye irritation and exacerbate asthma or other lung disorders. Travelers who wear contact lenses should make sure that they are carrying glasses and all their contact lens care supplies.
Motion Sickness
Generally, the Nile is a slow, smooth river. However, a variety of boats are employed for Nile cruises, and traffic on the Nile can be heavy. The combination of diesel fuel, heat, and motion can cause distress for travelers. Most travelers do not consider the possibility of motion sickness on a river, so they are unprepared. Medical services vary greatly aboard. Travelers who know that they are sensitive to motion should carry anti–motion sickness medication.
Insects
Even without the risk of malaria, mosquitoes and other biting insects can be problematic for travelers to Egypt, particularly in the summer months. Avoiding insect bites can minimize the risk of West Nile virus infection and dengue fever.
ACKNOWLEDGMENT
The author thanks Dr. Mohammad Abdel Sabour Diab, Professor of Pulmonary Medicine, Ain Shams University and Regional Staff Physician, Eastern Mediterranean Regional Office, World Health Organization, Cairo, Egypt, for his valuable contributions and insightful review.
Map 4-04. Egypt destination map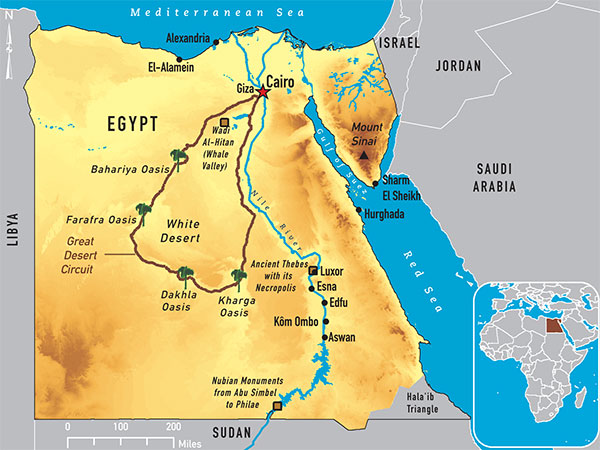 BIBLIOGRAPHY
Diemert DJ. Prevention and self-treatment of traveler's diarrhea. Clin Microbiol Rev. 2006 Jul;19(3):583–94.
Fradin MS, Day JF. Comparative efficacy of insect repellents against mosquito bites. N Engl J Med. 2002 Jul 4;347(1):13–8.
Gautret P, Adehossi E, Soula G, Soavi MJ, Delmont J, Rotivel Y, et al. Rabies exposure in international travelers: do we miss the target? Int J Infect Dis. 2010 Mar;14(3):e243–6.
Gautret P, Schwartz E, Shaw M, Soula G, Gazin P, Delmont J, et al. Animal-associated injuries and related diseases among returned travellers: a review of the GeoSentinel Surveillance Network. Vaccine. 2007 Mar 30;25(14):2656–63.
Golan Y, Onn A, Villa Y, Avidor Y, Kivity S, Berger SA, et al. Asthma in adventure travelers: a prospective study evaluating the occurrence and risk factors for acute exacerbations. Arch Intern Med. 2002 Nov 25;162(21):2421–6.
Hajat S, O'Connor M, Kosatsky T. Health effects of hot weather: from awareness of risk factors to effective health protection. Lancet. 2010 Mar 6;375(9717):856–63.
Nicolls DJ, Weld LH, Schwartz E, Reed C, von Sonnenburg F, Freedman DO, et al. Characteristics of schistosomiasis in travelers reported to the GeoSentinel Surveillance Network 1997-2008. Am J Trop Med Hyg. 2008 Nov;79(5):729–34.
Sherman CR. Motion sickness: review of causes and preventive strategies. J Travel Med. 2002 Sep–Oct;9(5):251–6.
Contact Us:
Centers for Disease Control and Prevention
1600 Clifton Rd
Atlanta, GA 30333
800-CDC-INFO
(800-232-4636)
TTY: (888) 232-6348
New Hours of Operation
8am-8pm ET/Monday-Friday
Closed Holidays