Chapter 4
Select Destinations
Mexico
DESTINATION OVERVIEW
Mexico, the second most populous country in Latin America, has a population of over 110 million, with 76% living in urban areas. The United States' second-largest trading partner after Canada, Mexico is now considered a middle-income country. Mexico has a rich history and proud culture that reflect its pre-Columbian civilizations and Hispanic heritage. With one-fifth the area of the United States, Mexico has diverse geographic features. The Sonoran desert is in the northwest, beautiful beaches are available on both coasts, and forested mountain ranges traverse the western and eastern mainland, featuring high volcanic peaks in the interior. The Yucatán Peninsula and southern regions are tropical. The Copper Canyon in Chihuahua is larger than the US Grand Canyon.
Mexico City is one of the world's largest cities, with a population over 20 million. Despite increasing national prosperity, Mexico's large cities contain much urban poverty as well. Extensive migration has taken place from the poor rural south to the northern border for jobs in bustling but drab border cities, such as Ciudad Juárez and Tijuana.
Mexico has the most foreign visitors of any Latin American country and is the country most frequently visited by US tourists. Travel varies from day trips to northern border cities to experience a taste of a foreign culture to longer cultural trips and beach holidays. Popular anthropologic destinations include Teotihuacan outside Mexico City, Chichen Itzá in Yucatán, Monte Alban in Oaxaca, and Palenque in Chiapas. Travel to beach resorts such as Acapulco, Cancún, Cozumel, Puerto Vallarta, and Cabo San Lucas, along with cruise ship tours, makes up a large portion of tourist travel to Mexico. Baja California offers whale watching on the Pacific Coast and sports fishing in the Gulf of California.
HEALTH ISSUES
Immunizations
Hepatitis A is still endemic in Mexico, and all susceptible travelers should be immunized for hepatitis A. Hepatitis B vaccine is also recommended. Other vaccines, such as typhoid and rabies, may be considered, especially if travel is extensive to less developed nontourist areas, by field biologists or missionaries, for example.
Travelers' Diarrhea and Foodborne Infections
Travelers' diarrhea is common among visitors to Mexico. In addition to taking food precautions, travelers should bring along an antibiotic for empiric self-treatment of diarrhea. Travelers who eat raw dairy products and vegetables are at some risk for more serious foodborne infections, including amebiasis, cysticercosis (especially in rural areas where pigs are raised), brucellosis, Mycobacterium bovis, and Listeria.
Dengue
Dengue is endemic throughout Mexico, except for higher elevations and in Baja California Norte. All 4 dengue serotypes circulate in Mexico, and large outbreaks of dengue hemorrhagic fever have been reported in recent years. Visitors should take precautions to avoid daytime mosquito bites with protective clothing and use of effective repellents.
Malaria
Malaria incidence has decreased dramatically in recent decades in Mexico, and only a few cases are reported among US travelers each year. Major resorts are free of malaria. Malaria prophylaxis is recommended only for low-lying, infrequently visited rural areas of a few states: Sonora, Chihuahua, Durango, Sinaloa, and Nayarit in the west and Oaxaca, Chiapas, Tabasco, and Quintana Roo in the southern region bordering Guatemala and Belize.
Other Infections
Coccidioidomycosis
Coccidioidomycosis, a fungal respiratory disease caused by inhaling spores in the soil, is endemic in northwestern Mexico. Several outbreaks have been reported among missionary groups from the United States doing construction projects in this region.
Parasitic Infections
Onchocerciasis, also known as river blindness, is present in small endemic foci in southern Mexico. Travelers, such as missionaries or field scientists, who spend >3 months in endemic areas are at greater risk for infection. Cutaneous leishmaniasis, transmitted by sandflies, is found in focal areas of coastal and southern Mexico. The risk is higher for ecotourists and long-term travelers. Vector preventive measures are indicated, including avoiding outdoor activities at night. Chagas disease is also endemic in Mexico, but no cases have been reported among travelers.
Rabies
All travelers should be warned of the risk of acquiring rabies and educated in how to prevent animal bites. Preexposure rabies vaccination should be considered for those who are likely to come into contact with animals or those who will be traveling to areas with limited access to medical care.
Rickettsial Disease
Rickettsial diseases, febrile rash illnesses transmitted by ticks or fleas, in Mexico include Rocky Mountain spotted fever, which is potentially fatal unless treated promptly with antibiotics, and fleaborne typhus, which usually causes an illness similar to dengue. Travelers should take precautions to avoid flea and tick bites when outdoors. An outbreak of Rocky Mountain spotted fever was identified in a neglected urban area in Mexicali, Baja California, in 2009, and endemic transmission has been reported there since then.
Tuberculosis (TB)
Mexico's TB incidence is lower than rates in Asia, Africa, and Eastern Europe but is 5 times that of the United States.
Other Health and Safety Risks
Good health care is available in most sizable Mexican cities, and hotels in tourist resorts usually have well-trained physicians available. Medical tourism has increased in Mexico in recent years, but adverse events have not been studied. Clinics offering unproven and often dangerous interventions for cancer and other seriously ill patients can operate in northern border cities, such as Tijuana, for varying periods before regulatory authorities intervene.
Mexico's highway system and roads have become increasingly modernized over the years. Toll highways are often of high quality. Nevertheless, driving in traffic in cities and at night through the countryside can be dangerous. Although travel in Mexico is generally safe and enjoyable, there has been a continuing increase in drug-related violence in parts of the country. Department of State advisories should be monitored for alerts in areas where tourists are planning to visit.
A population that requires increasing attention is the large numbers of travelers of Mexican birth or descent who return to visit friends and relatives.
Map 4-10. Mexico destination map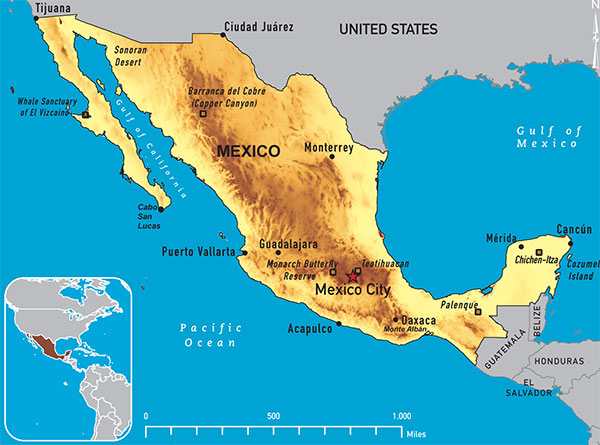 BIBLIOGRAPHY
CDC. Coccidioidomycosis in travelers returning from Mexico—Pennsylvania, 2000. MMWR Morb Mortal Wkly Rep. 2000 Nov 10;49(44):1004–6.
CDC. Dengue hemorrhagic fever—US-Mexico border, 2005. MMWR Morb Mortal Wkly Rep. 2007 Aug 10;56(31):785–9.
CDC. Preventing and controlling tuberculosis along the US-Mexico border. MMWR Recomm Rep. 2001 Jan 19;50(RR-1):1–27.
Doyle TJ, Bryan RT. Infectious disease morbidity in the US region bordering Mexico, 1990–1998. J Infect Dis. 2000 Nov;182(5):1503–10.
Weinberg M, Hopkins J, Farrington L, Gresham L, Ginsberg M, Bell BP. Hepatitis A in Hispanic children who live along the United States-Mexico border: the role of international travel and food-borne exposures. Pediatrics. 2004 Jul;114(1):e68–73.
White AC, Atmar RL. Infections in Hispanic immigrants. Clin Infect Dis. 2002 Jun 15;34(12):1627–32.
Contact Us:
Centers for Disease Control and Prevention
1600 Clifton Rd
Atlanta, GA 30333
800-CDC-INFO
(800-232-4636)
TTY: (888) 232-6348