May 2018: Vectorborne Diseases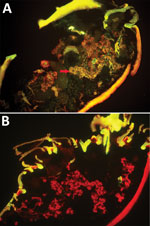 Vectorborne Diseases

Vectorborne diseases account for more than 17% of all infectious diseases and kill about 700,000 people each year. Vectorborne infections can result in mild illness, including fever, muscle or joint pain, and rash, or more severe illness. Severe illness can include swelling of the brain, crippling pain, fetal abnormalities, or death. In fact, the English meaning of the name of one such disease, chikungunya, is "that which bends up," a description of the contorted posture of people affected with that disease.

More
About the Cover – "Revealing Details in Light and Shadows"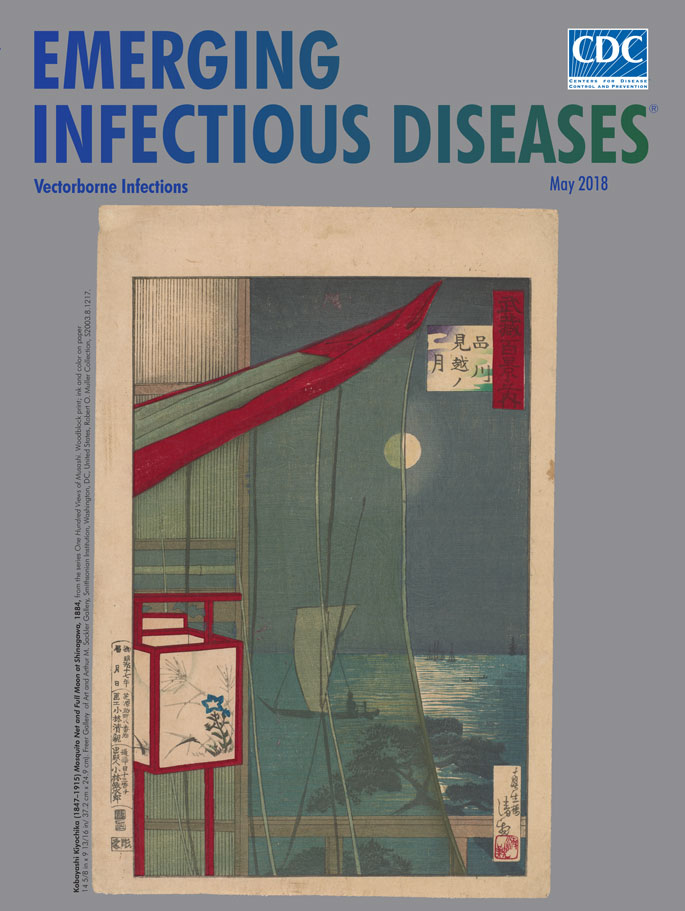 During the Edo period (1603–1868) in Japan, a time when Tokugawa Ieyasu and his descendants ruled, economic growth gave rise to a more literate, sophisticated, and affluent culture, hungry for the trappings of luxury, including extravagant art. This cultural shift was described by the phrase ukiyo, or "floating world," which was associated with the pursuit of pleasure and hedonism in urban areas. The art of the Edo period, dominated by painting and woodblock prints, came to be known as "pictures of the floating world" or ukiyo-e.

You can read the entire About the Cover essay here.
Postmortem Findings in Person with Guillain-Barré Syndrome and Zika Virus
Etymologia: Oropouche Virus
Oropouche Virus

In September 1955, a virus was isolated from a 24-year-old forest worker from the community of Vega de Oropouche, near the town of Sangre Grande, on the island of Trinidad (country: Trinidad and Tobago), who presented with fever, backache, and cough, which resolved spontaneously after 3 days. The virus was isolated from the patient's blood by intracranial inoculation of suckling mice at the Trinidad Regional Virus Laboratory. Five years later, the virus was isolated from Coquillettidia venezuelensis (Theobald) mosquitoes collected ≈ 30 miles away in the Bush Bush Forest. The urban vector was later identified as the midge Culicoides paraensis, but the sylvatic vector remains unknown. Virus has been isolated from the three-toed sloth, which is believed to be involved in the sylvatic transmission cycle.

You can read the entire Etymologia here.