Vietnam
CDC Yellow Book 2024
Popular Itineraries
---
Destination Overview
Vietnam has a population of approximately 103 million people, with about two-thirds living in rural areas. The total size of Vietnam is 127,243 mi2 (331,114 km2), slightly larger than New Mexico. Located in Southeast Asia, Vietnam shares international borders with China, Laos, and Cambodia. Vietnam is divided into 63 provinces. The terrain and climate vary, particularly between the north and the south and the mountainous and coastal areas. Once among the poorest countries in the world, Vietnam has now achieved World Bank lower-middle income status.
Vietnam is an increasingly popular travel destination for business and tourism. Travelers often try to get a flavor for the entire country with a trip of at least 10 days or combine their Vietnam travels with other nearby Southeast Asia destinations such as Angkor Wat in Cambodia or Luang Prabang in Laos. There is no shortage of attractions in Vietnam, regardless of whether a traveler is interested in touring historical sites, shopping in ethnic markets or traditional trade villages, trekking or biking in hills or valleys, seeing native wildlife, cruising on the Mekong River or Hạ Long Bay, scuba diving in the sea, relaxing at a spa resort, visiting art galleries, or sampling local flavors to understand the regional variations of Vietnam's cuisine.
A typical itinerary might start in the north and include visiting the capital, Hanoi; touring the UNESCO World Heritage site, Hạ Long Bay, aboard a junk boat; and exploring the rice fields in Sapa or Mai Chau. In the coastal region, travelers often go to Hue, Hoi An, Da Nang, and Nha Trang, each with its own charms and unique personality. In the south, travelers often choose to see Vietnam's largest, busiest, and most modern city, Ho Chi Minh City. From there, Phu Quoc Island, Dalat, the Cu Chi tunnels, and floating markets of the Mekong Delta are easy trips.
Map 10-21: Vietnam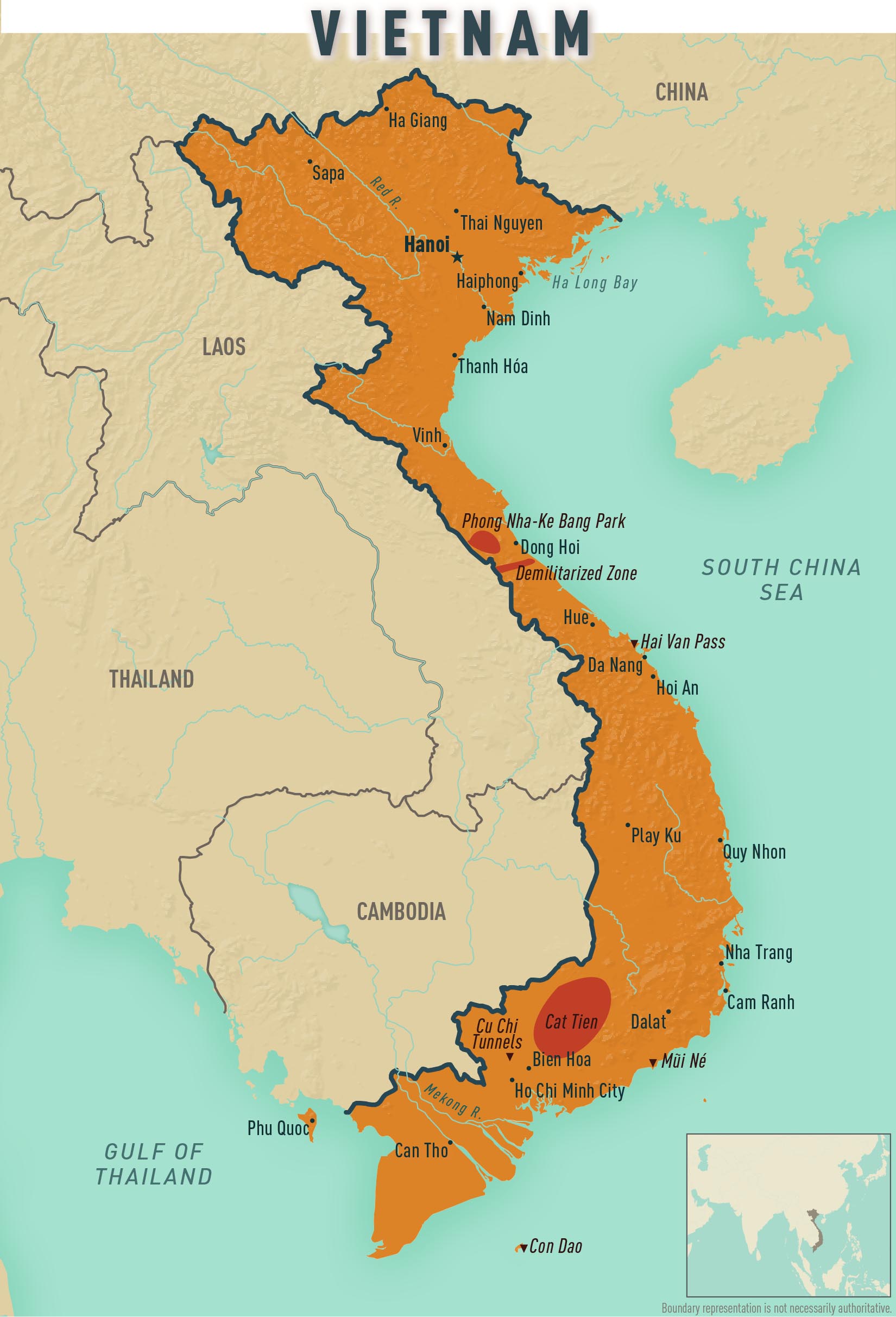 Infectious Disease Risks
In addition to the information provided below, country-specific travel advice about infectious diseases risks can be found on the CDC Travelers' Health destination page.
Vaccine Preventable Diseases
Ensure travelers to Vietnam are up-to-date on routine vaccines, including seasonal influenza. Since 2015, multiple diphtheria outbreaks have been reported, mostly in the Central Highlands, with sporadic outbreaks in Central Coastal and Southern regions, possibly due to low vaccination coverage. As a result of the COVID-19 pandemic, national vaccination coverage for vaccine-preventable diseases (e.g., diphtheria, measles, rubella) has declined below levels needed to prevent outbreaks.
Travelers should also protect themselves by getting vaccinated against typhoid, Japanese encephalitis, and hepatitis A. Hepatitis B protection is advised, especially for long-term travelers, expatriates, and other visitors where indicated, given the high prevalence of chronic hepatitis B in the population.
Enteric Infections & Diseases
Tap water is unsafe to drink in Vietnam, as is ice made from tap water. Advise travelers to avoid eating raw or undercooked meat or seafood, uncooked vegetables, and raw fruits that they cannot peel themselves. Discourage travelers from eating food or drinking beverages from street vendors. Travelers with allergies (see Sec. 3, Ch. 4, Highly Allergic Travelers) should be particularly cautious in Vietnam because many foods items are unmarked and may contain peanuts, fish, or shellfish.
Alert travelers not to consume dishes containing uncooked blood or meat of pigs, wild boar, or other animals because of the risk of trichinellosis and Streptococcus suis infections (meningitis or septicemia). One popular traditional Vietnamese dish, tiet canh, is made using coagulated, fresh, raw blood mixed with cooked pieces of meat. It can be difficult to know just by looking if a dish contains uncooked blood. Ask, and when in doubt, do not eat it.
Flukes
Remind travelers not to consume raw or undercooked water plants (e.g., watercress), especially in the rural central region of the country. Vietnam reports cases of a variety of trematode infections, including Fasciola gigantica and Fasciola hepatica (see Sec. 5, Part 3, Ch. 10, Flukes, Liver). Additionally, travelers should avoid raw, pickled, or undercooked freshwater crustaceans, including crabs and crayfish, as well as raw boar or deer meat, which can contain either the eggs or immature forms of lung flukes from the Paragonimus genus (see Sec. 5, Part 3, Ch. 11, Flukes, Lung).
Respiratory Infections & Diseases
Avian Influenza
Vietnam has reported sporadic cases of human infection with avian influenza A (H5N1) virus (see Sec. 5, Part 1, Ch. 13, Influenza). Influenza A (H5Nx and H9Nx) viruses are endemic in domestic poultry in Vietnam, with continued sporadic and geographically dispersed poultry outbreaks. Certain provinces within Vietnam vaccinate their poultry against influenza A (H5N1), which may reduce the incidental transmission of the virus to humans.
The most recent human infection with avian influenza A (H5Nx) virus was in October 2022 in a child from Phu Tho (northern province), the first human infection with H5 influenza virus in the country since 2014. Between 2003 and 2014, 127 cases of H5N1 infection were recorded, with a 50% mortality (63 cases).
To reduce risk of exposure to avian influenza viruses, advise travelers to avoid direct contact with birds, including poultry (e.g., chickens and ducks) and wild birds; avoid touching surfaces that have bird droppings (feces) or other bird fluids on them; and not visit places where live birds are raised, kept, or sold (e.g., live bird markets).
As noted previously, travelers should avoid any dishes that contain uncooked (raw) or undercooked bird meat or products (e.g., eggs, poultry blood). Egg yolks should not be runny or liquid. Remind travelers to wash hands often with soap and clean water or to use an alcohol-based hand sanitizer (containing at least 60% alcohol) when soap and clean water are not available.
Coronavirus Disease 2019
For current information on coronavirus disease (COVID-19) in Vietnam, consult the US Embassy & Consulate in Vietnam. See the US government's COVID-19 international travel requirements and recommendations. All travelers going to Vietnam should be up to date with their COVID-19 vaccines.
Tuberculosis
Vietnam has a high burden of tuberculosis (TB) and drug-resistant TB. Immunocompromised travelers to Vietnam, especially those living with HIV, are at increased risk for infection (see Sec. 5, Part 1, Ch. 22, Tuberculosis). Travelers can reduce their risk by avoiding close contact with people known to have active TB, especially in crowded and enclosed environments (e.g., clinics, hospitals, prisons, homeless shelters). To avoid bovine TB, travelers should refrain from consuming unpasteurized dairy products.
Sexually Transmitted Infections & HIV
There are an estimated 240,000 people living with HIV in Vietnam. Public health campaigns encouraging the use of pre-exposure prophylaxis and effective treatment using antiretroviral medications have helped decrease the number of people newly infected with HIV over the past 20 years. Nonetheless, there were an estimated 5,700 new infections in 2021. The main routes of transmission are through unprotected sex, injection drug use, and mother-to-child transmission.
Ensure that travelers are aware of their risks for acquiring HIV and other sexually transmitted infections in Vietnam; counsel them to always use condoms during sex, and to avoid injecting drugs or sharing needles. High-quality condoms are available in commercial markets in most urban areas. Travelers whose practices put them at high risk for HIV infection should discuss pre-exposure prophylaxis with their primary care and travel medicine providers (see Sec. 5, Part 2, Ch. 12, HIV and Sec. 9, Ch. 12, Sex & Travel). Commercial sex work is illegal in Vietnam.
Soil-& Waterborne Infections
Leptospirosis
Although leptospirosis (see Sec. 5, Part 1, Ch. 10, Leptospirosis) is infrequently reported within Vietnam or from returning travelers (last reported in 2013), Leptospira spp. bacteria have been detected in rodents, especially those imported for food into Vietnam from Cambodia. Additionally, seroprevalence studies suggest that as many as 33% of people living in Vietnam have antibodies to at least one of 14 serovars of Leptospira. Discourage travelers from bathing, swimming, or wading in freshwater lakes.
Schistosomiasis
Endemic to several countries in Asia and Southeast Asia—including Cambodia and Laos for Schistosoma mekongi and Indonesia, China, and the Philippines for Schistosoma japonicum—schistosomiasis is not a risk in Vietnam.
Vectorborne Diseases
Dengue & Zika
Dengue (see Sec. 5, Part 2, Ch. 4, Dengue) is endemic in Vietnam and, although peaking during the summer rainy season, transmission occurs year-round. A new dengue vaccine is approved for use in children aged 9–16 years with laboratory-confirmed previous dengue virus infection and living in areas where dengue is endemic. The vaccine, however, is not approved for use in travelers from the United States who are visiting but not living in areas where dengue is common.
Zika (see Sec. 5, Part 2, Ch. 27, Zika) is also endemic in Vietnam, but the risk to travelers is believed to be low. Because of the risk of birth defects in babies born to infected women, pregnant women should take special precautions and strictly follow steps to prevent mosquito bites. See Zika travel information on the CDC Travelers' Health website for the most current recommendations for Zika.
Japanese Encephalitis
Because Japanese encephalitis (JE) is endemic throughout Vietnam, CDC recommends JE vaccination for all travelers who spend ≥1 month in the country. Consider vaccination for short-term travelers who plan on spending time outside urban areas and might be involved in activities that expose them to the mosquitoes that transmit JE virus (e.g., camping, hiking, biking or other outdoor activities, or staying in accommodations without air conditioning, screens, or bed nets). JE has seasonal peaks from May through October, and the highest rates of JE disease occur in the northern provinces around Hanoi and the northwestern and northeastern provinces bordering China. Personalized advice during a thorough pretravel consultation is important. For more details, see on-line YB chapter.
Malaria
Malaria (see Sec. 5, Part 3, Ch. 16, Malaria) in Vietnam is caused by Plasmodium falciparum and Plasmodium vivax. Cases and deaths have decreased substantially in the past 15 years, and ongoing local transmission is primarily a concern in rural, forested areas that are not included in most tourist itineraries.
There are no cases in the cities of Da Nang, Hai Phong, Hanoi, Ho Chi Minh City (Saigon), Nha Trang, and Quy Nhon. Due to the rarity of malaria cases in the Mekong Delta and Red River Delta areas, antimalarial drugs are not recommended. Advise travelers to follow mosquito bite avoidance measures, such as wearing loose-fitting clothing (e.g., long pants, long-sleeved shirts) and using insect repellent (see Sec. 2, Ch. 5, Yellow Fever Vaccine & Malaria Prevention Information, by Country, and Sec. 4, Ch. 6, Mosquitoes, Ticks & Other Arthropods). Advise travelers to the provinces of Binh Phuoc, Binh Thuan, Dak Lak, Dak Nong, Gia Lai, Lai Chau, Lam Dong, Phu Yen, and Quang Nam to take malaria prophylaxis with atovaquone-proguanil, doxycycline, or tafenoquine. Chloroquine and mefloquine resistance has been documented in certain regions, amplifying the need for these recommendations.
Environmental Hazards & Risks
Air Quality
Travelers with allergies or asthma may find their conditions are exacerbated because of high levels of particulate matter and indoor air pollution (see Sec. 4, Ch. 3, Air Quality & Ionizing Radiation), especially in Hanoi and Ho Chi Minh City and their neighboring provinces. Short-term exposure to these levels of air pollution can irritate the eyes and throat, and those with underlying cardiorespiratory illness, including asthma, chronic obstructive pulmonary disease, or coronary heart failure may find their condition exacerbated. In addition, exposure to high levels of air pollution significantly increases the risk of respiratory tract infections, including sinusitis, otitis, bronchitis, and pneumonia. Children and the elderly are the most vulnerable. Counsel travelers with asthma to carry their inhalers, especially the long-acting type, as part of their travel health kit.
Climate & Sun Exposure
Skin rashes may result from fungal infections or the combination of heat and humidity. Sunstroke, sunburn, and dehydration can be problems for travelers (see Sec. 4, Ch. 1, Sun Exposure and Sec. 4, Ch. 2, Extremes of Temperature). Remind travelers to keep their clothes, shoes, and linens clean and dry. Use of a broad-spectrum sunscreen with SPF ≥15 that protects against both UVA and UVB is recommended; travelers should keep well-hydrated and minimize sun exposure by using clothing, hats, and umbrellas.
Low-lying areas around the country are prone to flooding, especially during the rainy season. Travelers should review the seasonal weather forecasts, including high-rain months before making travel plans. Flooding also increases the risk of waterborne infections like leptospirosis.
Animal Bites & Rabies
While government-sponsored vaccination campaigns have reduced the prevalence, rabies persists in Vietnam, resulting in an average of 75 deaths per year. Rabid dogs cause 99% of all rabies infections in the country. Consider recommending rabies vaccination for travelers participating in outdoor activities (e.g., camping, caving) that could increase their risk of animal bites.
Vaccination is also recommended for travelers working with animals (e.g., veterinarians), people taking long trips or moving to Vietnam, and young children, for whom it can be difficult to prevent interaction with dogs or other animals (see Sec. 5, Part 2, Ch. 18, Rabies). Rabies vaccine for pre- and post-exposure prophylaxis is available at all levels of the preventive health system and human immunoglobulin is offered at some district health centers and all provincial and regional public health institutes throughout Vietnam.
Safety & Security
Traffic-Related Injuries
Remind travelers to always fasten seat belts when riding in cars and to wear a safety helmet when riding bicycles and motorbikes (see Sec. 8, Ch. 5, Road & Traffic Safety). Pedestrians may find road conditions in Vietnam to be challenging because of an apparent lack of rules and the large number of vehicles and motorcycles sharing the road.
Advise travelers to walk facing traffic and, when crossing the street, to proceed at a consistent walking pace with no sudden direction changes (e.g., quickly turning back). Pedestrians will observe that motorbikes and cars will go around them, much like a school of fish will part when it encounters an object, and then regroup. Motorbikes (and sometimes cars) will travel on the wrong side of the street (against oncoming traffic) as well as on sidewalks, so urge travelers to remember to always look in both directions, to be careful passing openings in and between buildings (where motorcycles can come out), and to be particularly cautious when crossing at corners.
Availability & Quality of Medical Care
Several private medical practices, clinics, and hospitals that serve foreigners are available in Hanoi and Ho Chi Minh City. However, blood transfusion services, inpatient care, and specialty services are generally not of high quality. Thus, travelers should ensure that they have adequate medical evacuation insurance in case they need to be evacuated to Singapore or Bangkok, where high-quality specialty services are provided (see Sec. 6, Ch. 1, Travel Insurance, Travel Health Insurance & Medical Evacuation Insurance).
To ensure the quality of any needed medications, travelers may want to consider purchasing them through an expatriate or international travel clinic, even if the price is higher. If travelers are taking prescription medicine, they should bring enough medication for the entire trip, in the original bottle, and with the prescription (see Sec. 6, Ch. 3, …perspectives: Avoiding Poorly Regulated Medicines & Medical Products During Travel).
The following authors contributed to the previous version of this chapter: Sheryl Lyss, Jeffrey McFarland, Anthony Mounts
Bui TD, Doanh PN, Saegerman C, Losson B. Current status of fasciolosis in Vietnam: an update and perspectives. J Helminthol. 2016 Sep;90(5):511-22. doi: 10.1017/S0022149X15000929. Epub 2015 Nov 13. PMID: 26564097.
Central Intelligence Agency. The World Fact Book: Vietnam. CIA; 2016 [updated 2022 Jun]; Available from: https://www.cia.gov/the-world-factbook/.
Khanh NC, Fowlkes AL, Nghia ND, et al. Burden of Influenza-Associated Respiratory Hospitalizations, Vietnam, 2014-2016. Emerg Infect Dis. 2021 Oct;27(10):2648-2657. doi: 10.3201/eid2710.204765. PMID: 34545793; PMCID: PMC8462305.
Le DN, Nguyen HAP, Ngoc DT, Do THT, Ton NT, Van Le T, Ho TH, Van Dang C, Thai PK, Phung D. Air pollution and risk of respiratory and cardiovascular hospitalizations in a large city of the Mekong Delta Region. Environ Sci Pollut Res Int. 2022 Jul 26. doi: 10.1007/s11356-022-22022-y. Epub ahead of print. PMID: 35881281
Mai LTP, Dung LP, Mai TNP, Hanh NTM, Than PD, Tran VD, Quyet NT, Hai H, Ngoc DB, Hai PT, Hoa LM, Thu NT, Duong TN, Anh DD. Characteristics of human leptospirosis in three different geographical and climatic zones of Vietnam: a hospital-based study. Int J Infect Dis. 2022 Jul;120:113-120. doi: 10.1016/j.ijid.2022.04.011. Epub 2022 Apr 10. PMID: 35413464.
Pham-Thanh L, Nhu TV, Nguyen TV, Tran KV, Nguyen KC, Nguyen HT, Ngo Thi Hoa, Padungtod P. Zoonotic pathogens and diseases detected in Vietnam, 2020-2021. One Health. 2022 May 13;14:100398. doi: 10.1016/j.onehlt.2022.100398. PMID: 35686154; PMCID: PMC9171505.
UNAIDS Country Factsheets: Vietnam, 2021. Available at: https://www.unaids.org/en/regionscountries/countries/vietnam; Accessed 18 Oct 2022.
World Health Organization Western Pacific Region [Internet]. WHO representative office in Vietnam. Hanoi: World Health Organization; 2014; Available from: www.wpro.who.int/vietnam/en.
Yera H, Bory S, Khieu V, Caron Y. Human trichinellosis in Southeast Asia, 2001-2021. Food Waterborne Parasitol. 2022 Jul 16;28:e00171. doi: 10.1016/j.fawpar.2022.e00171. PMID: 35875401; PMCID: PMC9305352.
Yoshida A, Doanh PN, Maruyama H. Paragonimus and paragonimiasis in Asia: An update. Acta Trop. 2019 Nov;199:105074. doi: 10.1016/j.actatropica.2019.105074. Epub 2019 Jul 8. PMID: 31295431.
---
Page last reviewed:
May 01, 2023