Peru
CDC Yellow Book 2024
Popular Itineraries
---
Destination Overview
Peru (Map 10-10) is the third largest country in South America. Peru's varied microclimates and ecologic diversity, which ranges from coastal beaches to Amazon rainforest to the snow-capped peaks of the Andes Mountains, made the land hospitable to pre-Inca and Inca peoples. Today, Peru is an attractive destination for tourists interested in history, recreation, and adventure. Many Peruvians who work in the tourist industry have a reasonable understanding of English.
Peru lies almost entirely between 70° and 80° longitude (as do the mid-Atlantic and New England states in the United States). Peru has a single time zone and does not change its clocks during the year. Jetlag is not normally a problem for US travelers to Peru, regardless of season.
US citizens visiting Peru do not need a visa. Most tourists fly into the capital, Lima, a mega-metropolis with nearly 10 million people and multiple neighborhoods (districts). Most visitors to Lima stay in Miraflores, Barranco, or occasionally, downtown (el Centro). The US Embassy office is in Surco; contact information is available on their website. Popular activities in Lima include historic city tours, night life, and sampling the many local cuisines.
About 90 minutes away by plane is the former capital of the Inca empire, Cusco. A cosmopolitan city with a population of ≈400,000, Cusco is at a much higher elevation (3,339 m; ≈11,000 ft) than Lima (154 m; ≈500 ft) and is surrounded by many archeological sites, each a short bus ride away, including Sacsayhuamán, Q'enco, Písac, Ollantaytambo, Puka Pukara, Tambomachay, and others. The city itself has multiple cultural attractions that travelers can visit on foot (e.g., the Inca Museum, the Qorikancha Temple, the Barrio de los Artesanos in the San Blas neighborhood, and numerous churches). The 4-hour train trip to the ancient city of Machu Picchu (2,430 m; ≈8,000 ft) is extremely popular. South of Cusco is the highest navigable lake in the world, Lake Titicaca (3,812 m; ≈12,500 ft). Shared by Peru with neighboring Bolivia, Lake Titicaca is home of the Uru people and the man-made floating islands on which they live.
Along its long Pacific Ocean coast, Peru has amazing beaches from north (Catacaos, Piura) to south (Ica). Other cities near the coast include Trujillo, Nazca with its mysterious pre-Inca lines etched into desert sands, and Arequipa, a starting point for travelers wishing to explore the world's second deepest canyon, Valle de Colca.
In the Andes, high-elevation destinations include Cajamarca, Huaraz (with the Cordillera Blanca Mountain range and Huascarán National Park both nearby), Huancayo, and Ayacucho. East of the Andes is the Amazon rainforest; Iquitos, bathed by the Amazon River and reachable only by plane or boat, is the largest and best-known city in the region; other cities include Pucallpa and Puerto Maldonado. Adventure and nature tourists often visit Manú National Park in Madre de Dios.
Map 10-10 Peru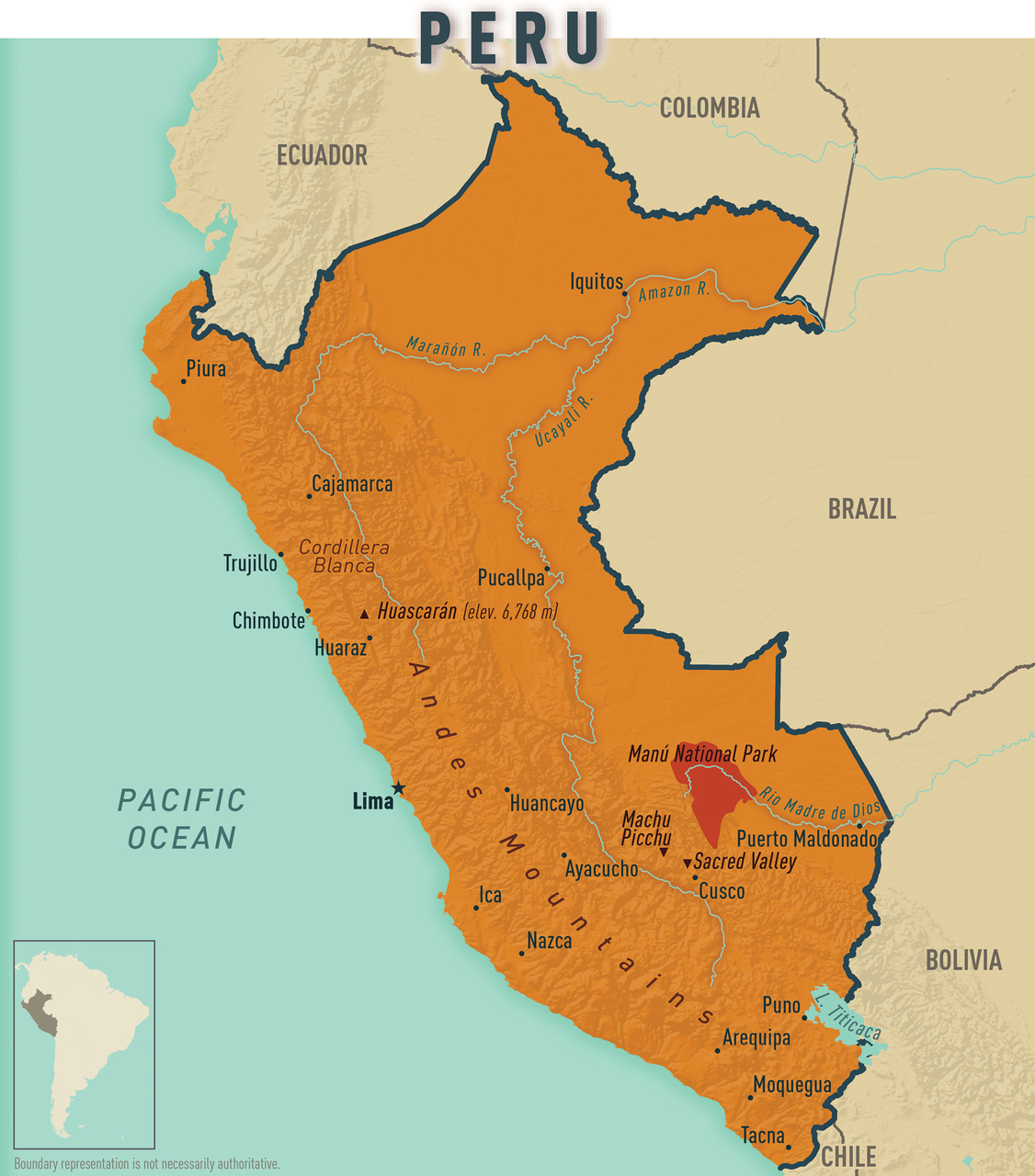 Infectious Disease Risks
Peru follows the World Health Organization's Expanded Program on Immunization, which includes many (but not all) vaccines used in the United States. Although vaccination rates in Peru are relatively high, recent outbreaks of vaccine- preventable diseases have occurred, including diphtheria (2020), measles (2018–2019), and varicella (endemic). Thus, travelers should be up to date with all routine vaccines. For adults, additional booster doses might be indicated; for young children, an accelerated schedule could be indicated to assure protection. Hepatitis A and hepatitis B are hyperendemic in provinces throughout the country, and travelers should be appropriately vaccinated.
Enteric Infections & Diseases
Peru has one of the richest and most exotic cuisines in the world, suitable for all palates. Cooked, hot dishes mostly are safe from foodborne pathogens, but fresh produce, fruits, and vegetables can be easy vehicles for infection. Although not the bulk of Peruvian cuisine, raw or partially cooked fish or meat (e.g., ceviche, tiradito, carpaccio), are popular in Peru and pose a risk for foodborne illness. Sauces added to some dishes might carry infectious pathogens.
Cholera
In the early 1990s, after a century of absence, Vibrio cholerae O1 was reintroduced into the Americas via Peru. Since then, cholera has all but disappeared from the Americas. Some endemic strains are occasionally detected, but epidemic cholera is not a risk, and cholera vaccine is not indicated for travel to Peru.
Cyclosporiasis & Cryptosporidiosis
Cyclospora cayetanensis, named after the local Universidad Peruana Cayetano Heredia, is endemic to Peru. C. cayetanensis infection shares many features with giardiasis (described next), but treatment is different, requiring trimethoprim- sulfamethoxazole (see Sec. 5, Part 3, Ch. 5, Cyclosporiasis).
Cryptosporidium parvum and C. hominis follow a similar epidemiology; treatment is typically not attempted unless symptoms are protracted, or the host is immunocompromised. Oral rehydration is the most effective supportive therapy (see Sec. 5, Part 3, Ch. 3, Cryptosporidiosis). Travelers can reduce their risk for cyclosporiasis and cryptosporidiosis by carefully adhering to food and water precautions (see Sec. 2, Ch. 8, Food & Water Precautions).
Giardiasis
Transmitted by ingestion of contaminated water and sometimes vegetables, Giardia duodenalis infection presents with abdominal pain, bloating, "sulfur" belching, and vomiting. Giardiasis is more frequent among hikers, travelers to rural areas, or people who consume fresh juices. Travelers should avoid potential sources of infection, including drinking and recreational water that could be contaminated. No vaccine against giardiasis is available. For further information, see Sec. 5, Part 3, Ch. 12, Giardiasis.
Hepatitis A
Hepatitis A virus is transmitted by contaminated food and water and is endemic to Peru; vaccination is highly effective and strongly recommended for all unvaccinated travelers. Whereas hepatitis A vaccine is routinely given to US children, most adults have not received the vaccine. Immune globulin is an alternative for people in whom the vaccine is contraindicated, including infants <6 months of age and anyone allergic to the vaccine or vaccine components (for prescribing details, including precautions and contraindications, see Sec. 5, Part 2, Ch. 7, Hepatitis A).
Travelers' Diarrhea
Anecdotal information suggests travelers' diarrhea (TD) among tourists to Peru is frequent and grossly underreported. The main cause is thought to be bacterial (primarily enterotoxigenic Escherichia coli strains). Less frequent causes are viral (norovirus, rotavirus) and parasitic (giardiasis).
Travelers should practice frequent hand-cleaning with hand sanitizer containing ≥60% alcohol, and avoid uncooked foods and untreated water, including tap water at hotels and restaurants. Bottled water is usually safe, as is canned soda, but ice is not safe. For infants, breastfeeding is safest; if feeding infant formula, travelers should use bottled or boiled water to reconstitute formula (see Sec. 7, Ch. 2, Travel & Breastfeeding, and Sec. 7, Ch. 3, Traveling Safely with Infants & Children).
For more information about prevention and treatment of travelers' diarrhea, see Sec. 2, Ch. 6, Travelers' Diarrhea.
Typhoid Fever
Before the 1990s, typhoid fever (caused by Salmonella enterica serotype Typhi) was hyperendemic to Peru. Since then, incidence has decreased greatly, but the disease remains endemic. Because the disease can be life-threatening and the bacterium has developed resistance to multiple antimicrobial agents, all travelers should receive one of the recommended typhoid vaccines (see Sec. 5, Part 1, Ch. 24, Typhoid & Paratyphoid Fever).
Respiratory Infections & Diseases
Like many other countries, Peru has endemic, seasonal respiratory infections, not all of which are preventable by routine vaccines. Because Peru is in the Southern Hemisphere, the seasons are opposite to seasons in the United States, which is relevant to the epidemiology of influenza. The influenza vaccine recommended for use in the Northern Hemisphere each year confers protection against the virus strains circulating in the Southern Hemisphere that same year.
Coronavirus Disease 2019
For current information on coronavirus disease 2019 (COVID-19) in Peru, consult the US Embassy in Peruv website. See the US government's COVID-19 international travel requirements and recommendations. All travelers going to Peru should be up to date with their COVID-19 vaccines.
Tuberculosis
Tuberculosis (TB) is endemic to Peru. Multidrug-resistant and extensively drug-resistant TB strains frequently are detected, making treatment difficult and avoidance and prevention crucial. Infection risk is greatest among long-term travelers, especially people who visit friends and family, expatriates, missionaries, voluntourists (for a definition, see Sec. 9, Ch. 5, Humanitarian Aid Workers, Box 9-05), and health care workers. For management recommendations, see Sec. 5, Part 1, Ch. 22, Tuberculosis, and Sec. 5, Part 1, Ch. 23, . . . perspectives: Testing Travelers for Mycobacterium tuberculosis Infection.
Sexually Transmitted Infections & HIV
Although all sectors of the population are affected, HIV is more prevalent among commercial sex workers (prostitution is legal in Peru) and men who have sex with men, particularly in major cities (e.g., Iquitos, Lima). Some strains of HIV circulating in Peru are resistant to antiretroviral therapy, but probably not more than what is seen in other parts of the world (see Sec. 5, Part 2, Ch. 11, Human Immunodeficiency Virus / HIV). Antimicrobial-resistant strains of Chlamydia trachomatis and Neisseria gonorrhoeae are well described in Peru. Advise travelers to practice safe sex and to use barrier protection (e.g., condoms), especially with partners whose HIV or sexually transmitted infection status is unknown. Condoms are available for purchase in Peru.
Vectorborne Diseases
Mosquitoes and other biting insects are part of the experience in Peru, mainly in rural areas and the Amazon. Exposure depends largely on where a traveler is going, for how long, and their accommodations. Prevention is the best policy. Advise travelers to avoid areas at high risk for insect bites, to minimize exposed skin, and to use insect repellents properly (see Sec. 4, Ch. 6, Mosquitoes, Ticks & Other Arthropods). For travelers going to malaria- or yellow fever–endemic areas of Peru, chemoprophylaxis or vaccination might be indicated (see the following sections for details).
Arboviruses: Chikungunya, Dengue & Zika
Three important vectorborne illnesses in Peru, chikungunya, dengue, and Zika, can range in severity from mild to severe. The epidemiology of each is cyclical and only partly understood, but outbreaks occur frequently. The viruses that cause these diseases are transmitted by "day-biting" Aedes mosquito species, whose habitats are <2,300 m (≈7,500 ft) elevation. Vertical Zika virus infection from a pregnant person to a developing fetus can be especially devastating (see virus-specific chapters in Section 5, and on the Centers for Disease Control and Prevention (CDC) Travelers' Health website.
Carrión Disease
Bartonella bacilliformis, the cause of Oroya Fever and verruga peruana (together known as Carrión disease), is a bacterium transmitted by Lutzomyia sandflies (see Sec. 5, Part 1, Ch. 2, Bartonella Infections). Endemic to some areas in Ancash (Caraz), Cajamarca, and Cusco (Urubamba), Bartonella infection is a low risk for most tourists. Nevertheless, travelers to the listed areas should practice insect bite precautions.
Leishmaniasis
Cutaneous leishmaniasis, which manifests as chronic ulcers, is a parasitic infection transmitted by the bite of certain sandflies endemic to many valleys in the Andes and tropical Amazon rainforest. Travelers visiting the Manú National Park in Madre de Dios are at greatest risk. No vaccine or chemoprophylaxis is available. Advise travelers to carefully adhere to insect bite precautions (see Sec. 4, Ch. 6, Mosquitoes, Ticks & Other Arthropods; and Sec. 5, Part 3, Ch. 14, Cutaneous Leishmaniasis).
Malaria
Malaria is a risk on the eastern side of the Andes in areas <2,500 m (≈8,200 ft) elevation, including all of the Amazon rainforest and a few isolated areas on the northern Pacific Coast. Malaria is not a risk along most of the Pacific Coast, Lima Province, or the high Andes, including Cusco, Machu Picchu, and Lake Titicaca. The most common malaria species in Peru are Plasmodium vivax (80%) and P. falciparum (20%). Prepare travelers planning to enter endemic areas to take malaria chemoprophylaxis (i.e., atovaquone-proguanil, doxycycline, mefloquine, or tafenoquine) that protects against chloroquine-resistant malaria. For prescribing details, see Sec. 2, Ch. 5, Yellow Fever Vaccine & Malaria Prevention Information, by Country; Sec. 5, Part 3, Ch. 16, Malaria; and the CDC Malaria webpages.
Map 2-14 Malaria prevention in Peru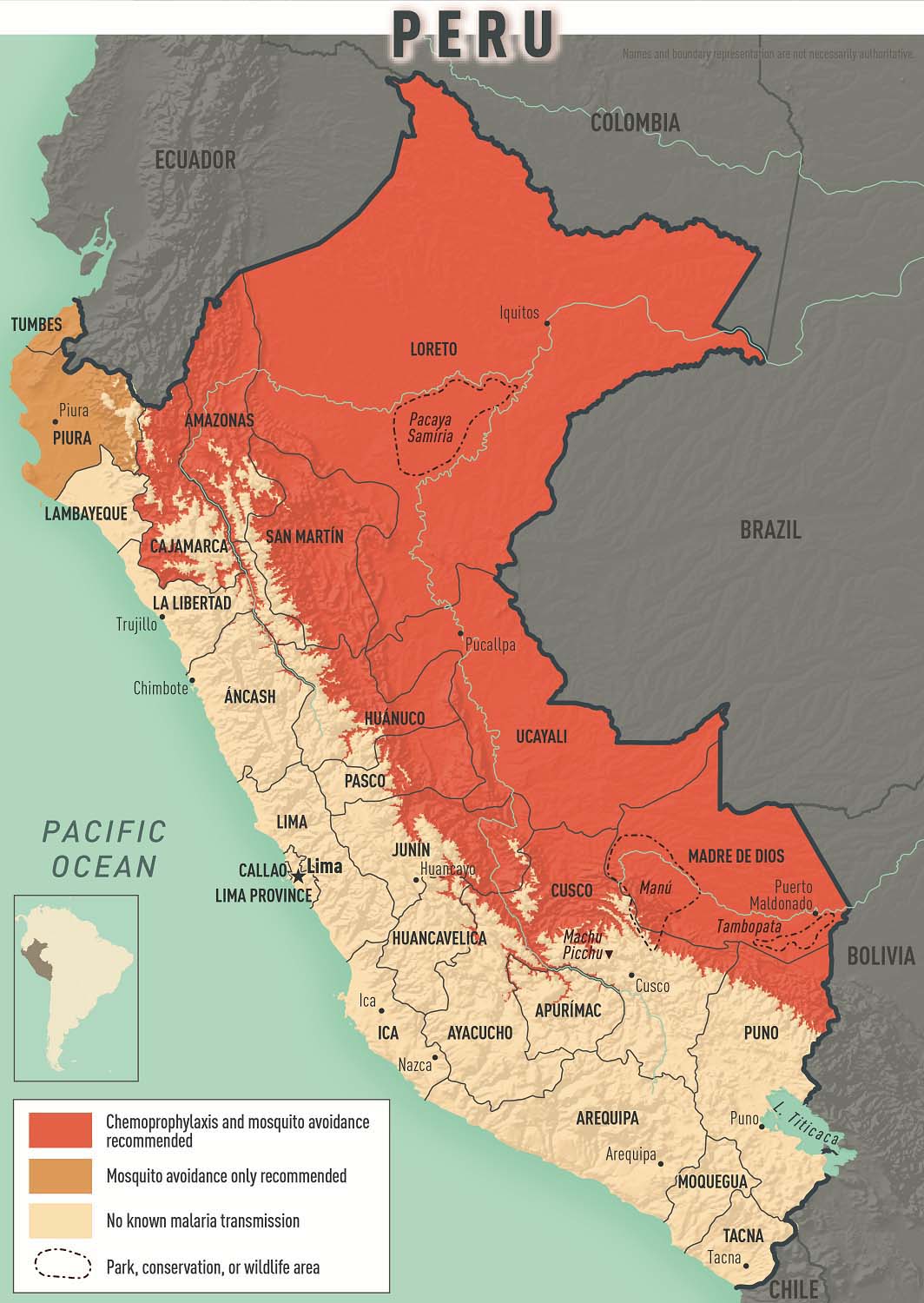 Yellow Fever
In Peru, areas of yellow fever endemicity overlap areas of malaria endemicity. CDC recommends vaccination for all travelers aged ≥9 months going to areas with a risk for yellow fever transmission (see Sec. 2, Ch. 5, Yellow Fever Vaccine & Malaria Prevention Information, by Country). Peru does not require proof of yellow fever vaccination for entry.
Map 2-13 Yellow fever vaccine recommendations for Peru & neighboring countries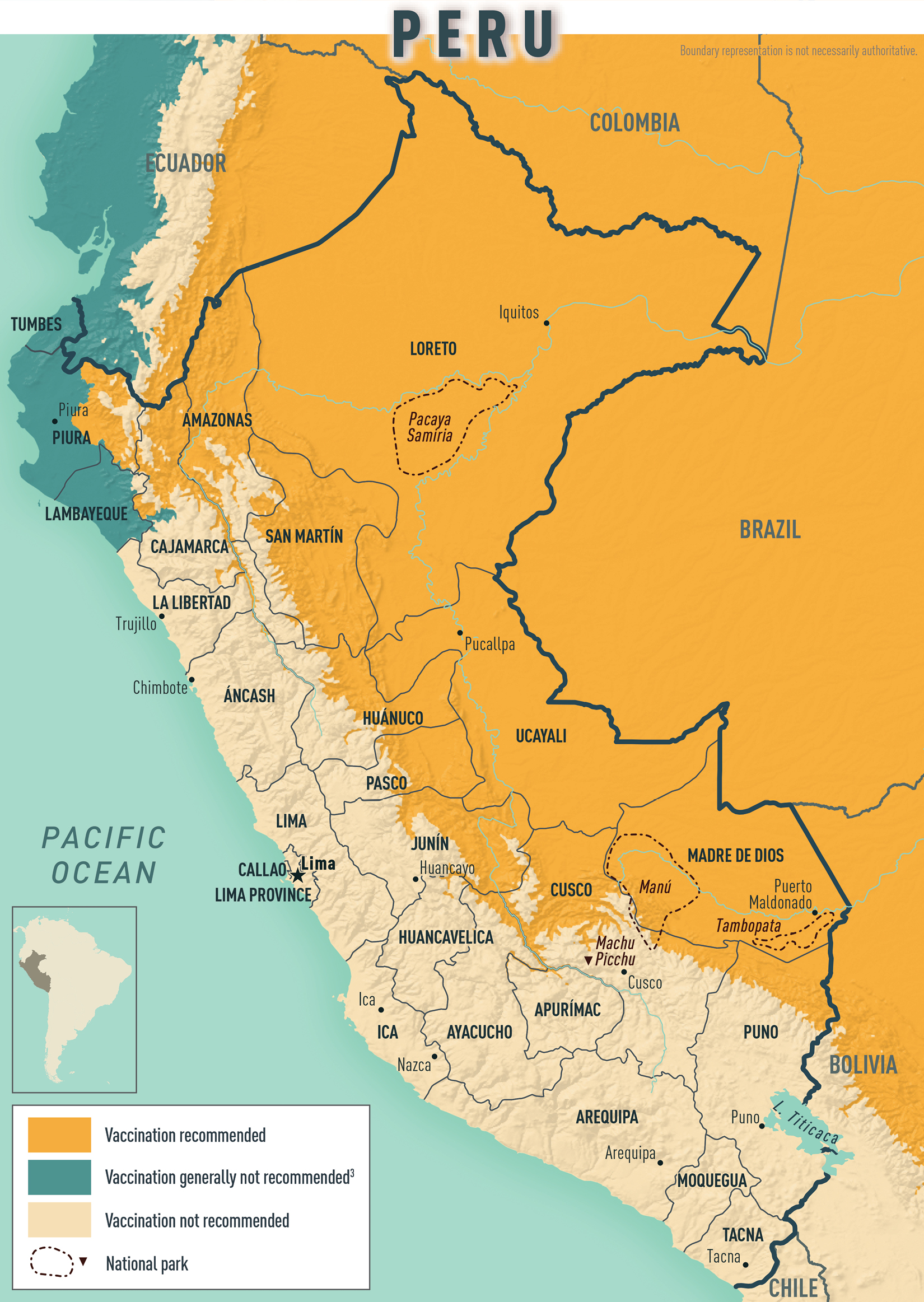 Environmental Hazards & Risks
Altitude Illness & Acute Mountain Sickness
Travelers who visit Cusco (3,339 m; ≈11,000 ft), Machu Picchu (2,430 m; ≈8,000 ft), Lake Titicaca (3,812 m; ≈12,500 ft), or who go hiking or climbing in the Andes Mountains (e.g., Huascarán [6,768 m; ≈22,200 ft] in the Cordillera Blanca range) are at risk for altitude illness and acute mountain sickness. See Sec. 4, Ch. 5, High Elevation Travel & Altitude Illness, for details regarding altitude illness and its medical management.
Animal Bites & Rabies
Although rabies is endemic among dogs and wild animals (bats and others) in Peru, preexposure prophylaxis is generally not recommended except for adventure travelers, veterinarians working in-country, or people planning on spending time in the open wilderness. Travelers should not approach or pet unknown animals. Although rabies vaccine is widely available in Peru, rabies immune globulin is not; thus, CDC recommends emergency return home or evacuation to the nearest destination that can deliver appropriate postexposure prophylaxis for anyone bitten or scratched by a potentially rabid animal (see Sec. 5, Part 2, Ch. 18, Rabies). Medical evacuation insurance can cover the cost of emergency travel (see Sec. 6, Ch. 1, Travel Insurance, Travel Health Insurance & Medical Evacuation Insurance).
Climate & Sun Exposure
Beach time in Peru brings the risk for sun exposure. Sun exposure is also a risk during visits to high mountain peaks and the Amazon rainforest. Travelers should bring and use sunscreen, but sunscreen is available for purchase in Peru. Travelers to areas where sunscreen and insect repellent are both needed should apply sunscreen first, then repellent, and avoid combination products because these are not as effective (see Sec. 4, Ch. 1, Sun Exposure).
Safety & Security
As a norm, Peruvians are friendly and try their best to accommodate newcomers. That said, tourists are easy prey for petty criminals. Travelers should always go out with a group or tour guide. In addition, travelers should avoid carrying large sums of money, keep their money in a secure pocket (not a purse), and show only small amounts of cash at a time. Most restaurants and major venues accept major credit cards. Whenever possible, travelers should make advance arrangements and payments.
Travelers also should make certain they are in safe company when drinking Pisco Sour (20%–30% alcohol content), the traditional drink of Peru.
Crime
Major crime is common in Peru but is a domestic problem; tourists are not normally implicated. Urge travelers to stay with a group or chaperone. Drug trafficking or consumption is illegal. Marijuana, in small amounts and with a prescription (which must be locally obtained or validated) is allowed for medicinal purposes. Ayahuasca, a hallucinogenic preparation, is commonly offered to tourists in Peru. The ayahuasca rituals are not illegal, but the safety and regulations for recreational use have not been established. Travelers taking psychoactive medications (e.g., antidepressants) who try ayahuasca could be at increased risk for adverse outcomes; consultation with a physician knowledgeable about potential drug interactions is advised.
Political Unrest
Peru is a Republic with a democratic government. The political situation is very fragile, however, and can change at any moment. Travelers should avoid getting involved in activism or political discussions (see Sec. 4, Ch. 11, Safety & Security Overseas).
Terrorism
Peru experienced a long period of terrorism during the 1980s and 1990s. The groups involved have been mostly defeated or have retreated to small cells in isolated areas of the country not normally visited by travelers.
Traffic-Related Injuries
Travelers should not drive in Peru. Roads are treacherous and traffic rules loosely followed. Travelers should avoid hailing informal taxicabs and instead opt to make a reservation through the hotel or tour guide. Tipping cab drivers is not customary and will identify travelers as tourists. Advise travelers to always wear a seat belt in vehicles. When on foot, travelers should pause to make certain traffic has stopped completely before stepping into the street.
Availability & Quality of Medical Care
Peru has a mixed public and private health care system. Travelers who need health care should access the private system of clinics (clínicas privadas) located throughout Lima and the major cities; lists of these clinics are available from hotels that cater to tourists or the US Embassy in Peru. Private clinic personnel usually understand English well, and many of their doctors have received part of their training in the United States. Treatment is relatively inexpensive, and most credit cards are accepted. Purchasing medication in Peru can be challenging; counterfeit medication is sold, and some medicines might not be available or could have different or unrecognizable names (see Sec. 6, Ch. 3, perspectives: Avoiding Poorly Regulated Medicines & Medical Products During Travel).
Travelers visiting friends or relatives should identify health care sources through their local acquaintances.
Medical Tourism
Peru is not a common destination for medical tourism. Medical tourism is not recognized or regulated by the local medical college, which makes it both dangerous and illegal.
The following authors contributed to the previous version of this chapter: Mark J. Sotir
Cabezas C, Trujillo O, Gonzales-Vivanco A, Benites Villafane CM, Balbuena J, Borda-Olivas AO, et al. Seroepidemiology of hepatitis A, B, C, D and E virus infections in the general population of Peru: a cross sectional study. PLoS One. 2020;15(6): e0234273
Garcia PJ, Cárcamo CP, Chiappe M, Holmes KK. Sexually transmitted and reproductive tract infections in symptomatic clients of pharmacies of Lima, Peru. Sex Transm Infect. 2007;83(2):142–6.
Munayco C, Chowell G, Tariq A, Undurraga EA, Mizumoto J. Risk of death by age and gender from COVID-19 in Peru, March–May, 2020. Aging (Albany NY). 2020;12(14):13869–81.
Solano-Villarreal E, Valdivia W, Pearcy M, Linard C, Pasapera-Gonzales J, Moreno-Gutierrez D, et al. Malaria risk assessment and mapping using satellite imagery and boosted regression trees in the Peruvian Amazon. Sci Rep. 2019;9(1):15173.
Soria J. Mugruza R, Levine M, León SR, Arévalo J, Ticona E, Beck IA, Frenkel LM. Pretreatment HIV drug resistance and virologic outcomes to first-line antiretroviral therapy in Peru. AIDS Res Hum Retroviruses. 2019;35(2):150–4.
Villegas L, Otero L, Sterling TR, Huaman MA, Van der Stuyft P, Gottuzzo E, et al. Prevalence, risk factors and treatment outcomes of isoniazid– and rifampicin–mono-resistant pulmonary tuberculosis in Lima, Peru. PLoS One. 2016;11(4):e0152933.
Winnicka L, Abdullah A, Yang T, Norville K, Irizarry-Acosta M. Yellow fever in an unvaccinated traveler to Peru. Open Forum Infect Dis. 2017;4(4):ofx205.
---
Page last reviewed:
May 01, 2023