Pregnant Travelers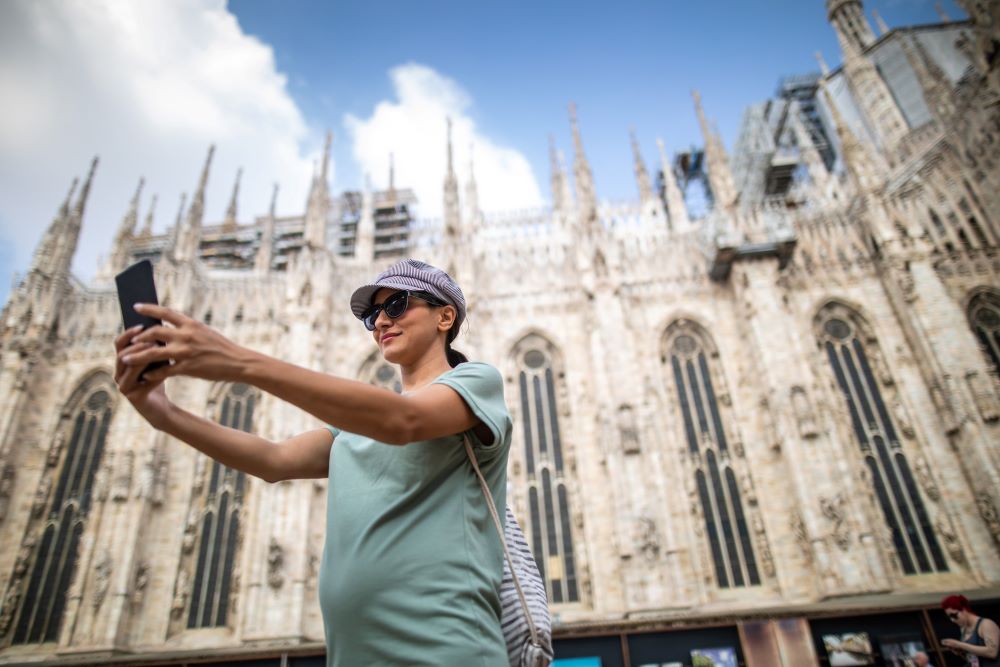 Pregnant travelers can generally travel safely with appropriate preparation. But they should avoid some destinations, including those with risk of Zika and malaria. Learn more about traveling during pregnancy and steps you can take to keep you and your baby healthy.
Before Travel
Before you book a cruise or air travel, check the airlines or cruise operator policies for pregnant women. Some airlines will let you fly until 36 weeks, but others may have an earlier cutoff. Cruises may not allow you to travel after 24–28 weeks of pregnancy, and you may need to have a note from your doctor stating you are fit to travel.
Zika and Malaria
Zika can cause severe birth defects. The Zika virus is spread through mosquito bites and sex. If you are pregnant, do not travel to areas with risk of Zika. If you must travel to an area with Zika, use insect repellent and take other steps to avoid bug bites. If you have a sex partner who lives in or has traveled to an area with Zika, you should use condoms for the rest of your pregnancy.
Pregnant travelers should avoid travel to areas with malaria, as it can be more severe in pregnant women. Malaria increases the risk for serious pregnancy problems, including premature birth, miscarriage, and stillbirth. If you must travel to an area with malaria, talk to your doctor about taking malaria prevention medicine. Malaria is spread by mosquitoes, so use insect repellent and take other steps to avoid bug bites.
Make an appointment with your healthcare provider or a travel health specialist that takes place at least one month before you leave. They can help you get destination-specific vaccines, medicines, and information. Discussing health concerns as well as your itinerary and planned activities with your provider allows them to give more specific advice and recommendations.
Plan for the unexpected. It is important to plan for unexpected events as much as possible. Doing so can help you get quality health care or avoid being stranded at a destination. A few steps you can take to plan for unexpected events are to get travel insurance,  learn where to get health care during travel, pack a travel health kit, and enroll in the Department of State's STEP.
Be sure your healthcare policy covers pregnancy and neonatal complications while overseas. If it doesn't get travel health insurance that covers those items. Consider getting medical evacuation insurance too.
Recognize signs and symptoms that require immediate medical attention, including pelvic or abdominal pain, bleeding, contractions, symptoms of preeclampsia (unusual swelling, severe headaches, nausea and vomiting, and vision changes), and dehydration.
Prepare a travel health kit. Pregnant travelers may want to include in your kit prescription medications, hemorrhoid cream, antiemetic drugs, antacids, prenatal vitamins, medication for vaginitis or yeast infection, and support hose, in addition to the items recommended for all travelers.
During Travel
Your feet may become swollen on a long flight, so wear comfortable shoes and loose clothing and try to walk around every hour or so. Sitting for a long time, like on long flight, increases your chances of getting blood clots, or deep vein thrombosis. Pregnant women are also more likely to get blood clots. To reduce your risk of a blood clot, your doctor may recommend compression stockings or leg exercises you can do in your seat. Also, see CDC's Blood Clots During Travel page for more tips on how to avoid blood clots during travel.
Choose safe food and drink. Contaminated food or drinks can cause travelers' diarrhea and other diseases and disrupt your travel. Travelers to low or middle income destinations are especially at risk. Generally, foods served hot are usually safe to eat as well as dry and packaged foods. Bottled, canned, and hot drinks are usually safe to drink. Learn more about how to choose safer food and drinks to prevent getting sick.
Pregnant women should not use bismuth subsalicylate, which is in Pepto-Bismol and Kaopectate. Travelers to low or middle income destinations are more likely to get sick from food or drinks. Iodine tablets for water purification should not be used since they can harm thyroid development of the fetus.
After Travel

If you traveled and feel sick, particularly if you have a fever, talk to a healthcare provider immediately, and tell them about your travel. Avoid contact with other people while you are sick.
More Information
---
Page last reviewed:
June 28, 2022