Health Information for Travelers to Equatorial Guinea
Clinician View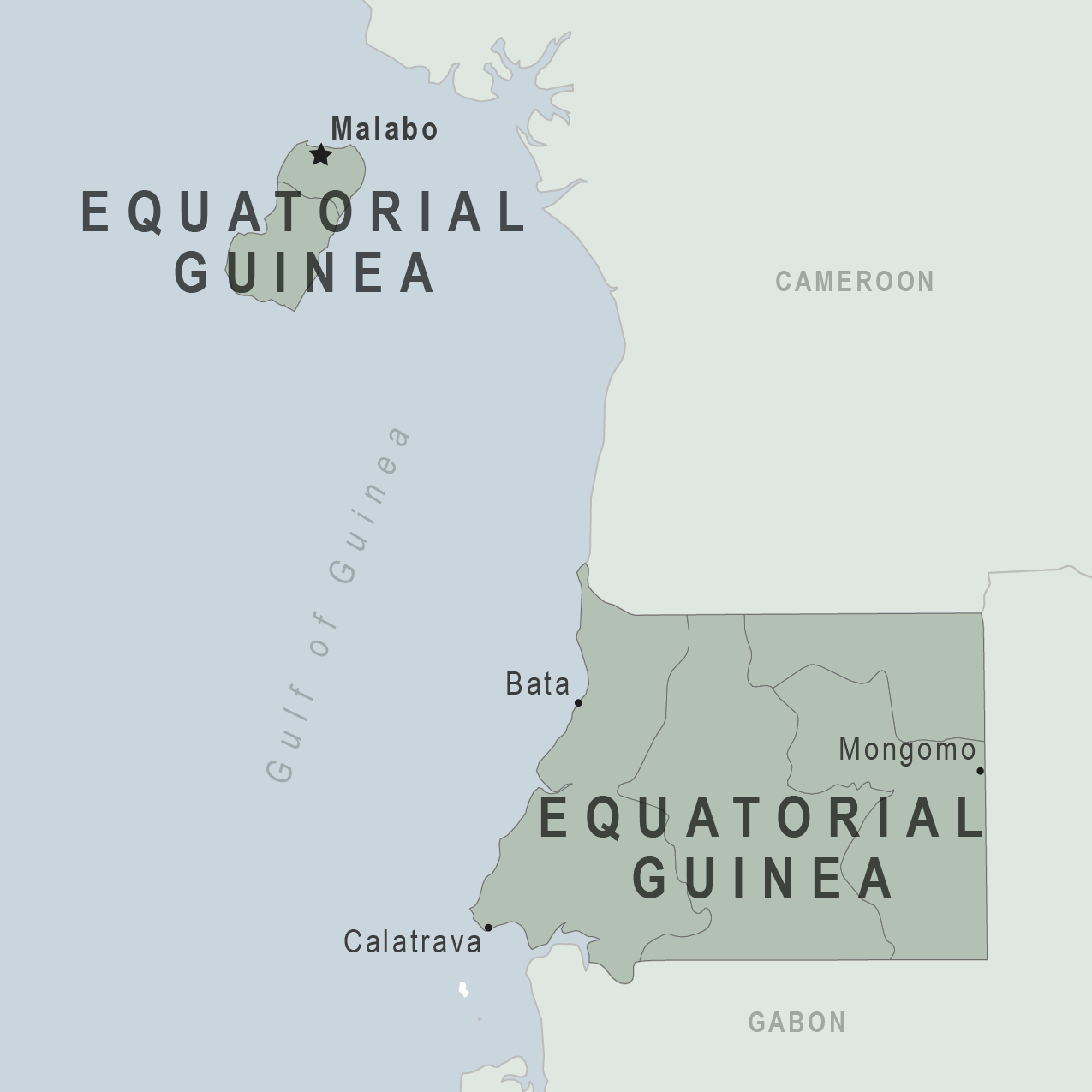 Hide
Vaccines and Medicines
Prepare travelers to Equatorial Guinea with recommendations for vaccines and medications.
Recommendations
Transmission
Guidance
Routine vaccines

Recommended for all travelers

varied

Hepatitis A

Recommended for most travelers, including those with "standard" itineraries and accommodations

Fecal-oral route (contaminated food and water)

Person-to-person contact

Hepatitis A (Yellow Book)

Hepatitis B

Consider for most travelers; recommended for those who might be exposed to blood or other body fluids, have sexual contact with the local population, or be exposed through medical treatment (e.g., for an accident).

Contact with blood and other body fluids:

Unprotected sex
Injection drug use
Contaminated transfusions
Exposure to human blood
Contaminated tattoo and piercing equipment

Hepatitis B (Yellow Book)

Malaria

Antimalarials recommended unless contraindicated.

Bite of infected mosquito (female Anopheles)

Malaria (Yellow Book)

Considerations when choosing a drug for malaria prophylaxis (Yellow Book)

Polio

Recommendation: Single lifetime booster IPV dose recommended for adults who received routine vaccination series as children; routine series recommended for unvaccinated or incompletely vaccinated children and adults and those with unknown vaccination status.

Requirement: People of all ages staying in Equatorial Guinea for >4 weeks may be required to show proof of polio vaccination before departing Equatorial Guinea. CDC recommends long-term travelers and expatriates staying in Equatorial Guinea receive a dose of IPV between 4 weeks and 12 months before the date of their planned departure from Equatorial Guinea. This dose should be officially documented on an International Certificate of Vaccination or Prophylaxis (ICVP).

Oral transmission

Fecal-oral route (person-to-person and contaminated food and water)

Rabies

Recommended for the following groups:

Travelers involved in outdoor and other activities that might bring them into direct contact with dogs, bats, and other mammals (such as campers, hikers, bikers, adventure travelers, and cavers).
Those with occupational risks (such as veterinarians, wildlife professionals, researchers).
Long-term travelers and expatriates.
Children, because they are considered at higher risk; consider lower threshold for vaccination.

Mammal bites (including dogs, bats, other carnivores)

Rabies (Yellow Book)

Typhoid

Recommended for most travelers, especially those who are staying with friends or relatives; visiting smaller cities, villages, or rural areas where exposure might occur through food or water; or prone to "adventurous eating"

Fecal-oral route (contaminated food and water)

Typhoid (Yellow Book)

Dosing info (Yellow Book)

Yellow Fever

Required if traveling from a country with risk of YFV transmission and ≥6 months of age.1 (Updated Jan. 23, 2015)

Recommended for all travelers ≥9 months of age.

Bite of infected mosquitoes

Yellow Fever (Yellow Book)
Hide
Non-Vaccine-Preventable Diseases
The following diseases are possible risks your patients may face when traveling in Equatorial Guinea. This list is based on our best available surveillance data and risk assessment information at the time of posting. It is not a complete list of diseases that may be present in a destination. Risks may vary within different areas of a destination.
Guidance
Patient Education
Notes

Vectorborne

African Sleeping Sickness (African Trypanosomiasis)

Increased risk for travelers spending a lot of time outdoors or visiting game parks
Travelers to urban areas not at risk
Tsetse flies:

bite during the day
are attracted to bright, dark colors
can bite through lightweight clothing

African Tick-Bite Fever

Although the disease is not confirmed in Equatorial Guinea, the vector is present and surrounding countries do have the disease.
Increased risk:

game hunting
traveling to southern Africa
traveling during warmer months when the vector is more active

Chikungunya

Mosquitoes carrying chikungunya bite during the day and night, both indoors and outdoors, and often live around buildings

Dengue

More risk in urban and residential areas than for other vectorborne diseases
Leading cause of febrile illness among travelers returning from the Caribbean, South America, and South and Southeast Asia

Bloodborne & Direct Physical Contact

HIV Infection

Risk for travelers generally low but determined more by behaviors than destination
High-risk travelers may consider preexposure prophylaxis
Health care workers should follow standard precautions and assess local availability of (or bring) reliable postexposure prophylaxis

Airborne & Droplet

Tuberculosis (TB)

Risk generally low for most tourist travelers
Those anticipating possible prolonged exposure to TB environments (such as working in hospitals, prisons, or homeless shelters) or those who stay for years in an endemic country should have a 2-step tuberculin skin test (TST) or a single interferon-γ release assay (IGRA) before leaving the US. If predeparture test is negative, a single TST or IGRA should be repeated 8–10 weeks upon return.
Hide
Healthy Travel Packing List
Hide
Travel Health Notices
Stay aware of current health issues in Equatorial Guinea in order to advise your patients on additional steps they may need to take to protect themselves.
Alert Level 2, Practice Enhanced Precautions
Polio in Equatorial Guinea

Updated

July 25, 2014

As of July 15, 2014, 5 cases of polio have been reported from Equatorial Guinea. Before 2014, no cases had been reported in Equatorial Guinea since 1999. CDC recommends that all travelers to Equatorial Guinea be fully vaccinated against polio. In addition, adults should receive a one-time booster dose of polio vaccine. Read More >>
Hide
Advising Returning Travelers
Although some illnesses may begin during travel, others may occur weeks, months, or even years after return. A history of travel, particularly within the previous 6 months, should be part of the routine medical history for every ill patient. A newly returned, ill international traveler should be preferentially evaluated by a physician versed in travel-related illness.
Here are two professional medical organizations that provide directories of travel clinics throughout the United States:
Malaria is always a serious disease and may be a deadly illness. Any patient presenting with a fever after traveling in a malaria-risk area during the last year should be evaluated immediately using the appropriate diagnostic tests for malaria. Malaria, especially P. falciparum, requires urgent intervention as clinical deterioration can occur rapidly and unpredictably.
For more information on advising patients after international travel, see Yellow Book Chapter 5: Post-Travel Evaluation.
Map Disclaimer - The boundaries and names shown and the designations used on maps do not imply the expression of any opinion whatsoever on the part of the Centers for Disease Control and Prevention concerning the legal status of any country, territory, city or area or of its authorities, or concerning the delimitation of its frontiers or boundaries. Approximate border lines for which there may not yet be full agreement are generally marked.
Contact Us:
Centers for Disease Control and Prevention
1600 Clifton Rd
Atlanta, GA 30333
800-CDC-INFO
(800-232-4636)
TTY: (888) 232-6348