Health Information for Travelers to Mexico
Clinician View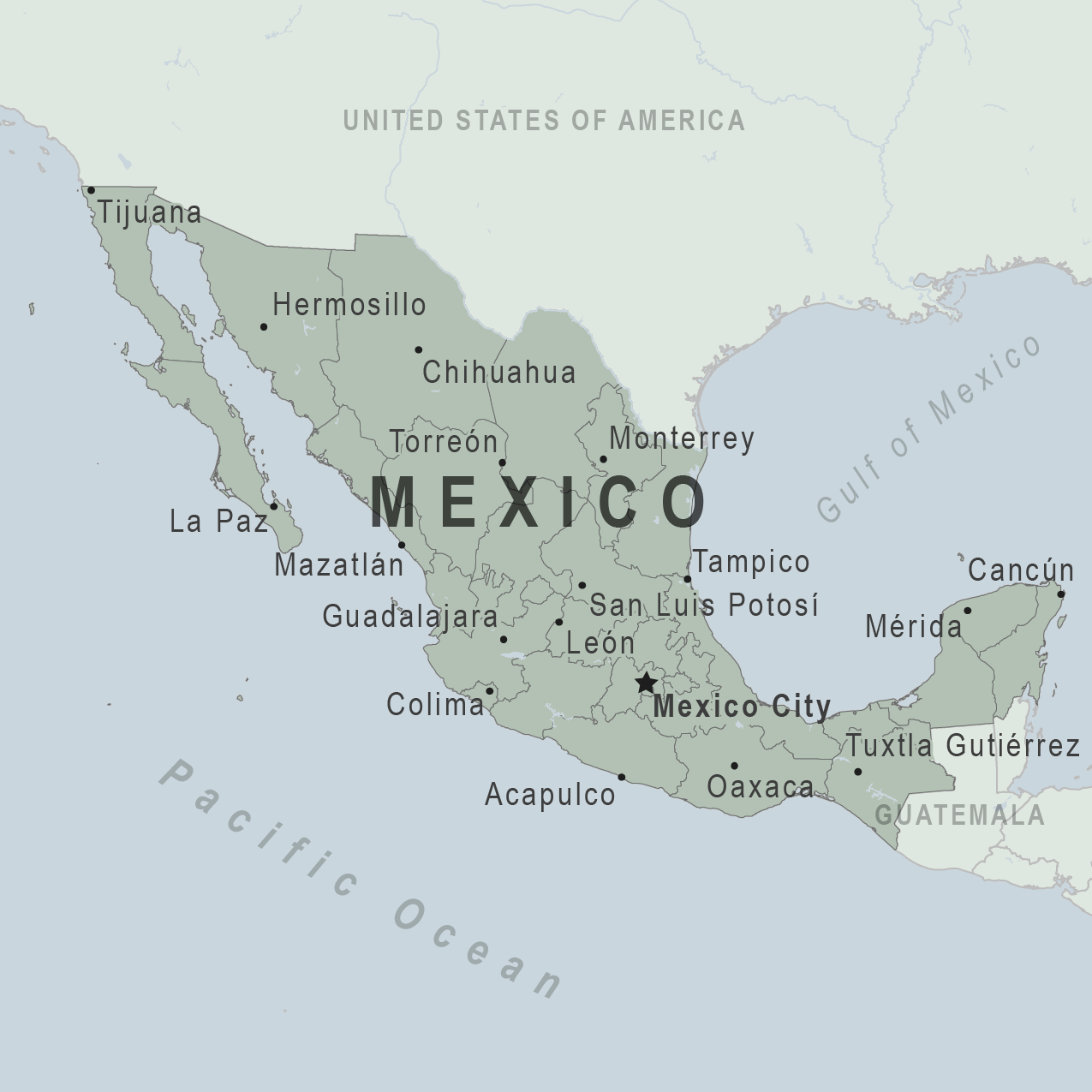 Hide
Vaccines and Medicines
Prepare travelers to Mexico with recommendations for vaccines and medications.
Recommendations
Transmission
Guidance
Routine vaccines

Recommended for all travelers

varied

Hepatitis A

Recommended for most travelers, including those with "standard" itineraries and accommodations

Fecal-oral route (contaminated food and water)

Person-to-person contact

Hepatitis A (Yellow Book)

Hepatitis B

Consider for most travelers; recommended for those who might be exposed to blood or other body fluids, have sexual contact with the local population, or be exposed through medical treatment (e.g., for an accident).

Contact with blood and other body fluids:

Unprotected sex
Injection drug use
Contaminated transfusions
Exposure to human blood
Contaminated tattoo and piercing equipment

Hepatitis B (Yellow Book)

Malaria

Antimalarials recommended for travelers to malaria risk areas in Mexico

Bite of infected mosquito (female Anopheles)

Malaria (Yellow Book)

Considerations when choosing a drug for malaria prophylaxis (Yellow Book)

Rabies

Recommended for the following groups:

Travelers involved in outdoor and other activities in remote areas that might bring them into direct contact with dogs, bats, and other mammals (such as adventure travelers and cavers).
Those with occupational risks (such as veterinarians, wildlife professionals, researchers).
Long-term travelers/expatriates visiting remote areas.
Children, because they are considered at higher risk; consider lower threshold for vaccination.

Mammal bites (including dogs, bats, other carnivores). Canine rabies is present but not a significant concern to travelers.

Rabies (Yellow Book)

Typhoid

Recommended for most travelers, especially those who are staying with friends or relatives; visiting smaller cities, villages, or rural areas where exposure might occur through food or water; or prone to "adventurous eating"

Fecal-oral route (contaminated food and water)

Typhoid (Yellow Book)

Dosing info (Yellow Book)
Hide
Non-Vaccine-Preventable Diseases
The following diseases are possible risks your patients may face when traveling in Mexico. This list is based on our best available surveillance data and risk assessment information at the time of posting. It is not a complete list of diseases that may be present in a destination. Risks may vary within different areas of a destination.
Guidance
Patient Education
Notes

Vectorborne

Chagas disease (American Trypanosomiasis)

See prevention information in Detailed FAQs (CDC Parasitic Diseases website)

Risk to travelers is extremely low
Higher risk if staying in poor-quality housing
Spread by the feces of triatomine bugs (also known as reduviid bugs or "kissing" bugs), not the bug bite

Dengue

More risk in urban and residential areas than for other vectorborne diseases
Leading cause of febrile illness among travelers returning from the Caribbean, South America, and South and Southeast Asia

Airborne & Droplet

Tuberculosis (TB)

Risk generally low for most tourist travelers
Risk of bovine TB for US travelers when consuming unpasteurized dairy products.
Hide
Healthy Travel Packing List
Hide
Travel Health Notices
Stay aware of current health issues in Mexico in order to advise your patients on additional steps they may need to take to protect themselves.
Watch Level 1, Practice Usual Precautions
New!

Carnival and Mardi Gras

Released

January 26, 2015

Thousands of people around the world celebrate Carnival every year. Some of the most popular Carnival celebrations take place in Rio de Janeiro, Brazil; Nice, France; Venice, Italy; Cologne, Germany; Quebec, Canada; New Orleans, Louisiana; and Trinidad and Tobago. Carnival dates vary by destination, but for many, the celebration starts the Friday before the beginning of Lent (Ash Wednesday). The last day of celebration is called Mardi Gras or "Fat Tuesday." In 2015, Carnival festivities at many destinations reach their height from Friday, February 13, through Tuesday, February 17. Most Carniva Read More >>

Updated

Chikungunya in Mexico

Updated

January 13, 2015

On October 14, 2014, Mexico reported a locally transmitted chikungunya case for the first time; the case occurred in the Chiapas State in southern Mexico. Local transmission means that mosquitoes in Mexico have been infected with chikungunya and are spreading it to people. CDC recommends that travelers to Mexico protect themselves from chikungunya by preventing mosquito bites. Read More >>
Cholera in Mexico

Updated

December 18, 2014

According to the Pan American Health Organization's Epidemiological Update on Cholera, as of November 10, 2014, there were 14 confirmed cases, 13 in Hidalgo state and 1 in Querétaro. There were 187 confirmed cholera cases, including one death, reported in Mexico in 2013. Read More >>
Hide
Advising Returning Travelers
Although some illnesses may begin during travel, others may occur weeks, months, or even years after return. A history of travel, particularly within the previous 6 months, should be part of the routine medical history for every ill patient. A newly returned, ill international traveler should be preferentially evaluated by a physician versed in travel-related illness.
Here are two professional medical organizations that provide directories of travel clinics throughout the United States:
Malaria is always a serious disease and may be a deadly illness. Any patient presenting with a fever after traveling in a malaria-risk area during the last year should be evaluated immediately using the appropriate diagnostic tests for malaria. Malaria, especially P. falciparum, requires urgent intervention as clinical deterioration can occur rapidly and unpredictably.
For more information on advising patients after international travel, see Yellow Book Chapter 5: Post-Travel Evaluation.
Map Disclaimer - The boundaries and names shown and the designations used on maps do not imply the expression of any opinion whatsoever on the part of the Centers for Disease Control and Prevention concerning the legal status of any country, territory, city or area or of its authorities, or concerning the delimitation of its frontiers or boundaries. Approximate border lines for which there may not yet be full agreement are generally marked.
Contact Us:
Centers for Disease Control and Prevention
1600 Clifton Rd
Atlanta, GA 30333
800-CDC-INFO
(800-232-4636)
TTY: (888) 232-6348