Health Information for Travelers to Lesotho
Traveler View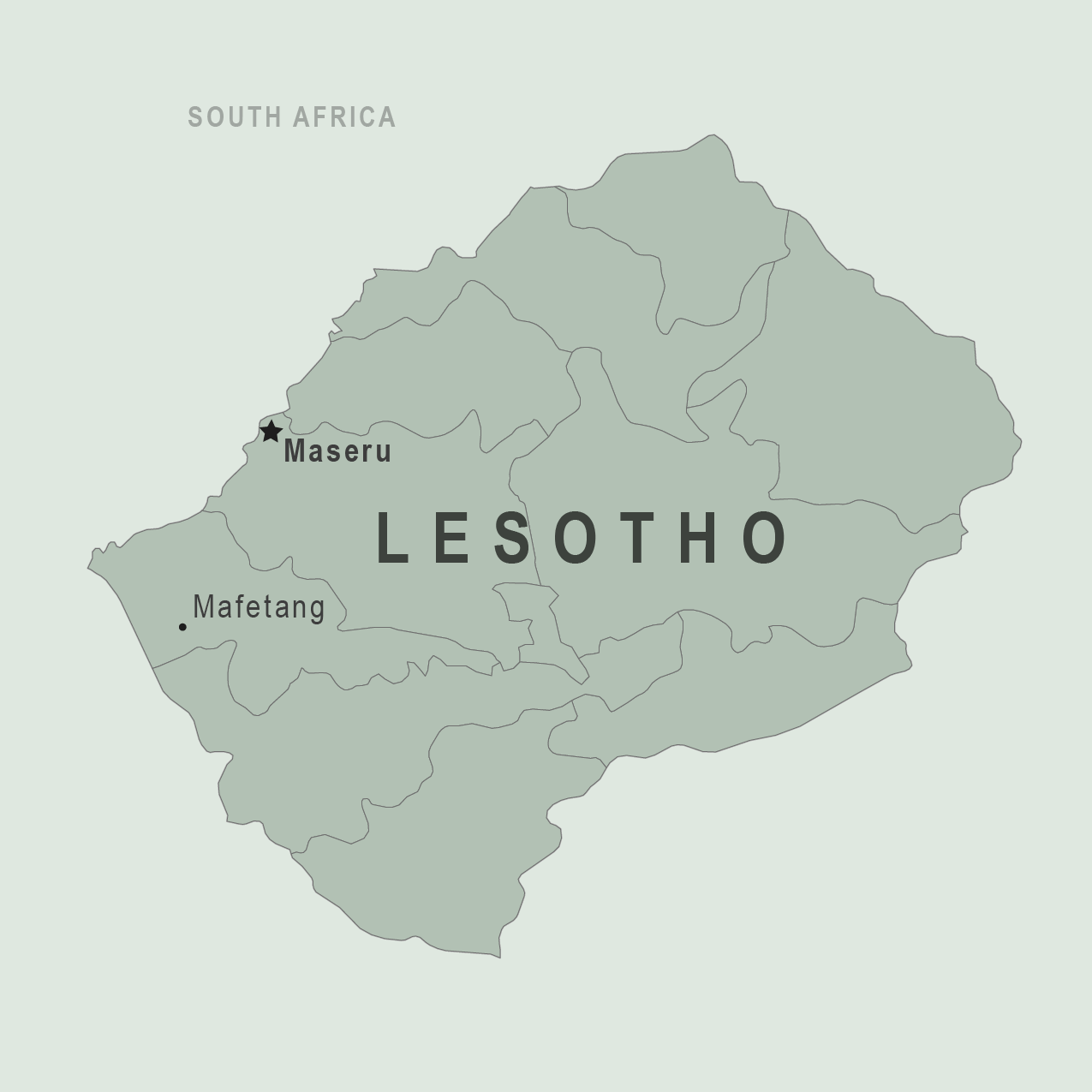 Hide
Vaccines and Medicines
Check the vaccines and medicines list and visit your doctor (ideally, 4-6 weeks) before your trip to get vaccines or medicines you may need.
Find Out Why
Protect Yourself

All travelers

You should be up to date on routine vaccinations while traveling to any destination. Some vaccines may also be required for travel.

Routine vaccines

Make sure you are up-to-date on routine vaccines before every trip. These vaccines include measles-mumps-rubella (MMR) vaccine, diphtheria-tetanus-pertussis vaccine, varicella (chickenpox) vaccine, polio vaccine, and your yearly flu shot.

Most travelers

Get travel vaccines and medicines because there is a risk of these diseases in the country you are visiting.

Hepatitis A

CDC recommends this vaccine because you can get hepatitis A through contaminated food or water in Lesotho, regardless of where you are eating or staying.

Typhoid

You can get typhoid through contaminated food or water in Lesotho. CDC recommends this vaccine for most travelers, especially if you are staying with friends or relatives, visiting smaller cities or rural areas, or if you are an adventurous eater.

Some travelers

Ask your doctor what vaccines and medicines you need based on where you are going, how long you are staying, what you will be doing, and if you are traveling from a country other than the US.

Hepatitis B

You can get hepatitis B through sexual contact, contaminated needles, and blood products, so CDC recommends this vaccine if you might have sex with a new partner, get a tattoo or piercing, or have any medical procedures.

Rabies

Rabies can be found in dogs, bats, and other mammals in Lesotho, so CDC recommends this vaccine for the following groups:

Travelers involved in outdoor and other activities (such as camping, hiking, biking, adventure travel, and caving) that put them at risk for animal bites.
People who will be working with or around animals (such as veterinarians, wildlife professionals, and researchers).
People who are taking long trips or moving to Lesotho
Children, because they tend to play with animals, might not report bites, and are more likely to have animal bites on their head and neck.

Yellow Fever

There is no risk of yellow fever in Lesotho. The government of Lesotho requires proof of yellow fever vaccination only if you are arriving from a country with risk of yellow fever. This does not include the US. If you are traveling from a country other than the US, check this list to see if you may be required to get the yellow fever vaccine: Countries with risk of yellow fever virus (YFV) transmission.

For more information on recommendations and requirements, see yellow fever recommendations and requirements for Lesotho. Your doctor can help you decide if this vaccine is right for you based on your travel plans.
Key
Get vaccinated
Eat and drink safely
Keep away from animals
Reduce your exposure to germs
Avoid sharing body fluids
Avoid non-sterile medical or cosmetic equipment
Hide
Healthy Travel Packing List
Pack items for your health and safety.
Remember to pack extras of important health supplies in case of travel delays. This is especially important for items that may be difficult to get at your destination, like prescription medicines.
You may not be able to purchase and pack all of these items, and some may not be relevant to you and your travel plans. Some items, like your prescriptions, sunscreen, and insect repellent, should go with you on almost every trip. Talk to your doctor about which items are most important for you.
This list is general and may not include all the items you need. Some travelers may need additional health items, such as travelers who are pregnant, immune compromised, or traveling for a specific purpose like humanitarian aid work. Check our Traveler Information Center for more information if you are a traveler with specific health needs.
Medicines and Medical Supplies
Prescription medicines you take for existing conditions




Medicines you take regularly and copies of your prescriptions

Medical supplies you use for existing conditions




Examples:

Eyeglasses and contacts with copies of your prescription for glasses/contacts.
Consider packing spare glasses and contacts in case yours are damaged.
Needles or syringes, such as for diabetes. (Requires a letter from your doctor on letterhead stationery.)
Insulin supplies
Inhalers
Epinephrine auto-injectors (EpiPens)
Medical alert bracelet

Special prescriptions for the trip




Ask your doctor about taking special medicines or supplies:

Antibiotic for travelers' diarrhea
Commercial suture/syringe kit to be used by local health care provider (requires letter from your doctor on letterhead stationery)
Medicine to prevent altitude sickness

Over-the-counter medicines




Examples:

Antacid
Diarrhea medicine (for example, loperamide [Imodium] or bismuth subsalicylate [Pepto-Bismol])
Antihistamine
Motion sickness medicine
Cough drops
Cough suppressant/expectorant
Decongestant
Medicine for pain and fever (such as acetaminophen, aspirin, or ibuprofen)
Mild laxative
Mild sedative or other sleep aid
Saline nose spray
Supplies to prevent illness or injury
Hand sanitizer or wipes




Alcohol-based hand sanitizer containing at least 60% alcohol or antibacterial hand wipes

Water purification tablets


See CDC recommendations: Water Disinfection.

Insect repellent


Select an insect repellent based on CDC recommendations: Avoid Bug Bites

Permethrin




Permethrine is insect repellent for clothing. It may be needed if you spend a lot of time outdoors. Clothing can also be treated at home in advance.

Sunscreen


(SPF 15 or greater) with UVA and UVB protection. See Sun Exposure.

Sunglasses and wide brim hat




Wear for additional sun protection

Safety equipment




Examples: child safety seats, bicycle helmets

Earplugs




Latex condoms



First-Aid Kit
First aid creams or gels




1% hydrocortisone cream
Antifungal and antibacterial ointments or creams
Antiseptic wound cleanser
Aloe gel for sunburns
Insect bite treatment (anti-itch gel or cream)

Bandages and blister care




Bandages (multiple sizes), gauze, and adhesive tape
Moleskin or molefoam for blisters

Elastic bandage wrap




Elastic/compression bandage wrap for sprains and strains

Equipment




Disposable gloves
Digital thermometer
Scissors and safety pins
Cotton swabs (Q-Tips)
Tweezers

Eye drops




Oral rehydration salts



Documents
Health insurance documents




Health insurance card (your regular plan and/or supplemental travel health insurance plan) and copies of claim forms

Proof of yellow fever vaccination




If required for your trip, take your completed International Certificate of Vaccination or Prophylaxis card or medical waiver

Copies of all prescriptions




Make sure prescriptions include generic names. (Bring prescriptions for medicines, eye glasses/contacts, and other medical supplies).

Contact card




Carry a contact card containing the street addresses, phone numbers, and e-mail addresses of the following:

Family member or close contact remaining in the United States
Health care provider(s) at home
Lodging at your destination
Area hospitals or clinics, including emergency services
U.S. embassy or consulate in the destination country or countries
If you are not feeling well after your trip, you may need to see a doctor. If you need help finding a travel medicine specialist, see Find a Clinic. Be sure to tell your doctor about your travel, including where you went and what you did on your trip. Also tell your doctor if you were bitten or scratched by an animal while traveling.
For more information on what to do if you are sick after your trip, see Getting Sick after Travel.
Map Disclaimer - The boundaries and names shown and the designations used on maps do not imply the expression of any opinion whatsoever on the part of the Centers for Disease Control and Prevention concerning the legal status of any country, territory, city or area or of its authorities, or concerning the delimitation of its frontiers or boundaries. Approximate border lines for which there may not yet be full agreement are generally marked.
Contact Us:
Centers for Disease Control and Prevention
1600 Clifton Rd
Atlanta, GA 30333
800-CDC-INFO
(800-232-4636)
TTY: (888) 232-6348