Mobile Apps
TravWell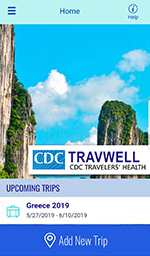 CDC's TravWell app helps you plan for safe and healthy international travel. Build a trip to get destination-specific vaccine recommendations, a checklist of what you need to do to prepare for travel, and a customizable healthy travel packing list. The app also lets you store travel documents, keep a record of your medications and immunizations, and set reminders to get vaccine booster doses or take medicines while you're traveling.
Key Features
Authoritative recommendations from the Centers for Disease Control and Prevention
During-travel features available offline (no data connection needed)
Fully customizable to do list and packing list
Emergency services phone numbers for every destination
Easy to use and fun
To give feedback about this app, contact CDC-INFO.
CDC Yellow Book 2018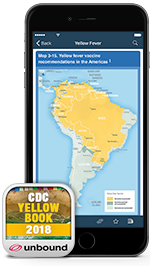 CDC Health Information for International Travel (commonly called the Yellow Book) is published every two years by CDC as a reference for those who advise international travelers about health risks. The Yellow Book is written primarily for health professionals, although others will find it useful. Now travelers and clinicians can access the Yellow Book any time, any where. It is currently available in print, online, and as an app for your mobile device!
Key Features
Pre-travel vaccinations and preventative care guidelines
Easy to use reference maps, tables, and charts
Highlight and custom note-taking capabilities
Full Text Search to find specific topics quickly
"Favorites" for bookmarking important topics
Page created:

April 17, 2014

Page last updated:

July 16, 2018

Page last reviewed:

June 06, 2018

Content source: