Welcome to the NEW CDC Travelers' Health Website!
Notice something different? We've been hard at work, reimagining and redesigning the Travelers' Health website. We've done rigorous user testing to guide several improvements to the site that we hope will enhance your experience and make the site easier to use, more informative, and more helpful as you plan for your trip abroad. These new features include:
Customized Traveler and Clinician Destination Pages
We've streamlined our destination pages to give you the information you need most in a way that is simple and easy to use. The destination pages now feature:
An easy-to-read list of vaccines and medicines you may need before your trip.
Tips for how to stay healthy and safe while traveling.
A healthy travel packing list.
Travel notices for your destination.
Information about what to do if you get sick after your trip.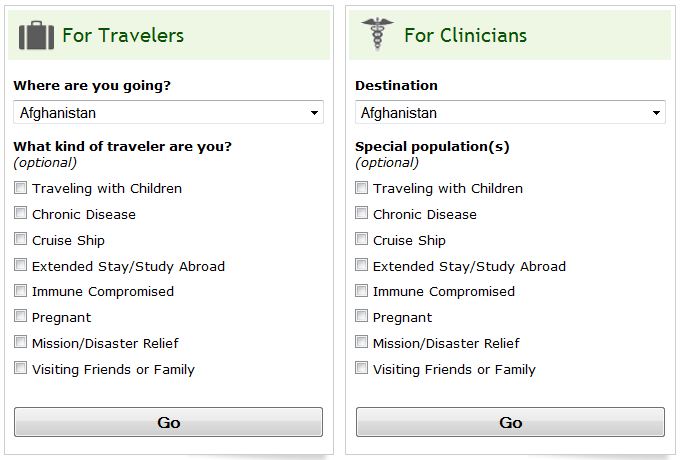 We've also designed these pages with both you and your health care provider in mind.
The Traveler's View has all the information you need to have a healthy trip, with ways to print the entire page or just the parts you want.
The Clinician's View provides your doctor with the information he or she needs to advise you during a pre-travel consultation.
We also provide an option to select information for travelers with specific health needs, such as travelers who are pregnant or traveling with children. (See below for more categories.)
When selecting a destination, check the boxes that apply to you for customized information.
Information Centers for Travelers, Clinicians, and the Travel Industry
Our new information centers are designed as a one-stop shop for all your information needs.
In the Traveler Information Center you'll find tips on many travel health topics, links to other important sites, and resources to help you find a travel medicine specialist.
Health care providers visiting our site will find a variety of resources in the Clinician Information Center, including continuing education and training opportunities, clinical updates for travel medicine, and other helpful references.
The Travel Industry Information Center links to important information for people who work in the airline and cruise industries.
Disease Directory
We've developed short disease pages to provide a brief description of travel-related illnesses, as well as information about who may be at risk and what you can do to protect yourself. These pages link to other resources so you can find out more information if you are interested.
Discover more about travel-related diseases.
New Travel Notice Levels
CDC issues different types of health notices for international travelers. These definitions have recently been refined to make the announcements easier to understand. They describe both levels of risk for the traveler and recommended preventive measures to take at each level of risk.
Learn more about our new Travel Notices.
Have a look around – we hope you like what you see. Have a safe and healthy trip!
Page created:

May 15, 2013

Page last updated:

May 15, 2013

Page last reviewed:

May 15, 2013

Content source: