Another Dimension
Thoughtful essays, short stories, or poems on philosophical issues related to science, medical practice, and human health. Topics may include science and the human condition, the unanticipated side of epidemic investigations, or how people perceive and cope with infections and illness.
Volume 28—2022
Volume 28, Number 12—December 2022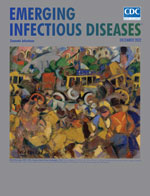 ---
Pandemic or Panzootic—A Reflection on Terminology for SARS-CoV-2 Infection
[PDF - 275 KB - 4 pages]
As of October 2022, a total of 675 natural outbreaks of SARS-CoV-2 infection have occurred in animal species worldwide. Here, we provide a linguistic and etymologic critique of the term "pandemic" being used to describe the COVID-19 health crisis, as opposed to the term "panzootic," and discuss policy ramifications of more inclusive terminology.
| | |
| --- | --- |
| EID | Agnelli S, Capua I. Pandemic or Panzootic—A Reflection on Terminology for SARS-CoV-2 Infection. Emerg Infect Dis. 2022;28(12):2552-2555. https://doi.org/10.3201/eid2812.220819 |
| AMA | Agnelli S, Capua I. Pandemic or Panzootic—A Reflection on Terminology for SARS-CoV-2 Infection. Emerging Infectious Diseases. 2022;28(12):2552-2555. doi:10.3201/eid2812.220819. |
| APA | Agnelli, S., & Capua, I. (2022). Pandemic or Panzootic—A Reflection on Terminology for SARS-CoV-2 Infection. Emerging Infectious Diseases, 28(12), 2552-2555. https://doi.org/10.3201/eid2812.220819. |
Volume 28, Number 7—July 2022
---
Emerging from an Isolation Cocoon, 2022
[PDF - 194 KB - 1 page]
| | |
| --- | --- |
| EID | Louie R. Emerging from an Isolation Cocoon, 2022. Emerg Infect Dis. 2022;28(7):1503. https://doi.org/10.3201/eid2807.220488 |
| AMA | Louie R. Emerging from an Isolation Cocoon, 2022. Emerging Infectious Diseases. 2022;28(7):1503. doi:10.3201/eid2807.220488. |
| APA | Louie, R. (2022). Emerging from an Isolation Cocoon, 2022. Emerging Infectious Diseases, 28(7), 1503. https://doi.org/10.3201/eid2807.220488. |
Page created: May 12, 2022
Page updated: November 21, 2022