ICEID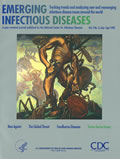 International Conference on Emerging and Infectious Diseases
March, 1998, CDC partners with the Council of State and Territorial Epidemiologists, the American Society for Microbiology, and the National Foundation for CDC along with 62 other cosponsors, to convene the inaugural International Conference on Emerging and Infectious Diseases. Several years before he became EID's editor-in-chief, the journal's own D. Peter Drotman contributed this article about emerging infectious diseases to the September 1998 special ICEID theme issue.
The 9th ICEID occurs on August 24-26, 2015, in Atlanta, Georgia. This conference brings together public health professionals to encourage the exchange of scientific and public health information on global emerging infectious disease issues. Topics included are antimicrobial resistance, bioterrorism and preparedness, foodborne and waterborne illnesses, global health, molecular diagnostics and epidemiology, nosocomial Infections, socio-economic and political factors, vectorborne diseases, and zoonotic diseases.
In 2008, the EID journal began posting the peer-reviewed abstracts for the ICEID online. Click here to read these abstracts for 2008, 2010 and 2012.
Page created: June 23, 2015
Page updated: January 01, 1900
Page reviewed: January 01, 1900