Emerging Infections: Microbial Threats to Health in the United States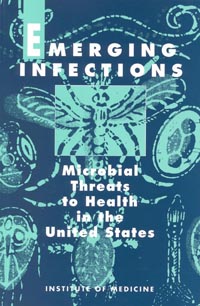 In the early 1990s, Joshua Lederberg was a champion and advocate for emerging infectious diseases. He strongly believed that a need existed for a vigorous CDC response. With this goal in mind, he met with leadership at CDC and co-chaired one of the first meetings in the early 1990s to strategize on how to meet these needs.
Shortly thereafter, in early 1992, the Institute of Medicine formed an expert committee, co-chaired by Lerderberg and Robert Shope, to take a look at domestic response and preparedness capacity for new and emerging infectious diseases. Later that same year, with Stanley Oaks, they issued the seminal report, Emerging Infections: Microbial Threats to Health in the United States. This report had a number of recommendations in it and the majority referenced CDC. Leadership in the newly established National Center for Infectious Diseases (NCID) took the report seriously. In 1993 and 1994 extensive work was done by staff of NCID to develop an emerging infections strategy. This strategy was issued in 1994. In part it called for increased interdisciplinary collaboration and better communications for people involved in clinical medicine, research, and public health. Joe McDade expanded on this strategy and came up with the concept of developing a peer-reviewed journal that could focus in a very timely way on the dissemination of information of emerging infections. McDade was editor-in-chief for Emerging Infectious Diseases journal until his retirement in 2001.
Shope became a founding member of the editorial board of EID and Joshua Lederberg was a "magnificent friend of EID and was looking out for our interests, including writing many articles for EID," according to current editor-in-chief D. Peter Drotman.
Click here to read the entire IOM report Emerging Infections: Microbial Threats to Health in the United States
Page created: February 20, 2015
Page updated: February 03, 2015
Page reviewed: February 03, 2015