Volume 10, Number 4—April 2004
Perspective
Economics of Preventing Hospital Infection
Figure 3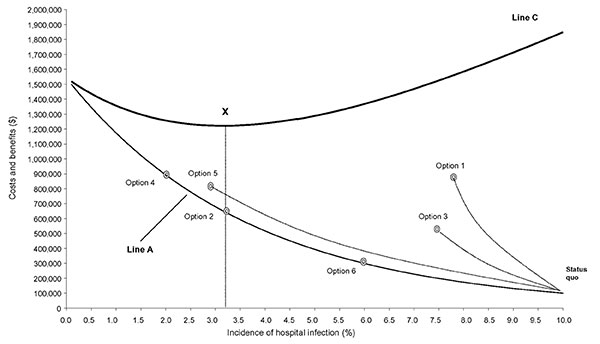 1Care should be taken in interpreting this estimate, as it was derived from data gathered in the mid-1970s for the Study on the Efficacy of Nosocomial Infection Control (SENIC).
2At rates of 10% the fixed costs of the organization were managing to treat 50,000 patients, but at zero rates of infection they are treating 52,500 patients, representing an improvement in efficiency. See Appendix 1.
3Reductions would be in expenditures on antimicrobials to treat the infection and on the equipment used to deliver therapy. Expenditures on resources used for wound care such as dressings, irrigations, and other consumables would be reduced. Also, workload of the nursing staff may be reduced, so expenditures on agency nurses would be less.
Page created: February 09, 2011
Page updated: February 09, 2011
Page reviewed: February 09, 2011