Volume 10, Number 9—September 2004
Research
Genetic Divergence and Dispersal of Yellow Fever Virus, Brazil
Pedro F.C. Vasconcelos*

, Juliet E. Bryant†, Amelia P.A. Travassos da Rosa†, Robert B. Tesh†, Sueli G. Rodrigues*, and Alan D.T. Barrett†
Author affiliations: *World Health Organization Collaborating Center for Arbovirus Reference and Research, Instituto Evandro Chagas, Belém, Brazil; †University of Texas Medical Branch, Galveston, Texas, USA
Table A1
| Isolate | Strain ID | Passage levela | Sourceb | Statec | Community | Biotoped/Climatee |
| --- | --- | --- | --- | --- | --- | --- |
| JSS | Brazil35 (38) | Mosq1, SM8 | Humanunk | MT | No data | WC/EHW |
| Be H111 | Brazil54 (39) | c6/36, SM10 | Human * | PA | Oriboca | EA/EHW |
| BeAr 162 | Brazil55B | SM4, C6/36#1 | Hg. janthinomys | PA | Pirelli Marituba | EA/EHW |
| BeAr 189 | Brazil55C (39) | sm1 c6/36#1 | Sabethes sp. | PA | Pirelli Marituba | EA/EHW |
| BeAn 23536 | Brazil602 | SM1 c6/36#1 | Cebus sp. | PA | Belém Brasília Km94 | EA/EHW |
| BeAr 46299 | Brazil62A (39) | c6/36 | Haemagogus sp. | PA | Belém Brasília Km94 | EA/EHW |
| BeAr 44824 | Brazil62B (39) | SM1 c6/36#1 | Haemagogus sp. | PA | Belém Brasília km87 | EA/EHW |
| BeAn142028 | Brazil68A2 | c6/36#1 | Saguinus sp. | PA | Abaetetuba | EA/EHW |
| BeH141816 | Brazil68B | SM3, c6/36#1 | Humanunk | PA | Abaetetuba | EA/EHW |
| BeAr142658 | Brazil68C (39) | SM2, c6/36#1 | Haemagogus sp. | PA | Barcarena | EA/EHW |
| BeAn142027 | Brazil68D (39) | Original | Saguinus midas | PA | Abaetetuba | EA/EHW |
| BeH171995 | Brazil69A | SM1 c6/36#1 | Human + | PA | Belém | EA/EHW |
| BeH203410 | Brazil71 (39) | SM2, c6/36#1 | Humanunk | PA | Peixe Boi | EA/EHW |
| BeAr233164 | Brazil73A (39) | Mosq 4 | Hg. janthinomys | GO | Goiás | WC/TMW |
| BeAr232869 | Brazil73B (39) | Mosq 1, SM2 | Haemagogus sp. | GO | Goiás | WC/TMW |
| BeAr233436 | Brazil73C (39) | Original | Haemagogus sp. | GO | Bela Vista | WC/TMW |
| BeH233393 | Brazil73D | SM1 c6/36#1 | Human+ | GO | Mara Rosa | WC/TMW |
| BeH291597 | Brazil75 | SM2, Mosq 1 | Human + | MT | Aripuanã | WC/EHW |
| BeAr301129 | Brazil76A | SM1 c6/36#1 | Haemagogus sp. | PA | Alenquer | EA/EHW |
| BeH301035 | Brazil76B | SM1 c6/36#1 | Human * | PA | Alenquer | EA/EHW |
| BeH324213 | Brazil77 | SM1 c6/36#1 | Human * | PA | Altamira | EA/EHW |
| BeH350698 | Brazil78A (38,39) | SM2, Mosq 1 | Human unk | PA | Tomé Acu | EA/EHW |
| BeAr350397 | Brazil78B | SM2, Mosq 1 | Haemagogus sp. | PA | Faz. Cangalha Formosa | EA/EHW |
| BeH340824 | Brazil78C | SM1 c6/36#1 | Human + | PA | Belterra-Santarém | EA/EHW |
| BeH371220 | Brazil79A | SM1 c6/36#1 | Human + | PA | Altamira | EA/EHW |
| BeAr378600 | Brazil80A | SM2, C6/36#1 | Haemagogus sp. | GO | Uruacu | WC/TMW |
| BeH385780 | Brazil80B (39) | SM1 c6/36#1 | Human + | PA | Altamira | EA/EHW |
| BeH379501 | Brazil80C | SM2 | Human + | MA | Montes Altos | NEW/EHS |
| BeH394880 | Brazil81 | Original, C6/36#1 | Human * | PA | Conceição Araguaia | EA/EHW |
| BeH403366 | Brazil82A | SM1 c6/36#1 | Human + | MA | Amarante do Maranhão | NEW/EHS |
| BeH405954 | Brazil82B | SM1 c6/36#1 | Human * | PA | Altamira | EA/EHW |
| BeH 413820 | Brazil83 | SM1 c6/36#1 | Human + | RO | Porto Velho | WA/EHW |
| BeH425381 | Brazil84A (39) | c6/36 | Human + | AP | Tribo Oyampi | NA/EHW |
| BeAn 424208 | Brazil84B | Original, C6/36#1 | Chiropotes satanas | PA | Tucuruí | EA/EHW |
| BeAr424719 | Brazil84C | SM1 c6/36#1 | Haemagogus sp. | PA | S. Domingos | EA/EHW |
| BeAr424083 | Brazil84D | SM1 c6/36#1 | Hg. albomaculatus | PA | Monte Alegre | EA/EHW |
| BeAr424492 | Brazil84E | SM1 c6/36#1 | Hg. janthinomys | PA | Faro | EA/EHW |
| BeH422255 | Brazil84F | SM1 c6/36#1 | Human + | PA | Faro | EA/EHW |
| BeH423602 | Brazil84G | SM1 c6/36#1 | Human + | PA | S. Domingos | EA/EHW |
| BeH422312 | Brazil84H | SM1 | Human + | PA | Monte Alegre | EA/EHW |
| BeH436823 | Brazil85A | SM1 c6/36#1 | Human + | MT | Sinop | WC/EHW |
| BeAr437159 | Brazil85B | SM1 c6/36#1 | Hg. janthinomys | MT | Sinop | WC/EHW |
| BeH463676 | Brazil87 | SM1 c6/36#1 | Human + | PA | Breves | EA/EHW |
| BeH474245 | Brazil88A | SM1 c6/36#1 | Human + | GO | Caiapônia | WC/TMW |
| BeH474297 | Brazil88B | SM1 c6/36#1 | Human + | MG | Paracatu | SE/TSS |
| BeH485717 | Brazil89 | SM1 c6/36#1 | Human + | MG | Francisco Dumont | SE/TSS |
| BeAr 511437 | Brazil91A2 | SM1, C30c6/36#1 | Hg. janthinomys | PA | Barcarena | EA/EHW |
| BeH511843 | Brazil91B | SM1, C6/36#2 | Human + | RR | Tribo Yanomamy | WA/EHS |
| BeAn 510268 | Brazil91C | SM1 c6/36#1 | Alouatta sp. | GO | Goiás | WC/TMW |
| BeAr 512943 | Brazil92A (39) | SM1 C6/36-1 Vero2 | Hg. janthinomys | MS | Sidrolândia | WC/TMW |
| BeAr513008 | Brazil92B (39) | SM1 c6/36#1 | Sabethes sp. | MS | Sidrolândia | WC/TMW |
| BeH512772 | Brazil92C (39) | SM2, C6/36#1 | Human unk | MS | Campo Grande | WC/TMW |
| BeAr513060 | Brazil92D | SM1 c6/36#1 | Haemagogus sp. | MS | Campo Grande | WC/TMW |
| BeAr 513292 | Brazil92E (39) | SM1 C6/36-1 Vero1 | Sabethes cloropterus | MS | Jaraguarí | WC/TMW |
| BeH520988 | Brazil93A | SM1 c6/36#1 | Human + | MA | Barra do Corda | NEW/EHS |
| BeH521244 | Brazil93B | SM1 c6/36#1 | Human * | MA | Mirador | NEW/EHS |
| BeAr 527785 | Brazil94A (39) | SM1 c6/36#1 | Sabethes cloropterus | MG | Arinos | SE/TSS |
| BeAr527198 | Brazil94B (39) | SM1 c6/36#1 | Haemagogus sp. | MG | Arinos | SE/TSS |
| BeAr527547 | Brazil94C | SM2, vero1 | Haemagogus sp. | PA | Don Eliseu | EA/EHW |
| BeH526722 | Brazil94D | SM2, c6/36#1 | Human + | MG | Arinos | SE/TSS |
| BeAr528057 | Brazil94E | Original, C6/36#1 | Hg. janthinomys | MG | Arinos | SE/TSS |
| BeAr527410 | Brazil94F | Original, C6/36#1 | Hg. janthinomys | MA | Pastos Bons | NEW/EHS |
| BeH535010 | Brazil95 | SM2, c6/36#1 | Human + | MA | Pastos Bons | NEW/EHS |
| BeAr 544276 | Brazil96A (39) | SM1 c6/36#1 | Hg. janthinomys | RO | Cabixi | WA/EHW |
| BeAn 604552 | Brazil98A | Original, C6/36#1 | Alouatta belzebul | PA | Afua | NA/EHW |
| BeAr603401 | Brazil98B | Original, C6/36#1 | Hg. janthinomys | PA | Altamira | EA/EHW |
| BeAr605158 | Brazil98C | SM1 c6/36#1 | Hg. janthinomys | PA | Afuá | NA/EHW |
| BeH603325 | Brazil98D | Original, C6/36#1 | Human unk | PA | Afuá | EA/EHW |
| BeH605427 | Brazil98E | SM1 c6/36#1 | Human + | PA | Carajas | EA/EHW |
| BeAr614320 | Brazil99B | SM2 | Haemagogus sp. | PA | Breves | NA/EHW |
| BeAr617127 | Brazil99D | SM1 c6/36#1 | Hg. janthinomys | TO | Monte do Carmo | EA/EHS |
| BeH613582 | Brazil99E | SM1 c6/36#1 | Human * | PA | Breves | NA/EHW |
| BeAr628124 | Brazil00A (39) | SM1 c6/36#1 | Hg. janthinomys | TO | Paranã | EA/EHS |
| BeH 622491 | Brazil00B | SM1 | Human + | DF | Brasilia | WC/THA |
| BeAn625923 | Brazil00C | Original, C6/36#1 | Alouatta sp. | GO | Goiás | WC/TMW |
| BeH 622205 | Brazil0D | SM1 c6/36#1 | Human * | GO | Goiás | WC/TMW |
| BeAr630768 | Brazil01A | SM1 | Hg. janthinomys | GO | Alto Paraiso | WC/TMW |
| BeAr631464 | Brazil01B | SM1 c6/36#1 | Sa. chloropterus | BA | Jaborandi | NED/THA |
| BeAr645693 | Brazil01D | SM1 c6/36#1 | Haemagogus | MG | Uberaba | SE/TSS |
aPassage history of seed strain in collection. SM, suckling mouse.
bOutcome of human cases, unk = unknown, + = fatal, * = recovered.
cAP, Amapa; BA, Bahia; DF, Federal District; GO, Goiás; MA, Maranhão; MG, Minas Gerais; MS, Mato Grosso do Sul; MT, Mato Grosso; PA, Pará; RO, Rondônia; RR, Roraima; TO, Tocantins.
dEA, East Amazon; NA, Northern Amazon; NED, Northeast Dry; NEW, Northeast Wet; S, South; SE, Southeast; WA, West Amazon; WC, West-Central.
eEHW, equatorial, hot and wet; EHS, equatorial, hot and semi-wet; THA, tropical, hot and semi-arid; THW, tropical, semi-hot and wet; TMW, tropical, mesothermal, wet; TSW, tropical, semi-hot, wet; TSS, tropical, semi-hot and semi-wet.
The conclusions, findings, and opinions expressed by authors contributing to this journal do not necessarily reflect the official position of the U.S. Department of Health and Human Services, the Public Health Service, the Centers for Disease Control and Prevention, or the authors' affiliated institutions. Use of trade names is for identification only and does not imply endorsement by any of the groups named above.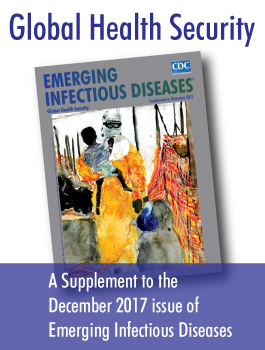 Antimicrobial Drug Resistance and Gonorrhea— (Length: 8:35)
Related Information
Additional Resources
Page created: April 19, 2012
Page last updated: April 19, 2012
Page last reviewed: April 19, 2012