Volume 15, Number 12—December 2009
Another Dimension
A Groundhog, a Novel Bartonella Sequence, and My Father's Death
During the summer of 2007, migratory joint pain developed in my (E.B.B.) 86-year-old father, previously an ironworker, farmer, and World War II veteran. Because of occasional tick attachments, a Borrelia burgdorferi ELISA was performed; antibodies were not detected, and no treatment was instituted. In the fall, subtle memory loss developed, and he fell twice a few weeks apart. Dad jokingly blamed the falls and the memory loss on "old timer's disease." Subsequently, episodes of subtle confusion and more frequent memory loss generated family concern as to what the future might hold. On December 15, he broke his left femur during a fall while climbing 2 stairs to enter our home. Despite having successfully climbed those stairs thousands of times in the past, he would never climb those or any other stairs again.
Retrospectively obvious, a pattern of insidious illness characterized by joint pain, memory loss, and incoordination, not recognizable by my father or other family members, had begun before that summer. Medically stable historical problems included coronary artery disease, atherosclerosis, carotid artery occlusion, hypertension, and atrial fibrillation. During the previous year, a normocytic, normochromic, nonregenerative anemia persisted. Despite normal serum iron, total iron binding capacity, ferritin, and vitamin B12 values, anemia was attributed to intestinal blood loss. When examined in May 2007, before anesthesia for endoscopy, mood and affect were appropriate, recent and remote memory were intact, insight and judgment were good. A hiatal hernia, mild antral gastritis, and duodenitis were visualized.
Acknowledgment
References
Manfredi R, Sabbatani S, Calza L. Recurring Candida albicans esophagitis in a HIV-infected patient undergoing long-term antiretroviral therapy, and with absent-negligible immunodeficiency. Braz J Infect Dis. 2007;11:605–9. DOIPubMed
Klingspor L, Stintzing G, Tollemar J. Deep Candida infection in children with leukaemia: clinical presentations, diagnosis and outcome. Acta Paediatr. 1997;86:30–6. DOIPubMed
Schmader KE, Dworkin RH. Natural history and treatment of herpes zoster. J Pain. 2008;9:S3–9. DOIPubMed
Schmader K. Herpes zoster in the elderly: issues related to geriatrics. Clin Infect Dis. 1999;28:736–9. DOIPubMed
Kidd L, Maggi R, Diniz PP, Hegarty B, Tucker M, Breitschwerdt E. Evaluation of conventional and real-time PCR assays for detection and differentiation of spotted fever group Rickettsia in dog blood. Vet Microbiol. 2008;129:294–303. DOIPubMed
Beall MJ, Chandrashekar R, Eberts MD, Cyr KE, Diniz PP, Mainville C, Serological and molecular prevalence of Borrelia burgdorferi, Anaplasma phagocytophilum, and Ehrlichia species in dogs from Minnesota. Vector Borne Zoonotic Dis. 2008;8:455–64. DOIPubMed
Diniz PP, Maggi RG, Schwartz DS, Cadenas MB, Bradley JM, Hegarty B, Canine bartonellosis: serological and molecular prevalence in Brazil and evidence of co-infection with Bartonella henselae and Bartonella vinsonii subsp. berkhoffii. Vet Res. 2007;38:697–710. DOIPubMed
Duncan AW, Maggi RG, Breitschwerdt EB. A combined approach for the enhanced detection and isolation of Bartonella species in dog blood samples: pre-enrichment liquid culture followed by PCR and subculture onto agar plates. J Microbiol Methods. 2007;69:273–81. DOIPubMed
Breitschwerdt EB, Maggi RG, Duncan AW, Nicholson WL, Hegarty BC, Woods CW. Bartonella species in blood of immunocompetent persons with animal and arthropod contact. Emerg Infect Dis. 2007;13:938–41.PubMed
Jacomo V, Kelly PJ, Raoult D. Natural history of Bartonella infections (an exception to Koch's postulate). Clin Diagn Lab Immunol. 2002;9:8–18.PubMed
Billeter SA, Levy MG, Chomel BB, Breitschwerdt EB. Vector transmission of Bartonella species with emphasis on the potential for tick transmission. Med Vet Entomol. 2008;22:1–15. DOIPubMed
Billeter SA, Miller MK, Breitschwerdt EB, Levy MG. Detection of two Bartonella tamiae-like sequences in Amblyomma americanum (Acari: Ixodidae) using 16S–23S intergenic spacer region-specific primers. J Med Entomol. 2008;45:176–9. DOIPubMed
Meghari S, Rolain JM, Grau GE, Platt E, Barrassi L, Mege JL, Antiangiogenic effect of erythromycin: an in vitro model of Bartonella quintana infection. J Infect Dis. 2006;193:380–6. DOIPubMed
Biswas S, Raoult D, Rolain JM. Molecular characterization of resistance to macrolides in Bartonella henselae. Antimicrob Agents Chemother. 2006;50:3192–3. DOIPubMed
Biswas S, Raoult D, Rolain JM. Molecular mechanisms of resistance to antibiotics in Bartonella bacilliformis. J Antimicrob Chemother. 2007;59:1065–70. DOIPubMed
Breitschwerdt EB, Maggi RG, Nicholson WL, Cherry NA, Woods CW. Bartonella spp. bacteremia in patients with neurological and neuro-cognitive dysfunction. J Clin Microbiol. 2008;46:2856–61. DOIPubMed
Breitschwerdt EB, Maggi RG, Sigmon B, Nicholson WL. Isolation of Bartonella quintana from a woman and a cat following putative bite transmission. J Clin Microbiol. 2007;45:270–2. DOIPubMed
Maggi RG, Kosoy M, Mintzer M, Breitschwerdt EB. Isolation of Candidatus Bartonella melophagi from human blood. Emerg Infect Dis. 2009;15:66–8. DOIPubMed
Pappalardo BL, Brown T, Gebhardt D, Sontakke S, Breitschwerdt EB. Cyclic CD8+ lymphopenia in dogs experimentally infected with Bartonella vinsonii subsp. berkhoffii. Vet Immunol Immunopathol. 2000;75:43–57. DOIPubMed
Pappalardo BL, Brown TT, Tompkins M, Breitschwerdt EB. Immunopathology of Bartonella vinsonii (berkhoffii) in experimentally infected dogs. Vet Immunol Immunopathol. 2001;83:125–47. DOIPubMed
Popa C, Abdollahi-Roodsaz S, Joosten LA, Takahashi N, Sprong T, Matera G, Bartonella quintana lipopolysaccharide is a natural antagonist of Toll-like receptor 4. Infect Immun. 2007;75:4831–7. DOIPubMed
Mexas AM, Hancock SI, Breitschwerdt EB. Bartonella henselae and Bartonella elizabethae as potential canine pathogens. J Clin Microbiol. 2002;40:4670–4. DOIPubMed
Maggi RG, Duncan AW, Breitschwerdt EB. Novel chemically modified liquid medium that will support the growth of seven Bartonella species. J Clin Microbiol. 2005;43:2651–5. DOIPubMed
Breitschwerdt EB, Kordick DL. Bartonella infection in animals: carriership, reservoir potential, pathogenicity, and zoonotic potential for human infection. Clin Microbiol Rev. 2000;13:428–38. DOIPubMed
Chomel BB, Boulouis HJ, Breitschwerdt EB. Cat scratch disease and other zoonotic Bartonella infections. J Am Vet Med Assoc. 2004;224:1270–9. DOIPubMed
Chomel BB, Boulouis HJ, Maruyama S, Breitschwerdt EB. Bartonella spp. in pets and effect on human health. Emerg Infect Dis. 2006;12:389–94.PubMed
Maggi RG, Chomel B, Hegarty BC, Henn J, Breitschwerdt EB. A Bartonella vinsonii berkhoffii typing scheme based upon 16S–23S ITS and Pap31 sequences from dog, coyote, gray fox, and human isolates. Mol Cell Probes. 2006;20:128–34. DOIPubMed
Dehio C. Bartonella interactions with endothelial cells and erythrocytes. Trends Microbiol. 2001;9:279–85. DOIPubMed
Mandle T, Einsele H, Schaller M, Neumann D, Vogel W, Autenrieth IB, Infection of human CD34+ progenitor cells with Bartonella henselae results in intraerythrocytic presence of B. henselae. Blood. 2005;106:1215–22. DOIPubMed
Duncan AW, Marr HS, Birkenheuer AJ, Maggi RG, Williams LE, Correa MT, Bartonella DNA in the blood and lymph nodes of golden retrievers with lymphoma and in healthy controls. J Vet Intern Med. 2008;22:89–95. DOIPubMed
Maman E, Bickels J, Ephros M, Paran D, Comaneshter D, Metzkor-Cotter E, Musculoskeletal manifestations of cat scratch disease. Clin Infect Dis. 2007;45:1535–40. DOIPubMed
Giladi M, Maman E, Paran D, Bickels J, Comaneshter D, Avidor B, Cat-scratch disease-associated arthropathy. Arthritis Rheum. 2005;52:3611–7. DOIPubMed
Diniz PP, Wood M, Maggi RG, Sontakke S, Stepnik M, Breithschwerdt EB. Co-isolation of Bartonella henselae and Bartonella vinsonii subsp. berkhoffii from blood, joint and subcutaneous seroma fluids from two naturally infected dogs. Vet Microbiol. 2009;138:368–72. DOIPubMed
Harvey RA, Misselbeck WJ, Uphold RE. Cat-scratch disease: an unusual cause of combative behavior. Am J Emerg Med. 1991;9:52–3. DOIPubMed
Schaller JL, Burkland GA, Do Langhoff PJ. Bartonella infections cause agitation, panic disorder, and treatment-resistant depression? MedGenMed. 2007;9:54.PubMed
King LJ, Anderson LR, Blackmore CG, Blackwell MJ, Lautner EA, Marcus LC, Executive summary of the AVMA One Health Initiative Task Force report. J Am Vet Med Assoc. 2008;233:259–61. DOIPubMed
Science CotNnfRiV. Critical needs for research in veterinary science. Committee on the National Needs for Research in Veterinary Science. Washington: National Research Council of the National Academies; 2001. p. 222.
Table
Cite This Article
DOI: 10.3201/eid1512.AD1512
The conclusions, findings, and opinions expressed by authors contributing to this journal do not necessarily reflect the official position of the U.S. Department of Health and Human Services, the Public Health Service, the Centers for Disease Control and Prevention, or the authors' affiliated institutions. Use of trade names is for identification only and does not imply endorsement by any of the groups named above.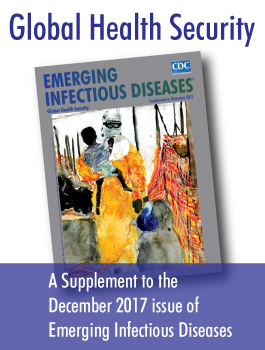 Antimicrobial Drug Resistance and Gonorrhea— (Length: 8:35)
Related Information
Additional Resources
Page created: December 09, 2010
Page last updated: December 09, 2010
Page last reviewed: December 09, 2010