Volume 17, Number 12—December 2011
Letter
Porcine and Human Community Reservoirs of Enterococcus faecalis, Denmark
Jesper Larsen

, Henrik C. Schønheyder, Kavindra V. Singh, Camilla H. Lester, Stefan S. Olsen, Lone J. Porsbo, Lourdes Garcia-Migura, Lars B. Jensen, Magne Bisgaard, Barbara E. Murray, and Anette M. Hammerum
Author affiliations: Statens Serum Institut, Copenhagen, Denmark (J. Larsen, C.H. Lester, S.S. Olsen, A.M. Hammerum); Aarhus University Hospital, Aalborg, Denmark (H.C. Schønheyder); University of Texas Medical School, Houston, TX, USA (K.V. Singh, B.E. Murray); Technical University of Denmark, Søborg, Denmark (L.J. Porsbo); Technical University of Denmark, Kgs. Lyngby, Denmark (L. Garcia-Migura, L.B. Jensen); University of Copenhagen, Frederiksberg, Denmark (M. Bisgaard)
Table A1
| ID (other name) | Origin† | Setting | Sampling
year | MLST† | PFGE‡ | Biofilm formation | Virulence-associated genes | PAI genes | Resistance profile |
| --- | --- | --- | --- | --- | --- | --- | --- | --- | --- |
| 31438-1 | IE patient | HA | 1997 | 97 | A | Weak | ebpA gelE hylA ef1896 ef2505 ace | cbh | None |
| 130529 | IE patient | HA | 2000 | 97 | A | Weak | ebpA gelE hylA ef1896 ef2505 ace | cbh | None |
| 67190 | IE patient | CA | 2002 | 97 | A | Weak | ebpA gelE hylA ef1896 ef2505 ace | cbh | None |
| 7330616-3 (D30) | Pig | NA | 2001 | 97 | A | Weak | ebpA gelE hylA ef1896 ef2505 ace | cbh | None |
| 28137 | IE patient | HA | 1996 | 72 | B | None | ebpA gelE ef1824 hylA ef2505 hlyB ace | cbh | None |
| 7684 | IE patient | HA | 1997 | 72 | B | Weak | ebpA gelE ef1824 hylA ef2505 hlyB ace | cbh | None |
| 33873 | IE patient | HA | 2002 | 72 | B | Medium | ebpA gelE ef1824 hylA ef2505 hlyB ace | cbh | None |
| 1293 | CD human | NA | 2003 | 72 | B | Medium | ebpA gelE ef1824 hylA ef2505 hlyB ace | cbh | None |
| 3527 | CD human | NA | 2006 | 72 | B | Medium | ebpA gelE ef1824 hylA ef2505 hlyB ace | cbh | None |
| 1745 | CD human | NA | 2004 | 72 | U1 | Weak | ebpA gelE ef1824 hylA ef2505 hlyB ace | cbh | TET |
| 43674 | IE patient | CA | 1999 | 19 | C | Medium | ebpA gelE ef2505 hlyB ace | None | ERY TET |
| 2247 | CD human | NA | 2004 | 19 | C | Medium | ebpA gelE ef2505 hlyB ace | cbh esp | CIP ERY TET |
| 54869 | IE patient | HA | 1997 | 40 | D | Weak | ebpA gelE hylA ef2505 hlyB ace | cbh | KAN STR TET |
| 7330082-2 (D1) | Pig | NA | 2001 | 40 | D | Medium | ebpA gelE hylA ef2505 hlyB ace | cbh esp | None |
| 7330321-1 (D27) | Pig | NA | 2001 | 40 | D | Medium | ebpA gelE hylA ef2505 hlyB ace | cbh esp | CHL ERY KAN STR TET |
| 7331063-5 (D37) | Pig | NA | 2001 | 40 | D | None | ebpA gelE hylA ef2505 hlyB ace | cbh | STR |
| 7330887-1 (D32) | Pig | NA | 2001 | 40 | U2 | None | ebpA gelE hylA ef2505 hlyB ace | cbh | ERY STR |
| 26669 | IE patient | HA | 1998 | 21 | E | Weak | ebpA gelE hylA ef2505 hlyB ace | cbh | None |
| 3162 | CD human | NA | 2005 | 21 | E | Weak | ebpA gelE hylA ef2505 ace | cbh esp | TET |
| 105049 | IE patient | CA | 1997 | 306 | E | Medium | ebpA gelE hylA ef1896 ef2505 ace | cbh esp | None |
| 127801 | IE patient | CA | 1999 | 306 | F | Medium | ebpA gelE hylA ef1896 ef2505 ace | cbh esp | None |
| 2421 | CD human | NA | 2004 | 306 | F | Medium | ebpA gelE hylA ef1896 ef2505 ace | cbh esp | None |
| 57690 | IE patient | HA | 2000 | 22 | NA | Weak | ebpA gelE ef1824 hylA ef2505 hlyB ace | cbh | None |
| 20505-1 | IE patient | HA | 2000 | 30 | NA | Weak | ebpA gelE hylA ef1896 ef2505 ace | esp | TET |
| 100087 | IE patient | HA | 1999 | 41 | NA | Weak | ebpA gelE hylA ef1896 ef2505 ace | cbh esp | ERY KAN STR TET |
| 105158 | IE patient | HA | 1997 | 55 | NA | Medium | ebpA hylA ef1896 ef2505 hlyB ace | cbh esp | CHL ERY KAN STR TET |
| 134125 | IE patient | HA | 2000 | 55 | NA | Strong | ebpA hylA ef1896 ef2505 hlyB ace | cbh esp | CHL ERY KAN STR TET |
| 29783 | IE patient | HA | 1999 | 81 | NA | Medium | ebpA gelE ef1824 hylA ef2505 hlyB ace | cbh ef0571 | None |
| 120903 | IE patient | CA | 1999 | 192 | NA | Medium | ebpA gelE ef1824 hylA ef2505 hlyB ace | None | TET |
| 107137 | IE patient | HA | 2001 | 241 | NA | Weak | ebpA gelE ef1824 hylA ef2505 hlyB ace | cbh ef0571 | None |
| 83232 | IE patient | CA | 1997 | 326 | NA | Strong | ebpA gelE hylA ef1896 ef2505 ace | cbh esp | None |
| 1149 | CD human | NA | 2003 | 133 | NA | Strong | ebpA hylA ef1896 ef2505 ace | cbh | TET |
| 3392 | CD human | NA | 2005 | 133 | NA | Medium | ebpA hylA ef1896 ef2505 ace | cbh | None |
| 1732 | CD human | NA | 2003 | 141 | NA | None | ebpA gelE ef1824 hylA ef2505 hlyB ace | None | CIP |
| 1028 | CD human | NA | 2003 | 168 | NA | Strong | ebpA gelE ef1824 hylA ef2505 hlyB ace | cbh | None |
| 1309 | CD human | NA | 2003 | 168 | NA | Strong | ebpA gelE ef1824 hylA ef2505 hlyB ace | cbh | None |
| 1413 | CD human | NA | 2003 | 199 | NA | Medium | ebpA gelE ef1824 hylA ef2505 ace | cbh | None |
| 2174 | CD human | NA | 2004 | 206 | NA | Weak | ebpA hylA ef2505 ace | cbh | TET |
| 2041 | CD human | NA | 2004 | 327 | NA | Weak | ebpA hylA ef2505 ace | cbh | TET |
*MLST, multi-locus sequence typing; PFGE, pulsed-field gel electrophoresis; PAI, pathogenicity island; IE, infective endocarditis; CD, community-dwelling; HA, healthcare-associated infection; CA, community-acquired infection; NA, not applicable; CHL, chloramphenicol; CIP, ciprofloxacin; ERY, erythromycin, KAN, kanamycin; STR, streptomycin; TET, tetracycline.
†STs from 5 pig isolates (in italics) have been published previously (7); the remaining 14 pig isolates belonging to other STs (ST1, ST6, ST16, ST26, ST47, ST63, ST96, ST98, ST99, and ST100) were not included in further analysis.
‡Isolates with similar PFGE banding patterns (>82% relatedness) received the same letter designation (A–F) to reflect their genetic relatedness; highly divergent PFGE banding patterns were designated as unique (U) types (U1 and U2).
The conclusions, findings, and opinions expressed by authors contributing to this journal do not necessarily reflect the official position of the U.S. Department of Health and Human Services, the Public Health Service, the Centers for Disease Control and Prevention, or the authors' affiliated institutions. Use of trade names is for identification only and does not imply endorsement by any of the groups named above.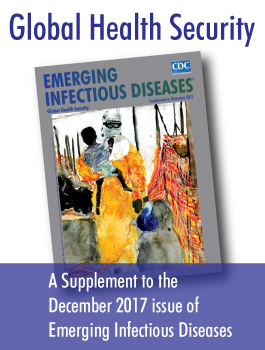 Antimicrobial Drug Resistance and Gonorrhea— (Length: 8:35)
Related Information
Additional Resources
Page created: November 30, 2011
Page last updated: November 30, 2011
Page last reviewed: November 30, 2011