Volume 2, Number 4—October 1996
Letter
Ancient Egypt and Today: Enough Scourges to Go Around
Close
Highlight and copy the desired format.
| | |
| --- | --- |
| EID | Colley DG. Ancient Egypt and Today: Enough Scourges to Go Around. Emerg Infect Dis. 1996;2(4):362-363. https://dx.doi.org/10.3201/eid0204.960418 |
| AMA | Colley DG. Ancient Egypt and Today: Enough Scourges to Go Around. Emerging Infectious Diseases. 1996;2(4):362-363. doi:10.3201/eid0204.960418. |
| APA | Colley, D. G. (1996). Ancient Egypt and Today: Enough Scourges to Go Around. Emerging Infectious Diseases, 2(4), 362-363. https://dx.doi.org/10.3201/eid0204.960418. |
To the Editor: In a recent letter (1), Ablin conjectures that translation of the hieroglyphic symbol for ĀĀĀ in many ancient Egyptian papyri (Ebers, Berlin, Hearst, London, and Kahum), may be suggesting the existence of human immunodeficiency virus (HIV) or its prototype during the time of the pharaohs. While hieroglyphic interpretations remain challenging, the symbol cited in his letter has most commonly been translated as hematuria (2-4) and has most often been related to schistosomiasis haematobia. This infection, caused by the helminth Schistosoma haematobium, has been shown to have occurred in Egypt from early pharaonic times (3200 B.C.), by the demonstration of schistosome eggs (5) and circulating schistosome antigens (6,7) in mummies. Remedies for hematuria were recorded in papyri from many centuries (9 in Hearst, 11 in Berlin, 20 in Ebers), perhaps implying that the condition was serious and widespread. In giving one of the remedies in the Ebers papyrus (circa 1500 B.C.), the text actually mentions worms in the body (although it seems to state that the worms are caused by ĀĀĀ disease, perhaps inverting the true order of causality). In the Hearst papyrus one of the remedies cited for hematuria is antimony disulfide. Until only 25 years ago, antimonial compounds were the most effective drugs for schistosomiasis chemotherapy.
It seems likely that, over a period of many centuries in ancient Egypt, ĀĀĀ disease was a widespread condition of sufficient severity to require medical attention. I concur with many others in proposing that the translation of ĀĀĀ disease is hematuria, and that the relationship drawn between ĀĀĀ and worms in the body, antimonial-based remedies, and the knowledge that S. haematobium infections were widely present at that time provide strong evidence that ĀĀĀ disease refers to schistosomiasis haematobia.
Schistosomiasis is still with us. In fact, through dispersions of both human populations and specific fresh-water snails (the intermediate hosts for schistosomes), this disease now infects some 200 million persons and is responsible for an estimated 800,000 deaths per year (8). While clearly ancient, schistosomiasis can emerge as a new infectious disease in a given location under certain man-made changes in environmental conditions and economic- or war-related migrations of people. For example, in the Senegal River basin, estuarine dams, irrigation systems, and an influx of people to work irrigation-intense crops led, over a period of only 3 years, to an increased prevalence of S. mansoni infection from 0% to >95% of the population of >50,000 (9). Even in modern-day Egypt, such interventions as the Aswan High Dam have significantly altered patterns of schistosomiasis (2 10,). The Ministry of Health and Population of Egypt and the U.S. Agency for International Development are addressing this ancient scourge through the Schistosomiasis Research Project, a national schistosomiasis research and control program that attacks the disease with available tools, while it presses forward with research on much needed new tools, such as vaccines.
Daniel G. Colley
Author affiliation: Centers for Disease Control and Prevention, Atlanta, Georgia, USA
References
Abdel-Wahab MF. Schistosomiasis in Egypt. Boca Raton: CRC Press, Inc., 1982.
Farooq M. Historical development. In: Ansari N, editor. Epidemiology and control of schistosomiasis (bilharziasis). Baltimore: University Park Press, 1973:1-16.
Ruffer M. Note on the presence of Bilharzia haematobium in Egyptian mummies of the twentieth dynasty (1250-1000 B.C.). BMJ. 1910;1:16. DOI
Deelder AM, Miller RL, de Jonge N, Krijger FW. Detection of antigen in mummies. Lancet. 1990;335:724–5. DOIPubMed
Miller RL, Armelagos GJ, Ikram S, de Jonge N, Krijger FW, Deelder AM. Paleoepidemiology of Schistosoma infection in mummies. BMJ. 1992;304:555–6. DOIPubMed
Capron A, Dessaint JP, Capron M, Ouma JH, Butterworth AE. Immunity to schistosomes: Progress toward a vaccine. Science. 1987;238:1065–72. DOIPubMed
Grysells B, Stelma FF, Talla I, van Dam GJ, Polman K, Sow S, Epidemiology, immunology and chemotherapy of Schistosoma mansoni infections in a recently exposed community in Senegal. Trop Geogr Med. 1994;46:209–19.PubMed
El Alamy MA, Cline BL. Prevalence and intensity of Schistosoma haematobium and S. mansoni infection in Qalyub, Egypt. Am J Trop Med Hyg. 1977;26:470–2.PubMed
Cite This Article
DOI: 10.3201/eid0204.960418
The conclusions, findings, and opinions expressed by authors contributing to this journal do not necessarily reflect the official position of the U.S. Department of Health and Human Services, the Public Health Service, the Centers for Disease Control and Prevention, or the authors' affiliated institutions. Use of trade names is for identification only and does not imply endorsement by any of the groups named above.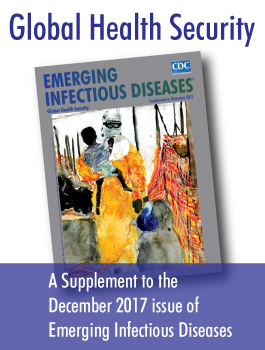 Antimicrobial Drug Resistance and Gonorrhea— (Length: 8:35)
Related Information
Additional Resources
Page created: December 21, 2010
Page last updated: December 21, 2010
Page last reviewed: December 21, 2010