Volume 3, Number 3—September 1997
Perspective
DDT, Global Strategies, and a Malaria Control Crisis in South America
Figure 3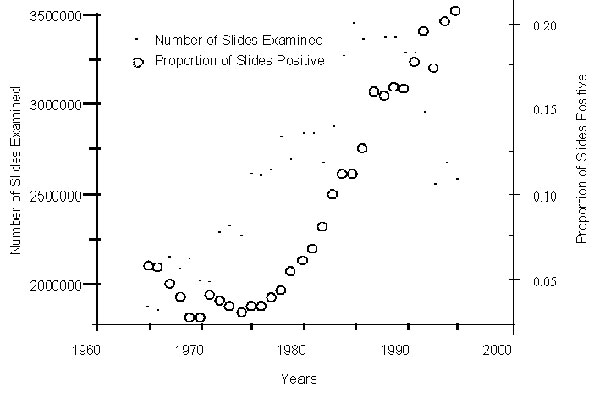 References
1This percentage was obtained by adding the number of slides from passive case detection reports and from voluntary collaborators and then dividing the sum by the number of slides acquired through active case detection.
2Statistics drawn from a U.S. Agency for International Development review in 1973-1974 of the malaria eradication program in Brazil and based on regions that were in the attack phase. There was greater reliance on active and epidemiologic surveys in such areas than in areas of consolidation or maintenance. Therefore, the overall percentage of slides derived from passive case detection was undoubtedly higher than 35%.
3The Commission for Environmental Cooperation (CEC) is a North American environment commission established by a North American Free Trade Agreement side agreement. The CEC draft agreement entitled "North American Regional Action Plan on DDT, Task Force on DDT and Chlordane," dated October 10, 1996, calls for the elimination, distribution, and use of DDT for malaria control in Mexico in 10 years.
4Recommended weekly treatments of 0.9-1.36 kg (2-3 pounds) of DDT per 0.004 km2 (1 acre) of cotton. Using a 7-week period and a treatment of 1.13 kg (2.5 pounds) per 0.004 km2, 340 kg (1.750 pounds) of DDT is required for 0.4 km2 (100 acres) of cotton.
5World Health Assembly document A31/19, 1978.
Page created: December 21, 2010
Page updated: December 21, 2010
Page reviewed: December 21, 2010