Volume 4, Number 2—June 1998
Letter
Forging New Perspectives on Disease Surveillance
Close
Highlight and copy the desired format.
| | |
| --- | --- |
| EID | Feldbaum H. Forging New Perspectives on Disease Surveillance. Emerg Infect Dis. 1998;4(2):337-338. https://dx.doi.org/10.3201/eid0402.980230 |
| AMA | Feldbaum H. Forging New Perspectives on Disease Surveillance. Emerging Infectious Diseases. 1998;4(2):337-338. doi:10.3201/eid0402.980230. |
| APA | Feldbaum, H. (1998). Forging New Perspectives on Disease Surveillance. Emerging Infectious Diseases, 4(2), 337-338. https://dx.doi.org/10.3201/eid0402.980230. |
To the Editor: Recognizing disease emergence as a paradigm uniquely influenced by human activity demands a reevaluation of traditional disease surveillance systems. Part of a surveillance program should be focused on the areas of human activity where disease emergence is most likely to occur. A system that monitors areas known to be involved in disease emergence, such as development projects, agriculture, climate, and refugee movements, may greatly increase our ability to detect and prevent outbreaks.
Large development projects entail ecologic upheavals that can facilitate disease emergence. Construction of a dam in 1987 in Mauritania resulted in increased mosquito breeding sites and in an explosion in the mosquito population; epidemics of Rift Valley fever quickly followed (1). The Southeastern Anatolia Irrigation Project on the Euphrates and Tigris Rivers in Turkey, which will provide irrigation for 1.7 million hectares, has already increased malaria and leishmaniasis cases in the local population (2). The massive Three Gorges Dam Project on the Yangtze River in China, which will create a reservoir 760 km long, must be evaluated for its impact on local disease. With knowledge of endemic diseases and their reservoirs and vectors in these areas of ecologic change, public health workers can anticipate disease epidemics and implement prevention measures.
Incorporating climate predictions into a disease surveillance system would supplement resources in an area known to affect disease emergence. The U.S. Agency for International Development's (USAID) Famine Early Warning System monitors the African continent for two major factors implicated in emergence: temperature and precipitation. Focused on countries at high risk for food shortages and famine, the early warning system is an example of a predictive and preventative surveillance system. Precipitation, temperature, and plant health data from satellites are evaluated as indicators of crop failure. These data are supplemented by information from field representatives who directly observe agricultural production. USAID's system and other global monitoring systems can provide a base level of surveillance that can add to our knowledge of climatologic influence on disease emergence.
The beginning of the Zairian refugee crisis in 1994 illustrates the need for surveillance among refugee populations. In July 1994, 500,000 to 800,000 Rwandan Hutus fled into the North Kivu region of Zaire. In the month between July 14 and August 14, 48,347 of these refugees died, predominantly of infectious diseases (3). Similar infectious disease epidemics occurred among Kurdish refugees in 1991 (4), Somali refugees in 1992 (5), and Burundian refugees in Rwanda in 1993 (6). In the wake of intense political, social, or physical disruption, the movement of large numbers of people creates ideal conditions for disease outbreaks. When moving into new areas, refugees may not be equipped immunologically against endemic diseases. Most refugee camps are overcrowded, with inadequate sanitation or medical care (7). Refugees often have severe shock or stress, which in combination with poor nutrition, weakens immune defenses. Therefore, refugee populations are extremely vulnerable and should be closely monitored for infectious disease outbreaks. The United Nations High Commissioner for Refugees, the International Rescue Committee, and the Human Rights Watch can provide rapid notification about disease emergence in refugee populations.
Recognizing human involvement as a common critical factor in emergence creates the possibility of refining international disease surveillance. The Centers for Disease Control and Prevention, the World Health Organization, and national governments should foster relationships with organizations already placed to provide disease emergence information in populations and locations implicated in disease emergence. These relationships will increase the scope and efficiency of our efforts to prevent human disease.
Harley Feldbaum
Author affiliation: Wesleyan University, Middletown, Connecticut, USA
References
Monath T. Arthropod-borne viruses. In: Morse S, editor. Emerging viruses. New York: Oxford University Press; 1993. p. 144.
Aksoy S, Ariturk S, Armstrong MYK, Chang KP, Dortbudak Z, Gottlieb M, The GAP Project in Southeastern Turkey: the potential for emergence of diseases. Emerg Infect Dis. 1995;1:62–3. DOIPubMed
Goma Epidemiology Group. Public health impact of Rwandan refugee crisis: what happened in Goma, Zaire, in July, 1994? Lancet. 1995;345:339–44. DOIPubMed
Yip R, Sharp TW. Acute malnutrition and high childhood mortality related to diarrhea. JAMA. 1993;270:587–90. DOIPubMed
Moore PS, Marfin AA, Quenemoen LE, Gessner BD, Ayub YS, Miller DS, Mortality rates in displaced and resident populations of central Somalia during 1992 famine disaster. Lancet. 1993;42:913–7.
Centers for Disease Control and Prevention. Health status of displaced persons following civil war—Burundi, December 1993-January 1994. MMWR Morb Mortal Wkly Rep. 1994;43:701–3.PubMed
Cite This Article
DOI: 10.3201/eid0402.980230
The conclusions, findings, and opinions expressed by authors contributing to this journal do not necessarily reflect the official position of the U.S. Department of Health and Human Services, the Public Health Service, the Centers for Disease Control and Prevention, or the authors' affiliated institutions. Use of trade names is for identification only and does not imply endorsement by any of the groups named above.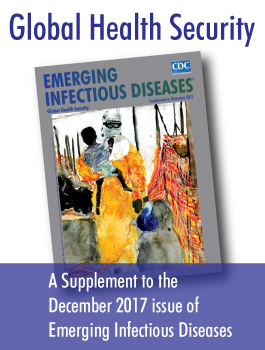 Antimicrobial Drug Resistance and Gonorrhea— (Length: 8:35)
Related Information
Additional Resources
Page created: July 21, 2010
Page last updated: July 21, 2010
Page last reviewed: July 21, 2010