Volume 4, Number 2—June 1998
Letter
A Brief Update on Rabbit Hemorrhagic Disease Virus
Close
Highlight and copy the desired format.
| | |
| --- | --- |
| EID | Capucci L, Lavazza A. A Brief Update on Rabbit Hemorrhagic Disease Virus. Emerg Infect Dis. 1998;4(2):343-344. https://dx.doi.org/10.3201/eid0402.980236 |
| AMA | Capucci L, Lavazza A. A Brief Update on Rabbit Hemorrhagic Disease Virus. Emerging Infectious Diseases. 1998;4(2):343-344. doi:10.3201/eid0402.980236. |
| APA | Capucci, L., & Lavazza, A. (1998). A Brief Update on Rabbit Hemorrhagic Disease Virus. Emerging Infectious Diseases, 4(2), 343-344. https://dx.doi.org/10.3201/eid0402.980236. |
To the Editor: We read with interest the paper by A. Smith et al. (Emerg Infect Dis 1998; 1:13-20) on calicivirus emergence from ocean reservoirs. Our attention was drawn particularly to the data and comments regarding rabbit hemorrhagic disease (RHD), a recently emerged and devastating disease of just one rabbit species, Oryctolagus cuniculus. We have been involved in RHD research and diagnosis since 1989. Like D. Gregg's laboratory at the Foreign Animal Diseases, U.S. Department of Agriculture, Greenport, USA, our laboratory at the Istituto Zooprofilatico Sperimentale della Lombardia e dell'Emilia, Brescia, Italy, was in 1991 designated a Reference Laboratory for RHD by the International Office of Epizootics (OIE), Paris, France. Although other aspects of the article by Dr. Smith and colleagues appear unclear (e.g., the fact that feline calicivirus is classified among human pathogens like Norwalk virus), we will confine our comments to a few main points concerning RHD virus (RHDV).
Is RHDV a calicivirus or a parvovirus? RHD is caused by a calicivirus (1-3). The articles cited by Dr. Smith date back to 1991 and are part of a book review promoted and edited by OIE (4). This landmark review includes papers from China and the United States supporting the parvovirus hypothesis and papers from Europe concluding that RHDV is a calicivirus. A retrospective reading of those articles may explain the reasons for the misinterpretation of some results. However, this occurred in 1991 and, after 7 years, more than 50 published articles consider RHDV a calicivirus. Actually, RHDV is one of the best characterized caliciviruses, and the publication of its full genome sequence in 1991 was the first of a Caliciviridae member (5).
Diagnostic tools have been developed by our and other laboratories (3,4,6). Thanks also to specific monoclonal antibodies produced towards RHDV and European brown hare syndrome virus (EBHSV) by our colleague E. Brocchi, we standardized different enzyme-linked immunosorbent assays (ELISAs) for the diagnosis of related diseases (4,6-8). In particular, we developed five different ELISAs for serology that allow the detection of antibodies specific for RHDV or EBHSV or that are cross-reactive. In addition, we can define the antibody response in rabbits and hares in terms of isotype-involved immunoglobulin M (IgM), IgA, and IgG (9). Today the main difficulty is the qualitative distinction between RHDV and rabbit calicivirus (RCV, a recently identified nonpathogenic calicivirus) antibodies because of the close antigenic profiles of these viruses (6). Finally, RHDV- and EBHSV-specific polymerase chain reaction has been developed in at least five laboratories besides ours. We have sent these reagents and/or diagnostic methods to at least 19 laboratories outside Italy, including Australia, New Zealand, and the United States.
Does RHDV infect humans? This question has arisen together with the prospect of using RHDV as a biologic control agent in countries like Australia and New Zealand, when they were free of RHDV. In Europe, where the disease naturally occurred and quickly spread, no particular control on human health was planned. In Italy only, between 1987 and 1990, hundreds of millions of rabbits died of RHD in regions where the average density of humans is very high. As a consequence of the use of the vaccine since 1991, the incidence of RHD among breeding rabbits decreased drastically and quickly. Nevertheless, the disease is still endemic, mainly in small farms and among wild rabbits. EBHS also is endemic in wild hares, and hunters are highly exposed to the virus since hares are their main target. However, neither in humans nor in animal species other than rabbits and hares have any diseases similar to RHD ever been reported. In relation to the likelihood of mild or inapparent infections, we used 100 human sera randomly selected from blood donors to carry out a preliminary standardization of an RHD-ELISA that has been periodically used to control the sera of the RHD laboratory staff. Very recently, we tested nine sera from laboratory personnel exposed to RHDV; again no positive result was noted by RHD-ELISA. These findings have limited epidemiologic value, but considering the high level of exposure of part of the sample, it is evident that RHDV infection in humans is unlikely to be the rule.
Lorenzo Capucci and Antonio Lavazza
Author affiliations: Istituto Zooprofilattico Sperimentale della Lombardia e dell'Emilia, Brescia, Italy
References
Murphy FA. Virus taxonomy. In: Fields BN, Knipe DM, Howley PM, editors. Virology. 3rd ed. New York: Lippincott-Raven Publishers; 1996. p. 15-57.
Ohlinger VF, Hass B, Meyers G, Weiland F, Thiel HJ. Identification and characterization of the virus causing rabbit hemorrhagic disease. J Virol. 1990;64:3331–6.PubMed
Rodák L, Šmíd B, Valícek L, Veselý T, Stepánek J, Hampl J, Enzyme-linked immunosorbent assay of antibodies to rabbit haemorrhagic disease virus and determination of its major structural proteins. J Gen Virol. 1990;71:1075–80. DOIPubMed
Capucci L, Scicluna MT, Lavazza A. Diagnosis of viral hemorrhagic disease of rabbits and European brown hare syndrome. Rev Sci Tech. 1991;10:347–70.PubMed
Meyers G, Wirblich C, Thiel HJ. Rabbit hemorrhagic disease virus-molecular cloning and nucleotide sequencing of a calicivirus genome. Virol. 1991;184:664–76. DOI
Lavazza A, Capucci L. Viral haemorrhagic disease of rabbits. In: Office International des Epizooties, Paris, France, Manual of standards for diagnostic test and vaccine. Paris: the Office; 1996. p. 589-98.
Capucci L, Fusi P, Lavazza A, Pacciarini ML, Rossi C. Detection and preliminary characterization of a new rabbit calicivirus related to hemorrhagic disease virus but nonpathogenic. J Virol. 1996;70:8614–23.PubMed
Capucci L, Frigoli G, Ronsholt L, Lavazza A, Brocchi E, Rossi C. Antigenicity of the rabbit hemorrhagic disease virus studied by its reactivity with monoclonal antibodies. Virus Res. 1995;37:221–38. DOIPubMed
Capucci L, Nardin A, Lavazza A. Seroconversion in an industrial unit of rabbits infected with a non-pathogenic rabbit haemorrhagic disease-like virus. Vet Rec. 1997;140:647–50.PubMed
Cite This Article
DOI: 10.3201/eid0402.980236
The conclusions, findings, and opinions expressed by authors contributing to this journal do not necessarily reflect the official position of the U.S. Department of Health and Human Services, the Public Health Service, the Centers for Disease Control and Prevention, or the authors' affiliated institutions. Use of trade names is for identification only and does not imply endorsement by any of the groups named above.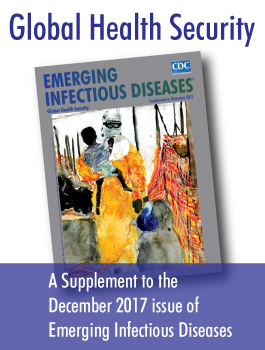 Antimicrobial Drug Resistance and Gonorrhea— (Length: 8:35)
Related Information
Additional Resources
Page created: December 14, 2010
Page last updated: December 14, 2010
Page last reviewed: December 14, 2010