Volume 9, Number 7—July 2003
Perspective
Global Screening for Human Viral Pathogens
The traditional process of discovering previously unknown human viruses, or variants of known viruses, is neither rapid nor thoroughly systematic. The time between back-calculated initial infection and final identification is often many weeks, months, or even years. For a totally new agent, the estimated interval between initial infection and detailed characterization is variable and depends on the presence of unusual symptoms, the failure to identify a virus after using all available specific tests, the recognition of a unique problem, and, in the past, the ability to grow the agent in culture.
The idiosyncratic nature of virus discovery contrasts with the broad survey approaches characteristic of genomics and proteomics. Only in the relatively small field of ocean viruses has a more inclusive, cataloging approach been tested. Facilitated by the relative ease with which viruses can be isolated from seawater (using commercial filters), investigators in this area have examined a broad and essentially unbiased population of viral agents at the genome sequence level (including phage) and estimated the number of different genomes present (~5,000) (1–3). One would expect that a comprehensive survey of human viruses, defining what we might term the human "virome" would be, at least conceptually, even more straightforward.
Our proposed approach (Figure), in which large populations are continually monitored for new human-infective viruses, has not been considered technically feasible or medically necessary in the past. For purposes of broad surveillance, we propose using pools of serum or plasma from large numbers of persons, the most likely source of which is excess material collected for routine clinical purposes. These samples would be pooled and processed by using available technology to isolate virus particles en masse, recover viral nucleic acids, produce amplified shotgun libraries, carry out shotgun sequencing of the mixture of viral genomes, and reconstruct these genomes in silico with the techniques originally developed to sequence the entire human genome from random fragments. A central objective is to continually repeat this monitoring process to determine which agents change in abundance over time, find undiscovered agents already present, and detect new viruses when they appear. If successful, we will have for the first time a comprehensive picture of "what is going around." Surprisingly, most of the systems and technology to carry out this process exist in a basic form and have been successfully employed to survey the extremely varied DNA virus population of the oceans. What remains to be done, to create a system applicable to humans, is primarily its integration, optimization, and implementation in a safely contained environment. We briefly explore the components of this process here and suggest that it can be made operational in less than a year.
Acknowledgment
References
Rohwer F, Seguritan V, Choi DH, Segall AM, Azam F. Production of shotgun libraries using random amplification. Biotechniques. 2001;31:108–17.PubMed
Breitbart M, Salamon P, Andresen B, Mahaffy JM, Segall AM, Mead D, Genomic analysis of uncultured marine viral communities. Proc Natl Acad Sci U S A. 2002;99:14250–5. DOIPubMed
Steward GF, Montiel JL, Azam F. Genome size distributions indicate variability and similarities among marine viral assemblages from diverse environments. Limnol Oceanogr. 2000;45:1697–706. DOI
Anderson NG, ed. The development of zonal centrifuges and ancillary systems for tissue fractionation and analysis. Natl Cancer Inst Monogr. 1966;21:526.
Anderson NG, Harris WW, Barber AA, Rankin CT, Candler EL. Separation of sub-cellular components and viruses by combined rate- and isopycnic-zonal centrifugation. Natl Cancer Inst Monogr. 1966;21:253–83.PubMed
Allander T, Emerson SU, Engle RE, Purcell RH, Bukh J. A virus discovery method incorporating DNase treatment and its application to the identification of two bovine parvovirus species. Proc Natl Acad Sci U S A. 2001;98:11609–14. DOIPubMed
Anderson NG, Waters DA, Nunley CE, Gibson RF, Schilling RM, Denny C, K-Series centrifuges. I. Development of the K-II continuous-sample-flow-with-banding centrifuge system for vaccine purification. Anal Biochem. 1969;32:460–94. DOIPubMed
Perardi TE, Leffler RA, Anderson NG. K-Series centrifuges. II. Performance of the K-II rotor. Anal Biochem. 1969;32:495–511. DOIPubMed
Perardi TE, Anderson NG. K-Series centrifuges. III. Effect of core taper on particle capture efficiency. Anal Biochem. 1970;34:112–22. DOIPubMed
Brantley JN, Willis DD, Breillatt JP, Gibson RF, Patrick LC, Anderson NG. K-Series centrifuges IV. Measurement and control of temperature. Anal Biochem. 1970;36:434–42. DOIPubMed
Gerin JL, Anderson NG. Purification of influenza virus in the K-II zonal centrifuge. Nature. 1969;221:1255–6. DOIPubMed
Reimer CB, Baker RS, Van Frank RM, Newlin TE, Cline GB, Anderson NG. Purification of large quantities of influenza virus by density gradient centrifugation. J Virol. 1967;1:1207–6.PubMed
Gerin JL, Holland PV, Purcell RH. Australia antigen: large-scale purification from human serum and biochemical studies of its proteins. J Virol. 1971;7:569–76.PubMed
Hilleman MR, McAleer WJ, Buynak EB, McLean AA. The preparation and safety of hepatitis B vaccine. J Infect. 1983;7(Suppl 1):3–8. DOIPubMed
Breillatt JP, Brantley JN, Mazzone HM, Martignoni ME, Franklin JE, Anderson NG. Mass purification of nucleopolyhedrosis virus inclusion bodies in the K-Series centrifuge. Appl Microbiol. 1972;23:923–30.PubMed
Alfa Wassermann Inc. Available from: URL: www.smartcentrifuge.com
Kendro Laboratory Products. www.kendro.com
Anderson NG, Anderson NL. Detection and characterization of microorganisms. U.S. Patent Application publication no. 2002/0137026 A1, Sept. 26, 2002.
Anderson NG, Anderson NL, Della-Cioppa G. Method for discovering new infectious particles. U.S. Patent Application publication no. 2003/0044771 A1, March 6, 2003.
Anderson NG, Cline GB, Harris WW, Green JG. Isolation of viral particles from large fluid volumes. In: Berg G, editor. Transmission of viruses by the water route. New York: Interscience Publishers; 1967. p. 75–88.
Bergh O, Borsheim KY, Bratbak G, Heldal M. High abundance of viruses found in aquatic environments. Nature. 1989;340:467–8. DOIPubMed
Wommack KE, Colwell RR. Virioplankton: viruses in aquatic ecosystems. Microbiol Mol Biol Rev. 2000;64:69–114. DOIPubMed
Noble RT, Fuhrman JA. Rapid virus production and removal as measured with fluorescently labeled viruses as tracers. Appl Environ Microbiol. 2000;66:3790–7. DOIPubMed
Brussaard CP, Marie D, Bratbak G. Flow cytometric detection of viruses. J Virol Methods. 2000;85:175–82. DOIPubMed
Chen F, Suttle CA, Short SM. Genetic diversity in marine algal virus communities as revealed by sequence analysis of DNA polymerase genes. Appl Environ Microbiol. 1996;62:2869–74.PubMed
Fuhrman JA. Marine viruses and their biogeochemical and ecological effects. Nature. 1999;399:541–8. DOIPubMed
Rohwer F, Edwards R. The phage proteomic tree: a genome-based taxonomy for phage. J Bacteriol. 2002;184:4529–5. DOIPubMed
Griffin DW, Donaldson KA, Paul JH. Pathogenic human viruses in coastal waters. Clin Microbiol Rev. 2003;16:129–43. DOIPubMed
Hara S, Koike I, Terauchi K, Kamiya H, Tanoue E. Mar Ecol Prog Ser. 1996;145:269–77. DOI
Steward GF, DeLong EF, Preston CM. Assessing viral diversity in the sea. Eos Trans. 2002;83(Suppl):OS19.
Lee TH, Montalvo L, Chrebtow V, Busch MP. Quantitation of genomic DNA in plasma and serum samples: higher concentrations of genomic DNA found in serum than in plasma. Transfusion. 2001;41:276–82. DOIPubMed
Quinn TC, Brookmeyer R, Kline R, Shepherd M, Paranjape R, Mehendale S, Feasibility of pooling sera for HIV-1 viral RNA to diagnose acute primary HIV-1 infection and estimate HIV incidence. AIDS. 2000;14:2751–7. DOIPubMed
Lefkovits I, Kettman JR, Frey JR. Proteomic analysis of rare molecular species of translated polypeptides from a mouse fetal thymus cDNA library. Proteomics. 2001;1:560–73. DOIPubMed
Cho N, Barringer HP, Amburgey JW, Cline GB, Anderson NG, McCauley LL, Problems in biocontainment. Natl Cancer Inst Monogr. 1966;21:485–502.PubMed
Figure
Cite This Article
DOI: 10.3201/eid0907.030004
The conclusions, findings, and opinions expressed by authors contributing to this journal do not necessarily reflect the official position of the U.S. Department of Health and Human Services, the Public Health Service, the Centers for Disease Control and Prevention, or the authors' affiliated institutions. Use of trade names is for identification only and does not imply endorsement by any of the groups named above.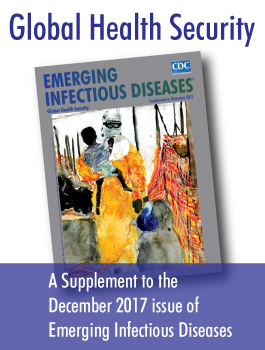 Antimicrobial Drug Resistance and Gonorrhea— (Length: 8:35)
Related Information
Additional Resources
Page created: December 22, 2010
Page last updated: December 22, 2010
Page last reviewed: December 22, 2010