Volume 9, Number 9—September 2003
Research
Hantavirus Infection in Humans and Rodents, Northwestern Argentina
Noemi Pini*

, Silvana Levis*, Gladys Calderón*, Josefina Ramirez†, Daniel Bravo‡, Elena Lozano†, Carlos Ripoll§, Stephen St. Jeor¶, Thomas G. Ksiazek#, Ruben M. Barquez**††, and Delia Enria*
Author affiliations: *Instituto Nacional de Enfermedades Virales Humanas "Dr. Julio I. Maiztegui," Pergamino, Argentina; †Hospital San Miguel, Yuto, Jujuy, Argentina; ‡Hospital Oscar Orias, Libertador General San Martín, Jujuy, Argentina; §Dirección de Epidemiología, Jujuy, Argentina; ¶University of Nevada, Reno, Nevada, USA; #Centers for Disease Control and Prevention, Atlanta, Georgia, USA; **Universidad Nacional de Tucumán, Tucumán, Argentina; ††Consejo Nacional de Investigaciones Científicas y Técnicas, Tucumán, Argentina
Table 6
Habitat

---

Species
Districts

---

Farms

---

Brushwoodd

---

Total

---

Domestica
Peridomesticb
Domestica
Peridomesticb
Cultivationc
Akodon simulator

---

---

5

---

---

7

---

51

---

77

---

140

---

Akodon sp

---

---

---

---

---

---

2

---

2

---

Akodon caenosus

---

---

---

---

---

---

3

---

3

---

Calomys callosus

---

---

8

---

5

---

25

---

44

---

55

---

137

---

Holochilus chacarius

---

---

---

---

---

7

---

4

---

11

---

Mus musculus

---

7

---

3

---

---

---

---

---

10

---

Oligoryzomys sp

---

---

---

---

---

2

---

---

2

---

Oligoryzomys chacoensis

---

---

---

---

---

---

4

---

4

---

O. longicaudatus

---

---

---

---

---

---

6

---

6

---

Oxymycterus paramensis

---

---

1

---

---

---

---

2

---

3

---

Rattus rattus

---

---

1

---

4

---

1

---

---

---

6

---

Thylamys elegans

---

---

---

---

---

1

---

---

1

---

T. venustus

---

---

1

---

---

---

1

---

---

2

---

No identification

---

---

1

---

---

---

17

---

16

---

34

---

Total
7
20
9
33
123
169
361
aInside households.
bImmediate vicinity of houses, including yards, outbuildings, vegetable gardens, weeds, fence lines, and railroad.
cIncludes grapefruit and banana plantations, vegetables cultivation, weeds, and roadside in the same sites.
dSeminatural habitat that includes a streamside.
The conclusions, findings, and opinions expressed by authors contributing to this journal do not necessarily reflect the official position of the U.S. Department of Health and Human Services, the Public Health Service, the Centers for Disease Control and Prevention, or the authors' affiliated institutions. Use of trade names is for identification only and does not imply endorsement by any of the groups named above.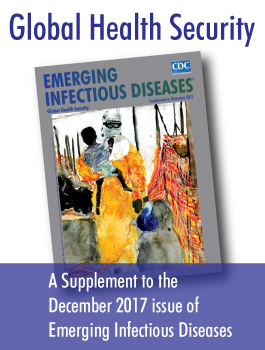 Antimicrobial Drug Resistance and Gonorrhea— (Length: 8:35)
Related Information
Additional Resources
Page created: January 03, 2011
Page last updated: January 03, 2011
Page last reviewed: January 03, 2011