Ahead of Print / In Press
Disclaimer: Ahead of print articles are not considered as final versions. Any changes will be reflected in the online version in the month the article is officially released.
Issues Available
Volume 24, Number 3—March 2018
Perspective
Ending the HIV/AIDS Pandemic
R. Eisinger and A. S. Fauci

View Abstract

The goal of ending the HIV/AIDS pandemic is theoretically achievable and would require addressing this global health catastrophe on individual and global levels by providing optimal prevention strategies and treatment regimens for individual persons living with or at risk for HIV, as well as ending the pandemic as an epidemiologic and global health phenomenon. However, from a practical standpoint, the pathway to ending the HIV/AIDS pandemic will be difficult and will require aggressive implementation of the biomedical research advances that have been made in the areas of treatment and prevention; development of additional tools, such as a moderately effective HIV vaccine; and attention to critical behavioral and social determinants. An end to the HIV/AIDS pandemic can be achieved only with provision of sustained and additional resources at the local, regional, national, and global levels.

Email this Article
Synopses
Epidemiology of Recurrent Hand, Foot and Mouth Disease, China, 2008–2015
J. Huang et al.

Coccidioidomycosis Outbreaks, United States and Worldwide, 1940–2015
M. Freedman et al.
Research
Major Threat to Malaria Control Programs by Plasmodium falciparum Lacking Histidine-Rich Protein 2, Eritrea
A. Berhane et al.

Incidence and Preventable Burden of Childhood Tuberculosis, Kenya
A. J. Brent et al.

Characteristics Associated with Negative Interferon-γ Release Assay Results in Culture-Confirmed Tuberculosis Patients, Texas, USA, 2013–2015


Capsule Typing of Haemophilus influenzae by Matrix-Assisted Laser Desorption/Ionization Time-of-Flight Mass Spectrometry
V. Månsson et al.

Increasing Prevalence of Nontuberculous Mycobacteria in Respiratory Specimens from United States–Affiliated Pacific Island Jurisdictions
C. Lin et al.

Epidemiology and Molecular Identification and Characterization of Mycoplasma pneumonia, South Africa, 2012–2015
M. Carrim et al.

Genetic Spatiotemporal Anatomy of Plasmodium vivax Malaria Episodes in Greece, 2009–2013
G. Spanakos et al.

Acquired Resistance to Antituberculosis Drugs in England, Wales, and Northern Ireland, 2000–2015
M. Loutet et al.

Use of Genome Sequencing in Defining Institutional Influenza Outbreaks
D. R. MacFadden et al.

Use of Verbal Autopsy to Determine Underlying Cause of Death during Treatment of Multidrug-Resistant Tuberculosis, India
P. Naik et al.
Dispatches
Molecular and Epidemiologic Analysis of Reemergent Salmonella enterica Serovar Napoli, Italy, 2011–2015
M. Sabbatucci et al.

Statistical Method to Detect Tuberculosis Outbreaks among Endemic Clusters in Low-Prevalence Settings
S. P. Althomsons et al.

Artificial Differences in Clostridium difficile Infection Rates Associated with Disparity in Testing
M. Kamboj et al.

Cache Valley Virus in Aedes japonicus japonicus Mosquitoes, Appalachian Region, United States
F. Yang et al.

Drug resistance of Mycobacterium tuberculosis complex in a rural setting, Angola
A. Segura et al.

Increased Admissions for Severe Influenza A/B among Travelers on Alaskan Cruise Ships, 2015
M. Payne et al.

Seroprevalence of Dengue and Chikungunya Virus Antibodies, French Polynesia, 2014–2015
M. Aubry et al.

Genome-wide Analysis of Mycobacterium tuberculosis Strains Isolated from Patients with Tuberculous Spondylitis, Russia
E. Chernyaeva et al.

Invasive Infections Caused by Nannizziopsis spp. Molds in Immunocompromised Patients
C. Nourrisson et al.

Severe Pneumonia Caused by Toxigenic Corynebacterium ulcerans Infection, Japan
I. Yasuda et al.
Research Letters
New Lineage of Lassa Virus, Togo, 2016
S. Whitmer et al.

Introduction of the Anopheles bancroftii Mosquito, a Malaria Vector, into New Caledonia
M. Pol et al.

Acetobacter indonesiensis Pneumonia after Lung Transplantation
S. Basu et al.

Evidence for Previously Unidentified Sexual Transmission of Protozoan Parasites
C. Crespillo-Andujar et al.

Mycobacterium avium subsp. hominissuis Infection in a Domestic Rabbit, Germany
D. Klotz et al.
Letter
Books and Media
Paleomicrobiology of Humans
C. E. Carr
Volume 24, Number 4—April 2018
Synopsis
Two Infants with Presumed Congenital Zika Syndrome, Brownsville, Texas, USA, 2016–2017
A. Howard et al.
Research
Phenotypic and Genotypic Characterization of Enterobacteriaceae Producing Oxacillinase-48–Like Carbapenemases, United States
J. D. Lutgring et al.

Genomic Surveillance of 4CMenB Vaccine Antigenic Variants among Invasive Meningococcal Disease Isolates, United Kingdom, 2010–2016
C. Rodrigues et al.

Rickettsial Illnesses as Important Causes of Febrile Illness in Chittagong, Bangladesh
H. W. Kingston et al.

Influence of Population Immunosuppression and Past Vaccination on Smallpox Reemergence
C. MacIntyre et al.
Dispatches
Emergomyces canadensis, a Dimorphic Fungus Causing Fatal Systemic Human Disease in North America
I. S. Schwartz et al.

mcr-1, Carbapenemase-Producing Klebsiella pneumoniae in Hospitalized Patients, Portugal, September 2016–February 2017
A. Mendes et al.
Research Letter
Volume 24, Number 5—May 2018
Synopsis
Two Cases of Israeli Spotted Fever with Purpura Fulminans, Sharon District, Israel
R. Cohen et al.

View Summary

Genetic sequencing should be used to confirm cases because purpura fulminans is a rare finding.
The conclusions, findings, and opinions expressed by authors contributing to this journal do not necessarily reflect the official position of the U.S. Department of Health and Human Services, the Public Health Service, the Centers for Disease Control and Prevention, or the authors' affiliated institutions. Use of trade names is for identification only and does not imply endorsement by any of the groups named above.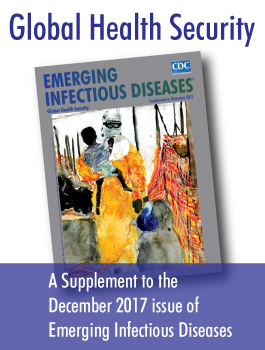 Antimicrobial Drug Resistance and Gonorrhea— (Length: 8:35)
Related Information
Additional Resources