Ahead of Print / In Press
Disclaimer: Ahead of print articles are not considered as final versions. Any changes will be reflected in the online version in the month the article is officially released.
Issues Available
Volume 24, Number 1—January 2018
Research
Historical Review
Dispatches
Research Letters
Letters
Books and Media
About the Cover
Etymologia
Corrections
Volume 24, Number 2—February 2018
Synopses
Hypervirulent Klebsiella pneumoniae in Cryptogenic Liver Abscesses, Paris, France
B. Rossi et al.

View Summary

France and Europe might have an epidemic of this bacteria as did Asia in the early 2000s.

Adenovirus Type 4 Respiratory Infections among Civilians, Northeastern United States, 2011–2015
A. E. Kajon et al.

Increase in Ocular Syphilis Cases at an Ophthalmologic Reference Center, France, 2012–2015


Ecologic Features of Plague Outbreak Areas, Democratic Republic of the Congo, 2004–2014
A. Abedi et al.
Research
Environmental Risk Factors for and Spatial Distribution of Typhoid Fever in Fiji
R. de Alwis et al.

Trends in Infectious Disease Deaths, South Korea, 1983–2015
Y. Choe et al.

Lethal Respiratory Disease Associated with Human Rhinovirus C in Wild Chimpanzees, Uganda, 2013
E. J. Scully et al.

Multiplex PCR−Based Next-Generation Sequencing and Global Diversity of Seoul Virus in Humans and Rats
W. Kim et al.

Spread of Meropenem-Resistant Streptococcus pneumoniae Serotype 15A-ST63 Clone in Japan, 2012–2014
S. Nakano et al.

Borrelia miyamotoi Infections in Humans and Ticks, Northeastern China
B. Jiang et al.

Use of Pristinamycin for Macrolide-Resistant Mycoplasma genitalium Infection
T. Read et al.

New Parvovirus Associated with Serum Hepatitis in Horses After inoculation of Common Biological Product
T. J. Divers et al.

Potential Reservoir for Yersinia pestis Survival and Replication in Phagocytic Amebae Colonies
D. W. Markman et al.
Dispatches
Ceftriaxone-Resistant Neisseria gonorrhoeae, Canada, 2017
B. Lefebvre et al.

View Abstract

We identified a ceftriaxone-resistant Neisseria gonorrhoeae isolate in a patient in Canada. This isolate carried the penA-60 allele, which differs substantially from its closest relative, mosaic penA XXVII (80% nucleotide identity). Epidemiologic and genomic data suggest spread from Asia. Antimicrobial susceptibility surveillance helps prevent spread of highly resistant N. gonorrhoeae strains.

Email this Article

Containment of Highly Pathogenic Avian Influenza A(H5N1) Virus, Lebanon, 2016
Z. E. Farah et al.

Clusters of Human Infection and Human-to-Human Transmission of Avian Influenza A(H7N9) Virus, 2013–2017
L. Zhou et al.

View Abstract

To detect changes in human-to-human transmission of influenza A(H7N9) virus, we analyzed characteristics of 40 clusters of case-patients during 5 epidemics in China in 2013–2017. Similarities in number and size of clusters and proportion of clusters with probable human-to-human transmission across all epidemics suggest no change in human-to-human transmission risk.

Email this Article

Co-circulation of Influenza A/H5N1, H7, and H9 Viruses and Evidence of Co-infected Poultry in Live Bird Markets, Cambodia
P. F. Horwood et al.

Effects of Culling on Leptospira interrogans Carriage by Rats
M. J. Lee et al.

Epidemic Varicella Zoster Virus among University Students, India
J. Meyers et al.

Emergomyces africanus in Soil, South Africa
I. S. Schwartz et al.
Research Letters
Novel Sequence Type ST834 Streptococcus suis among Humans on Pig Farms, Madagascar
M. Raberahona et al.

Influenza D Virus in Cattle, Ireland
O. Flynn et al.

Human African Trypanosomiasis in a Chinese Emigrant Returning from Gabon in 2017
X. Wang et al.

Cronobacter sakazakii Infection from Expressed Breast Milk, Australia
R. McMullan et al.

Dengue-Associated Posterior Reversible Encephalopathy Syndrome, Vietnam
N. Mai et al.

Cerebral Syphilitic Gumma in Immunocompetent Man, Japan
T. Kodama et al.
Books and Media
In the Company of Microbes: Ten Years of Small Things Considered
R. Danila
Volume 24, Number 3—March 2018
Synopsis
Epidemiology of Recurrent Hand, Foot and Mouth Disease, China, 2008–2015
J. Huang et al.
Research
Major Threat to Malaria Control Programs by Plasmodium falciparum Lacking Histidine-Rich Protein 2, Eritrea
A. Berhane et al.

Incidence and Preventable Burden of Childhood Tuberculosis, Kenya
A. J. Brent et al.
Dispatch
Molecular and Epidemiologic Analysis of Reemergent Salmonella enterica Serovar Napoli, Italy, 2011–2015
M. Sabbatucci et al.
Letter
The conclusions, findings, and opinions expressed by authors contributing to this journal do not necessarily reflect the official position of the U.S. Department of Health and Human Services, the Public Health Service, the Centers for Disease Control and Prevention, or the authors' affiliated institutions. Use of trade names is for identification only and does not imply endorsement by any of the groups named above.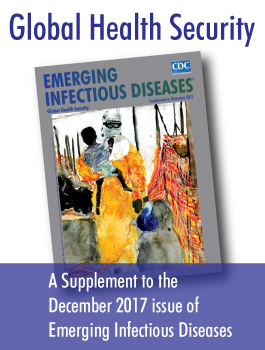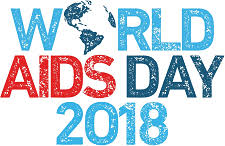 Rabies Across Borders— (Length: 11:50)
Related Information
Additional Resources