Volume 11, Number 6—June 2005
Perspective
Antimicrobial Resistance Determinants and Future Control
Stephan Harbarth*

and Matthew H. Samore†
Author affiliations: *University of Geneva Hospitals, Geneva, Switzerland; †VA Salt Lake City Health Care System, Salt Lake City, Utah, USA
Close
Highlight and copy the desired format.
| | |
| --- | --- |
| EID | Harbarth S, Samore MH. Antimicrobial Resistance Determinants and Future Control. Emerg Infect Dis. 2005;11(6):794-801. https://dx.doi.org/10.3201/eid1106.050167 |
| AMA | Harbarth S, Samore MH. Antimicrobial Resistance Determinants and Future Control. Emerging Infectious Diseases. 2005;11(6):794-801. doi:10.3201/eid1106.050167. |
| APA | Harbarth, S., & Samore, M. H. (2005). Antimicrobial Resistance Determinants and Future Control. Emerging Infectious Diseases, 11(6), 794-801. https://dx.doi.org/10.3201/eid1106.050167. |
Abstract
At the beginning of the 21st century, antimicrobial resistance is common, has developed against every class of antimicrobial drug, and appears to be spreading into new clinical niches. We describe determinants likely to influence the future epidemiology and health impact of antimicrobial-resistant infections. Understanding these factors will ultimately optimize preventive strategies for an unpredictable future.
"Antibiotic therapy, if indiscriminately used, may turn out to be a medicinal flood that temporarily cleans and heals, but ultimately destroys life itself."
Felix Marti-Ibanez, 1955
For more than 5 decades, the problem of how to contain antimicrobial resistance has preoccupied policy makers and members of the academic community. Nor is this preoccupation surprising, since antimicrobial resistance has become a public health concern throughout the world.
Pessimistic viewpoints about the low chances of success to stop the development of antimicrobial resistance have repeatedly been reported (1). The fundamental predicament is that antimicrobial drugs are a nonrenewable resource. Their duration of benefit and availability appears limited at the biological level, a constraint not seen with therapies for other disease conditions. As pointed out by the commentary in this issue of Emerging Infectious Diseases (2), the emergence of antimicrobial resistance is unavoidable from an evolutionary perspective. Moreover, for most microorganisms, it is unlikely that fitness costs of antimicrobial resistance will reduce their spread and clinical impact, since subsequent evolution commonly results in the amelioration of these costs (3).
This paradigm, which has been framed from a microbiologic perspective and could be summarized in the slogan "antibiotic therapy: use it and lose it," prompts questions about potential interventions that could slow down the dissemination of antimicrobial resistance and reduce its health impact in the next 2 decades. What will influence the demand and use of antimicrobial drugs in the near future? Which obstacles towards more judicious use and decreased transmission may get circumvented? How much will healthcare regulation affect antimicrobial resistance and our ability to control its spread? In short, we need to complement analysis of molecular biology with an examination of other determinants that are likely to influence the future epidemiology and health impact of antimicrobial-resistant, bacterial infections. That is the purpose of this article. For space reasons, we will not discuss the problem of viral, protozoal, or fungal resistance, and the controversial use of antimicrobial drugs in animal growth promotion, but certain analogies may be drawn from the ideas presented here.
The Bright Scenario
We will observe a change in prescribing habits and attitudes towards outpatient antimicrobial use, especially for respiratory infections. Policies and behavior change interventions contribute to a massive change in social norms around antimicrobial drug use, similar to what has happened with tobacco control. Intensive educational campaigns, aimed at optimizing antimicrobial drug use, combined with immunization programs for infants and children will lead to reduced spread and clinical impact of antimicrobial-resistant pneumococci.
Tools from information technology and progress in microbiology will reduce diagnostic uncertainty and improve antimicrobial dosing, selection, and treatment duration. Use of antimicrobial agents will, therefore, continue to decrease, not only in the outpatient setting, but also in the inpatient setting.
New therapies will be developed based on probiotic principles. Technologic advances will enhance the identification and characterization of the vast microbial diversity colonizing the human body (commensals and pathogens), which may lead to new probiotic strategies to prevent infections and reduce antimicrobial selection pressure.
Data sharing and increased international cooperation will lead to consistent control measures across different continents. Asian countries, users of large amounts of antimicrobial agents and important drivers of resistance until recently, will change paradigms and introduce modern infection control concepts and public health policies that will decrease overuse of antimicrobial agents.
Antimicrobial resistance among important pathogens will be slowly reversible. Trends in antimicrobial resistance follow an S-shaped curve with a quick ascent, a plateau and, sometimes, a slow decline. Antimicrobial resistance in high prevalence countries will be slowly reduced, especially for several gram-positive microorganisms (1).
Antimicrobial resistance will not have a major impact on life expectancy in the industrialized world. Deaths from panresistant infections without any treatment option will remain rare complications in high-income countries, since new antimicrobial agents and better use of currently available antimicrobial drugs will become standard policy.
The Dark Scenario
New resistance mechanisms will emerge and disseminate. Multiresistant group A streptococci will render penicillin and macrolides useless in the treatment of pharyngitis. Salmonella spp. infections can no longer be treated with advanced cephalosporins, fluorquinolones, or carbapenems.
We will observe raising resistance rates for most pathogens. Multiresistant Acinetobacter spp., enterococci, and staphylococci will cause substantial illness and increased treatment costs in those parts of the world that have not installed stringent control measures. Healthcare-associated infections due to vancomycin-resistant enterococci will become endemic in many countries.
Antibiotic-resistant S. aureus will become a massive public health problem. The scope of staphylococcal antimicrobial resistance will extend not only to new antimicrobial agents, but also to more settings. Although hospitals were once the sole province of methicillin-resistant S. aureus (MRSA), more and more community outbreaks of MRSA will occur in those persons who lack traditional risk factors for carriage of MRSA. The prevalence of MRSA in the US community will reach 25% within the next decade, with rates 3 times as high in hospitals (41).
Technological development will not fulfill its promise. No new antimicrobial classes or treatment strategies have been developed for gram-negative bacteria, and vaccines have not been widely effective. Serotype replacement in pneumococci allowed that organism to escape control. Fluoroquinolones are no longer effective against a wide array of infections and have not been replaced by any new class of orally available antimicrobial agents. New antimicrobial drugs with novel mechanisms of action (e.g., bacteriophages) have failed in large phase III trials.
Anthrax and pandemic influenza threats have led to mass prophylaxis, with disastrous consequences in terms of resistance. Several disasters and pandemics will increase the use of antimicrobial drugs on a global scale, leading to emergence and dissemination of resistance.
A continuing flood of consensus conference statements, position papers, and surveillance network reports will be issued about the problem of antibiotic resistance, without any measurable and sustained effect on containment. Healthcare policy will not introduce stringent control measures because of a lack of precise estimates of the public health impact of antimicrobial resistance and the priority of other more pressing infectious disease problems such as HIV, tuberculosis, and malaria.
Conclusion
The high levels of uncertainty and complexity regarding antimicrobial resistance mandate that we build the capabilities to prepare not only for 1 specific future (following the pessimistic viewpoint of antimicrobial therapy: use it and lose it), but also across a range of alternative scenarios that may be less pessimistic.
Whether the current epidemic of antimicrobial resistance is sustainable or will succumb to current efforts to limit its spread will be decided by an interaction of factors related to microorganisms, host, use patterns of antimicrobial drugs, and the impact of infection control measures and technologic development (5). We hope that adding infection control and prudent use of antimicrobial agents to new drug development will avert the realization of pessimistic predictions about the future of antimicrobial resistance.
Dr. Harbarth is associate hospital epidemiologist at the University of Geneva Hospitals in Switzerland. His research interests include the prevention of healthcare-acquired infections and the epidemiology of antimicrobial drug-resistant pathogens.
Dr. Samore is professor of internal medicine at the University of Utah and chief of the Division of Clinical Epidemiology. He is also director of the Salt Lake Informatics, Decision, Enhancement, and Surveillance Center. His research interests include antimicrobial resistance in hospitals and communities, computer-decision support for prescribing antimicrobial agents, and surveillance of errors and adverse events.
Acknowledgments
We thank Tim Lahey, Dennis Ross-Degnan, Angela Cabello Munoz, Roxane Salvatierra Gonzalez, Herman Goossens, and Winfried Kern for help in preparing this manuscript.
Matthew H. Samore was supported by Centers for Disease Control and Prevention grant no. RS1 CCR820631.
References
Livermore D. Can better prescribing turn the tide of resistance? Nat Rev Microbiol. 2004;2:73–8. DOIPubMed
Weber JT, Courvalin P. An emptying quiver: antimicrobial drugs and resistance. Emerg Infect Dis. 2005;11:791–3. DOIPubMed
Andersson DI, Levin BR. The biological cost of antibiotic resistance. Curr Opin Microbiol. 1999;2:489–93. DOIPubMed
Harbarth S, Albrich W, Goldmann DA, Huebner J. Control of multiply resistant cocci: do international comparisons help? Lancet Infect Dis. 2001;1:251–61. DOIPubMed
Nuermberger EL, Bishai WR. Antibiotic resistance in Streptococcus pneumoniae: what does the future hold? Clin Infect Dis. 2004;38(Suppl 4):S363–71. DOIPubMed
Fischer JE, Harbarth S, Agthe AG, Benn A, Ringer SA, Goldmann DA, Quantifying uncertainty: physicians' estimates of infection in critically ill neonates and children. Clin Infect Dis. 2004;38:1383–90. DOIPubMed
Christ-Crain M, Jaccard-Stolz D, Bingisser R, Gencay MM, Huber PR, Tamm M, Effect of procalcitonin-guided treatment on antibiotic use and outcome in lower respiratory tract infections: cluster-randomised, single-blinded intervention trial. Lancet. 2004;363:600–7. DOIPubMed
Gibot S, Cravoisy A, Levy B, Bene MC, Faure G, Bollaert PE. Soluble triggering receptor expressed on myeloid cells and the diagnosis of pneumonia. N Engl J Med. 2004;350:451–8. DOIPubMed
Dunne WM Jr, Pinckard JK, Hooper LV. Clinical microbiology in the year 2025. J Clin Microbiol. 2002;40:3889–93. DOIPubMed
Raoult D, Fournier PE, Drancourt M. What does the future hold for clinical microbiology? Nat Rev Microbiol. 2004;2:151–9. DOIPubMed
Chastre J, Wolff M, Fagon JY, Chevret S, Thomas F, Wermert D, Comparison of 8 vs 15 days of antibiotic therapy for ventilator-associated pneumonia in adults: a randomized trial. JAMA. 2003;290:2588–98. DOIPubMed
Micek ST, Ward S, Fraser VJ, Kollef MH. A randomized controlled trial of an antibiotic discontinuation policy for clinically suspected ventilator-associated pneumonia. Chest. 2004;125:1791–9. DOIPubMed
Molstad S, Lundborg CS, Karlsson AK, Cars O. Antibiotic prescription rates vary markedly between 13 European countries. Scand J Infect Dis. 2002;34:366–71. DOIPubMed
Patrick DM, Marra F, Hutchinson J, Monnet DL, Ng H, Bowie WR. Per capita antibiotic consumption: how does a North American jurisdiction compare with Europe? Clin Infect Dis. 2004;39:11–7. DOIPubMed
Projan SJ, Shlaes DM. Antibacterial drug discovery: is it all downhill from here? Clin Microbiol Infect. 2004;10(Suppl 4):18–22. DOIPubMed
Ganestam F, Lundborg CS, Grabowska K, Cars O, Linde A. Weekly antibiotic prescribing and influenza activity in Sweden: a study throughout 5 influenza seasons. Scand J Infect Dis. 2003;35:836–42. DOIPubMed
Fleming DM, Ross AM, Cross KW, Kendall H. The reducing incidence of respiratory tract infection and its relation to antibiotic prescribing. Br J Gen Pract. 2003;53:778–83.PubMed
Zanetti G, Blanc DS, Federli I, Berger MM, Chiolero R, Petignat C, Acinetobacter baumannii epidemic in a burn unit: usefulness of improved culture medium to assess environmental contamination. In: Infectious Diseases Society of America Annual Meeting; Boston, 2004; Abstract 219.
Harbarth S, Albrich W, Brun-Buisson C. Outpatient antibiotic use and prevalence of antibiotic-resistant pneumococci in France and Germany: a sociocultural perspective. Emerg Infect Dis. 2002;8:1460–7.PubMed
Bauraind I, Lopez-Lozano JM, Beyaert A, Marchal JL, Seys B, Yane F, Association between antibiotic sales and public campaigns for their appropriate use. JAMA. 2004;292:2468–70. DOIPubMed
Finch RG, Metlay JP, Davey PG, Baker LJ. Educational interventions to improve antibiotic use in the community: report from the International Forum on Antibiotic Resistance (IFAR) colloquium, 2002. Lancet Infect Dis. 2004;4:44–53. DOIPubMed
Oteo J, Lazaro E, de Abajo FJ, Baquero F, Campos J. Trends in antimicrobial resistance in 1,968 invasive Streptococcus pneumoniae strains isolated in Spanish hospitals (2001 to 2003): decreasing penicillin resistance in children's isolates. J Clin Microbiol. 2004;42:5571–7. DOIPubMed
Waldvogel FA. Infectious diseases in the 21st century: old challenges and new opportunities. Int J Infect Dis. 2004;8:5–12. DOIPubMed
Whitney CG, Klugman KP. Vaccines as tools against resistance: the example of pneumococcal conjugate vaccine. Semin Pediatr Infect Dis. 2004;15:86–93. DOIPubMed
Reinert RR. Pneumococcal conjugate vaccines – a European perspective. Int J Med Microbiol. 2004;294:277–94. DOIPubMed
Tiemersma EW, Bronzwaer SL, Lyytikainen O, Degener JE, Schrijnemakers P, Bruinsma N, Methicillin-resistant Staphylococcus aureus in Europe, 1999–2002. Emerg Infect Dis. 2004;10:1627–34.PubMed
Pittet D, Hugonnet S, Harbarth S, Mourouga P, Sauvan V, Touveneau S, Effectiveness of a hospital-wide programme to improve compliance with hand hygiene. Lancet. 2000;356:1307–12. DOIPubMed
Tomic V, Svetina Sorli P, Trinkaus D, Sorli J, Widmer AF, Trampuz A. Comprehensive strategy to prevent nosocomial spread of methicillin-resistant Staphylococcus aureus in a highly endemic setting. Arch Intern Med. 2004;164:2038–43. DOIPubMed
Cooper BS, Medley GF, Stone SP, Kibbler CC, Cookson BD, Roberts JA, Methicillin-resistant Staphylococcus aureus in hospitals and the community: stealth dynamics and control catastrophes. Proc Natl Acad Sci U S A. 2004;101:10223–8. DOIPubMed
Bell DM. Public health interventions and SARS spread, 2003. Emerg Infect Dis. 2004;10:1900–6.PubMed
Carbon C, Bax RP. Regulating the use of antibiotics in the community. BMJ. 1998;317:663–5. DOIPubMed
Bavestrello L, Cabello A, Casanova D. Impact of regulatory measures in the trends of community consumption of antibiotics in Chile. Rev Med Chil. 2002;130:1265–72. DOIPubMed
Harbarth S, Samore MH, Lichtenberg D, Carmeli Y. Prolonged antibiotic prophylaxis after cardiovascular surgery and its effect on surgical site infections and antimicrobial resistance. Circulation. 2000;101:2916–21.PubMed
Goossens H, Peetermans W, Sion JP, Bossens M. Evidence-based perioperative antibiotic prophylaxis policy in Belgian hospitals after a change in the reimbursement system. Ned Tijdschr Geneeskd. 2001;145:1773–7.PubMed
Harbarth S, Oberlander C. Do health care regulation and physician-industry interaction influence antibiotic resistance rates? The example of antimicrobial prescribing and dispensing in Japan. International Conference on Improving Use of Medicines. Chang Mai, Thailand: World Health Organization; 2004.
Park S, Soumerai SB, Adams AS, Finkelstein JA, Jang S, Ross-Degnan D. Decreased inappropriate antibiotic use following a Korean national policy to prohibit medication dispensing by physicians. Health Policy Plan. 2005. In press. DOIPubMed
Bruinsma N, Kristinsson KG, Bronzwaer S, Schrijnemakers P, Degener J, Tiemersma E, Trends of penicillin and erythromycin resistance among invasive Streptococcus pneumoniae in Europe. J Antimicrob Chemother. 2004;54:1045–50. DOIPubMed
Reingold AL. Infectious disease epidemiology in the 21st century: will it be eradicated or will it reemerge? Epidemiol Rev. 2000;22:57–63.PubMed
Chabbert YA. Aspects de la résistance des germes aux antibiotiques. Presse Med. 1952;79:1681–6.
Cohen ML. Epidemiology of drug resistance: implications for a post-antimicrobial era. Science. 1992;257:1050–5. DOIPubMed
Figures
Tables
Cite This Article
DOI: 10.3201/eid1106.050167
Table of Contents – Volume 11, Number 6—June 2005
Comments
Please use the form below to submit correspondence to the authors or contact them at the following address:
Stephan Harbarth, Infection Control Program, University of Geneva Hospitals, 1211 Geneva 14, Switzerland; fax: 41-22-372-3987
Comment submitted successfully, thank you for your feedback.
The conclusions, findings, and opinions expressed by authors contributing to this journal do not necessarily reflect the official position of the U.S. Department of Health and Human Services, the Public Health Service, the Centers for Disease Control and Prevention, or the authors' affiliated institutions. Use of trade names is for identification only and does not imply endorsement by any of the groups named above.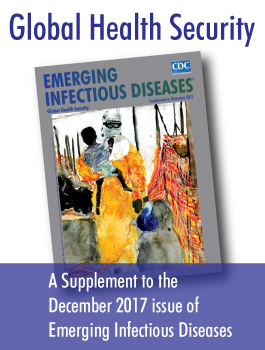 Antimicrobial Drug Resistance and Gonorrhea— (Length: 8:35)
Related Information
Additional Resources
Page created: April 24, 2012
Page last updated: April 24, 2012
Page last reviewed: April 24, 2012