Volume 14, Number 9—September 2008
Letter
Popular and Scientific Attitudes Regarding Pandemic Influenza
Close
Highlight and copy the desired format.
| | |
| --- | --- |
| EID | Doshi P. Popular and Scientific Attitudes Regarding Pandemic Influenza. Emerg Infect Dis. 2008;14(9):1501-1502. https://dx.doi.org/10.3201/eid1409.080647 |
| AMA | Doshi P. Popular and Scientific Attitudes Regarding Pandemic Influenza. Emerging Infectious Diseases. 2008;14(9):1501-1502. doi:10.3201/eid1409.080647. |
| APA | Doshi, P. (2008). Popular and Scientific Attitudes Regarding Pandemic Influenza. Emerging Infectious Diseases, 14(9), 1501-1502. https://dx.doi.org/10.3201/eid1409.080647. |
Blendon et al. (1) described a survey of public attitudes regarding Americans' willingness and ability to follow the advice of public health officials during a severe influenza pandemic. The authors' results, however, can only be considered indicative if Americans' perceptions of pandemic influenza during the next pandemic are comparable to those associated with the hypothetical event they imagined while participating in the telephone survey by Blendon et al.
By asking respondents to imagine a "severe outbreak" of "a new type of flu," the authors likely portrayed to survey participants an image of pandemic flu as an event starkly different from ordinary flu seasons. Although such a contrast reinforces popular perceptions of pandemic flu as a catastrophic event (2), it is not supported by historical studies which show that, in terms of deaths, recent pandemics have been comparable to (3) or less deadly than (4) ordinary influenza seasons.
A gap thus exists between the perceptions and reality of pandemic influenza. Although the authors described pandemic flu as an "unfamiliar crisis" that "many of the respondents may not have been familiar with," in actuality, 39% of survey respondents were >50 years of age and therefore had firsthand experience of 1 or more past pandemics. (The last 2 pandemics occurred in 1957 and 1968; a pandemic was predicted in 1976, but never materialized.) Whether those respondents were aware that they had lived through past pandemics is a question with important implications for the survey results, but unfortunately, this understanding was not queried by the authors. For example, would all of the 94% of respondents who reported a willingness to isolate themselves at home for 7–10 days if that were recommended by health authorities—in effect, "voluntarily" placing themselves in quarantine—also be willing to do so during a pandemic no more severe than ordinary influenza?
If even those who have experienced pandemics do not recall them as particularly memorable events, it calls for a rethinking of public communication strategies with respect to influenza. Perhaps a first step is to acknowledge that as the past 2 pandemics have not been public health crises, the next pandemic may likewise also not be a crisis.
Peter Doshi

Author affiliation: Massachusetts Institute of Technology, Cambridge, Massachusetts, USA
References
Blendon RJ, Koonin LM, Benson JM, Cetron MS, Pollard WE, Mitchell EW, Public response to community mitigation measures for pandemic influenza. Emerg Infect Dis. 2008;14:778–86.PubMed
Appenzeller T. Tracking the next killer flu. Natl Geogr Mag. 2005;208:2–31.
Doshi P. Trends in recorded influenza mortality: United States, 1900–2004. Am J Public Health. 2008;98:939–45. DOIPubMed
Simonsen L, Taylor R, Viboud C, Dushoff J, Miller M. US flu mortality estimates are based on solid science [internet]. BMJ [rapid response]. 2006 Jan 11 [cited 2008 May 4]. Available from: http://www.bmj.com/cgi/eletters/331/7529/1412#125778
Cite This Article
DOI: 10.3201/eid1409.080647
Table of Contents – Volume 14, Number 9—September 2008
Comments
Please use the form below to submit correspondence to the authors or contact them at the following address:
Peter Doshi, History; Anthropology; and Science, Technology, and Society Program, E51-070, Massachusetts Institute of Technology, 77 Massachusetts Ave, Cambridge, MA 02139, USA;
Comment submitted successfully, thank you for your feedback.
The conclusions, findings, and opinions expressed by authors contributing to this journal do not necessarily reflect the official position of the U.S. Department of Health and Human Services, the Public Health Service, the Centers for Disease Control and Prevention, or the authors' affiliated institutions. Use of trade names is for identification only and does not imply endorsement by any of the groups named above.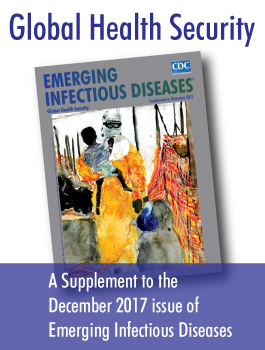 Antimicrobial Drug Resistance and Gonorrhea— (Length: 8:35)
Related Information
Additional Resources
Page created: July 13, 2010
Page last updated: July 13, 2010
Page last reviewed: July 13, 2010