Volume 17, Number 12—December 2011
Research
Lineage and Virulence of Streptococcus suis Serotype 2 Isolates from North America
Nahuel Fittipaldi, Jiangu Xu, Sonia Lacouture, Prasit Tharavichitkul, Makoto Osaki, Tsutomu Sekizaki, Daisuke Takamatsu, and Marcelo Gottschalk

Author affiliations: Université de Montréal, St-Hyacinthe, Quebec, Canada (N. Fittipaldi, S. Lacouture, M. Gottschalk); National Institute for Communicable Disease Control and Prevention, Beijing, People's Republic of China (J. Xu); Chiang Mai University, Chiang Mai, Thailand (P. Tharavichitkul); Agriculture, Forestry and Fisheries Research Council, Tokyo, Japan (M. Osaki); The University of Tokyo, Tokyo (T. Sekizaki); National Institute of Animal Health, Tsukuba, Japan (D. Takamatsu)
Table A1
Strain name
Country
Province/state/ prefecture
Isolation date
ST
Genotype

---

Phenotype

---

Host
Tissue/ disease
gdh
mrp‡
sly
epf
sipF
sfp1
sfp2
srtf
sgp1
sgp2
srtG
MRP
SLY
EF
Sfp1
Sgp1
P1/7
United Kingdom
No data
1981
1
+
+
+
+
+
+
+
+
–
–
–
+
+
+
+
–
Pig
Meningitis
1043248
Canada
Quebec
2007 Jan
25
+
***
–
–
+
+
+
+
+
+
+
–
–
–
–
+
Pig
Brain
1043629
Canada
Quebec
2007 Feb
25
+
***
–
–
+
+
+
+
+
+
+
–
–
–
–
+
Pig
Lung
1044423
Canada
Ontario
2007 Jun
25
+
***
–
–
+
+
+
+
+
+
+
–
–
–
–
+
Pig
No data
1053253
Canada
Manitoba
2008 Jan
25
+
***
–
–
+
+
+
+
+
+
+
–
–
–
–
+
Pig
Bronchious
1085543
Canada
Quebec
2008 Jan
25
+
***
–
–
+
+
+
+
+
+
+
–
–
–
–
+
Pig
Meninges
1054470
Canada
Quebec
2007 Jun
25
+
***
–
–
+
+
+
+
+
+
+
–
–
–
–
+
Pig
Lung
1058691
Canada
Manitoba
2007 Aug
25
+
***
–
–
+
+
+
+
+
+
+
–
–
–
–
+
Pig
Meninges
1063930
Canada
Ontario
2007 Mar
25
+
***
–
–
+
+
+
+
+
+
+
–
–
–
–
+
Pig
No data
1064496
Canada
Quebec
2007 Jun
25
+
***
–
–
+
+
+
+
+
+
+
–
–
–
–
+
Pig
Brain
1055923
Canada
Saskatchewan
2007 Aug
25
+
***
–
–
+
+
+
+
+
+
+
–
–
–
–
+
Pig
Bronchious
1072913
Canada
Quebec
2007 Jan
25
+
***
–
–
+
+
+
+
+
+
+
–
–
–
–
+
Pig
Pleura
1074055
Canada
Quebec
2008 Feb
25
+
–
–
–
+
+
+
+
+
+
+
–
–
–
–
+
Pig
Meningitis
1078217
Canada
Ontario
2008 Feb
25
+
***
–
–
+
+
+
+
+
+
+
–
–
–
–
+
Pig
Brain
1078679
Canada
Ontario
2008 Feb
25
+
***
–
–
+
+
+
+
+
+
+
–
–
–
–
+
Pig
Lung
1084568
Canada
Quebec
2008 Mar
25
+
*
–
–
+
+
+
+
+
+
+
–
–
–
–
+
Pig
Brain
1086117
Canada
Manitoba
2008 Apr
25
+
s
–
–
+
+
+
+
+
+
+
–
–
–
–
+
Pig
Endocardium
1087028
Canada
Manitoba
2008 May
25
+
***
–
–
+
+
+
+
+
+
+
–
–
–
–
+
Pig
Brain
1088904
Canada
Quebec
2008 May
25
+
***
–
–
+
+
+
+
+
+
+
–
–
–
–
+
Pig
Meningitis
1091168
Canada
Quebec
2008 Jun
25
+
***
–
–
+
+
+
+
+
+
+
–
–
–
–
+
Pig
Meningitis
1093400
Canada
Ontario
2008 Jun
25
+
***
–
–
+
+
+
+
+
+
+
–
–
–
–
+
Pig
Brain
1097204
Canada
Quebec
2008 Jun
25
+
***
–
–
+
+
+
+
+
+
+
–
–
–
–
+
Pig
Lung
1098986
Canada
Quebec
2008 Jul
25
+
***
–
–
+
+
+
+
+
+
+
–
–
–
–
+
Pig
Lung
1102864
Canada
Quebec
2008 Aug
25
+
***
–
–
+
+
+
+
+
+
+
–
–
–
–
+
Pig
Multiple
1102337
Canada
Quebec
2008 Jul
25
+
***
–
–
+
+
+
+
+
+
+
–
–
–
–
+
Pig
Meningitis
1111483
Canada
Quebec
2008 Sep
25
+
***
–
–
+
+
+
+
+
+
+
–
–
–
–
+
Pig
Brain
1084708
Canada
Ontario
2008 Apr
28
+
+
–
–
+
+
+
+
+
+
+
+
–
–
+
+
Pig
Pleura
1085273
Canada
Quebec
2008 Apr
28
+
s
–
–
+
+
+
+
+
+
+
+
–
–
+
+
Pig
Nasal sample
1054471
Canada
Manitoba
2007 Jul
28
+
+
–
–
+
+
+
+
+
+
+
+
–
–
+
+
Pig
Brain
1064089
Canada
Saskatchewan
2007 Sep
28
+
s
–
–
+
+
+
+
+
+
+
+
–
–
+
+
Pig
Tonsil
1057906
Canada
Saskatchewan
2007 Jul
28
+
s
–
–
+
+
+
+
+
+
+
+
–
–
+
+
Pig
Brain
1064773
Canada
Quebec
2007 Oct
28
+
+
–
–
+
+
+
+
+
+
+
+
–
–
–
+
Pig
Lung
1077008
Canada
Quebec
2008 May
28
+
*
–
–
+
–
+
+
+
+
+
+
–
–
–
+
Pig
Endocardium
1082563
Canada
Quebec
2008 Apr
28
+
+
–
–
+
+
+
+
+
+
+
+
–
–
+
+
Pig
Endocardium
1088563
Canada
Quebec
2008 May
28
+
+
–
–
+
+
+
+
+
+
+
+
–
–
+
+
Pig
Brain
1089976
Canada
Quebec
2008 May
28
+
s
–
–
+
+
+
+
+
+
+
+
–
–
+
+
Pig
Endocardium
1090152
Canada
Ontario
2008 Jun
28
+
+
–
–
+
+
+
+
+
+
+
+
–
–
+
+
Pig
Lung
1090686
Canada
Saskatchewan
2008 Jun
28
+
+
–
–
+
+
+
+
+
+
+
+
–
–
+
+
Pig
No data
1097205
Canada
Ontario
2008 Jun
28
+
+
–
–
+
+
+
+
+
+
+
+
–
–
+
+
Pig
Brain
1097811
Canada
Ontario
2008 Jun
28
+
s
–
–
+
+
+
+
+
+
+
+
–
–
+
+
Pig
Liver/lung/kidney
1110359
Canada
Quebec
2008 Sep
28
+
s
–
–
+
+
+
+
+
+
+
+
–
–
+
+
Pig
Pleura
1111490
Canada
Manitoba
2008 Sep
28
+
+
–
–
+
+
+
+
+
+
+
+
–
–
+
+
Pig
Lung
89-1591
Canada
Manitoba
1989
25
+
***
–
–
+
+
+
+
+
+
+
–
–
–
–
+
Pig
Septicemia, meningitis
1330
Canada
Quebec
1995
28
+
+
–
–
+
+
+
+
+
+
+
+
–
–
+
+
Pig
Lung
0891
Canada
Quebec
1995
28
+
+
–
–
+
+
+
+
+
+
+
+
–
–
+
+
Pig
Lung
NIAH11433
Japan
No data
1989
1
+
+
+
+
+
+
+
+
–
–
–
+
+
+
+
–
Pig
Meningitis
DAT261
Japan
Gunma
1993 Jan
1
+
+
+
+
+
+
+
+
–
–
–
+
+
+
+
–
Pig
Multiple serositis, pneumonia
DAT264
Japan
Gunma
1994 Jun
1
+
+
+
+
+
+
+
+
–
–
–
+
+
+
+
–
Pig
Meningitis
DAT229
Japan
Aichi
2006 Jan
1
+
+
+
+
+
+
+
+
–
–
–
+
+
+
+
–
Pig
Endocarditis
DAT273
Japan
Nagasaki
2002 Feb
1
+
–
+
+
+
+
+
+
–
–
–
–
+
+
+
–
Human
Meningitis
DAT292
Japan
Okinawa
2005 Dec
28
+
+
–
–
+
+
+
+
+
+
+
+
–
–
+
+
Pig
Healthy carrier
DAT242
Japan
Ibaraki
1990 Jan
28
+
+
–
–
+
+
+
+
+
+
+
+
–
–
+
+
Pig
Meningitis
DAT245
Japan
Ibaraki
1995 Jan
28
+
+
–
–
+
+
+
+
+
+
+
–
–
+
+
Pig
Meningitis
DAT246
Japan
Ibaraki
1996 Apr
28
+
+
–
–
+
+
+
+
+
+
+
+
–
–
+
+
Pig
Septicemia
DAT251
Japan
Ishikawa
1991 Jun
28
+
+
–
–
+
+
+
+
+
+
+
+
–
–
+
+
Pig
Liver
DAT253
Japan
Ishikawa
1993 Aug
28
+
+
–
–
+
+
+
+
+
+
+
+
–
–
+
+
Pig
Brain
DAT254
Japan
Ishikawa
1996 Jul
28
+
+
–
–
+
+
+
+
+
+
+
+
–
–
+
+
Pig
Brain
DAT255
Japan
Niigata
No data
28
+
+
–
–
+
+
+
+
+
+
+
+
–
–
+
+
Pig
Septicemia
DAT256
Japan
Niigata
No data
28
+
+
–
–
+
+
+
+
+
+
+
+
–
–
+
+
Pig
Meningitis
DAT259
Japan
Gunma
1992 Nov
28
+
+
–
–
+
+
+
+
+
+
+
+
–
–
+
+
Pig
Multiple serositis, pneumonia
DAT260
Japan
Gunma
1992 Dec
28
+
+
–
–
+
+
+
+
+
+
+
+
–
–
+
+
Pig
Meningitis
DAT272
Japan
Yamagata
No data
28
+
+
–
–
+
+
+
+
+
+
+
+
–
–
+
+
Pig
Brain
DAT274
Japan
Kumamoto
1994 Mar
28
+
+
–
–
+
+
+
+
+
+
+
+
–
–
+
+
Pig
Endocarditis
DAT281
Japan
Kumamoto
No data
28
+
+
–
–
+
+
+
+
+
+
+
+
–
–
+
–
Pig
Meningitis
DAT285
Japan
Ibaraki
No data
28
+
+
–
–
+
+
+
+
+
+
+
+
–
–
+
+
Pig
Endocarditis
MNCM01
Thailand
Chiang Mai
2000 Jun
1
+
+
+
+
+
+
+
+
–
–
–
+
+
+
+
–
Human
Endocarditis
MNCM06
Thailand
Chiang Mai
2000 Aug
1
+
+
+
+
+
+
+
+
–
–
–
+
+
+
+
–
Human
Meningitis
MNCM16
Thailand
Chiang Mai
2000 Nov
1
+
+
+
+
+
+
+
+
–
–
–
+
+
+
+
–
Human
Meningitis
MNCM04
Thailand
Chiang Mai
2000 Aug
25
+
**
–
–
+
+
+
+
+
+
+
–
–
–
–
+
Human
Meningitis
MNCM10
Thailand
Chiang Mai
2000 Sep
25
+
**
–
–
+
+
+
+
+
+
+
–
–
–
–
+
Human
Septicemia
MNCM24
Thailand
Chiang Mai
2001 Aug
25
+
**
–
–
+
+
+
+
+
+
+
–
–
–
–
+
Human
Endocarditis
MNCM26
Thailand
Chiang Mai
2001 Nov
25
+
**
–
–
+
+
+
+
+
+
+
–
–
–
–
+
Human
Meningitis, endocarditis
MNCM51
Thailand
Chiang Mai
2002 Oct
25
+
**
–
–
+
+
+
+
+
+
+
–
–
–
–
+
Human
Septicemia
MNCM55
Thailand
Chiang Mai
2002 Dec
25
+
**
–
–
+
+
+
+
+
+
+
–
–
–
–
+
Human
Septic shock
LPH4
Thailand
Lamphun
2001 May
25
+
**
–
–
+
+
+
+
+
+
+
–
–
–
–
+
Human
Septicemia
LPH12
Thailand
Lamphun
2002 Mar
25
+
**
–
–
+
+
+
+
+
+
+
–
–
–
–
+
Human
Septic shock
MNCM43
Thailand
Chiang Mai
2002 Jun
28
+
+
–
–
+
+
+
+
+
+
+
+
–
–
+
+
Human
Endocarditis
MGGUS1
United States
Minnesota
2003 Mar
1
+
–
+
+
+
+
+
+
+
+
+
–
+
+
+
–
Pig
No data
MGGUS2
United States
Wisconsin
2003 Feb
1
+
+
+
+
+
+
+
+
+
+
+
+
+
+
+
–
Pig
Brain
MGGUS3
United States
Iowa
2003 May
1
+
+
+
+
+
+
+
+
+
+
+
+
+
+
+
–
Pig
Brain
MGGUS4
United States
Iowa
2005 May
25
+
–
–
–
+
+
+
+
+
+
+
–
–
–
–
+
Pig
Septicemia
MGGUS5
United States
Nebraska
No data
25
+
–
–
–
+
+
+
+
+
+
+
–
–
–
–
+
Pig
Septicemia
MGGUS6
United States
Minnesota
No data
28
+
+
–
+
+
+
+
+
+
+
+
+
–
–
+
+
Pig
No data
MGGUS7
United States
Kansas
1995
28
+
+
–
+
+
+
+
+
+
+
+
+
–
–
+
+
Pig
No data
MGGUS8
United States
Kansas
1995
28
+
+
–
+
+
+
+
+
+
+
+
+
–
–
+
+
Pig
No data
MGGUS9
United States
Oklahoma
2003 Dec
28
+
+
–
–
+
+
+
+
+
+
+
+
–
–
–
+
Pig
Heart
MGGUS10
United States
Illinois
2005 May
28
+
+
–
–
+
+
+
+
+
+
+
+
–
–
+
+
Pig
Lung
MGGUS11
United States
Virginia
2005 May
28
+
+
–
–
+
+
+
+
+
+
+
+
–
–
+
+
Pig
Lung
MGGUS12
United States
Iowa
2005 May
28
+
+
–
–
+
+
+
+
+
+
+
+
–
–
+
+
Pig
Lung
MGGUS13
United States
Oklahoma
2004 Oct
28
+
+
–
–
+
+
+
+
+
+
+
+
–
–
+
+
Pig
Liver/lung/ kidney
MGGUS14
United States
Oklahoma
No data
28
+
+
–
–
+
+
+
+
+
+
+
+
–
–
+
+
Pig
Lung
MGGUS15
United States
Oklahoma
No data
28
+
+
–
–
+
+
+
+
+
+
+
+
–
–
+
+
Pig
Liver/lung/ kidney
MGGUS16
United States
Nebraska
2004 Jun
28
+
+
–
–
+
+
+
+
+
+
+
+
–
–
+
+
Pig
Lung
MGGUS17
United States
Oklahoma
2004 Dec
28
+
+
–
–
+
+
+
+
+
+
+
+
–
–
+
+
Pig
Spleen
MGGUS18
United States
North Carolina
No data
28
+
+
–
–
+
+
+
+
+
+
+
+
–
–
+
+
Pig
Liver/lung/ kidney
MGGUS19
United States
Nebraska
No data
28
+
+
–
–
+
+
+
+
+
+
+
+
–
–
+
+
Pig
Liver/lung/ kidney
MGGUS20
United States
Kentucky
2004 Jan
28
+
+
–
–
+
+
+
+
+
+
+
+
–
–
+
+
Pig
Spleen
†ST, sequence type; MRP, muramidase-released protein; SLY, suilysin; EF, extracellular protein factor; +, positive; −, negative.
‡The identified mrp variant (mrps, mrp, mrp*, mrp**, mrp***, mrp****) is indicated.
The conclusions, findings, and opinions expressed by authors contributing to this journal do not necessarily reflect the official position of the U.S. Department of Health and Human Services, the Public Health Service, the Centers for Disease Control and Prevention, or the authors' affiliated institutions. Use of trade names is for identification only and does not imply endorsement by any of the groups named above.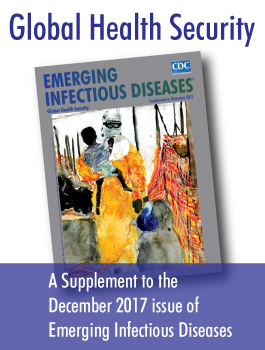 Antimicrobial Drug Resistance and Gonorrhea— (Length: 8:35)
Related Information
Additional Resources
Page created: November 30, 2011
Page last updated: November 30, 2011
Page last reviewed: November 30, 2011