Volume 17, Number 2—February 2011
Books and Media
Bacterial Population Genetics in Infectious Disease
Close
Highlight and copy the desired format.
| | |
| --- | --- |
| EID | Raoult D. Bacterial Population Genetics in Infectious Disease. Emerg Infect Dis. 2011;17(2):329-330. https://dx.doi.org/10.3201/eid1702.101678 |
| AMA | Raoult D. Bacterial Population Genetics in Infectious Disease. Emerging Infectious Diseases. 2011;17(2):329-330. doi:10.3201/eid1702.101678. |
| APA | Raoult, D. (2011). Bacterial Population Genetics in Infectious Disease. Emerging Infectious Diseases, 17(2), 329-330. https://dx.doi.org/10.3201/eid1702.101678. |
D. Ashley Robinson; Edward J. Feil; Daniel Falush, editors
John Wiley and Sons, Inc., Hoboken, New Jersey, USA, 2010
ISBN: 978-0-470-42474-2
Pages: 420; Price: US $130.00
Bacterial Population Genetics in Infectious Disease addresses a set of issues that are extremely provocative in the current climate in which progress is rapidly changing the microbiological landscape. From this perspective, the volume appears at a key moment because of 2 major challenges that have arisen since the beginning of the genomic era: 1) defining what constitutes a species and how to determine this, and 2) determining the structure of the population of the most common bacterial pathogens.
The book opens with a review of the concepts and methods that make it possible to analyze bacterial populations genetically. This presentation immediately brings to the forefront the question of how to define what constitutes a bacterial species (if there is conceptually even such a thing) and the variable evolutionary nature of bacteria. The differences among complexes within species, species, and clones are shown with clear diagrams useful for teaching. In addition, the text also evaluates the lateral transfer of genes, one of the elements that constitute the bacterial genome repertoire, including its effects on the attempts at classification of bacteria. The evolutionary demography of bacterial populations is then examined. These concepts are essential for comprehending and teaching modern microbiology.
In addition, the text describes techniques for evaluating bacterial diversity, such as the search for single-nucleotide polymorphisms or repeats by using sequences encoding proteins or not. These techniques can play a key part in the identification of the clones.
The second part of the book is specifically relevant to clinical microbiology, particularly to emerging bacterial pathogens. The genetic populations of Bacillus anthracis, Campylobacter spp., Enterococcus spp., Borrelia burdorferi, Neisseria meningitidis, Escherichia coli, Salmonella spp., Staphylococcus spp., and Streptococcus spp. are analyzed. The importance of genomic recombinations in microbial evolution is particularly stressed for Streptococcus spp., Neisseria spp., and E. coli, for which the number of recombinations is considered to be higher than that of the number of changes; this conclusion likely alters our perception of the evolution of bacteria. Lastly, a general hypothesis is proposed for Salmonella spp.: that their antigens are selected by passage through specific phagocytic protists from their animal hosts with which they have cospeciation. This assumption is bold and intriguing.
On the whole, this book is of general interest for teachers of microbiology, who need to explain bacteriology in the genomic age, and it may also help clinical microbiologists choose tools for identifying circulating clones. Finally, it can be useful to specialists in the field of emerging bacteria for whom the need to synthesize genomic data is part of their professional routine. I recommend this book most strongly for all of these bacteriology specialists.
Didier Raoult

Author affiliation: Author affiliation: Université de la Méditerranée, Marseille, France
Cite This Article
DOI: 10.3201/eid1702.101678
Table of Contents – Volume 17, Number 2—February 2011
Comments
Please use the form below to submit correspondence to the authors or contact them at the following address:
Didier Raoult, Unité des Rickettsies, CNRS-IRD UMR 6236- 198, Université de la Méditerranée, Faculté de Médecine, 27 Blvd Jean Moulin, 13385 Marseille CEDEX 5, France
Comment submitted successfully, thank you for your feedback.
The conclusions, findings, and opinions expressed by authors contributing to this journal do not necessarily reflect the official position of the U.S. Department of Health and Human Services, the Public Health Service, the Centers for Disease Control and Prevention, or the authors' affiliated institutions. Use of trade names is for identification only and does not imply endorsement by any of the groups named above.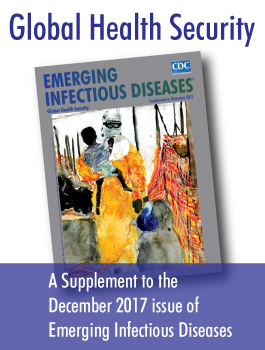 Antimicrobial Drug Resistance and Gonorrhea— (Length: 8:35)
Related Information
Additional Resources
Page created: July 13, 2011
Page last updated: July 13, 2011
Page last reviewed: July 13, 2011