Volume 17, Number 3—March 2011
Research
Mycobacterium lentiflavum in Drinking Water Supplies, Australia
Henry M. Marshall

, Robyn Carter, Matthew J. Torbey, Sharri Minion, Carla Tolson, Hanna E. Sidjabat, Flavia Huygens, Megan Hargreaves, and Rachel M. Thomson
Author affiliations: Author affiliations: The Prince Charles Hospital, Brisbane, Queensland, Australia (H.M. Marshall); The Royal Brisbane Hospital, Brisbane (R. Carter, M.J. Torbey, S. Minion, C. Tolson); University of Queensland Centre for Clinical Research, Brisbane (H.E. Sidjabat); Queensland University of Technology, Brisbane (F. Huygens, M. Hargreaves); Queensland Tuberculosis Control Centre, Brisbane (R.M. Thomson)
Table A1
Type of infection and reference†
Patient age/sex
Country
Organ/tissue involved
Immunocompromised
Concurrent conditions
Treatment
Outcome
Soft tissue/skin
(1)
85 y/F
Germany
5-mo history thoracic discitis T9, T10. Biopsy showed granulomata, C+ after 22 d
No
Diabetes mellitus, congestive heart failure
[INH, RMP, PZA] 3 mo, then [INH/RMP] 6 mo
Marked symptomatic improvement at 2 mo
(11)
52 y/F
Spain
Arthritis, skin lesions, synovial fluid was sterile; synovial biopsy found granulomata, ZN+, C+ after 4 wk.
Yes, GC, cyclophosphamide
Antisynthetase syndrome
[INH, RMP, EMB, PZA] then [fusidic acid, LFX, CLR] for 1 wk before death
Condition worsened with weight loss, synovitis. Died after 4 mo
(12)

---

48 y/M

---

Spain

---

2 skin ulcers, 2-y history. Biopsy ZN+, C+

---

Yes

---

HIV for 15 yr, CD4+ 46, IVDU

---

[Highly active antiretroviral therapy, INH, EMB, LFX]

---

Lost to follow-up

---

Cervical lymphadenitis
(13)
42 mo/M
Germany
10-d history, ZN+, C+, granulomata present
No
No
Excision
Well at 18 mo
(13)
33 mo/M
Germany
14-d history. ZN–, C+, granulomata present
No
No
Excision
Well at 18 mo
(14)
4 y/F
Italy
15-d history, biopsy scanty ZN+, C+
No
No
[INH, RMP] duration NS; excision
Well at 2 y
(15)
19 mo/M
Spain
10-d history, ZN+, C+, granulomata present
No
Asthma
[INH, RMP, PZA] duration NS; then excision
Recovered fully
(16)
4 y/M
Italy
No details
No
No
Excision
Well at 1 y
(17)
45 y/F
Italy
4-wk history. ZN–, C+ at 10 d, granulomata present
No
Severe periodontal disease
Excision
Well at 18 mo
(18)
18 mo/M
Italy
4-wk history. ZN+, C+ after 3 wk; recurrent lymphadenopathy at 3 mo in same position showed granulomata
No
No
Excision
Recurrent lymphadenopathy after 3 mo treated with excision
Queensland§

---

20 mo/F

---

Australia

---

4-wk history, biopsy ZN–, granulomata present, C+

---

No

---

No

---

Excision

---

Full recovery

---

Pulmonary
(14)
58 y/M
Italy
Left upper lobe pulmonary infiltrates, pleural effusion, low-grade fever, weight loss. Pleural fluid and sputum C–; pleural biopsy showed granulomata, ZN–, C+ after 3 wk
Yes(rheumatoid arthritis)
Rheumatoid arthritis
[INH, RFB, EMB, PZA]
Stable at 4 mo. No improvement in computed tomography thorax appearance
(16)
61 y/F
Italy
Cough, fever, weight loss, right upper lobe nodular pulmonary infiltrates and adenopathy. Sputum ZN+, C+
No
Bronchiectasis since age 30 y
[RMP, INH, PZA] for "several months," then
[RFB, EMB, CLR, CIP]
5-y follow-up, sputum intermittently ZN+, C+; no improvement in radiology
(19)
71 y/M
Japan
Hemoptysis, bilateral pulmonary infiltrates, cavities right upper lobe. Sputum ZN+, C+ after 35 d(multiple specimens)
No
2-y treatment for pulmonary TB aged 30 y; smoker
[RMP, EMB, INH, PZA] 1 y, CLR also added, duration NS
3-y follow-up, sputum remained ZN+, C+, symptoms continued, CXR slowly progressed
(20)(case 6)
35 y/F
Zambia
4-wk history of cough, pleural effusion fluid C+.
No
No
[RMP, INH, PZA, EMB] duration NS
Improved. Duration of follow-up NS
(21)
67 y/F
Italy
Hemoptysis, low-grade fever, weight loss. Sputum ZN+, C+
No
Previous pulmonary TB, with fibrosis right upper lobe, chronic obstructive pulmonary disease
[INH, PZA, EMB, RMP] 3 mo: no effect: ceased.
2 y later, started CLR monotherapy, improved by 3 mo, but sputum still ZN+ [EMB, RFB, CIP] added for 2 wk
3-y follow-up. Poor compliance with drugs, intermittent hemoptysis, weakness, dyspnoea, sputum remained ZN+, CXR unchanged
(22)
49 y/M
United States
Fever, right upper lobe pulmonary noncavitary nodules, 2×/ sputum C+ at 27 d, bronchoalveolar lavage C–
Yes
Myelofibrosis on pegylated interferon-α2
[CIP 500 mg 2×/day, azithromycin 500 od, EMB 1 g od] unknown duration
Stable disease, lost to follow up; duration of follow-up NS
(22)¶
66 y/M
United States
Fever, neutropenia, necrotizing pneumonia, single sputum C+ at 28 d
Yes
Hematopoetic stem cell transplant for chronic lymphocytic leukemia, graft vs. host disease
[CLR 500 mg 2×/day, EMB 1 g od]
Died after 12 wk, septic shock from Pseudomonas aeruginosa. Uncertain significance of M. lentiflavum
(23)¶
28 y/M
Brazil
Cough, fever, reticulonodular infiltrate, PCP+, 1× sputum C–. 3 wk later high fever returned – 1× blood C+
Yes
Newly diagnosed HIV, PCP
[Streptomycin] duration NS(? 1 mo) GC, sulphamethoxazole–trimethoprim, zidovudine, didanosine
Died a few mos later, no further clinical details
(23)¶
64 y/F
Brazil
Pulmonary cavities, treated for ZN+ pulmonary tuberculosis for 6 y
Yes
Chronic pulmonary tuberculosis
Various including CLR, EMB, clofazimine, RMP and doxycycline. No details given.
Sputum persistently C+: 12/15 sputum samples grew M. avium complex, 2 grew M. lentiflavum. Died of uterine cancer
(18)
14 y/M
Italy
Fever, chest pain, pleural effusion, pneumothorax, multiple right upper lobe and right middle lobe nodules. Pleural fluid ZN+, C+ at 4 wk
Yes
Acute lymphoblastic leukemia, chemotherapy
[CLR, amikacin, ceftriaxone] 5 mo
Improved, CXR almost returned to normal
(18)
87 y/M
Italy
Bilateral pleural thickening, left pleural effusion, pulmonary opacities, pleural fluid ZN–, C+ at 3 wk
No
No
[LFX] monotherapy for 3 wk, then
[CLR, LFX, RFB]
After 1 mo, pulmonary opacities resolved, effusion remained
(24)(case 2)
23 y/M
Greece
Pleural effusion, sputum C+
NS
NS
[INH, RMP, PZA, EMB] duration NS(? 6 mo)
Recovered
Queensland§
85 y/F
Australia
Cough, pulmonary nodules, mild bronchiectasis, bronchial washings ZN–, C+
No
No
[EMB 800 mg, RMP 450 mg, CLR 500 mg 2×/day]
Stable at 7 mo
Queensland§

---

49 y/F

---

Australia

---

Hemoptysis, bronchiectasis, bronchial washings ZN–, C+

---

No

---

No

---

No specific treatment given

---

Currently well, stable CXR at 11 y

---

Disseminated
(25)
49 y/M
France
Fever, pulmonary infiltrates, 3× blood culture and bronchoalveolar lavage C+ after 4 wk
Yes
HIV for 7 y
[CLR, RFB, EMB] and antiretroviral drugs, at least 4-mo treatment, probably 9 mo
Fully recovered, died 3 y later of heart failure
(16)¶
45 y/M
Italy
Basal pulmonary infiltrate, T4 vertebra involvement, hepatic lesion. Empiric treatment given with clinical improvement. Liver biopsy C+, no other samples reported
Yes
HIV, non-Hodgkin lymphoma
[Antiretrovirals, RFB, CLR], then
[RFB, CIP, EMB, CLR] then [RFB, CLR]
Well at 1 y. Hepatic lesion aspirated C+ but continued to grow; was later excised and proven to be non-Hodgkin lymphoma
(20)(case 1)
67 y/F
Zambia
8-wk duration hepatosplenomegaly, axillary lymphadenopathy; lymph node biopsy ZN+, C+; 2× Sputum C+
No
No
No treatment given
NS
Queensland§
43 y/F
Australia
4x blood cultures C+ after 15 d, 1x bone marrow ZN–, granulomata present, C+; hepatosplenomegaly, pulmonary nodules
Yes
HIV, hepatitis C, IVDU, systemic lupus erythematosus
[INH 300 mg, EMB 400 mg 2×/day, CLR 500 mg 2×/day] with reducing course of prednisone
Compliant with treatment, improving at 12 mo
*C+, culture positive; INH, isoniazid; RMP, rifampicin; PZA, pyrazinamide; ZN+, Ziehl-Neelsen smear stain–positive; GC, glucocorticoids; EMB, ethambutol; LFX, levofloxacin; CLR clarithromycin; IVDU, intravenous drug user; ZN–, Ziehl-Neelsen smear stain–negative; NS information not stated or unknown; RFB, rifabutin; right upper lobe; CIP, ciprofloxacin; TB, tuberculosis; CXR, chest radiograph; C–, culture negative; PCP, Pneumocystis pneumonia.
†Excluded are 2 cases from articles written in Spanish(26,27).
‡Brackets indicate antimicrobial drugs used together as a single regimen.
§Cases reported in this article.
¶Not definite cases of disease.
The conclusions, findings, and opinions expressed by authors contributing to this journal do not necessarily reflect the official position of the U.S. Department of Health and Human Services, the Public Health Service, the Centers for Disease Control and Prevention, or the authors' affiliated institutions. Use of trade names is for identification only and does not imply endorsement by any of the groups named above.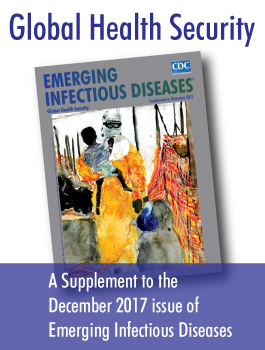 Antimicrobial Drug Resistance and Gonorrhea— (Length: 8:35)
Related Information
Additional Resources
Page created: January 17, 2012
Page last updated: January 17, 2012
Page last reviewed: January 17, 2012