Volume 18, Number 11—November 2012
CME ACTIVITY - Research
Invasive Pneumococcal Disease and 7-Valent Pneumococcal Conjugate Vaccine, the Netherlands
Anna M.M. van Deursen
1
, Suzan P. van Mens
1
, Elisabeth A.M. Sanders, Bart J.M. Vlaminckx, Hester E. de Melker, Leo M. Schouls, Sabine C. de Greeff
2
, Arie van der Ende
2

, and on behalf of the Invasive Pneumococcal Disease Sentinel Surveillance Laboratory Group
Author affiliations: University Medical Center, Utrecht, the Netherlands (A.M.M. van Deursen, S.P. van Mens, E.A.M. Sanders); Linnaeus Institute, Hoofddorp, the Netherlands (A.M.M. van Deursen); St Antonius Hospital, Nieuwegein, the Netherlands (S.P. van Mens, B.J.M. Vlaminckx); National Institute for Public Health and the Environment, Bilthoven, the Netherlands (H.E. de Melker, L.M. Schouls, S.C. de Greeff); Academic Medical Center, Amsterdam, the Netherlands (A. van der Ende); Netherlands Reference Laboratory for Bacterial Meningitis, Amsterdam (A. van der Ende)
Table 3
All serotypes
PCV7 serotypes
Non–PCV7 serotypes
Before (n = 1,216)

---

After 
(n = 1,144)

---

p value

---

---

Before(n = 565)

---

After 
(n = 268)

---

p value

---

---

Before (n = 650)

---

After (n = 876)

---

p value

---

Comorbidity

Immunocompromising condition‡

216 (18)
255 (22)
0.013
88 (16)
73 (27)
0.001
128 (20)
182 (21)
NS

Any comobidity§

817 (67)
788 (69)
NS
376 (67)
190 (71)
NS
441 (68)
598 (68)
NS
Disease course/outcome

ICU admission

258 (21)
243 (21)
NS
115 (20)
60 (22)
NS
143 (22)
183 (21)
NS

Length of hospital stay, median (IQR)

11.0
(7.0–18.0)
9.0
(5.0–16.0)
<0.001
11.0
(7.0–18.0)
9.0
(5.0–15.0)
<0.001
11.0
(7.0–19.0)
10.0
(5.0–16.0)
<0.001

Died

194 (16)
135 (12)
0.003
92 (16)
44 (16)
NS
102 (16)
91 (10)
0.002
Deaths/100,000 persons
2.4
1.6
0.001
1.1
0.5
0.000
1.3
1.1
NS
*Cases are number of patients included in a study covering ≈25% of the Dutch population. Boldface, significant difference (p<0.05) between pre- and post-implementation period as calculated by χ2 test (% of cases), Mann-Whitney U test (median days of hospitalization), or incidence rate ratio (mortality rate). PCV7, 7-valent pneumococcal conjugate vaccine; NS, not significant (p>0.05).
†Data are no. (%) except as indicated in first column. Vaccination periods: before, pre-implementation period (June 2004–May 2006); after, late post-implementation period (June 2008–May 2010).
‡Immunocompromising condition: primary immunodeficiency, HIV/AIDS, lymphoma, leukemia, myeloma, solid organ or stem cell transplant, current immunosuppressive therapy for malignancy or autoimmune disease, asplenia/splenectomy, sickle cell disease, and renal insufficiency (dialysis required and nephrotic syndrome).
§Any comorbidity: malignancies (within previous 5 y) not considered to be immunocompromising; chronic obstructive pulmonary disease; asthma; diabetes mellitus; myocardial infarction; coronary artery condition; stroke/transient ischemic attack; cardiomyopathy; heart failure; heart valve disease; presence of cerebral/abdominal/thoracic aneurysms; thyroid disease; liver disease; intravenous drug use; long-term alcohol abuse; cerebrospinal fluid leak; recent physical trauma/skull fracture; and, for children, premature birth (<37 weeks for children 0–1 y old and <32 weeks for children 0–4 y old).
1These authors contributed equally to this article.
2These authors contributed equally to this article.
3Additional members of the Invasive Pneumococcal Disease Sentinel Surveillance Laboratory Group are listed at the end of this article.
Members of the Invasive Pneumococcal Disease Sentinel Surveillance Laboratory Group: Karola Waar, Izore, Centre for Infectious Diseases Friesland, Leeuwarden, the Netherlands; Bert Mulder, Laboratory of Medical Microbiology Twente Achterhoek, Enschede, the Netherlands; Caroline Swanink, Department of Medical Microbiology and Medical Immunology Hospital Rijnstate, Arnhem, the Netherlands; Bram Diederen, Regional Laboratory of Public Health, Haarlem, the Netherlands; Niek Arents, Laboratory for Pathology and Medical Microbiology, Veldhoven, the Netherlands; Ine Frénay, Regional Laboratory for Medical Microbiology and Infectious Diseases, Dordrecht–Gorinchem, the Netherlands; Hans Wagenvoort, Atrium Medical Center, Heerlen, the Netherlands; Bartelt de Jongh, St. Antonius Hospital, Nieuwegein, the Netherlands; Lodewijk Spanjaard, Academic Medical Center, Amsterdam, the Netherlands
The conclusions, findings, and opinions expressed by authors contributing to this journal do not necessarily reflect the official position of the U.S. Department of Health and Human Services, the Public Health Service, the Centers for Disease Control and Prevention, or the authors' affiliated institutions. Use of trade names is for identification only and does not imply endorsement by any of the groups named above.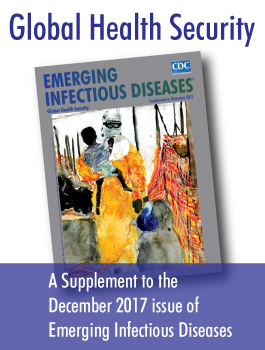 Antimicrobial Drug Resistance and Gonorrhea— (Length: 8:35)
Related Information
Additional Resources
Page created: October 16, 2012
Page last updated: October 16, 2012
Page last reviewed: October 16, 2012