Volume 18, Number 12—December 2012
Letter
Controlling Highly Pathogenic Avian Influenza, Bangladesh
Shankar P. Mondal

, David Tardif-Douglin, Robert Ryan-Silva, and Rich Magnani
Author affiliations: Development Alternatives Inc., Bethesda, Maryland, USA (S.P. Mondal, D. Tardif-Douglin, R. Ryan-Silva, R. Magnani); and University of Minnesota, St. Paul, Minnesota, USA (S.P. Mondal)
Table
Biosecurity practice
No. persons surveyed (% aware of practice; 95% CI)

---

Gazipur

---

Dinajpur

---

Baseline survey, n = 821
Final survey, n = 300†
Baseline survey, n = 525
Final survey, n = 209†
Awareness of bird deaths caused by HPAI
191 (23; 21–26)
219 (73; 68–78)
116 (22; 19–26)
88 (42; 36–49)
Awareness of bird culling resulting from HPAI
163 (20; 17–23)
186 (62; 56–67)
56 (11; 8–14)
47 (22; 17–29)
Awareness of HPAI cases among humans
138 (17; 14–20)
172 (57; 52–63)
21 (4; 3–6)
113 (54; 47–61)
Understand how HPAI is spread

Do not know how HPAI is spread

209 (25; 23–29)
42 (14; 11–18)
286 (54; 50–59)
21 (10; 7–15)

Perceive that wild birds are the cause

466 (57; 53–60)
207 (69; 64–74)‡
134 (26; 22–29)
154 (74; 67–80)

Recognize sick poultry as a vector

43 (5; 4–7)
140 (47; 41–52)
53 (10; 8–13)
61 (29; 23–36)
Awareness of how to protect people

Wear masks

190 (23; 20–26)
204 (68; 63–73)
44 (8; 6–11)
94 (45; 38–52)

Wear gloves

122 (15; 13–17)
136 (45; 40–50)
54 (10; 8–13)
75 (36; 30–43)

Wash hands

207(25; 23–29)
166(55; 50–60)
58 (11; 9–14)
139 (67; 60–73)

Kids should not handle birds

3 (0; 0.1–1)
203 (68; 62–73)
1 (0; 0.01–1)
54 (26; 20–32)

No need to protect

243 (30; 27–33)
0 (0)
294 (56; 52–60)
4 (2; 0.6–5)
Awareness of how to protect birds

Separate chickens and ducks

28 (3; 3–4)
92 (31; 26–36)
18 (3; 2–5)
36 (17; 13–23)

Clean and disinfect poultry cages

288 (35; 32–38)
182 (61; 55–66)
39 (7; 5–10)
99 (47; 41–54)

Restrict entry to farms

226 (28; 25–31)
131(44; 38–49)
56 (11; 8–14)
56 (27; 21–33)

Vaccinate against Newcastle disease

12 (1; 0.8–2)
67 (22; 18–27)
7 (1; 0.6–3)
47 (22; 17–29)

Properly dispose of feces

158 (19; 17–22)
79 (26; 22–32)§
16 (3; 2–5)
117 (56; 49–63)

Wear proper clothing

38 (5; 3–6)
67 (22; 18–27)
29 (6; 4–9)
43 (21; 16–27)

Clean and disinfect transport vehicles

35 (4; 3–6)
105 (35; 30–40)
10 (2; 1–4)
20 (10; 6–14)

Keep dogs and cats away from farms

92 (11; 9–14)
99 (33; 28–39)
22 (4; 3–6)
33 (16; 11–21)

Do not know

170 (21; 18–24)
46 (15; 12–20)¶
267 (51; 47–55)
2 (1; 0.04–4)
Bird purchase preference

Dead bird (slaughtered at market)

152 (19; 16–21)
136 (45; 40–51)
50 (10; 7–12)
70 (33; 27–40)

Live bird (slaughtered at home)

652 (79; 77–82)
167 (56; 50–61)
484 (92; 90–94)
136 (65; 58–71)
*HPAI, highly pathogenic avian influenza.
†Two-sided χ2 test of significance compared with baseline data had p value of <0.0001, except as noted.
‡p = 0.0002.
§p = 0.013.
¶p = 0.049.
The conclusions, findings, and opinions expressed by authors contributing to this journal do not necessarily reflect the official position of the U.S. Department of Health and Human Services, the Public Health Service, the Centers for Disease Control and Prevention, or the authors' affiliated institutions. Use of trade names is for identification only and does not imply endorsement by any of the groups named above.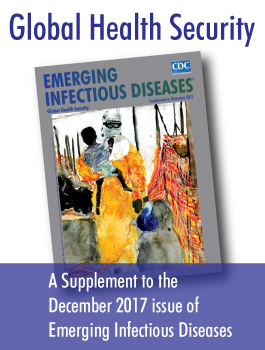 Antimicrobial Drug Resistance and Gonorrhea— (Length: 8:35)
Related Information
Additional Resources
Page created: November 21, 2012
Page last updated: November 21, 2012
Page last reviewed: November 21, 2012