Volume 18, Number 3—March 2012
Research
Chicken as Reservoir for Extraintestinal Pathogenic Escherichia coli in Humans, Canada
Catherine Racicot Bergeron
1
, Catharine Prussing
1
, Patrick Boerlin, Danielle Daignault, Lucie Dutil
2
, Richard J. Reid-Smith, George G. Zhanel, and Amee R. Manges

Author affiliations: McGill University, Montréal, Québec, Canada (C. Racicot Bergeron, C. Prussing, A.R. Manges); University of Guelph, Guelph, Ontario, Canada (P. Boerlin, R.J. Reid-Smith); Public Health Agency of Canada, Saint-Hyacinthe, Québec, Canada (D. Daignault, L. Dutil); Public Health Agency of Canada, Guelph (R.J. Reid-Smith); University of Manitoba, Winnipeg, Manitoba, Canada (G.G. Zhanel)
Table 2
| Clonal group/strain | Type of sample | Isolate source | Year | Location | Phylotype | ST | Serotype | Antimicrobial drug susceptibility or resistance† |
| --- | --- | --- | --- | --- | --- | --- | --- | --- |
| 1 | | | | | | | | |
| MSHS 1014A | Clinical | CA-UTI | 2007 | QC | D | 117 | O114:H4 | Susceptible |
| EC01DT05-0789-01 | Retail meat | Chicken | 2005 | ON | D | 117 | O114:H4 | Susceptible |
| EC01AB06-0065-01 | Abattoir | Chicken | 2006 | QC | D | 117 | O2:H4 | GEN, SIX, TET |
| MSHS 133 | Clinical | CA-UTI | 2005 | QC | D | 117 | O24:NM | TET |
| EC01DT07-1090-01 | Retail meat | Chicken | 2007 | QC | D | 117 | O24:H4 | GEN, SIX, TET |
| EC01DT07-1050-01 | Retail meat | Chicken | 2007 | ON | D | 117 | O45:H4 | Susceptible |
| EC01DT07-0956-01 | Retail meat | Chicken | 2007 | SK | D | 117 | O53:H4 | AMP, NAL, STR, SIX, TET, TMP/SXT |
| EC01AB07-0840-01 | Abattoir | Chicken | 2007 | ON | D | 117 | O53:NM | Susceptible |
| EC01AB07-0615-01 | Abattoir | Chicken | 2007 | ON | D | 117 | O102:H4 | AMC, AMP, FOX, TIO STR, SIX, TET |
| EC01AB05-1250-01 | Abattoir | Chicken | 2005 | ON | D | 117 | O103:H4 | AMC, AMP |
| EC01DT06-1887-01 | Retail meat | Chicken | 2006 | QC | D | 117 | O143:H4 | Susceptible |
| EC01AB06-1131-01 | Abattoir | Pig | 2006 | QC | D | 117 | O143:H4 | SIX, TET |
| EC01AB07-0695-01 | Abattoir | Chicken | 2007 | ON | D | 117 | O149:H4 | STR, SIX, TET |
| EC01DT05-1700-01 | Retail meat | Chicken | 2005 | QC | D | 117 | O160:H4 | Susceptible |
| EC01AB07-0105-01 | Abattoir | Chicken | 2007 | ON | D | 117 | O180:H4 | Susceptible |
| EC01AB07-0425-01 | Abattoir | Chicken | 2007 | BC | D | 117 | O180:H4 | KAN, STR, SIX, TET |
| EC01DT07-0827-01 | Retail meat | Pork | 2007 | ON | D | 117 | ONT:H4 | STR, SIX |
| EC01AB05-0695-01 | Abattoir | Chicken | 2005 | ON | D | 117 | ONT:H4 | GEN, SIX, |
| EC01DT05-0224-01 | Retail meat | Chicken | 2005 | ON | D | 117 | OX182:NM | Susceptible |
| 2 | | | | | | | | |
| MSHS 624 | Clinical | CA-UTI | 2006 | QC | A | 746 | O20:H4 | Susceptible |
| EC01AB07-1301-01 | Abattoir | Pig | 2007 | ON | A | 746 | O20:NM | AMP, CHL, SIX, TET |
| EC01AB05-0990-01 | Abattoir | Chicken | 2005 | ON | A | 746 | O87:NM | AMC, AMP, FOX, TIO, CHL, STR, SIX, TET |
| EC01DT06-0006-01 | Retail meat | chicken | 2006 | QC | A | 746 | O33:NM | Susceptible |
| EC01AB05-0091-01 | Abattoir | Pig | 2005 | ON | A | 10 | | Susceptible |
| MSHS 254 | Clinical | CA-UTI | 2005 | QC | A | None | | CEF, TET |
| 48-75641 | Clinical | CA-UTI | 2007 | Maritimes | A | None | | |
| 3 | | | | | | | | |
| EC01AB05-0765-01 | Abattoir | Chicken | 2005 | ON | A | 10 | O16:H48 | Susceptible |
| EC01AB07-0005-01 | Abattoir | Chicken | 2007 | ON | A | 10 | O16:H48 | STR, SIX, TET |
| EC01AB07-1330-01 | Abattoir | Chicken | 2007 | BC | A | 10 | O16:H48 | Susceptible |
| MSHS 233 | Clinical | CA-UTI | 2005 | QC | A | 10 | O9:H32 | AMP, TET |
| MSHS 825A | Clinical | CA-UTI | 2006 | QC | A | 10 | O15:NM | AMP, CHL, STR, SIX, TET, TMP/SXT |
| EC01DT06-1559-01 | Retail meat | Pork | 2006 | ON | A | 10 | O42:H37 | Susceptible |
| MSHS 892 | Clinical | CA-UTI | 2006 | QC | A | 10 | O101:NM | CIP, KAN, NAL, STR, TET |
| 120-79443 | Clinical | HA-UTI | 2008 | Maritimes | A | 10 | O101:H9 | |
| EC01DT05-1925-01 | Retail meat | Chicken | 2005 | QC | A | 10 | O106:H4 | Susceptible |
| EC01DT05-0408-01 | Retail meat | Chicken | 2005 | QC | A | 10 | O153:NM | AMC, AMP, FOX, TIO STR, SIX, TET, TMP/SXT |
| EC01DT07-1162-01 | Retail meat | Chicken | 2007 | ON | A | 10 | OX182:NM | AMC, AMP, FOX, TIO, TET |
| EC01DT07-0491-01 | Retail meat | Chicken | 2007 | QC | A | 10 | OX184:H4 | NAL, TET |
| EC01AB06-0855-01 | Abattoir | Chicken | 2006 | | A | 548 | | AMP, KAN, STR, SIX, TET |
| 51-77552 | Clinical | CA-UTI | 2008 | SK/MB | A | None | | |
| EC01DT06-1546-01 | Retail meat | Chicken | 2006 | QC | A | None | | AMP, GEN, SIX, TET |
| EC01AB05-0320-01 | Abattoir | Chicken | 2005 | QC | A | None | | Susceptible |
| EC01AB06-0119-01 | Abattoir | Pig | 2006 | SK | A | None | | KAN, TET |
| EC01AB06-1005-01 | Abattoir | Chicken | 2006 | ON | A | None | | Susceptible |
| EC01AB07-0566-01 | Abattoir | Pig | 2007 | SK | A | None | | STR, SIX |
*ST, sequence type; MSHS, McGill University Student Health Services; CA-UTI, community-acquired urinary tract infection; QC, Québec; ON, Ontario; AB, Alberta; GEN, gentamicin; SIX, sulfisoxazole; TET, tetracycline; NM, nonmotile; SK, Saskatchewan; AMP, ampicillin; NAL, nalidixic acid; TMP/SXT, trimethoprim/sulfamethoxazole; AMC, amoxicillin/clavulanic acid; FOX, cefoxitin; TIO ceftiofur; STR, streptomycin; CEF, cephalothin; Maritimes, New Brunswick/Nova Scotia/Prince Edward Island; BC, British Columbia; ONT, did not react with O antiserum; KAN, kanamycin; CHL, chloramphenicol; CIP, ciprofloxacin; HA-UTI, hospital-acquired urinary tract infection; MB, Manitoba; blank cells indicate isolate not tested.
†Resistance to specific antimicrobial drugs as indicated.
1These authors contributed equally to this article.
2Deceased.
The conclusions, findings, and opinions expressed by authors contributing to this journal do not necessarily reflect the official position of the U.S. Department of Health and Human Services, the Public Health Service, the Centers for Disease Control and Prevention, or the authors' affiliated institutions. Use of trade names is for identification only and does not imply endorsement by any of the groups named above.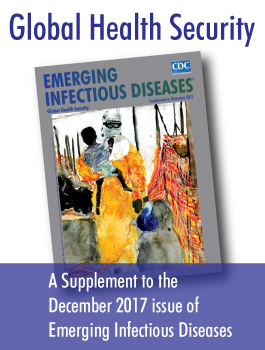 Antimicrobial Drug Resistance and Gonorrhea— (Length: 8:35)
Related Information
Additional Resources
Page created: February 16, 2012
Page last updated: February 23, 2012
Page last reviewed: February 23, 2012