Volume 19, Number 1—January 2013
Research
Seroepidemiologic Effects of Influenza A(H1N1)pdm09 in Australia, New Zealand, and Singapore
James M. Trauer

, Don Bandaranayake, Robert Booy, Mark I. Chen, Michelle Cretikos, Gary K. Dowse, Dominic E. Dwyer, Michael E. Greenberg, Q. Sue Huang, Gulam Khandaker, Jen Kok, Karen L. Laurie, Vernon J. Lee, Jodie McVernon, Scott Walter, Peter G. Markey, and for the Australia, New Zealand and Singapore Pandemic Serosurveillance Study Group
Author affiliations: Author affiliations: Melbourne Sleep Disorders Centre, East Melbourne, Victoria, Australia (J.M. Trauer); Environmental Science and Research, Wallaceville, New Zealand (D. Bandaranayake, Q.S. Huang); National Centre for Immunisation Research and Surveillance, Westmead, New South Wales, Australia (R. Booy, G. Khandaker); National University Health System, Singapore (M.I. Chen); University of Sydney, Sydney, New South Wales, Australia (M. Cretikos); Communicable Disease Control Directorate, Shenton Park, Western Australia, Australia (G.K. Dowse); Centre for Infectious Diseases and Microbiology, Westmead (D.E. Dwyer, J. Kok); CSL Limited, Parkville, Victoria, Australia (M.E. Greenberg); World Health Organization Collaborating Centre for Reference and Research in Influenza, North Melbourne, Victoria, Australia (K.L. Laurie); World Health Organization, Geneva, Switzerland (V.J. Lee); Melbourne School of Population Health, Parkville (J. McVernon); Centre for Epidemiology and Research, North Sydney, New South Wales, Australia (S. Walter; Centre for Disease Control, Tiwi, Northern Territory, Australia (P.G. Markey)
Table 1
Code (ref. no.)
Study design
No. assays by redefined phase
Population
Age range, y†
Study exclusions
Enrollment
Region
Spec-imen type
Testing lab-oratory
RBC species
Control serum specimen
Monovalent pandemic vaccine effect
Notes and exclusions for analysis
A (16)
Pre cross-section
524 pre
Outpatients
1–99
None
Opportunistic from stored specimens
NZ
Serum
ESR
Guinea pig
Human and ferret
Not applicable
None
B (16)
Post cross-section
1,147 post
Primary care patients
1–89
None
Active recruitment of registered GP patients
NZ
Serum
ESR
Guinea pig
Human and ferret
Collection prior to vaccination program
None
C (16)
Post cross-section
532 post
Health care workers‡
21–109
None
Active recruitment of hospital and clinic staff
NZ
Serum
ESR
Guinea pig
Human and ferret
Collection prior to vaccination program
None
D (7)
Pre cross-section
152 pre
Residents of aged-care facilities‡
59–100
None
Outbreak investigations of non-H1N1 viruses
NSW
Serum
CIDMLS
Human, O negative
Human
Not applicable
None
E (17)

---

Prospective cohort (pre and post collections)
788 pre
Community residents
21–74
None
Sub-cohort of existing cohort collection
Singapore
Serum
WHO-CC
Turkey
Human and ferret
Collection prior to vaccination program
None
671 intra
F (17)

---

689 post
Prospective cohort (pre and post collections)

---

1 pre
Healthcare workers‡

---

20–67

---

None

---

Email and word of mouth staff recruitment at hospital

---

Singapore

---

Serum

---

WHO-CC

---

Turkey

---

Human and ferret

---

Collection prior to vaccination program

---

None

---

1,138 intra
391 post
G (17)

---

Prospective cohort (pre and post collections)

---

300 intra
Staff and residents of long-term care facilities‡

---

19–109

---

None

---

Active recruitment by invitation

---

Singapore

---

Serum

---

WHO-CC

---

Turkey

---

Human and ferret

---

Collection prior to vaccination program

---

None

---

250 post
H (17)

---

Prospective cohort (pre and post collections)

---

1,915 intra
Military personnel‡

---

18–62

---

None

---

Active recruitment by invitation

---

Singapore

---

Serum

---

WHO-CC

---

Turkey

---

Human and ferret

---

Collection prior to vaccination program

---

None

---

637 post
I (8)

---

Pre and post cross-sections

---

447 pre
Community residents

---

0–19

---

Respiratory infection indication for testing

---

Opportunistic from pathology laboratory

---

WA

---

Serum

---

WHO-CC

---

Turkey

---

Human and ferret

---

Collection prior to vaccination program

---

Gender unavailable

---

221 intra
229 post
J (8)

---

Pre and post cross-sections

---

201 pre
Pregnant women‡

---

21–45

---

Respiratory infection indication for testing

---

Opportunistic from pathology laboratory

---

WA

---

Serum

---

WHO-CC

---

Turkey

---

Human and ferret

---

Collection prior to vaccination program

---

None

---

170 intra
116 post
K (9)

---

Pre and post- cross-sections

---

474 pre
Outpatients

---

0–100

---

Influenza serologic testing

---

Opportunistic from pathology laboratories

---

NSW

---

Serum or lithium-heparin plasma

---

CIDMLS

---

Human, O negative

---

Human

---

Collection prior to vaccination program

---

Gender unavailable for 164 pre-pandemic assays

---

750 intra
497 post
L (10)
RCT of pandemic vaccine (pre-vaccine collection)
166 intra
Healthy adults
.
Pregnancy
Active recruitment of volunteers
Adelaide
Serum
Focus
Turkey
Human
Collection prior to vaccination program
Postvaccinationassays excluded
M (11)

---

Postpandemic cross-section with retrospective assessment of seroconversion

---

125 intra
Persons infected with HIV‡

---

19–77

---

None

---

Opportunistic testing of specimens submitted for HIV load monitoring

---

NSW

---

Plasma

---

CIDMLS

---

Human
O-negative

---

Human

---

Collection prior to vaccination program

---

Retrospective assays excluded

---

74 post
N (12)

---

Pre and post cross-sections

---

404 pre
Blood donors

---

16–78

---

None

---

Opportunistic collection from donated blood units

---

Cairns, Townsville, Brisbane, Hobart, Melbourne, Newcastle, Perth, Sydney

---

Plasma

---

WHO-CC

---

Turkey

---

Human and ferret

---

Vaccination status checked if titer raised

---

None

---

92 intra
779 post
O (13)

---

RCT of pandemic vaccine (pre-vaccine collection)

---

290 intra
Community volunteers

---

0–8

---

Gestational age <36 wk, investigational vaccine

---

Active recruitment through tertiary hospitals

---

Adelaide, Brisbane, Melbourne, Perth, Sydney

---

Serum

---

Focus

---

Turkey

---

Human

---

Collection prior to vaccination program

---

Postvaccination assays excluded

---

73 post
P (14)

---

Pre and post cross-sections

---

443 pre
Outpatients

---

0–97

---

None

---

Opportunistic from pathology laboratory

---

NT

---

Serum

---

WHO-CC

---

Turkey

---

Human and ferret

---

Collection prior to vaccination program

---

None

---

2 intra
1,689 post
Q (unpub.)
Post cross-sections
65 post
Hemo-dialysis patients‡
43–88
None
Prevaccination blood sample
NSW
Serum
CIDMLS
Human, O negative
Human
Collection prior to individual vaccination
None
R (unpub.)

---

RCT of interferon (pre- and postintervention collections)

---

64 pre
Community volunteers

---

20–74

---

Chronic respiratory conditions

---

Active recruitment (email and newspaper)

---

Perth

---

Serum

---

WHO-CC

---

Turkey

---

Human and ferret

---

Patients receiving vaccine excluded

---

Postintervention assays in active treatment arm excluded

---

102 intra
87 post
S (unpub.)
Pre and post cross-sections
944 pre
Community residents
0–18
None
National pediatric serosurveillance studies
Singapore
Serum
WHO-CC
Turkey
Human and ferret
Low vaccine uptake (≈1%–2%) in population at time of collection (19)
Postvaccine assays excluded
32 intra

---

460 post
*RBC, red blood cells; pre, prepandemic phase; intra, intrapandemic phase; post, postpandemic phase; ESR, World Health Organization National Influenza Centre, Environmental Science and Research, New Zealand; CIDMLS, Centre for Infectious Diseases and Microbiology Laboratory Services, Institute of Clinical Pathology and Medical Research, Westmead Hospital, Sydney, Australia; WHO-CC, World Health Organization Collaborating Centre for Reference and Research on Influenza, North Melbourne, Australia; Focus = Focus Diagnostics, California, USA; RCT, randomized controlled trial; GP, general practitioner; NZ, New Zealand, NSW, New South Wales; WA, Western Australia; NT, Northern Territory.
†Age range for specimens included in pre or postpandemic phases.
‡Defined as risk groups for analysis.
1A list of the group's members can be found at the end of this article.
The conclusions, findings, and opinions expressed by authors contributing to this journal do not necessarily reflect the official position of the U.S. Department of Health and Human Services, the Public Health Service, the Centers for Disease Control and Prevention, or the authors' affiliated institutions. Use of trade names is for identification only and does not imply endorsement by any of the groups named above.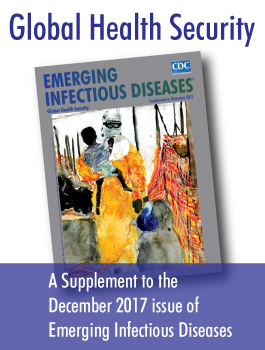 Antimicrobial Drug Resistance and Gonorrhea— (Length: 8:35)
Related Information
Additional Resources
Page created: December 20, 2012
Page last updated: December 20, 2012
Page last reviewed: December 20, 2012