Volume 19, Number 1—January 2013
Research
Microevolution of Highly Pathogenic Avian Influenza A(H5N1) Viruses Isolated from Humans, Egypt, 2007–2011
Mary Younan
1
, Mee Kian Poh
1
, Emad Elassal
1
, Todd Davis, Pierre Rivailler, Amanda L. Balish, Natosha Simpson, Joyce Jones, Varough Deyde, Rosette Loughlin, Ije Perry, Larisa Gubareva, Maha A. ElBadry, Shaun Truelove, Anne M. Gaynor, Emad Mohareb, Magdy Amin, Claire Cornelius, Guillermo Pimentel, Kenneth Earhart, Amel Naguib, Ahmed S. Abdelghani, Samir Refaey, Alexander I. Klimov, Ruben O. Donis

, and Amr Kandeel
Author affiliations: Author affiliations: US Naval Medical Research Unit No.3, Cairo, Egypt (M. Younan, E. Elassal, M.A. ElBadry, S. Truelove, A.M. Gaynor, E. Mohareb, C. Cornelius, G. Pimentel, K. Earhart); Centers for Disease Control and Prevention, Atlanta, Georgia, USA (M.K. Poh, T. Davis, P. Rivailler, A.L. Balish, N. Simpson, J. Jones, V. Deyde, R. Loughlin, I. Perry, L. Gubareva, A.I. Klimov, R.O. Donis); Cairo University, Cairo (M. Amin); Ministry of Health and Population, Cairo (A. Naguib, A.S. Abdelghani, S. Refaey, A. Kandeel)
Table
Protein, amino acid position
Virus group†

---

Functional relevance (reference#)
2.2.1-C
9174‡
2009 variants§
2007–2008 variants¶
A, B, and D
2.2.1.1
PB2

80

R
R
R
R
K
K
NP binding site (17,18)

129

N
N
N
N
T
T

292

M
M
I
I
I
I
No known function
PB1

384

S
S
S
L
L
L
cRNA binding (19)
PB1-F2

40

G
G
D/G
D
D
D
No known function
PA

400

T
T
S
S
S
S
No known function

615

R
R
K/R
K
K
K
615R mammalian host adaptation (20)
HA

43

N
N
N
N
D
D
Antigenic site C (21)

120

N
N/D
N
N
S
S
No known function

129

Del
Del
Del
Del
S
L/S
Near or adjacent to the receptor binding site 130-loop (21)

151

T
T
T
T
I
I
Antigenic site B and receptor binding (21)
NA

224

M
M
M
L
L
L
No known function

450

G
G
G
S
S
S
No known function
M1

95

K
K
K
R
R
R
No known function

168

T
T
I
I
I
I
RNP binding site (22)

207

S
S
N
N
N
N
M2

51

F
F
C
C
C
C
No known function
NS1

48

S
N
S
N
N
N
RNA binding site (23)

198

V
V
I/V
I
I
I/V
Effector domain: inhibition of maturation and exportation of host antiviral mRNAs (23)

229

E
E
K
K
K
K
PDZ ligand motif of HPAI equals ESEV (23,24)
*Hemagglutinin (HA) amino acid numbering was based on the mature HA protein sequence after removal of the signal peptide. All other numbering was relative to the full-length open reading frame of A/goose/Guangdong/1/1996 protein sequences. PB2, polymerase basic 2 gene; NP, nucleoprotein; PB1, PB 1 gene; PB1-F2, alternate open reading frame near the 5′ end of the PB1 gene; PA, polymerase acidic gene; Del, deletion; NA, neuraminidase; M, matrix gene; RNP, ribonucleoprotein; NS, nonstructural gene; PDZ, postsynaptic density protein, Drosophila disk large tumor suppressor, and zonula occludens-1 protein; HPAI, highly pathogenic avian influenza; ESEV, H5N1 PDZ-binding motif amino acid consensus sequence.
†Boldface indicates unique amino acid differences found in the various positions along the different genes of 2.2.1-C viruses.
‡Indicates intraclade reassortant virus A/Egypt/9174-NAMRU3/2009.
§A/Egypt/0606-NAMRU3/2009, A/Egypt/2752-NAMRU3/2009, A/Egypt/3450-NAMRU3/2009.
¶Early 2.2.1-C viruses from 2007–2008: A/Egypt/394-NAMRU3/2007, A/Egypt/2546-NAMRU3/2008, A/Egypt/2289-NAMRU3/2008.
#References describing functional significance of mutations.
1These authors contributed equally to this article.
The conclusions, findings, and opinions expressed by authors contributing to this journal do not necessarily reflect the official position of the U.S. Department of Health and Human Services, the Public Health Service, the Centers for Disease Control and Prevention, or the authors' affiliated institutions. Use of trade names is for identification only and does not imply endorsement by any of the groups named above.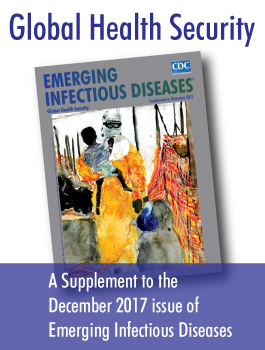 Antimicrobial Drug Resistance and Gonorrhea— (Length: 8:35)
Related Information
Additional Resources
Page created: December 20, 2012
Page last updated: December 20, 2012
Page last reviewed: December 20, 2012