Volume 19, Number 1—January 2013
Dispatch
Novel Epidemic Clones of Listeria monocytogenes, United States, 2011
Sara Lomonaco, Bindhu Verghese, Peter Gerner-Smidt, Cheryl Tarr, Lori Gladney, Lavin Joseph, Lee Katz, Maryann Turnsek, Michael Frace, Yi Chen, Eric Brown, Richard Meinersmann, Mark Berrang, Stephen Knabel

, and Authors
Author affiliations: Author affiliations: Università degli Studi di Torino, Turin, Italy (S. Lomonaco); Accugenix, Newark, Delaware, USA (B. Verghese); The Pennsylvania State University, University Park, Pennsylvania, USA (B. Verghese, S. Knabel); Centers for Disease Control and Prevention, Atlanta, Georgia, USA (P. Gerner-Smidt, C. Tarr, L. Gladney, L. Joseph, L. Katz, M. Turnsek, M. Frace); Food and Drug Administration, College Park, Maryland, USA (Y. Chen, E. Brown); US Department of Agriculture, Athens, Georgia, USA (R. Meinersmann, M. Berrang)
Table
Isolate†
Agency
Outbreak year, location, source (type of source)
Serotype
MLST ST (CC)
MVLST
VT (EC)
UP PT
DOWN PT
PFGE profile1‡

L2624

CDC
2011, US, cantaloupe (C)
1/2b
5 (5)
63 (VI)
–
–

LIS0075

FDA
2011, US, cantaloupe (F)
1/2b
5 (5)
63 (VI)
–
–

LIS0078

FDA
2011, US, cantaloupe (E)
1/2b
5 (5)
63 (VI)
–
–

233

USDA
2002, US, chicken plant A (F)
1/2b
5 (5)
63 (VI)
–
–

466

USDA
2006, US, chicken plant B (F)
1/2b
5 (5)
63 (VI)
–
11

10–0810

NML
1996, Canada, imitation crabmeat (C)
1/2b
5 (5)
63 (VI)
11
11

10–0811

---

NML

---

1996, Canada, imitation crabmeat (F)

---

1/2b

---

5 (5)

---

63 (VI)

---

11

---

11

---

PFGE profile 2

L2625

---

CDC

---

2011, US, cantaloupe (C)

---

1/2a

---

29 (29)

---

74

---

–

---

–

---

PFGE profile 3

L2626

CDC
2011, US cantaloupe (C)
1/2a
561 (7)§
56 (VII)
–
–

LIS0077

---

FDA

---

2011 US, cantaloupe (E)

---

1/2a

---

561 (7)

---

56 (VII)

---

–

---

–

---

PFGE profile 4

L2676

CDC
2011, US, cantaloupe (C)
1/2a
7 (7)
56 (VII)
18
13

LIS0072

FDA
2011, US, cantaloupe (F)
1/2a
7 (7)
56 (VII)
18
13

LIS0087

FDA
2011, US, cantaloupe (E)
1/2a
7 (7)
56 (VII)
18
13

261

USDA
2002, US, chicken plant A (E)
1/2a
7 (7)
56 (VII)
18
13

498

USDA
2006, US, chicken plant B (E)
1/2a
7 (7)
56 (VII)
–
10

10–813

NML
2000 Canada, whipping cream (C)
1/2a
7 (7)
56 (VII)
–
13

10–812

NML
2000 Canada, whipping cream (F)
1/2a
7 (7)
56 (VII)
–
13
*For comparison, additional molecular subtype data from unrelated foodborne outbreaks in Canada were obtained (4). PFGE, pulsed-field gel electrophoresis; CDC, Centers for Disease Control and Prevention; FDA, Food and Drug Administration; USDA, US Department of Agriculture; NML, National Microbiology Laboratory of Canada, Division of the Public Health Agency of Canada; MLST ST (CC), multilocus sequence typing, sequence type (clonal complex); MVLST VT (EC), multivirulence locus sequence typing, virulence type (epidemic clone); UP PT, upstream comK prophage type; DOWN PT, downstream comK prophage type; –, no PCR amplification of junction fragment.
†The numbering of outbreak strain used differs from the FDA's final update on the outbreak (www.fda.gov/Food/FoodSafety/CORENetwork/ucm272372.htm#report).
‡PFGE profiles based on CDC and FDA analysis of isolates from cantaloupe-associated outbreak.
§ST561 differs from ST7 by 1 nonsynonymous single nucleotide polymorphism (G/A) in lhkA.
The conclusions, findings, and opinions expressed by authors contributing to this journal do not necessarily reflect the official position of the U.S. Department of Health and Human Services, the Public Health Service, the Centers for Disease Control and Prevention, or the authors' affiliated institutions. Use of trade names is for identification only and does not imply endorsement by any of the groups named above.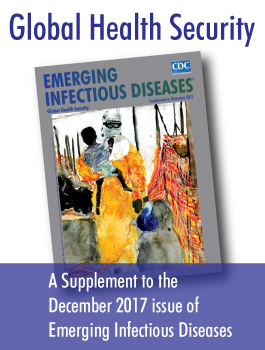 Antimicrobial Drug Resistance and Gonorrhea— (Length: 8:35)
Related Information
Additional Resources
Page created: December 20, 2012
Page last updated: December 20, 2012
Page last reviewed: December 20, 2012