Volume 19, Number 12—December 2013
Dispatch
Acute Toxoplasma gondii Infection among Family Members in the United States
Despina G. Contopoulos-Ioannidis

, Yvonne Maldonado, and Jose G. Montoya
Author affiliations: Stanford University School of Medicine, Stanford, California, USA (D.G. Contopoulos-Ioannidis, Y. Maldonado, J.G. Montoya); Palo Alto Medical Foundation Toxoplasma Serology Laboratory, Palo Alto, California, USA (D.G. Contopoulos-Ioannidis, J.G. Montoya)
Table 2
Index case-patients (clinical information) and additional household members tested
IgG by dye test
ELISA results

---

AC/HS pattern
Avidity
Interpretation of infection type
IgM
IgA
IgE
IC-1 (LN)
512
8.3
8.5
3.1
Acute
ND
Acute
Wife†
4,096
3.2
10.3
1.1
Acute
ND
Acute
Daughter
<16
0.5
0.2
0
Nonreactive
ND
None
Baby girl
2,048
0 (ISAGA)
2
0.2
ND
ND
Status NA
IC-2 (8 wks pregnant)
8,000
5.7
13.9
2.6
Acute
ND
Acute
Husband
16,000
4.1
3.2
3.2
Acute
ND
Acute
Fetus
ND
ND
ND
ND
ND
ND
Status NA
IC-3 (8 wks pregnant)
16,000
4.6
3.4
1.1
Acute
Low (7.8)
Acute
Husband
8,000
7.3
>11
2.4
Acute
Low (4.4)
Acute
Baby boy
2,048
0 (ISAGA)
0
ND
ND
ND
Status NA
IC-4 (27 wks pregnant)
512
5.3
5.6
0.4
Equivocal
Low (2.8)
Acute
Husband
1,024
5.9
12.4
Negative
Acute
Low (5.4)
Acute
Son
16,000
7.2
>24
4.2
Acute
Low (10.5)
Acute
Fetus
ND
ND
ND
ND
ND
ND
Status NA
IC-5 (11 wks pregnant)
2,048
5.8
2
0.2
Acute
Low (6.7)
Acute
Husband
1,024
5.8
2.3
0
Acute
Low (13.2)
Acute
Fetus
ND
ND
ND
ND
ND
ND
AF PCR–
IC-6 (infant with CT)
32,000
12 (ISAGA)
>24
9.5
ND
ND
Congenital
Mother
32,000
10.5
>24
4.6
Acute
ND
Acute
Father
8,000
4.9
11
1.1
Acute
ND
Acute
Brother
2,048
5.4
5.1
0.2
Acute
ND
Acute
IC-7 (LN, fever, headache)
8,000
9.9
>11.2
>20
Acute
Low (1.3)
Acute
Wife
32,000
5.2
9.4
1.3
Acute
Low (1.0)
Acute
Daughter 1
1,024
>10.0
7.2
5.3
Acute
Low (1.2)
Acute
Household member
512
0.9
ND
ND
ND
ND
Chronic
IC-8 (13 wks pregnant)
512
7.9
5.7
ND
Acute
Low (7.4)
Acute
Husband
4,096
7.2
1.8
1.9
Acute
Low (11.0)
Acute
Baby boy A
1,024
0 (ISAGA)
0.2
ND
ND
ND
Status NA
Baby boy B
1,024
0 (ISAGA)
0
ND
ND
ND
Status NA
IC-9 (22 wks pregnant)
2,048
7.8
1.3
0.8
Acute
Low (1.8)
Acute
Husband
4,096
9.8
6.4
3.9
Acute
Low (6.6)
Acute
IC-10 (pregnant, third trimester)
4,096
5.4
9.4
2.9
Acute
Low (5.9)
Acute
Baby girl A
8,000
0 (ISAGA)
0.9
0.8
ND
ND
Status NA
Baby girl B
8,000
7 (ISAGA)
1.6
0.3
ND
ND
Congenital
Daughter 1
8,000
0.4
0.7
1.2
Equivocal
Low (12.5)
Recent
Daughter 2
8,000
0.7
>11.2
1.5
Acute
Low (15.9)
Acute
IC-11 (infant with CT)
8,000
12 (ISAGA)
4.4
ND
ND
ND
Congenital
Mother
8,000
2.7
ND
ND
Acute
ND
Recent
Father
8,000
0
0.4
0.8
Acute
Low (16.2)
Recent
Sister
<16
0
ND
ND
ND
ND
None
IC-12 (LN)
4,096
11.2
11.4
14.1
Acute
ND
Acute
Wife
8,000
>10.0
11.2
>14.0
Acute
Low (3.8)
Acute
Household member 1
8,000
>10.0
>20.0
>14.0
Acute
Low (2.4)
Acute
Household member 2
1,024
>10.0
10.2
14.9
Acute
Low (11.5)
Acute
IC-13 (21 wks pregnant; abortion)
1,024
8.3
0.7
ND
Acute
ND
Acute
Husband
4,096
8.6
6.5
ND
Acute
ND
Acute
IC-14 (infant with CT)
32,000
7 (ISAGA)
>11.2
ND
ND
ND
Congenital
Mother
8,000
5.6
>11.2
4.4
ND
Low (15.7)
Acute
Father
8,000
3.7
3.8
1.4
Acute
Low (16.3)
Acute
IC-15 (9 wks pregnant)
2,048
6.6
1.7
3.1
Equivocal
Low (4.3)
Acute
Husband
128
5.2
0.4
0.8
Equivocal
Low (8.0)
Acute
Baby boy
256
0
0
ND
ND
ND
Status NA
IC-16 (fibromyalgia; taking steroids; fever; patient died)
8,000
9.4
4.5
11
Acute
Low (0.7)
Acute
Daughter 1
2,048
3.2
3.8
ND
Equivocal
Low (4.6)
Recent
Grandson
<16
0
ND
ND
ND
ND
None
Daughter 2
<16
0
ND
ND
ND
ND
None
IC-17 (eye disease)
2,048
8.1
3.4
10
Acute
Low (6.8)
Acute
Son
32,000
9.8
ND
ND
ND
ND
Acute
Daughter 1
128,000
8
ND
ND
ND
ND
Acute
Daughter 2
<16
0
ND
ND
ND
ND
None
IC-18 (LN)
2,048
8.8
3.2
7.1
Acute
ND
Acute
Wife
1,024
2.6
1.2
0.4
Acute
ND
Recent
*Mother-infant pairs were counted as 1 unit/household member. Interpretation of results: IgG dye test, positive >16, negative <16; IgM ELISA, positive >2.0, equivocal 1.7–1.9, negative <1.6; IgM ISAGA (for infants <6 mo of age), positive 3–12, negative 0–2; IgA ELISA, positive >2.1, equivocal 1.5–2.0, negative ≤1.4; IgE ELISA, positive >1.9, equivocal 1.5–1.8, negative <1.4; avidity, low <20, equivocal 20–30, high >30. The categorization of AC/HS test results into acute, equivocal, and nonreactive is available at www.pamf.org/serology/images/achs_grid.html. AC/HS, differential agglutination; IC, index case-patient; LN, lymphadenopathy; ND, not done; ISAGA, immunosorbent agglutination assay; NA, not ascertained; AF, amniotic fluid; CT, congenital toxoplasmosis. Serologic test results, despite equivocal AC/HS, were consistent with acute infection in IC4 and IC15 and recent infection in daughter 1 of IC10 and IC16.
†Pregnant woman who was serologically tested for toxoplasmosis because of her husband's toxoplasmic lymphadenitis.
The conclusions, findings, and opinions expressed by authors contributing to this journal do not necessarily reflect the official position of the U.S. Department of Health and Human Services, the Public Health Service, the Centers for Disease Control and Prevention, or the authors' affiliated institutions. Use of trade names is for identification only and does not imply endorsement by any of the groups named above.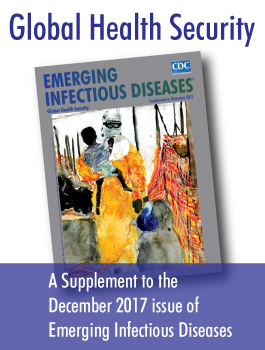 Antimicrobial Drug Resistance and Gonorrhea— (Length: 8:35)
Related Information
Additional Resources
Page created: November 19, 2013
Page last updated: November 19, 2013
Page last reviewed: November 19, 2013