Volume 19, Number 3—March 2013
Dispatch
Lymphogranuloma Venereum in Men Screened for Pharyngeal and Rectal Infection, Germany
Karin Haar

, Sandra Dudareva-Vizule, Hilmar Wisplinghoff, Fabian Wisplinghoff, Andrea Sailer, Klaus Jansen, Birgit Henrich, and Ulrich Marcus
Author affiliations: Author affiliations: Robert Koch-Institute, Berlin, Germany (K. Haar, S. Dudareva-Vizule, A. Sailer, K. Jansen, U. Marcus); European Centre for Disease Prevention and Control (ECDC), Stockholm, Sweden (S. Dudareva-Vizule); University of Cologne, Cologne, Germany (H. Wisplinghoff); Laboratoriumsmedizin Köln–Dres. med. Wisplinghoff and Colleagues, Cologne (H. Wisplinghoff, F. Wisplinghoff); Heinrich-Heine-University, Duesseldorf, Germany (B. Henrich)
Table 1
Characteristics
HIV negative, n = 8
HIV positive, n = 11
p value
Median age, y (range)

---

33 (27–55)

---

41 (31–46)

---

0.48

---

Origin

Germany

7
9
1.0†

Abroad

---

1 (United Kingdom)

---

2 (Turkey, Colombia)

---

---

Location of LGV

Rectal

7
10
1.0†

Pharyngeal

---

1

---

1

---

---

Genotype

L2

7
10

L2/L3

1
0

L3

---

0

---

1

---

---

Symptoms
n = 8
n = 10
None
5
3
0.34†

Symptomatic

3
7

Anorectal symptoms‡

1
12

Night sweats

---

1

---

0

---

---

Median no. male sex partners in past 6 mo (range)

All partners

11 (3–180)
2.5 (1–1,000)
0.25

Unprotected anal sex partners

---

2 (0–77)

---

1 (0–80)

---

1.0

---

Meeting place for >1 of last 3 partners, %
n = 8
n = 8

The Internet

63
63
1.0†

Bar/pub/club

75
25
0.13†

Sauna

0
13
1.0†

Sex party

25
13
1.0†

At friends' homes

25
0
0.47†

Other

---

0

---

13

---

1.0†

---

CT test ever, yes/no
2/3
7/1
0.22†

If yes, when

Past 3 mo

1
5

Past 12 mo

---

1

---

2

---

---

History of CT
2
5
0.32†

If yes, when

Past month§

1
3

Past 12 mo

0
1

>12 mo

---

0

---

1

---

---

If history of CT in past month, location of current LGV

Rectal§

---

1

---

3

---

---

If history of CT in past month, site of last examination

Urine

0
2

Rectum

1
1

Pharynx

1
0

Blood

0
2

Do not remember

---

0

---

2

---

---

Type of last examination
n = 8
n = 8

Urine

1
6

Urethral swab

1
0

Rectal swab

5
4

Pharyngeal swab

5
3

Blood

5
6

Do not remember

---

0

---

3

---

---

HIV test ever, yes/no
7/1
NA

If yes, when

Past 3 mo

2
NA

Past 6 mo

1
NA

Past 12 mo

---

1

---

NA

---

---

ART, yes/no
NA
7/1
*Values are no. patients except as indicated. MSM, men who have sex with men; LGV, lymphogranuloma venereum; CT, Chlamydia trachomatis; NA, not applicable; ART, antiretroviral therapy.
†By Fisher exact test.
‡Anal pain, anal burning/itching, anal inflammation, (bloody) discharge, defecation problems (multiple answers possible).
§Of these patients, 1 HIV negative and 2 HIV positive patients were from 1 proctologist referral practice.
The conclusions, findings, and opinions expressed by authors contributing to this journal do not necessarily reflect the official position of the U.S. Department of Health and Human Services, the Public Health Service, the Centers for Disease Control and Prevention, or the authors' affiliated institutions. Use of trade names is for identification only and does not imply endorsement by any of the groups named above.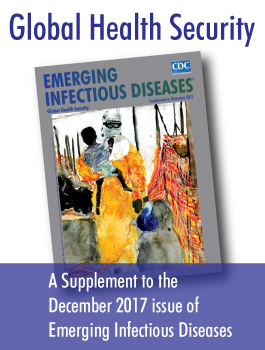 Antimicrobial Drug Resistance and Gonorrhea— (Length: 8:35)
Related Information
Additional Resources
Page created: February 01, 2013
Page last updated: February 01, 2013
Page last reviewed: February 01, 2013