2011 Reviewers
Reviewer Responsibilities
Reviewers are responsible for complete and timely assessment of the scientific merit of manuscripts sent to them for review. In addition to recommendation to accept, reject, or revise the manuscript, this assessment includes comments on the originality and relevance of the contribution, appropriateness of manuscript category, clarity of the presentation and conclusions, and adequacy of methods. Manuscripts are edited in our office for grammatical correctness and journal style, so reviewers need not address those areas.
Note: If you have been assigned an article for review, please access http://mc.manuscriptcentral.com/eid/
Reviewer Appreciation
Emerging Infectious Diseases thanks the following reviewers for their support through thoughtful, thorough, and timely reviews in 2011. We apologize for any inadvertent omissions.
Frank M. Aarestrup
John Aaskov
Joseph Abrams
Nancy Aburto
Toïdi Adékambi
Aarti Agarwal
Umberto Agrimi
Jose M. Aguado
Rabia A. Ahmed
Munirul Alam
Rachel Albalak
M. John Albert
Afsar Ali
Syed H. Ali
Sandra Allan
Tobias Allander
David J. Allen
Elen Andersen
Alicia D. Anderson
Kathryn B. Anderson
Steven A. Anderson
Anucha Apisarnthanarak
Wildo N. Araujo
Brett N. Archer
Lennox K. Archibald
D. Fermín Argüello
Mary Ari
Jorge R. Arias
Jiro Arikawa
Greg Armstrong
Lawrence R. Ash
David Ashkin
Deborah Asnis
Robert L. Atmar
Alexandra Aubry
Michael Augenbraun
Kari Auranen
John Austin
Fatih M. Awad-El-Kariem
Helen Ayles
Guadalupe Ayora-Talavera
Abdu F. Azad
Sabrina Bacci
P. Bryon Backenson
J. Kevin Baird
Victor Balaban
Frederick N. Baliraine
Sharon Balter
Sapna Bamrah
Steffen Bank
Ashley C. Banyard
Enrico Barchi
Elizabeth Barnett
Ian Barr
Roberto Barrera
Alan D.T. Barrett
Timothy J. Barrett
Joanne M. Bartkus
Susan Bartlett
Jason Bartz
Alison J. Basile
Patrick Basset
Filipe Basto
Ricardo Basurto-Dávila
John W. Bateman
Christoph Baums
Daniel G. Bausch
Matthew Baylis
Bernard Beall
Ben Beard
Mark E. Beatty
Barry J. Beaty
Francois Beaudeau
Cécile M. Bebear
Christiane Bébéar
Tammy R. Beckham
Trevor Bedford
Erica Behling-Kelly
John H. Beigel
Ermias Belay
William Bellini
Edward A. Belongia
Jeff Bender
Gabrielle Benenson
William Benjamin
Jason W. Bennett
Staffan Bensch
Jill Benson
Richard Bentham
Stuart Berman
Kathryn Bernard
John Besser
Sujit K. Bhattacharya
Achuyt Bhattarai
Zulfiqar A. Bhutta
Philippe Biagini
Martina Bielaszewska
Matthew Biggerstaff
Robert Bildfell
Sarah Billeter
Brian H. Bird
Richard Birtles
David Bishai
Paritosh K. Biswas
Idir Bitam
Jason Blackburn
Carina Blackmore
Stuart Blacksell
Carol D. Blair
David D. Blaney
Lucas Blanton
Anne J. Blaschke
Martin J. Blaser
Uriel Blas-Machado
David Blehert
Robert Blendon
Bradley J. Blitvich
Colin Block
Sharon Bloom
Emily Bloss
Pierre Bogaerts
Guy Boivin
Ietza Bojorquez
Denise Bonilla
Robert A. Bonomo
Julie Boom
Ray Borrow
Albert Bosch
John A. Bosso
Elisabeth Botelho-Nevers
Blenda Böttiger
Michele Bouloy
Herve Bourhy
Donald H. Bouyer
Emilio Bouza
Anna B. Bowen
Richard A. Bowen
Dwight Bowman
Ingeborg Boxman
David Boxrud
Christopher Braden
Lynnette Brammer
Mary E. Brandt
Fred Brauer
Aaron Brault
Mike Bray
Meghan Brett
Carolyn Bridges
Elizabeth Briere
Thomas Briese
Deborah J. Briggs
Benjamin Bristow
Christopher Broder
Rachel Bronzan
W. Abdullah Brooks
Roland Brosch
Philippe Brouqui
Helene Broutin
Betty A. Brown
Corrie Brown
Justin D. Brown
Joan Brunkard
Robert Buchanan
Philippe Buchy
Chris B. Buck
Ann M. Buff
Christphe Burucoa
Adriana Cadilla
Charles H. Calisher
Emmanuelle Cambau
Corey Campbell
Rafael Cantón
Alessandra Carattoli
Dale Carcione
Xavier Carcopino
Victor M. Cardenas
Carol J. Cardona
Suarez Carlos
Rita C. Carmona
Edoardo Carretto
Ivan D. Carroll
Jane Carter
Cristina Casalone
Pamela K. Cassiday
Kenneth Castro
Louisa Castrodale
J. Caswell
Vincent Cattoir
Simon Cauchemez
Dominique Caugant
Byron Caughey
Peter Cegielski
Catherine B. Cetre-Sossah
Christina Chambers
Grace Chan
Gwong-Jen J. Chang
Louisa E. Chapman
Nora Chapman
Esmita Charani
Patrick G.P. Charles
Remi Charrel
Claude Chastel
Vishnu Chaturvedi
Didier Che
Bob Chen
Lin H. Chen
Yuansha Chen
Bruce Chesebro
Tom M. Chiller
Sadegh Chinikar
Cheng-Hsun Chiu
EunHwa Choi
B.B. Chomel
Ju-Young Chung
Max Ciarlet
Daniela M. Cirillo
Gary Clark
Keith Clay
Jan P. Clement
J.L. Cloud
Steve L. Cochi
John Coffin
Susan Coffin
Adam L. Cohen
Nicole J. Cohen
Ted Cohen
Amanda C. Cohn
Bruno Coignard
Peter Collignon
Simon Collin
Deirdre Collins
Limone Collins
William E. Collins
Philippe Colson
James A. Comer
Richard Condit
Laura Conklin
John M. Conly
Patricia Conville
Alex R. Cook
Nigel Cook
Susan T. Cookson
Kevin M. Coombs
Daphne Copeland
Jose Cordero
Flavio Corsin
Sofia Cortes
Andrew Corwin
Dorcas L. Costa
Filipe A.C. Costa
Terry C. Covert
Lauren Cowan
Peter Cowen
Benjamin J. Cowling
Nancy J. Cox
Christina Coyle
Allen Craig
Elaine Cramer
Cynda Crawford
Pascal Crépey
Wendy A. Cronin
Alicia Cronquist
Manuel Cuenca-Estrella
John Cullen
Bart J. Currie
Maria G. Cusi
Sally J. Cutler
Chris Czaja
Pedro F. da Costa Vasconcelos
Cristiane da Cruz Lamas
Edson E. da Silva
Haydee Dabritz
Ron Dagan
Eilif Dahl
Ulf R. Dahle
James Dale
Tina Dalianis
Stefano D'Amelio
Nick Daneman
Thomas J. Daniels
Gregory A. Dasch
Alexandre Dasilva
Peter Daszak
Robert Daum
Angharad Davies
David Davis
Jeffrey P. Davis
Andrew Davison
Bernard Davoust
Fatimah Dawood
Bouke C. de Jong
Stephane de la Rocque
Rita de Sousa
Giliane de Souza Trindade
Kevin M. DeCock
Scott Dee
Jacqueline L. Deen
Stephane Delbecq
F. R. Deleo
Rafael Delgado
Eric Delwart
Zygmunt F. Dembek
David W. Denning
Xavier Deparis
Peter Deplazes
Stan Deresinski
Kathryn Deriemer
Joe Derisi
Jean-Claude A. Desenclos
Philippe Desprès
Ulrich Desselberger
Linda Detwiler
Silvia Di Genaro
Sandra Dial
Julio Diaz
Lenie Dijkshoorn
Pedro Diniz
Linda Dixon
Zoheira Djelouadji
Christl Donnelly
Pierre Dorny
Sandra dos Santos Chaves
Jeffrey B. Doty
Richard J. Douglass
Scott F. Dowell
Joseph Drabick
Michel Drancourt
Michael A. Drebot
Jan F. Drexler
Robert Drillien
Jan Drobeniuc
Francis Drobniewski
Christian Drosten
D. Peter Drotman
Desiree T.B. D'Souza
Mariette Ducatez
Catherine Dumartin
J. Stephen Dumler
John R. Dunn
Jean Dupouy-Camet
Susanne Duwe
Mark S. Dworkin
Dominic E. Dwyer
Christopher Dye
Clare A. Dykewicz
Gregory Ebel
Mark Eberhard
Juan Echevarria
Miriam Eddyani
Kathryn Edwards
Paul V. Effler
Millicent Eidson
Helmut Eiffert
Rebecca J. Eisen
Anna-Maria Eis-Hübinger
George M. Eliopoulos
Richard K. Elwood
Ginny L. Emerson
Suzanne Emerson
The conclusions, findings, and opinions expressed by authors contributing to this journal do not necessarily reflect the official position of the U.S. Department of Health and Human Services, the Public Health Service, the Centers for Disease Control and Prevention, or the authors' affiliated institutions. Use of trade names is for identification only and does not imply endorsement by any of the groups named above.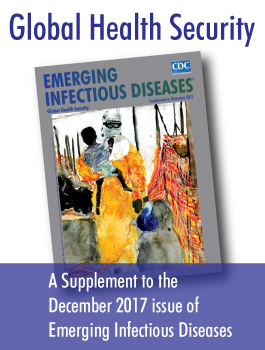 Antimicrobial Drug Resistance and Gonorrhea— (Length: 8:35)
Related Information
Additional Resources
Page created: May 01, 2012
Page last updated: May 01, 2012
Page last reviewed: May 01, 2012