Volume 17, Number 6—June 2011
Research
Multiple Introductions of Multidrug-Resistant Tuberculosis into Households, Lima, Peru
Ted Cohen

, Megan B. Murray, Ibrahim Abubakar, Zibiao Zhang, Alexander Sloutsky, Fernando Arteaga, Katiuska Chalco, Molly F. Franke, and Mercedes C. Becerra
Author affiliations: Author affiliations: Brigham and Women's Hospital, Boston, Massachusetts, USA (T. Cohen, M. Murray, Z. Zhang, M.C. Becerra); Harvard School of Public Health, Boston (T. Cohen, M. Murray); University of East Anglia, Norwich, UK (I. Abubakar); Health Protection Agency Centre for Infections, London, UK (I. Abubakar); University of Massachusetts Medical School, Boston (A. Sloutsky); Partners In Health, Boston and Lima, Peru (F. Arteaga, K. Chalco, M.F. Franke, M.C. Becerra); and Harvard Medical School, Boston (M.F. Franke, M.C. Becerra)
Table A1
House ID no.
Patient age, y/sex
Date
MIRU-VNTR pattern
Spoligotype
ST
Lineage
Drug susceptibility,
SHRECFYTKZALP†
4‡
21/M
1997 Feb 1
2 2 2 3 3 2 4 2 2 6 1 5 3 2 3 3 3 4 2 1 2 3 + 2
736177607700171
1476
U
SRRSSSSSSSXXX

---

22/M

---

1997 Jan 14

---

3 2 3 3 3 2 4 3 1 5 1 5 3 2 4 4 3 4 2 3 4 3 6 3

---

777740777760771

---

219

---

T1

---

SRRXSSSSSRXXX

---

112
19/M
2001 Nov 14
4 2 4 3 2 2 4 3 2 1 1 4 3 2 4 3 3 4 2 3 4 3 2 2
777777777760771
53
T1
RRRRRSSSRSRSS

---

25/M

---

2001 Nov 13

---

4 2 4 3 5 2 3 3 2 1 1 4 3 2 4 3 3 4 2 3 4 3 2 2

---

777777777760771

---

53

---

T1

---

RRRRRSSRRRRSS

---

126‡
27/M
2001 May 7
2 1 4 3 3 2 4 2 2 6 1 5 3 2 1 5 2 4 1 5 3 4 8 2
777777607760771
42
LAM9
RRRRSSSRSRSSS

---

22/F

---

2001 May 2

---

2 1 2 3 2 1 4 3 2 7 1 5 3 2 8 4 2 4 1 4 3 1 5 2

---

777400007760771

---

1594

---

T1

---

RRRRSRSRSRSRS

---

192
29/F
2000 Feb 25
2 1 5 3 3 2 3 1 2 4 1 2 2 1 1 5 3 4 1 5 3 3 8 2
777777607760731
60
LAM4
RRRRSRSSSRXXX

---

23/F

---

2001 May 31

---

2 1 5 3 3 2 3 1 2 4 1 2 2 2 1 4 3 4 1 5 3 3 8 2

---

777777607760731

---

60

---

LAM4

---

RRRRSSSRSRXSS

---

361‡
27/M
1998 May 20
3 2 3 2 3 2 5 3 2 5 1 4 3 2 2 5 3 4 1 3 4 5 4 3
700036777760771
91
X3
RRRRXXXXXRXXX

---

26/F

---

1999 Mar 1

---

4 2 4 3 2 2 3 3 2 1 1 5 3 2 4 3 3 4 2 3 4 3 2 2

---

777777777760771

---

53

---

T1

---

XRRSSSSSSRXXX

---

517‡
66/F
2002 May 7
3 2 3 3 3 2 4 3 2 5 1 4 3 2 2 3 4 4 4 3 4 6 6 3
700036777760771
91
X3
RRRRSSSSSRSSS

---

30/M

---

2001 Nov 21

---

4 2 3 3 3 2 3 3 2 1 1 5 3 2 4 3 3 4 2 3 4 3 2 2

---

777777777760771

---

53

---

T1

---

RRRSSSSSSSSSS

---

557
24/M
2003 Apr 25
3 2 3 3 3 2 5 3 2 5 1 5 3 2 3 3 2 4 4 3 5 4 7 3
777777777720761
ND
ND
RRRRSSSRRSRSS

---

18/M

---

2002 Oct 9

---

3 2 3 3 3 2 5 3 2 5 1 5 3 2 3 3 2 4 4 3 4 5 7 3

---

777777777720771

---

50

---

H3

---

SRRRSSSRSSSSS

---

685‡
19/F
2003 Apr 4
3 2 3 3 3 2 5 3 2 5 1 5 3 2 3 3 2 4 4 3 6 5 7 3
777777707720771
512
H3
SRRRSSSSSRSSS

---

30/M

---

2003 Jul 17

---

4 2 4 3 2 2 3 3 2 1 1 5 3 2 4 3 3 4 2 3 4 3 2 2

---

777777777760771

---

53

---

T1

---

SRRRSSSSSRSSS

---

960
19/F
2002 Jul 18
1 1 4 3 3 2 4 2 2 6 1 5 3 2 1 4 3 4 1 5 3 4 4 2
777737607760771
93
LAM5
RRRRSSSSSRSSS

---

16/M

---

2000 Aug 7

---

2 1 4 3 3 2 4 2 2 6 1 5 3 2 1 4 3 4 1 4 3 4 4 2

---

777737607760771

---

93

---

LAM5

---

RRRRSSSSSRXXX

---

28‡
18/M
2001 Feb 20
2 2 4 3 2 1 4 2 2 6 1 5 3 2 2 4 3 4 1 3 3 2 7 2
777774077560771
222
T1
SRRRSSSRSRXSS
NA
2002 May 25
4 2 4 3 2 2 3 3 2 1 1 5 3 2 4 3 3 4 2 3 4 3 2 2
777777777760771
53
T1
RRRRSSSSSRSSS

---

20/M

---

2001 Aug 31

---

2 2 4 3 2 1 4 2 2 6 1 5 3 2 2 4 3 4 1 3 3 2 7 2

---

777774077560771

---

222

---

T1

---

SRRSSSSRSRSSS

---

106‡
35/M
1997 Aug 23
2 1 4 3 3 2 4 2 2 6 1 5 3 2 1 4 3 4 1 5 3 4 4 2
777737607760771
93
LAM5
SRRRSSSSSRXXX
33/F
2000 May 5
2 2 + 3 2 1 4 3 2 6 1 4 3 2 0 4 3 4 1 3 3 2 6 2
777777607760771
42
LAM9
RRRRSRSSSRXXX

---

15/M

---

2000 Aug 29

---

2 2 + 3 2 1 4 3 2 6 1 4 3 2 0 4 3 4 1 3 3 2 6 2

---

777777607760771

---

42

---

LAM9

---

RRRSSSSSSRXXX

---

263
75/F
2002 Aug 7
3 2 3 3 3 2 5 3 2 5 1 4 3 2 2 8 2 2 1 3 4 4 6 3
700036777760771
91
X3
RRRRSSSRSRSSS
19/F
1997 Oct 25
3 2 3 3 3 2 5 3 2 5 1 4 3 2 2 5 2 2 1 3 4 4 6 3
700036777760771
91
X3
RRRRSSSRSRSXX
35/F
1996 Dec 11
3 2 3 3 3 2 5 3 2 5 1 4 3 2 2 5 2 2 1 3 4 4 6 3
700036777760771
91
X3
RRRRSSSRSRXXX
16/F
1996 Oct 17
3 2 3 3 3 2 5 3 2 5 1 4 3 2 2 5 2 2 1 3 4 4 7 3
700036777760771
91
X3
RRRRSSSRSSXXX

---

28/F

---

1996 Oct 17

---

3 2 3 3 3 2 5 3 2 5 1 4 3 2 2 5 2 2 1 3 4 4 6 3

---

700036777760771

---

91

---

X3

---

RRRRRRSRSRSXX

---

439‡
21/M
2001 Oct 25
3 1 4 3 3 2 3 3 2 1 1 5 3 2 5 3 3 4 2 3 4 3 2 2
777777777460771
1905
T1
RRRRRRSRRRSSS

---

19/M

---

2002 Jun 17

---

2 2 4 3 2 1 4 3 2 6 1 5 3 2 2 4 4 4 1 3 3 2 5 2

---

777777407560731

---

1355

---

T2

---

RRRRSSSSSRSSS

---

645
23/M
2001 Nov 13
2 1 4 3 3 2 4 2 2 6 1 5 3 2 1 4 3 4 1 5 3 4 4 2
777737607760771
93
LAM5
SRRSSSSSSRSSS
22/F
2002 Jul 3
2 2 4 3 3 2 4 2 2 6 1 5 3 2 1 4 3 4 1 5 3 4 4 2
777737607760771
93
LAM5
SRRRSSSSSRSSS

---

27/F

---

2001 Jan 24

---

2 1 4 3 3 2 4 2 2 6 1 5 3 2 1 4 3 4 1 5 3 3 4 2

---

777737607760771

---

93

---

LAM5

---

SRRRSSSSSRSSS

---

976‡
27/F
2002 Aug 27
4 1 4 3 2 2 3 3 2 1 1 5 3 2 4 3 3 4 2 3 4 3 2 2
777777777760771
53
T1
RRRRSSSSSRSSS

---

26/M

---

2002 Mar 30

---

3 2 3 3 3 2 3 3 2 5 1 4 3 2 2 5 3 4 4 3 4 7 6 3

---

700036777760771

---

91

---

X3

---

RRRRSSSSRRRSS

---

977‡
19/M
2003 Feb 21
2 2 4 3 3 2 4 3 2 6 1 5 3 2 3 3 3 4 2 1 2 4 7 2
776177607660731
ND
ND
SRRRSSSSSRSSS
46/F
NA
4 2 4 3 5 2 3 3 2 5 1 7 3 3 3 5 5 4 4 3 4 6 8 2
000000000003731
190
Beijing
SRRRSSSRRRSSS
20/M
2002 Jul 5
2 2 4 3 3 2 4 3 2 6 1 5 3 2 3 3 3 4 2 1 2 3 7 2
776177607660731
ND
ND
RRRRSSSRSSSSS
*MDR TB, multidrug-resistant tuberculosis; ID, identification, MIRU-VNTR, mycobacterial interspersed repetitive unit–variable number tandem repeat; ST, shared type; ND, not determined because ST and lineage could not be assigned on the basis of spoligotype; NA, not available.
†Antimicrobial drugs tested were streptomycin (S), isoniazid (H), rifampin (R), ethambutol (E), capreomycin (C), ciprofloxacin (F), cycloserine (Y), ethionamide (T), kanamycin (K), pyrazinamide (Z), amikacin (A), levofloxacin (L), and p-amino salicylic acid (P). Susceptibility patterns: S, susceptible; R, resistant; X, no result.
‡These 10 households were ultimately categorized as probable settings of multiple MDR TB introductions for subsequent analysis.
The conclusions, findings, and opinions expressed by authors contributing to this journal do not necessarily reflect the official position of the U.S. Department of Health and Human Services, the Public Health Service, the Centers for Disease Control and Prevention, or the authors' affiliated institutions. Use of trade names is for identification only and does not imply endorsement by any of the groups named above.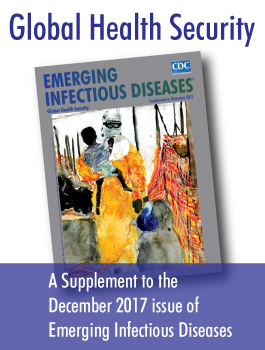 Antimicrobial Drug Resistance and Gonorrhea— (Length: 8:35)
Related Information
Additional Resources
Page created: August 03, 2011
Page last updated: August 03, 2011
Page last reviewed: August 03, 2011