Volume 18, Number 6—June 2012
Research
Community Survey after Rabies Outbreaks, Flagstaff, Arizona, USA
Andrea M. McCollum

, Jesse D. Blanton, Robert C. Holman, Laura S. Callinan, Steven Baty, Randy Phillips, Michael Callahan, Craig Levy, Ken Komatsu, Rebecca Sunenshine, David L. Bergman, and Charles E. Rupprecht
Author affiliations: Centers for Disease Control and Prevention, Atlanta, Georgia, USA (A.M. McCollum, J.D. Blanton, R.C. Holman, L.S. Callinan, S. Baty, C.E. Rupprecht, R. Sunenshine); Arizona Department of Health Services, Phoenix, Arizona, USA (S. Baty, C. Levy, K. Komatsu); Coconino County Public Health Services District, Flagstaff, Arizona, USA (R. Phillips, M. Callahan); US Department of Agriculture, Phoenix (D.L. Bergman)
Table A1
| Characteristic | No. (%) |
| --- | --- |
| Years lived in Flagstaff | |
| <2 | 53 (5) |
| 3–9 | 218 (21) |
| >10 | 765 (74) |
| Live in Flagstaff year-round | |
| No | 25 (2) |
| Yes | 1019 (98) |
| Sex | |
| M | 424 (41) |
| F | 600 (59) |
| Age, y | |
| 18–30 | 43 (4) |
| 31–40 | 115 (11) |
| 41–50 | 180 (17) |
| 51–60 | 317 (31) |
| 61–70 | 250 (24) |
| >71 | 129 (13) |
| Education | |
| <High school | 9 (1) |
| High school | 54 (5) |
| Some college | 193 (19) |
| College degree | 337 (33) |
| Graduate or professional degree | 422 (42) |
| Knows what rabies is | |
| No | 42 (4) |
| Yes | 997 (96) |
| Concerned about rabies in Flagstaff | |
| No | 54 (5) |
| Slightly | 646 (64) |
| Yes | 304 (30) |
| How severe is rabies? | |
| Mild | 35 (4) |
| Severe | 818 (91) |
| Do not know | 44 (5) |
| Humans get rabies from an infected animal by† | |
| Bite | 1,030 (97) |
| Scratch | 772 (73) |
| Touching | 173 (16) |
| Contact with blood | 616 (58) |
| Contact with saliva | 781 (74) |
| Contact with urine or feces | 258 (24) |
| Contact with spray of infected skunk | 141 (13) |
| Do not know | 22 (2) |
| Animal could be infected with rabies† | |
| Dog | 1,040 (98) |
| Cat | 965 (91) |
| Horse | 407 (38) |
| Livestock | 418 (40) |
| Bat | 1023 (97) |
| Rabbit | 691 (65) |
| Rodent | 855 (81) |
| Wild carnivore | 999 (94) |
| Bird | 144 (14) |
| None of the above | 3 (0.2) |
| Do not know | 6 (0.5) |
| Wild animals that have rabies in Flagstaff† | |
| Bat | 546 (52) |
| Skunk | 943 (89) |
| Fox | 772 (73) |
| Raccoon | 305 (29) |
| Ringtail | 113 (11) |
| Coyote | 266 (26) |
| Mountain lion | 164 (16) |
| No wild animals have rabies | 11 (1) |
| Response to seeing a sick domestic animal† | |
| Nothing | 26 (3) |
| Take the animal to a veterinarian | 217 (21) |
| Call City of Flagstaff Animal Control | 844 (80) |
| Call Coconino County Public Health Services District | 480 (45) |
| Call Game and Fish Department | 159 (15) |
| Trap and relocate yourself | 4 (0.3) |
| Take animal to animal control or humane society | 43(4) |
| Take animal to your house | 8 (0.7) |
| Kill the animal | 29 (3) |
| Do not know | 8 (0.7) |
| Response to seeing a sick wild animal† | |
| Nothing | 45 (4) |
| Take the animal to a veterinarian | 7 (0.6) |
| Call City of Flagstaff Animal Control | 785 (74) |
| Call Coconino County Public Health Services District | 608 (57) |
| Call Game and Fish Department | 504 (48) |
| Trap and relocate yourself | 3 (0.2) |
| Take animal to animal control or humane society | 9 (0.8) |
| Take animal to your house | 0 |
| Kill the animal | 65 (6) |
| Do not know | 10 (0.9) |
| Response to being bitten or scratched by a domestic animal† | |
| Nothing | 19 (2) |
| Wash wound with soap and water | 740 (70) |
| Seek medical care at a hospital or clinic | 757 (72) |
| Call City of Flagstaff Animal Control | 544 (52) |
| Call Coconino County Public Health Services District | 348 (33) |
| Call Game and Fish Department | 93 (9) |
| Check animal's vaccination history | 563 (53) |
| Observe animal to see if it becomes rabid | 178 (17) |
| Have animal tested for rabies | 460 (44) |
| Kill the animal | 22 (2) |
| Do not know | 6 (0.6) |
| Response to being bitten or scratched by a wild animal† | |
| Nothing | 2 (0.2) |
| Wash wound with soap and water | 656 (62) |
| Seek medical care at a hospital or clinic | 948 (90) |
| Call City of Flagstaff Animal Control | 546 (52) |
| Call Coconino County Public Health Services District | 521 (49) |
| Call Game and Fish Department | 355 (34) |
| Check animal's vaccination history | 35 (3) |
| Observe animal to see if it becomes rabid | 70 (7) |
| Have animal tested for rabies | 362 (34) |
| Kill the animal | 68 (6) |
| Do not know | 8 (0.7) |
| Response to a wild nuisance animal on your property† | |
| Nothing | 15 (1) |
| Call City of Flagstaff Animal Control | 769 (73) |
| Call Coconino County Public Health Services District | 439 (41) |
| Call Game and Fish Department | 447 (42) |
| Call pest control company | 105 (10) |
| Trap and relocate yourself | 73 (7) |
| Kill the animal | 49 (5) |
| Do not know | 9 (0.8) |
| Relocated a wild nuisance animal on your property yourself | |
| No | 932 (91) |
| Yes | 95 (9) |
| If yes, distance away, miles,† n = 91 | |
| <1 | 16 (18) |
| 1–5 | 32 (35) |
| 6–10 | 29 (32) |
| >10 | 23 (25) |
| Do not know | 2 (2) |
| Animal relocated,† n = 94 | |
| Bat | 5 (5) |
| Skunk | 53 (56) |
| Fox | 4 (4) |
| Raccoon | 17 (18) |
| Ringtail | 0 |
| Coyote | 1 (1) |
| Mountain lion | 0 |
| Other | 41 (44) |
| Wild animals on property in last 6 mo† | |
| Bat | 254 (24) |
| Skunk | 722 (68) |
| Fox | 369 (35) |
| Sick wild animals on property in last 6 mo | |
| No | 966 (94) |
| Yes | 60 (6) |
| If yes, which animal,† n = 56 | |
| Bat | 1 (2) |
| Skunk | 21 (38) |
| Fox | 20 (36) |
| Other | 21 (38) |
| Response to sick wild animal,† n = 53 | |
| Nothing | 19 (36) |
| Take the animal to a veterinarian | 0 |
| Call City of Flagstaff Animal Control | 19 (36) |
| Call Coconino County Public Health Services District | 9 (17) |
| Call Game and Fish Department | 4 (8) |
| Trap and relocate yourself | 1 (2) |
| Transport to animal control or humane society | 1 (2) |
| Take animal to your house | 0 (0) |
| Kill the animal | 2 (4) |
| Do not know | 0 (0) |
| Saw skunk in Flagstaff in last 6 mo | |
| No | 215 (21) |
| Yes | 790 (79) |
| Saw fox in Flagstaff in last 6 mo | |
| No | 498 (50) |
| Yes | 497 (50) |
| Saw oral rabies vaccination bait around property | |
| No | 992 (96) |
| Yes | 13 (1) |
| Do not know | 24 (2) |
| Saw oral rabies vaccination bait in Flagstaff area | |
| No | 950 (94) |
| Yes | 32 (3) |
| Do not know | 31 (3) |
| If saw a bait, touched or picked up bait, n = 47 | |
| No | 44 (94) |
| Yes | 0 (0) |
| Do not know | 3 (6) |
| Aware of current rabies outbreak in Flagstaff | |
| No | 106 (10) |
| Yes | 931 (90) |
| If yes, heard by,† n = 922 | |
| TV | 249 (27) |
| Radio | 364 (39) |
| Newspaper/magazine | 721 (78) |
| Family or friend | 218 (24) |
| Notices/flyers on trailhead | 341 (37) |
| Notices/flyers in county offices | 67 (7) |
| Aware of rabies quarantine | |
| No | 168 (16) |
| Yes | 866 (84) |
| If yes, complied with quarantine | |
| No | 120 (14) |
| Yes | 712 (82) |
| The leash policy helps prevent exposures to rabid animals | |
| No | 122 (12) |
| Yes | 890 (88) |
*The denominator used for each frequency was the total number of responses, from a total of 1,058 surveys, unless otherwise noted.
†Survey question allowed for multiple choices.
The conclusions, findings, and opinions expressed by authors contributing to this journal do not necessarily reflect the official position of the U.S. Department of Health and Human Services, the Public Health Service, the Centers for Disease Control and Prevention, or the authors' affiliated institutions. Use of trade names is for identification only and does not imply endorsement by any of the groups named above.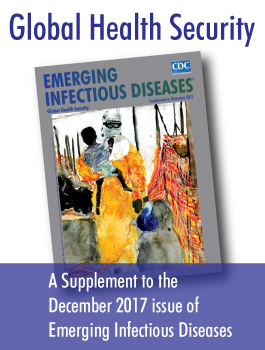 Antimicrobial Drug Resistance and Gonorrhea— (Length: 8:35)
Related Information
Additional Resources
Page created: May 10, 2012
Page last updated: May 10, 2012
Page last reviewed: May 10, 2012