Volume 5, Number 1—February 1999
Perspective
Campylobacter jejuni—An Emerging Foodborne Pathogen
References
Kist M. The historical background of Campylobacter infection: new aspects. In: Pearson AD, editor. Proceedings of the 3rd International Workshop on Campylobacter Infections; Ottawa;1985 Jul 7-10. London: Public Health Laboratory Service;1985. p.23-7.
Tauxe RV. Epidemiology of Campylobacter jejuni infections in the United States and other industrial nations. In: Nachamkin I, Blaser MJ, Tompkins LS, editors. Campylobacter jejuni: current and future trends. Washington: American Society for Microbiology; 1992. p. 9-12.
Blaser MJ, Wells JG, Feldman RA, Pollard RA, Allen JR. the Collaborative Diarrheal Disease Study Group. Campylobacter enteritis in the United States: a multicenter study. Ann Intern Med. 1983;98:360–5.PubMed
Peterson MC. Clinical aspects of Campylobacter jejuni infections in adults. West J Med. 1994;161:148–52.PubMed
Sorvillo FJ, Lieb LE, Waterman SH. Incidence of campylobacteriosis among patients with AIDS in Los Angeles County. J Acquir Immune Defic Syndr Hum Retrovirol. 1991;4:598–602.
Perlman DJ, Ampel NM, Schifman RB, Cohn DL, Patton CM, Aguirre ML, Persistent Campylobacter jejuni infections in patients infected with the human immunodeficiency virus (HIV). Ann Intern Med. 1988;108:540–6.PubMed
Allos BM. Association between Campylobacter infection and Guillain-Barré syndrome. J Infect Dis. 1997;176:S125–8. DOIPubMed
Peterson MC. Rheumatic manifestations of Campylobacter jejuni and C. fetus infections in adults. Scand J Rheumatol. 1994;23:167–70. DOIPubMed
Shoenfeld Y, George J, Peter JB. Guillain-Barré as an autoimmune disease. Int Arch Allergy Immunol. 1996;109:318–26. DOIPubMed
Blaser MJ. Campylobacter species. In: Principles and practice of infectious diseases. Mandell GL, Douglas RG, Bennett JE, editors. 3rd ed. New York: Churchill Livingstone, 1990;194:1649-58.
Murphy GS Jr, Echeverria P, Jackson LR, Arness MK, LeBron C, Pitarangsi C. Ciprofloxacin- and azithromycin-resistant Campylobacter causing traveler's diarrhea in U.S. troops deployed to Thailand in 1994. Clin Infect Dis. 1996;22:868–9.PubMed
Piddock LJV. Quinolone resistance and Campylobacter spp. Antimicrob Agents Chemother. 1995;36:891–8. DOI
Jacobs-Reitsma WF, Kan CA, Bolder NM. The induction of quinolone resistance in Campylobacter bacteria in broilers by quinolone treatment. In: Campylobacters, helicobacters, and related organisms. Newell DG, Ketley JM, Feldman RA, editors. New York: Plenum Press; 1996. p. 307-11.
Smith KE, Besser JM, Leano F, Bender J, Wicklund J, Johnson B, Fluoroquinolone-resistant Campylobacter isolated from humans and poultry in Minnesota [abstract]. Program of the 1st International Conference on Emerging Infectious Diseases; Atlanta, Georgia; 1998 Mar 7-10. Atlanta: Centers for Disease Control and Prevention;1998.
Blaser MJ, Sazie E, Williams LP Jr. The influence of immunity on raw milk-associated Campylobacter infection. JAMA. 1987;257:43–6. DOIPubMed
Black RE, Levine MM, Clements ML, Hughes TP, Blaser MJ. Experimental Campylobacter jejuni infection in humans. J Infect Dis. 1988;157:472–9.PubMed
Ketley JM. Pathogenesis of enteric infection by Campylobacter. Microbiology. 1997;143:5–21. DOIPubMed
Nachamkin I. Campylobacter and Arcobacter. In: Manual of clinical microbiology. 6th ed. Washington: ASM Press; 1995. p. 483-91.
Humphrey TJ. An appraisal of the efficacy of pre-enrichment for the isolation of Campylobacter jejuni from water and food. J Appl Bacteriol. 1989;66:119–26.PubMed
Penner JL, Hennessy JN, Congi RV. Serotyping of Campylobacter jejuni and Campylobacter coli on the basis of thermostable antigens. Eur J Clin Microbiol Infect Dis. 1983;2:378–83. DOI
Lior H, Woodward DL, Edgar JA, Laroche LJ, Gill P. Serotyping of Campylobacter jejuni by slide agglutination based on heat-labile antigenic factors. J Clin Microbiol. 1982;15:761–8.PubMed
Hilton AC, Mortiboy D, Banks JG, Penn CW. RAPD analysis of environmental, food and clinical isolates of Campylobacter spp. FEMS Immunol Med Microbiol. 1997;18:119–24. DOIPubMed
Meinersmann RJ, Helsel LO, Fields PI, Hiett KL. Discrimination of Campylobacter jejuni isolates by fla gene sequencing. J Clin Microbiol. 1997;35:2810–4.PubMed
Harrington CS, Thomson-Carter FM, Carter PE. Evidence for recombination in the flagellin locus of Campylobacter jejuni: implications for the flagellin gene typing scheme. J Clin Microbiol. 1997;35:2386–92.PubMed
Norkrans G, Svedhem Å. Epidemiologic aspects of Campylobacter jejuni enteritis. Journal of Hygiene (Cambridge). 1982;89:163–70. DOI
Hopkins RS, Scott AS. Handling raw chicken as a source for sporadic Campylobacter jejuni infections [letter]. J Infect Dis. 1983;148:770.PubMed
Kapperud G, Skjerve E, Bean NH, Ostroff SM, Lassen J. Risk factors for sporadic Campylobacter infections: results of a case-control study in southeastern Norway. J Clin Microbiol. 1992;30:3117–21.PubMed
Oosterom J, den Uyl CH, Bänffer JRJ, Huisman J. Epidemiologic investigations on Campylobacter jejuni in households with primary infection. Journal of Hygiene (Cambridge). 1984;92:325–32. DOI
Hopkins RS, Olmsted R, Istre GR. Endemic Campylobacter jejuni infection in Colorado: identified risk factors. Am J Public Health. 1984;74:249–50. DOIPubMed
Harris NV, Weiss NS, Nolan CM. The role of poultry and meats in the etiology of Campylobacter jejuni/coli enteritis. Am J Public Health. 1986;76:407–11. DOIPubMed
Deming MS, Tauxe RV, Blake PA. Campylobacter enteritis at a university from eating chickens and from cats. Am J Epidemiol. 1987;126:526–34.PubMed
Schmid GP, Schaefer RE, Plikaytis BD, Schaefer JR, Bryner JH, Wintermeyer LA, A one-year study of endemic campylobacteriosis in a midwestern city: association with consumption of raw milk. J Infect Dis. 1987;156:218–22.PubMed
Lighton LL, Kaczmarski EB, Jones DM. A study of risk factors for Campylobacter infection in spring. Public Health. 1991;105:199–203. DOIPubMed
Saaed AM, Harris NV, DiGiacomo RF. The role of exposure to animals in the etiology of Campylobacter jejuni/coli enteritis. Am J Epidemiol. 1993;137:108–14.PubMed
Nielsen EM, Engberg J, Madsen M. Distribution of serotypes of Campylobacter jejuni and C. coli from Danish patients, poultry, cattle, and swine. FEMS Immunol Med Microbiol. 1997;19:47–56.PubMed
Luetchefeld NA, Blaser MJ, Reller LB, Wang WL. Isolation of Campylobacter fetus subsp. jejuni from migratory waterfowl. J Clin Microbiol. 1980;12:406–8.PubMed
Glunder G, Neumann U, Braune S. Occurrence of Campylobacter spp. in young gulls, duration of Campylobacter infection and reinfection by contact. [Series B]. Journal of Veterinary Medicine. 1992;39:119–22. DOI
Cabrita J, Rodrigues J, Braganca F, Morgado C, Pires I, Goncalves AP. Prevalence, biotypes, plasmid profile and antimicrobial resistance of Campylobacter isolated from wild and domestic animals from northeast Portugal. J Appl Bacteriol. 1992;73:279–85.PubMed
Jacobs-Reitsma WF, van de Giessen AW, Bolder NM, Mulder RWAW. Epidemiology of Campylobacter spp. at two Dutch broiler farms. Epidemiol Infect. 1995;114:413–21. DOIPubMed
Kaino K, Hayashidani H, Kaneko K, Ogawa M. Intestinal colonization of Campylobacter jejuni in chickens. Japanese Journal of Veterinary Science. 1988;50:489–94.PubMed
Humphrey TJ, Henley A, Lanning DG. The colonization of broiler chickens with Campylobacter jejuni; some epidemiologic investigations. Epidemiol Infect. 1993;110:601–7. DOIPubMed
Kapperud G, Skjerve E, Vik L, Hauge K, Lysaker A, Aalmen I, Epidemiological investigation of risk factors for Campylobacter colonization in Norwegian broiler flocks. Epidemiol Infect. 1993;111:45–55. DOI
Pearson AD, Greenwood MH, Feltham RK, Healing TD, Donaldson J, Jones DM, Microbial ecology of Campylobacter jejuni in a United Kingdom chicken supply chain: intermittent common source, vertical transmission, and amplification by flock propagation. Appl Environ Microbiol. 1996;62:4614–20.PubMed
Pearson AD, Greenwood M, Healing TD, Rollins D, Shahamat M, Donaldson J, Colonization of broiler chickens by waterborne Campylobacter jejuni. Appl Environ Microbiol. 1993;59:987–96.PubMed
Kazwala RR, Collins JD, Hannan J, Crinion RAP, O'Mahony H. Factors responsible for the introduction and spread of Campylobacter jejuni infection in commercial poultry production. Vet Rec. 1990;126:305–6.PubMed
Fricker CR, Park RWA. A two year study of the distribution of thermophilic campylobacters in human, environmental and food samples from the Reading area with particular reference to toxin production and heat stable serotype. J Appl Bacteriol. 1989;66:477–90.PubMed
Giacoboni GI, Itoh K, Hirayama K, Takahashi E, Mitsuoka T. Comparison of fecal Campylobacter in calves and cattle of different ages and areas in Japan. J Vet Med Sci. 1993;55:555–9.PubMed
Humphrey TJ, Beckett P. Campylobacter jejuni in dairy cows and raw milk. Epidemiol Infect. 1987;98:263–9. DOIPubMed
Carter AM, Pacha RE, Clark GW, Williams EA. Seasonal occurrence of Campylobacter spp. and their correlation with standard indicator bacteria. Appl Environ Microbiol. 1987;53:523–6.PubMed
Bolton FJ, Coates D, Hutchinson DN, Godfree AF. A study of thermophilic campylobacters in a river system. J Appl Bacteriol. 1987;62:167–76.PubMed
Stern N, Jones D, Wesley I, Rollins D. Colonization of chicks by non-culturable Campylobacter spp. Lett Appl Microbiol. 1994;18:333–6. DOI
Stern NJ, Line JE. Comparison of three methods for recovery of Campylobacter spp. from broiler carcasses. J Food Prot. 1992;55:663–6.
Rohrbach BW, Draughon FA, Davidson PM, Oliver SP. Prevalence of Listeria monocytogenes, Campylobacter jejuni, Yersinia enterocolitica, and Salmonella in bulk tank milk: risk factors and risk of human exposure. J Food Prot. 1992;55:93–7.
Hudson PJ, Vogt RL, Brondum J, Patton CM. Isolation of Campylobacter jejuni from milk during an outbreak of campylobacteriosis. J Infect Dis. 1984;150:789.PubMed
Lammerding AM, Garcia MM, Mann ED, Robinson Y, Dorward WJ, Truscott RB, Prevalence of Salmonella and thermophilic Campylobacter in fresh pork, beef, veal, and poultry in Canada. J Food Prot. 1988;51:47–52.
Stern NJ. Mucosal competitive exclusion to diminish colonization of chickens by Campylobacter jejuni. Poult Sci. 1994;73:402–7.PubMed
Widders PR, Perry R, Muir WI, Husband AJ, Long KA. Immunization of chickens to reduce intestinal colonization with Campylobacter jejuni. Br Poult Sci. 1996;37:765–8. DOIPubMed
Stern NJ, Clavero MRS, Bailey JS, Cox NA, Robach MC. Campylobacter spp. in broilers on the farm and after transport. Poult Sci. 1995;74:937–41.PubMed
Izat AL, Gardner FA, Denton JH, Golan FA. Incidence and levels of Campylobacter jejuni in broiler processing. Poult Sci. 1988;67:1568–72.PubMed
Acuff GR, Vanderzant C, Hanna MO, Ehlers JG, Golan FA, Gardner FA. Prevalence of Campylobacter jejuni in turkey carcasses during further processing of turkey products. J Food Prot. 1986;49:712–7.
Oosterom J, De Wilde GJA, De Boer E, De Blaauw LH, Karman H. Survival of Campylobacter jejuni during poultry processing and pig slaughtering. J Food Prot. 1983;46:702–6.
Li YB, Walker JT, Slavik MF, Wang H. Electrical treatment of poultry chiller water to destroy Campylobacter jejuni. J Food Prot. 1995;58:1330–4.
Mead GC, Hudson WR, Hinton MH. Effect of changes in processing to improve hygiene control on contamination of poultry carcasses with Campylobacter. Epidemiol Infect. 1995;115:495–500. DOIPubMed
Epling LK, Carpenter JA, Blankenship LC. Prevalence of Campylobacter spp. and Salmonella spp. on pork carcasses and the reduction effected by spraying with lactic acid. J Food Prot. 1993;56:536–7, 540.
Figures
Cite This Article
DOI: 10.3201/eid0501.990104
The conclusions, findings, and opinions expressed by authors contributing to this journal do not necessarily reflect the official position of the U.S. Department of Health and Human Services, the Public Health Service, the Centers for Disease Control and Prevention, or the authors' affiliated institutions. Use of trade names is for identification only and does not imply endorsement by any of the groups named above.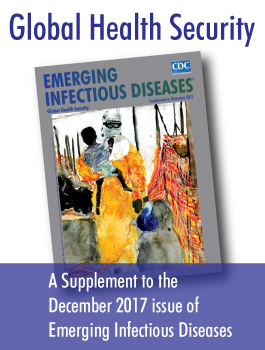 Antimicrobial Drug Resistance and Gonorrhea— (Length: 8:35)
Related Information
Additional Resources
Page created: December 10, 2010
Page last updated: December 10, 2010
Page last reviewed: December 10, 2010