Conference Summaries
Volume 3—1997
Volume 3, Number 4—December 1997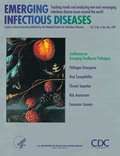 ---
About the National Conference on Emerging Foodborne Pathogens: Implications and Control
[PDF - 11 KB - 1 page]
| | |
| --- | --- |
| EID | About the National Conference on Emerging Foodborne Pathogens: Implications and Control. Emerg Infect Dis. 1997;3(4):415. https://doi.org/10.3201/eid0304.970401 |
| AMA | About the National Conference on Emerging Foodborne Pathogens: Implications and Control. Emerging Infectious Diseases. 1997;3(4):415. doi:10.3201/eid0304.970401. |
| APA | (1997). About the National Conference on Emerging Foodborne Pathogens: Implications and Control. Emerging Infectious Diseases, 3(4), 415. https://doi.org/10.3201/eid0304.970401. |
Volume 3, Number 2—June 1997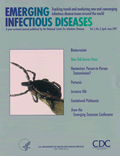 ---
The Hantaviruses of Europe: from the Bedside to the Bench
[PDF - 101 KB - 7 pages]
| | |
| --- | --- |
| EID | Clement J, Heyman P, McKenna P, Colson P, Avsic-Zupanc T. The Hantaviruses of Europe: from the Bedside to the Bench. Emerg Infect Dis. 1997;3(2):205-211. https://doi.org/10.3201/eid0302.970218 |
| AMA | Clement J, Heyman P, McKenna P, et al. The Hantaviruses of Europe: from the Bedside to the Bench. Emerging Infectious Diseases. 1997;3(2):205-211. doi:10.3201/eid0302.970218. |
| APA | Clement, J., Heyman, P., McKenna, P., Colson, P., & Avsic-Zupanc, T. (1997). The Hantaviruses of Europe: from the Bedside to the Bench. Emerging Infectious Diseases, 3(2), 205-211. https://doi.org/10.3201/eid0302.970218. |
---
Brucellosis: an Overview
[PDF - 53 KB - 9 pages]
Brucellosis remains a major zoonosis worldwide. Although many countries have eradicated Brucella abortus from cattle, in some areas Brucella melitensis has emerged as a cause of infection in this species as well as in sheep and goats. Despite vaccination campaigns with the Rev 1 strain, B. melitensis remains the principal cause of human brucellosis. Brucella suis is also emerging as an agent of infection in cattle, thus extending its opportunities to infect humans. The recent isolation of distinctive strains of Brucella from marine mammals has extended its ecologic range. Molecular genetic studies have demonstrated the phylogenetic affiliation to Agrobacterium, Phyllobacterium, Ochrobactrum, and Rhizobium. Polymerase chain reaction and gene probe development may provide more effective typing methods. Pathogenicity is related to production of lipopolysaccharides containing a poly N-formyl perosamine O chain, Cu-Zn superoxide dismutase, erythrulose phosphate dehydrogenase, stress-induced proteins related to intracellular survival, and adenine and guanine monophosphate inhibitors of phagocyte functions. Protective immunity is conferred by antibody to lipopolysaccharide and T-cell-mediated macrophage activation triggered by protein antigens. Diagnosis still centers on isolation of the organism and serologic test results, especially enzyme immunoassay, which is replacing other methods. Polymerase chain reaction is also under evaluation. Therapy is based on tetracyclines with or without rifampicin, aminoglycosides, or quinolones. No satisfactory vaccines against human brucellosis are available, although attenuated purE mutants appear promising.
| | |
| --- | --- |
| EID | Corbel MJ. Brucellosis: an Overview. Emerg Infect Dis. 1997;3(2):213-221. https://doi.org/10.3201/eid0302.970219 |
| AMA | Corbel MJ. Brucellosis: an Overview. Emerging Infectious Diseases. 1997;3(2):213-221. doi:10.3201/eid0302.970219. |
| APA | Corbel, M. J. (1997). Brucellosis: an Overview. Emerging Infectious Diseases, 3(2), 213-221. https://doi.org/10.3201/eid0302.970219. |
---
Global Aspects of Emerging and Potential Zoonoses: a WHO Perspective
[PDF - 32 KB - 6 pages]
Many new human pathogens that have emerged or reemerged worldwide originated from animals or from products of animal origin. Many animal species as well as categories of agents have been involved in the emergence of diseases. Wild (e.g., bats, rodents) as well as draught animals (e.g., horses) and food animals ( e.g., poultry, cattle) were implicated in the epidemiologic cycles of these diseases. Many of the agents responsible for new infections and diseases in humans were viruses (e.g., hantaviruses, lyssaviruses, and morbilliviruses), but bacteria, especially enteritic bacteria (e.g., Salmonellae and Escherichia coli) and parasites (e.g., Cryptosporidium) of animal origin, were also involved in major food and waterborne outbreaks. The public health relevance of some of these agents (e.g., new lyssaviruses and morbilliviruses) is not yet fully assessed. In addition the zoonotic nature of some other human diseases, such as Ebola and the new variant form of Creutzfeldt-Jakob disease, is suspected but not yet demonstrated. Finally, the possible future use of xenografts may lead, if precautions are not taken, to the emergence of new diseases called xenozoonoses.
| | |
| --- | --- |
| EID | Meslin F. Global Aspects of Emerging and Potential Zoonoses: a WHO Perspective. Emerg Infect Dis. 1997;3(2):223-228. https://doi.org/10.3201/eid0302.970220 |
| AMA | Meslin F. Global Aspects of Emerging and Potential Zoonoses: a WHO Perspective. Emerging Infectious Diseases. 1997;3(2):223-228. doi:10.3201/eid0302.970220. |
| APA | Meslin, F. (1997). Global Aspects of Emerging and Potential Zoonoses: a WHO Perspective. Emerging Infectious Diseases, 3(2), 223-228. https://doi.org/10.3201/eid0302.970220. |
---
Epidemiology of Emerging Zoonoses in Israel
[PDF - 279 KB - 10 pages]
| | |
| --- | --- |
| EID | Shimshony A. Epidemiology of Emerging Zoonoses in Israel. Emerg Infect Dis. 1997;3(2):229-238. https://doi.org/10.3201/eid0302.970221 |
| AMA | Shimshony A. Epidemiology of Emerging Zoonoses in Israel. Emerging Infectious Diseases. 1997;3(2):229-238. doi:10.3201/eid0302.970221. |
| APA | Shimshony, A. (1997). Epidemiology of Emerging Zoonoses in Israel. Emerging Infectious Diseases, 3(2), 229-238. https://doi.org/10.3201/eid0302.970221. |
---
Electronic Media and Emerging Zoonoses
[PDF - 10 KB - 1 page]
| | |
| --- | --- |
| EID | Berger SA. Electronic Media and Emerging Zoonoses. Emerg Infect Dis. 1997;3(2):239. https://doi.org/10.3201/eid0302.970222 |
| AMA | Berger SA. Electronic Media and Emerging Zoonoses. Emerging Infectious Diseases. 1997;3(2):239. doi:10.3201/eid0302.970222. |
| APA | Berger, S. A. (1997). Electronic Media and Emerging Zoonoses. Emerging Infectious Diseases, 3(2), 239. https://doi.org/10.3201/eid0302.970222. |
Page created: December 21, 2010
Page updated: December 21, 2010