Volume 10, Number 5—May 2004
Research
Endemic Venezuelan Equine Encephalitis in Northern Peru
Patricia V. Aguilar*, Ivorlyne P. Greene*, Lark L. Coffey*, Gladys Medina*
1
, Abelardo C. Moncayo*
2
, Michael Anishchenko*, George V. Ludwig†, Michael J. Turell‡, Monica L. O'Guinn‡, John Lee‡, Robert B. Tesh*, Douglas M. Watts†, Kevin L. Russell†, Christine Hice*, Stephen Yanoviak*, Amy C. Morrison§, Terry A. Klein‡, David J. Dohm‡, Hilda Guzman*, Amelia P.A. Travassos da Rosa*, Carolina Guevara†, Tadeusz J. Kochel†, James Olson†, Cesar Cabezas¶, and Nikos Vasilakis*

Author affiliations: *University of Texas Medical Branch, Galveston, Texas, USA; †Naval Medical Research Center Detachment, Lima, Peru; ‡U.S. Army Medical Research Institute of Infectious Diseases, Fort Detrick, Maryland, USA; §University of California, Davis, California, USA; ¶Instituto Nacional de Salud, Lima, Peru
Table 2
| Subtype | Code | Location | Year | Host | Signs and symptomsa |
| --- | --- | --- | --- | --- | --- |
| ID | IQT0988 | Sanidad EP/Vargas Guerra, Iquitos | 1993 | Human | F, A |
| ID | IQT1015 | Sanidad EP/Vargas Guerra, Iquitos | 1993 | Human | F, H, C |
| ID | IQT1026 | Sanidad EP/Vargas Guerra, Iquitos | 1994 | Human | F, H, E, B, D, C, G, N, S |
| ID | DEI5191 | Pantoja, Iquitos | 1994 | Human | F, C, H, B |
| ID | DEI5193 | Pantoja, Iquitos | 1994 | Human | F, C, I, H, B, N, V |
| ID | IQT1042 | Dir. Reg Salud de Loreto, Iquitos | 1994 | Human | F, H, B, V |
| ID | IQT1071 | Pedrelor, Iquitos | 1994 | Human | F, H, B, E, A, I, C |
| ID | IQT1081 | Pedrelor, Iquitos | 1994 | Human | F, H, B, E, D, R, C |
| ID | IQT1085 | Hospital Regional Amazonas, Iquitos | 1994 | Human | F, H, B, D, G, N, S |
| ID | IQT1098 | Sanidad EP/Vargas Guerra, Iquitos | 1994 | Human | F, H, E, B, D, C, S |
| ID | IQT1101 | Pedrelor, Iquitos | 1994 | Human | F, H, E, B, D, V, C, G |
| ID | IQT1120 | Sanidad EP/Vargas Guerra, Iquitos | 1994 | Human | F, H, B, D, V, C |
| ID | IQT1724 | Pedrelor, Iquitos | 1995 | Human | F, H, E, B, D, V, C, I, G |
| ID | IQT1735 | Pedrelor, Iquitos | 1995 | Human | F, H, B, E, D, R, V, C |
| ID | IQT3745 | Sanidad EP/Vargas Guerra, Iquitos | 1997 | Human | F, H, E, B, D, G |
| ID | IQT3971 | San Antonio, Iquitos | 1997 | Human | F, H, E, B, D, V, I, C |
| ID | IQT4091 | Bellavista, Iquitos | 1997 | Human | F, B, D, V, I, M, V, S, J |
| ID | IQT4177 | Sanidad EP/Vargas Guerra, Iquitos | 1997 | Human | F, H, E, B, D, V, C, G |
| ID | IQT4191 | Bellavista, Iquitos | 1997 | Human | F, H, E, B, D, C, S |
| ID | PC28 | Iquitos | 1997 | Rodent (Proechimys spp) | |
| III | PC254 | Iquitos | 1997 | Rodent (Proechimys spp) | |
| III | PC256 | Iquitos | 1997 | Rodent (Proechimys spp) | |
| ID | IQT5798 | San Juan, Iquitos | 1998 | Human | F, H, E, B, D, C |
| ID | IQT5831 | Cardoso, Iquitos | 1998 | Human | F, H, E, B, D, C |
| ID | IQT5876 | San Juan, Iquitos | 1998 | Human | F, H, E, B, D, V, C |
| ID | IQT5885 | Moronacocha Iquitos | 1998 | Human | F, H, E, B, D, V, G, T |
| ID | IQT6088 | 9 de Octubre, Iquitos | 1998 | Human | F, H, E, B, D, V, I, C, G |
| ID | IQT6119 | San Juan, Iquitos | 1998 | Human | F, H, E, B, D, R, V, I, C |
| ID | IQT6415 | San Juan, Iquitos | 1998 | Human | F, H, E, B, D, V, I, C |
| ID | IQT6486 | 9 de Octubre, Iquitos | 1998 | Human | F, H, E, B, D, V |
| ID | IQT6674 | Tupac Amaru, Iquitos | 1998 | Human | F, H, E, B, D, C |
| ID | IQT6712 | Hospital Apoyo, Iquitos | 1998 | Human | F, H, E, B, D, V, S |
| ID | IQT6937 | NMRCD, Iquitos | 1998 | Human | F, H, E, B, D, V, S |
| ID | IQT7057 | San Juan, Iquitos | 1998 | Human | F, H, E, D, V, C |
| ID | IQT7060 | San Juan, Iquitos | 1998 | Human | F, H, E, B, D, C |
| ID | IQT7327 | Tupac Amaru, Iquitos | 1998 | Human | F, H, E, B, D, V, C, G |
| ID | IQT7460 | CIA Petrolera, Iquitos | 1998 | Human | F, H, B, C |
| ID | IQT7988 | Belen, Iquitos | 1998 | Human | F, H, B, D, V, C, G, S |
| ID | IQT8131 | Belen, Iquitos | 1998 | Human | F, H, E, B, D, R, V, C, D |
| ID | IQT8558 | San Juan, Iquitos | 1998 | Human | F, H, B, D, V, I, C, G |
| ID | PE30609 | Iquitos | 1998 | Mosquito | |
| III | PE407660 | Iquitos | 1998 | Mosquito | |
| III | PE409040 | Iquitos | 1998 | Mosquito | |
| III | PE409100 | Iquitos | 1998 | Mosquito | |
| ID | IQU0465 | San Antonio, Iquitos | 1999 | Human | F, H, E, B, D, R, C |
| ID | IQU0664 | San Antonio, Iquitos | 1999 | Human | F, H, E, B, D, C |
| ID | IQU0890 | 6 de octubre, Iquitos | 1999 | Human | F, H, B, E, D, V, C |
| ID | IQU0953 | 6 de octubre, Iquitos | 1999 | Human | F, H, B, E, C |
| ID | IQU1050 | Belen, Iquitos | 1999 | Human | F, H, B, E, V, C |
| ID | IQU1106 | San Antonio, Iquitos | 1999 | Human | F, H, E, B, A, V, C |
| ID | IQU1217 | Belen, Iquitos | 1999 | Human | F, H, E, B, D, V, I, C, G |
| ID | IQU1279 | Belen, Iquitos | 1999 | Human | F, H, E, B, V, C, G |
| ID | IQU1282 | Cardozo, Iquitos | 1999 | Human | F, H, E, B, D, C |
| ID | IQU1318 | Tupac Amaru, Iquitos | 1999 | Human | F, H, E, B, D, V, C |
| ID | IQU1341 | Zungarococha, Iquitos | 1999 | Human | F, H, E, B, D, R, V, C |
| ID | IQU1402 | Cardozo, Iquitos | 1999 | Human | F, H, E, B, A, V, C, G, S |
| ID | IQU1718 | San Antonio, Iquitos | 1999 | Human | F, H, E, B, D, I, C |
| III | FSL0190 | San Juan, Iquitos | 2000 | Human | F, C, L |
| ID | FSL0201 | San Juan, Iquitos | 2000 | Human | F, C, L, D, B, A |
| ID | FSL0205 | San Juan, Iquitos | 2000 | Human | F, C, L, D, B, A |
| ID | FSL0240 | San Juan, Iquitos | 2000 | Human | F, C, L, D, A, I, V, J, G |
| ID | FSL0252 | San Juan, Iquitos | 2000 | Human | F, C, L, D, B, A |
| ID | IQU3026 | Hospital Apoyo, Iquitos | 2000 | Human | F, H, E, B, D, V, C, S |
| ID | FSL0507 | Hospital Militar, Iquitos | 2001 | Human | F, H |
| IIIC | 54-001 | Iquitos | 2002 | Hamster | |
aA, abdominal pain; H, headache; F, fever; C, chills; E, eye pain; B, body pain; D, arthralgia; G, cough; N, nasal congestion; S, sore throat; I, diarrhea; V, vomits; R, rash; M, melena; J, jaundice; T, hematuria; L, malaise.
1Current affiliation is Instituto Venezolano de Investigaciones Científicas, Caracas, Venezuela.
2Current affiliation is Department of Biological Sciences, Ohio Northern University, Ada, Ohio.
The conclusions, findings, and opinions expressed by authors contributing to this journal do not necessarily reflect the official position of the U.S. Department of Health and Human Services, the Public Health Service, the Centers for Disease Control and Prevention, or the authors' affiliated institutions. Use of trade names is for identification only and does not imply endorsement by any of the groups named above.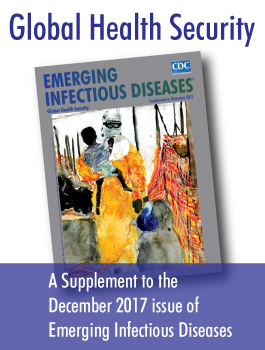 Antimicrobial Drug Resistance and Gonorrhea— (Length: 8:35)
Related Information
Additional Resources
Page created: February 22, 2011
Page last updated: February 22, 2011
Page last reviewed: February 22, 2011