Volume 18, Number 2—February 2012
Dispatch
Phylogeography of Francisella tularensis subsp. holarctica, Europe
Miklós Gyuranecz
1
, Dawn N. Birdsell
1
, Wolf Splettstoesser, Erik Seibold, Stephen M. Beckstrom-Sternberg, László Makrai, László Fodor, Massimo Fabbi, Nadia Vicari, Anders Johansson, Joseph D. Busch, Amy J. Vogler, Paul Keim, and David M. Wagner

Author affiliations: Hungarian Academy of Sciences, Budapest, Hungary (M. Gyuranecz); Northern Arizona University, Flagstaff, Arizona, USA (D.N. Birdsell, J.D. Busch, A.J. Vogler, P. Keim, D.M. Wagner); Bundeswehr Institute of Microbiology, Munich, Germany (W. Splettstoesser, E. Seibold); Translational Genomics Research Institute, Phoenix, Arizona, USA (S.M. Beckstrom-Sternberg, P. Keim); Szent István University, Budapest (L. Makrai, L. Fodor); Istituto Zooprofilattico Sperimentale della Lombradia e dell'Emilia Romagna, Pavia, Italy (M. Fabbi, N. Vicari); Umeå University, Umeå, Sweden (A. Johansson)
Table A1
| ID no.† | Original ID no.‡ | Originating laboratory | Country of origin | Source§ | Year | Subclade from (5)¶# | Subclade from (8)¶ ** | Subclade from this study¶ |
| --- | --- | --- | --- | --- | --- | --- | --- | --- |
| F0586 | AF19 | BIM | Austria | Lepus europaeus | 1997 | 13/14 | 20/21 | 33/34 |
| F0587 | AF9 | BIM | Austria | L. europaeus | 1996 | 13/14 | 20/21 | 33/34 |
| F0589 | AF6 | BIM | Austria | L. europaeus | 1994 | 13/14 | 20/21 | 33/34 |
| F0590 | AF5 | BIM | Austria | L. europaeus | 1997 | 13/14 | 20/21 | 33/34 |
| F0591 | AF3 | BIM | Austria | L. europaeus | 1997 | 13/14 | 20/21 | 33/34 |
| F0599 | AF22 | BIM | Austria | L. europaeus | 1997 | 13/14 | 20/21 | 33/34 |
| F0595 | AF54 | BIM | Austria | L. europaeus | 1994 | 13/14 | 20/21 | 34/35 |
| F0597 | AF36 | BIM | Austria | Human | 1997 | 13/14 | 20/21 | 34/35 |
| F0588 | AF8 | BIM | Austria | L. europaeus | 1995 | 13/14 | 20/21 | 36/37 |
| F0614 | DF161 | BIM | Germany | Human | 2007 | 13/14 | 20/21 | 33/34 |
| F0616 | DF159 | BIM | Germany | L. europaeus | 2007 | 13/14 | 20/21 | 33/34 |
| F0620 | DF155 | BIM | Germany | Human | 2007 | 13/14 | 20/21 | 33/34 |
| F0626 | DF163 | BIM | Germany | Human | 2007 | 13/14 | 20/21 | 33/34 |
| F0627 | DF162 | BIM | Germany | Human | 2007 | 13/14 | 20/21 | 33/34 |
| F0634 | DF170 | BIM | Germany | L. europaeus | 2007 | 13/14 | 20/21 | 33/34 |
| F0639 | DF193 | BIM | Germany | L. europaeus | 2008 | 13/14 | 20/21 | 33/34 |
| F0640 | DF194 | BIM | Germany | L. europaeus | 2008 | 13/14 | 20/21 | 33/34 |
| F0641 | DF195 | BIM | Germany | L. europaeus | 2008 | 13/14 | 20/21 | 33/34 |
| F0642 | DF196 | BIM | Germany | L. europaeus | 2008 | 13/14 | 20/21 | 33/34 |
| F0643 | DF197 | BIM | Germany | L. europaeus | 2008 | 13/14 | 20/21 | 33/34 |
| F0601 | DF101 | BIM | Germany | Macaca fascicularis | 2002 | 13/14 | 20/21 | 34/35 |
| F0603 | DF99 | BIM | Germany | M. mulatta | 2005 | 13/14 | 20/21 | 34/35 |
| F0611 | DF107 | BIM | Germany | M. fascicularis | 2005 | 13/14 | 20/21 | 34/35 |
| F0617 | DF158 | BIM | Germany | L. europaeus | 2007 | 13/14 | 20/21 | 34/35 |
| F0621 | DF169 | BIM | Germany | L. europaeus | 2007 | 13/14 | 20/21 | 34/35 |
| F0625 | DF164 | BIM | Germany | L. europaeus | 2007 | 13/14 | 20/21 | 34/35 |
| F0704 | T1 | SZIU | Hungary | L. europaeus | 2007 | 13/14 | 23/14/25 | 23/14/25 |
| F0713 | T17 | SZIU | Hungary | L. europaeus | 2008 | 13/14 | 20/21 | 20/21/33 |
| F0714 | T19 | SZIU | Hungary | L. europaeus | 2008 | 13/14 | 20/21 | 20/21/33 |
| F0702 | TM1 | SZIU | Hungary | Chlorocebus aethiops | 2003 | 13/14 | 20/21 | 33/34 |
| F0703 | TM2 | SZIU | Hungary | Erythrocebus patas | 2003 | 13/14 | 20/21 | 33/34 |
| F0705 | T3 | SZIU | Hungary | L. europaeus | 2007 | 13/14 | 20/21 | 33/34 |
| F0706 | T4 | SZIU | Hungary | L. europaeus | 2007 | 13/14 | 20/21 | 33/34 |
| F0707 | T6 | SZIU | Hungary | L. europaeus | 2007 | 13/14 | 20/21 | 33/34 |
| F0709 | T11 | SZIU | Hungary | L. europaeus | 2007 | 13/14 | 20/21 | 33/34 |
| F0710 | T12 | SZIU | Hungary | L. europaeus | 2007 | 13/14 | 20/21 | 33/34 |
| F0711 | T13 | SZIU | Hungary | L. europaeus | 2007 | 13/14 | 20/21 | 33/34 |
| F0712 | T14 | SZIU | Hungary | L. europaeus | 2008 | 13/14 | 20/21 | 33/34 |
| F0716 | T22 | SZIU | Hungary | L. europaeus | 2008 | 13/14 | 20/21 | 33/34 |
| F0715 | T21 | SZIU | Hungary | L. europaeus | 2008 | 13/14 | 20/21 | 34/35 |
| F0708 | T7 | SZIU | Hungary | L. europaeus | 2007 | 13/14 | 20/21 | TUL07/2007 |
| F0732 | 42055/2008 | IZSLER | Italy | Natural spring water | 2008 | FTNF002–00 | FTNF002–00 | FTNF002–00 |
| F0733 | 21851/2006 | IZSLER | Italy | L. europaeus | 2006 | FTNF002–00 | FTNF002–00 | FTNF002–00 |
| F0734 | 5768/2001 | IZSLER | Italy | Human | 2001 | FTNF002–00 | FTNF002–00 | FTNF002–00 |
| F0731 | 8660/1995 | IZSLER | Romania/ Italy | L. europaeus | 1995 | 13/14 | 20/21 | 33/34 |
| F0433 | Fr014 | AFSSA | Central Europe†† | L. europaeus | UNK | 13/14 | 20/21 | 33/34 |
| F0459 | Fr040 | AFSSA | Central Europe | L. europaeus | UNK | 13/14 | 20/21 | 37/38 |
| F0188 | FSC 181 | SDRA | Czech Republic | Dermacentor reticulatus | 1995 | 13/14 | 20/21 | 33/34 |
| F0190 | FSC 183 | SDRA | Czech Republic | D. reticulatus | 1995 | 13/14 | 20/21 | 33/34 |
| F0191 | FSC 184 | SDRA | Czech Republic | D. reticulatus | 1995 | 13/14 | 20/21 | 33/34 |
| F0193 | FSC 186 | SDRA | Czech Republic | D. reticulatus | 1995 | 13/14 | 20/21 | 33/34 |
| F0194 | FSC 187 | SDRA | Czech Republic | Ixodes ricinus | 1995 | 13/14 | 20/21 | 33/34 |
| F0187 | FSC 180 | SDRA | Czech Republic | D. reticulatus | 1995 | 13/14 | 20/21 | 34/35 |
| F0189 | FSC 182 | SDRA | Czech Republic | D. reticulatus | 1995 | 13/14 | 20/21 | 34/35 |
| F0192 | FSC 185 | SDRA | Czech Republic | D. reticulatus | 1995 | 13/14 | 20/21 | 34/35 |
| F0035 | FSC 080 | SDRA | Finland | L. europaeus | 1984 | 13/14 | 20/21 | 20/21/33 |
| F0163 | FSC 249 | SDRA | Finland | Human | 1995 | 13/14 | 20/21 | 20/21/33 |
| F0025 | FSC 121 | SDRA | Russia | Water | 1985 | 13/14 | 20/21 | 20/21/33 |
| F0026 | FSC 123 | SDRA | Russia | Water | 1983 | 13/14 | 20/21 | 20/21/33 |
| F0030 | FSC 151 | SDRA | Russia | Water | 1988 | 13/14 | 20/21 | 20/21/33 |
| F0034 | FSC 077 | SDRA | Sweden | L. europaeus | 1981 | 13/14 | 20/21 | 20/21/33 |
| F0040 | FSC 188 | SDRA | Sweden | Human | 1996 | 13/14 | 20/21 | 20/21/33 |
| F0093 | FSC 102 | SDRA | Sweden | Human | 1981 | 13/14 | 20/21 | 20/21/33 |
| F0227 | FSC 273 | SDRA | Sweden | Human | 2000 | 13/14 | 20/21 | 20/21/33 |
| F0302 | FSC 175 | SDRA | Sweden | Human | 1995 | 13/14 | 20/21 | 20/21/33 |
| F0036 | FSC 081 | SDRA | Sweden | L. europaeus | 1985 | 13/14 | 20/21 | 33/34 |
| F0226 | FSC 272 | SDRA | Sweden | Human | 2000 | 13/14 | 20/21 | 33/34 |
| F0209 | FSC 248 | SDRA | Sweden | Human | 2000 | 13/14 | 20/21 | 35/36 |
*ID, identification; BIM, Institut für Mikrobiologie der Bundeswehr; SZIU, Szent István University; IZSLER, Istituto Zooprofilattico Sperimentale della Lombardia e dell'Emilia Romagna; AFSSA, Agence Française de Sécurité Sanitaire des Aliments and Laboratoire d'Etudes et de Recherches en Pathologie Animale et Zoonoses; UNK, unknown; SDRA, Swedish Defense Research Agency.
†Isolate ID in the Northern Arizona University DNA collection.
‡Isolate ID from the originating laboratory.
§Lepus europaeus, European brown hare; Macaca fascicularis, long-tailed macaque; M. mulatta, rhesus monkey; Chlorocebus aethiops, vervet monkey; Erythrocebus patas, patas monkey; Ixodes ricinus, castor bean tick (sheep tick); Dermacentor reticulatus, marsh tick.
¶In the interest of space, subclade names have been truncated to remove the preceding B.Br. nomenclature because all of these subclades belong in the B clade of F. tularensis.
#Canonical single nucleotide polymorphism (canSNP) subclade originally defined in (5) and modified as described in the text.
**CanSNP subclade defined in (8). These names have been modified to conform to the nomenclature standard originally established by (5) and modified as described in the text.
††Country unknown.
1These authors contributed equally to this article.
The conclusions, findings, and opinions expressed by authors contributing to this journal do not necessarily reflect the official position of the U.S. Department of Health and Human Services, the Public Health Service, the Centers for Disease Control and Prevention, or the authors' affiliated institutions. Use of trade names is for identification only and does not imply endorsement by any of the groups named above.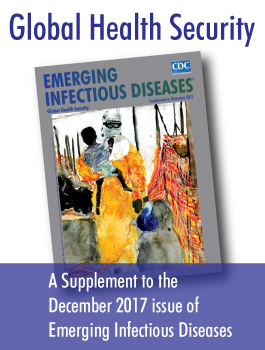 Antimicrobial Drug Resistance and Gonorrhea— (Length: 8:35)
Related Information
Additional Resources
Page created: January 24, 2012
Page last updated: January 24, 2012
Page last reviewed: January 24, 2012