Volume 11, Number 8—August 2005
Research
Coxiella burnetii Genotyping
Olga Glazunova*
1
, Véronique Roux*
1
, Olga Freylikman*†, Zuzana Sekeyova*‡, Ghislain Fournous*, Judith Tyczka§, Nikolai Tokarevich†, Elena Kovacova‡, Thomas J. Marrie¶, and Didier Raoult*

Author affiliations: *Unité des Rickettsies, Marseille, France; †Pasteur Institute of Epidemiology and Microbiology, Saint Petersburg, Russia; ‡Institute of Virology SAS, Bratislava, Slovak Republic; §University of Giessen, Giessen, Germany; ¶University of Alberta Department of Medicine, Edmonton, Alberta, Canada
Table A1
| Isolate | Origin | Disease, symptoms, clinical status | Geographicsource | ST (sequence type) | Plasmid sequence type |
| --- | --- | --- | --- | --- | --- |
| CB108 | Human blood | Acute | Marseille, France, 2001 | 1 | QpDV |
| CB1 | Human heart valve | Chronic | Istres, France, 1989 | 1 | QpDV |
| CB3 | Human heart valve | Chronic | Marseille, France | 1 | QpDV |
| CB36 | Human placenta | Abortion | Martigues, France, 1992 | 1 | QpDV |
| CB38 | Human blood | Acute | Marseille, France, 1992 | 1 | QpDV |
| CB41 | Human heart valve | Chronic | Marseille, France, 1993 | 1 | QpDV |
| CB60 | Human blood | Acute | Marseille, France, 1996 | 1 | QpDV |
| CB63 | Human heart valve | Chronic | Marseille, France, 1994 | 1 | QpDV |
| CB75 | Human blood | Chronic | Marseille, France, 1998 | 1 | QpDV |
| CB82 | Human blood | Acute | Marseille, France, 1999 | 1 | QpDV |
| CB86 | Human blood | Chronic | Marseille, France, 1999 | 1 | QpDV |
| CB87 | Human placenta | Abortion | Martigues, France, 1999 | 1 | QpDV |
| CB89 | Human placenta | Abortion | Martigues, France, 2000 | 1 | QpDV |
| CB94 | Human blood | Acute | Aix en Provence, France, 2000 | 1 | QpDV |
| CB97 | Human blood | Acute | Marseille, France, 2000 | 1 | QpDV |
| CB110 | Human blood | Chronic | Marseille, France, 2002 | 1 | QpDV |
| CB28 | Human blood | Acute | Salon de Provence, France, 1992 | 1 | QpDV |
| CB26 | Human blood | Acute | Marseille, France, 1992 | 1 | QpDV |
| CB64 | Human blood | Acute | Martigues, France, 1996 | 1 | QpDV |
| CB39 | Human blood | Acute | Marseille, France, 1992 | 2 | QpDV |
| RT-1140 | Human blood | Pneumonia | Krimea, Ukrain 1954 | 2 | QpDV |
| RT-Schperling | Human blood | Fever | Kyrgyzstan, 1955 | 2 | QpDV |
| CB118 | Human heart valve | Chronic | Marseille, France, 2004 | 3 | QpDV |
| CB62 | Human blood | Acute | Martigues, France, 1996 | 4 | QpDV |
| CB20 | Human blood | Acute | Salon de Provence, France, 1991 | 4 | QpRS |
| CB51 | Human placenta | Abortion | Madrid, Spain, 1996 | 4 | QpDV |
| CB12 | Human blood | Acute | Aix en Provence, France | 4 | QpDV |
| CB57 | Human blood | Acute | Martigues, France, 1996 | 4 | QpDV |
| CB54 | Human blood | Acute | Aix en Provence, France, 1996 | 4 | QpDV |
| CB111 | Human heart valve | Chronic | Marseille, France, 2003 | 5 | QpRS |
| CB35 | Human heart valve | Chronic | Paris, France, 1992 | 5 | QpRS |
| CB45 | Human heart valve | Chronic | Paris, France, 1993 | 6 | QpRS |
| CB43 | Human heart valve | Chronic | Paris, France, 1993 | 7 | QpRS |
| Leningrad-2 | Human blood | - | Leningrad, Russia, 1955 | 7 | QpRS |
| Leningrad-4 | Human blood | - | Leningrad, Russia, 1957 | 7 | QpRS |
| CB10 | Human heart valve | Chronic aneurysm | Grenoble, France | 8 | QpRS |
| CB9 | Human blood | Chronic | Lyon, France | 8 | QpRS |
| CB31 | Human heart valve | Chronic | Marseille, France, 1992 | 8 | QpRS |
| CB34 | Human blood | Chronic | Marseille, France, 1992 | 8 | QpRS |
| CB44 | Human heart valve | Chronic | Créteil, France, 1993 | 8 | QpRS |
| CB53 | Aneurysm | Chronic | Marseille, France, 1995 | 8 | QpRS |
| CB61 | Valvular prosthesis | Chronic | Marseille, France, 1996 | 8 | QpRS |
| CB70 | Human heart valve | Chronic | Grenoble, France, 1997 | 8 | QpRS |
| CB71 | Valvular prosthesis | Chronic | Saint-Laurent du Var, France, 1997 | 8 | QpRS |
| CB73 | Valvular prosthesis | Chronic | Marseille, France, 1998 | 8 | QpRS |
| CB81 | Human heart valve | Chronic | Madrid, Spain, 1999 | 8 | QpRS |
| CB91 | Valvular prosthesis | Chronic | Marseille, France, 2000 | 8 | QpRS |
| CB93 | Human placenta | Abortion | Dreux, France, 2000 | 8 | QpRS |
| CB95 | Human blood | Chronic | Marseille, France, 2000 | 8 | QpRS |
| CB116 | Aneurysm | Chronic | Marseille, France, 2003 | 8 | QpRS |
| CB107 | Human heart valve | Chronic | Tours, France, 2001 | 8 | QpRS |
| CB96 | Human heart valve | Chronic | Marseille, France, 2000 | 8 | QpRS |
| CB114 | Human heart valve | Chronic | Marseille, France, 2003 | 8 | QpRS |
| CB15 | Human heart valve | Chronic | Lyon, France, 1991 | 8 | QpRS |
| CB47 | Human heart valve | Chronic | Barcelone, Spain, 1994 | 8 | QpRS |
| CB99 | Human heart valve | Chronic | Marseille, France, 2000 | 8 | QpRS |
| CB106 | Human heart valve | Chronic | Toulouse, France, 2001 | 8 | QpRS |
| CB79 | Human heart valve | Chronic | Paris, France, 1999 | 8 | QpRS |
| CB98 | Human heart valve | Chronic | Marseille, France, 2000 | 8 | QpRS |
| CB83 | Goat placenta | Abortion | Newfoundland, USA, 1999 | 8 | QpRS |
| CB8 | Human heart valve | Chronic | Marseille, France, 1990 | 8 | QpRS |
| Priscilla | Aborted goat | Abortion | Montana, USA, 1980 | 8 | QpRS |
| CB117 | Human heart valve | Chronic | Marseille, France, 2004 | 8 | QpRS |
| CB32 | Human heart valve | Chronic | Lyon, France, 1992 | 9 | QpRS |
| CB92 | Human heart valve | Chronic | Marseille, France, 2000 | 9 | QpRS |
| CB68 | Pigeon excrement | – | Marseille, France, 1996 | 9 | QpRS |
| CB49 | Human heart valve | Chronic | Marseille, France, 1994 | 9 | QpRS |
| CB65 | Human heart valve | Chronic | Marseille, France, 1996 | 10 | QpRS |
| CB103 | Ewe placenta | Abortion | Marseille, France, 2001 | 10 | QpRS |
| CB13 | Human blood | Chronic | Paris, France | 11 | QpH1/QpDV |
| CB40 | Human heart valve | Chronic | Paris, France, 1993 | 11 | QpH1 |
| CB46 | Valvular prosthesis | Chronic | Paris, France, 1993 | 11 | QpH1 |
| CB5 | Human blood | Chronic | Paris, France, 1990 | 12 | QpH1 |
| CB6 | Human blood | Chronic | Paris, France | 12 | QpH1 |
| CB42 | Valvular prosthesis | Chronic | Toulouse, France, 1993 | 12 | QpH1 |
| CB52 | Valvular prosthesis | Chronic | Paris, France, 1995 | 12 | QpH1 |
| CB56 | Human heart valve | Chronic | Paris, France, 1996 | 12 | QpH1 |
| CB58 | Spleen abscess | – | Lyon, France, 1996 | 12 | QpH1 |
| CB76 | Human heart valve | Chronic | Paris, France, 1998 | 12 | QpH1 |
| CB105 | Human heart valve | Chronic | Montpellier, France, 2001 | 12 | QpH1 |
| CB112 | Human heart valve | Chronic | Zurich, Switzerland, 2003 | 12 | QpH1 |
| CB109 | Human heart valve | Chronic | Berlin, Germany, 2002 | 12 | QpH1 |
| CB113 | Goat placenta | Abortion | Albi, France, 2003 | 12 | QpH1 |
| CB33 | Human heart valve | Chronic | Clermont-Ferrand, France, 1992 | 12 | QpH1 |
| CB55 | Vegetation | Chronic | Paris, France, 1996 | 12 | QpH1 |
| CB2 | Human blood | Immunodepression | Toulouse, France, | 13 | QpH1 |
| CB69 | Vegetation | Chronic | Toulouse, France, 1996 | 13 | QpH1 |
| CB85 | Human blood | Chronic | Tours, France, 1999 | 14 | QpH1 |
| CB74 | Valvular prosthesis | Chronic | Toulouse, France, 1998 | 14 | QpH1 |
| CB59 | Aneurysm | Chronic aneurysm | Saint-Etienne, France, 1996 | 14 | QpH1 |
| CB80 | Node | Chronic | Niort, France, 1999 | 14 | QpH1 |
| Z3055 | Ewe placenta | Abortion | Germany | 14 | QpH1 |
| CB102 | Valvular prosthesis | Chronic | Poitiers, France, 2001 | 15 | QpH1 |
| CB11 | Human blood | Acute | Marseille, France | 16 | QpH1 |
| CB23 | Human blood | Chronic | Clermont-Ferrand, France, 1988 | 16 | QpH1 |
| Brasov | Human | Acute | Romania | 16 | QpH1 |
| Bangui | Human blood | Acute | Central Africa | 16 | QpH1 |
| California | Cow milk | Persistent | California, USA, 1947 | 16 | QpH1 |
| CB25 | Human blood | Acute | Paris, France, 1991 | 16 | QpH1 |
| Dyer | Human blood | Acute | USA, 1938 | 16 | QpH1 |
| Ohio | Cow milk | Persistent | Ohio, USA, 1956 | 16 | QpH1 |
| Nine Mile | Tick | – | Montana, USA, 1935 | 16 | QpH1 |
| CS-KL 9 | Ixodes ricinus | – | Slovakia, 1989 | 16 | QpH1 |
| Z-2775/90 | Cow placenta | Abortion | Germany, 1990 | 16 | QpH1 |
| J-1 | Cow milk | – | Japan | 16 | QpH1 |
| J-3 | Cow milk | – | Japan | 16 | QpH1 |
| J-27 | Cow milk | – | Japan | 16 | QpH1 |
| J-60 | Cow milk | – | Japan | 16 | QpH1 |
| J-82 | Cow milk | – | Japan | 16 | QpH1 |
| Hardthof | Cow milk | – | Germany, 1990 | 16 | QpH1 |
| CB77 | Human heart valve | Chronic | Paris, France, 1998 | 17 | QpH1 |
| CB100 | Human blood | Chronic | Strasbourg, France | 18 | QpH1 |
| Henzerling | Human blood | Acute | Italy/Slovakia, 1945 | 18 | QpH1 |
| Balaceanu | Human | Acute | Romania | 18 | QpH1 |
| Geier | Human | Acute | Romania | 18 | QpH1 |
| Heizberg | Human | Acute | Greece | 18 | QpH1 |
| Cs-Florian | Human blood | – | Slovakia, 1956 | 18 | QpH1 |
| Z-3464/92 | Goat placenta | Abortion | Germany, 1992 | 18 | QpH1 |
| Z-4488/93 | Ewe placenta | Abortion | Germany, 1993 | 18 | QpH1 |
| Z-349-36/94 | Ewe placenta | – | Germany, 1994 | 18 | QpH1 |
| München | Sheep | – | München, Germany, 1969 | 18 | QpH1 |
| CB119 | Human heart valve | Chronic | Senegal, 2004 | 19 | QpH1 |
| CB48 | Human placenta | Abortion | Grenoble, France, 1994 | 20 | QpH1 |
| CB50 | Valvular prosthesis | Chronic | Paris, France, 1994 | 20 | QpH1 |
| CB66 | Aneurysm | Chronic aneurysm | Marseille, France, 1996 | 20 | QpH1 |
| CB72 | Valvular prosthesis | Chronic | Paris, France, 1996 | 20 | QpH1 |
| CB78 | Valvular prosthesis | Chronic | Marseille, France, 1998 | 20 | QpH1 |
| CB88 | Human heart valve | Chronic | Lyon, France, 1999 | 20 | QpH1 |
| CB90 | Human heart valve | Chronic | Lyon, France,2000 | 20 | QpH1 |
| Z-3567/92 | Cow placenta | Abortion | Germany, 1992 | 20 | QpH1 |
| Dugway 5J108-111 | Rodent | – | Utah, USA, 1958 | 20 | QpH1 |
| CB4 | Human blood | Chronic | Montpellier, France,1988 | 21 | QpH1 |
| CB7 | Human heart valve | Chronic Aneurysm | Marseille, France | 21 | QpH1 |
| Q229 | Human heart valve | Chronic | Nova Scotia, Canada, 1982 | 21 | QpH1 |
| Dog CB | Dog uterus | – | Nova Scotia, Canada, 1995 | 21 | |
| Poker Cat | Cat | – | Nova Scotia, Canada, 1986 | 21 | |
| CBNSC1 | Cat | – | Nova Scotia, Canada, 1986 | 21 | QpH1 |
| Dog ut Ad | Dog uterus | – | Nova Scotia, Canada, 1989 | 21 | |
| CB115 | Human heart valve | Chronic | Nova Scotia, Canada, 2003 | 21 | |
| Q212 | Human heart valve | Chronic | Nova Scotia, Canada, 1981 | 21 | |
| Scurry Q217 | Human liver biopsy | Hepatitis | Rocky Mountain, USA | 21 | |
| 48 | Haemaphysalis punctata | – | Slovakia, 1970 | 22 | QpH1 |
| Irkutsk | Tick | – | Irkutsk, Russia1969 | 23 | QpH1 |
| Uzbekistan | Cow placenta | – | Uzbekistan, 1971 | 23 | QpH1 |
| 1894 | Liver and spleen of wild bird | – | Czechoslovakia, 1954 | 23 | QpH1 |
| Kazakhstan-6 | Dermacentor marginatus | – | Kazakhstan, 1969 | 23 | QpH1 |
| K-261-Louga | Cow milk | – | Leningrad, Russia, 1959 | 23 | QpH1 |
| Kazakhstan -5 | Dermacentor hirundinis | – | Kazakhstan, 1969 | 23 | QpH1 |
| Russet mouse | Russet mouse viscera | – | Pskov, Russia | 23 | QpH1 |
| II/IA | Dermacentor marginatus | – | Slovakia, 1972 | 23 | QpH1 |
| IXO | Ixodes ricinus | – | Czech Republic, 1957 | 23 | QpH1 |
| Mongolia-2 | Dermacentor nuttalli | – | Mongolia, 1985 | 23 | QpH1 |
| CS-27 | Dermacentor marginatus | – | Slovakia, 1972 | 23 | QpH1 |
| Oufa-1 | Human blood | – | Oufa, Russia | 23 | QpH1 |
| Oufa-2 | Ewe placenta | Abortion | Oufa, Russia | 23 | QpH1 |
| Louga-3 | Ixodes ricinus | – | Leningrad, Russia, 1962 | 23 | QpH1 |
| Louga-2 | Ixodes ricinus | – | Leningrag, Russia, 1959 | 23 | QpH1 |
| Louga-1 | Cimex lecturalius | – | Leningrad, Russia, 1959 | 23 | QpH1 |
| Louga rodent | Apodemus flavicollis viscera | – | Leningrad, Russia, 1958 | 23 | QpH1 |
| Mongolia-1 | Dermacentor silvarum | – | Mongolia, 1984 | 23 | QpH1 |
| Vologda-2 | Human blood | – | Vologda, Russia, 1987 | 23 | QpH1 |
| 8931 F10 | Cow placenta | Abortion | Germany | 24 | QpH1 |
| Grita | - | – | Germany, 1940-1945 | 25 | QpH1 |
| M-44 | Vaccine | – | Russia | 25 | QpH1 |
| Kazakhstan-4 | Fly | – | Kazakhstan, 1965 | 25 | QpH1 |
| Termez | Human blood | – | Uzbekistan, 1952 | 26 | QpRS |
| Z2534 | Goat placenta | Abortion | Austria | 27 | QpH1 |
| Kazakhstan-1 | Ewe placenta | Abortion | Kazakhstan | 28 | QpRS |
| Kazakhstan-2 | Cow milk | – | Kazakhstan, 1962 | 28 | QpRS |
| Kazakhstan-3 | Hyalomma tick | – | Kazakhstan, 1962 | 28 | QpRS |
| Tcheredov | Human blood | – | Kazakhstan, 1965 | 28 | QpRS |
| Henzerling-r * | Human blood | – | Italy, 1945 / Slovakia, | 29 | QpH1 |
| Namibia | Goat | – | Namibia, 1991 | 30 | QpRS |
*Strain resistant to chlortetracycline obtained by passages in embryonated hen's eggs in presence of increasing doses of chlortetracycline.
1Dr. Glazunova and Dr. Roux contributed equally to this work.
The conclusions, findings, and opinions expressed by authors contributing to this journal do not necessarily reflect the official position of the U.S. Department of Health and Human Services, the Public Health Service, the Centers for Disease Control and Prevention, or the authors' affiliated institutions. Use of trade names is for identification only and does not imply endorsement by any of the groups named above.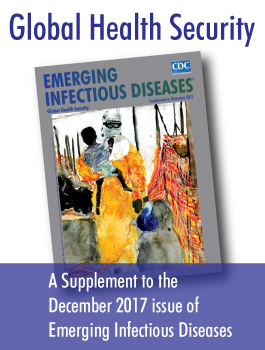 Antimicrobial Drug Resistance and Gonorrhea— (Length: 8:35)
Related Information
Additional Resources
Page created: April 23, 2012
Page last updated: April 23, 2012
Page last reviewed: April 23, 2012