Volume 18, Number 12—December 2012
Research
Transmission Routes for Nipah Virus from Malaysia and Bangladesh
Bronwyn A. Clayton, Deborah Middleton, Jemma Bergfeld, Jessica Haining, Rachel Arkinstall, Linfa Wang, and Glenn A. Marsh

Author affiliations: Author affiliations: Commonwealth Scientific and Industrial Research Organisation Livestock Industries, Geelong, Victoria, Australia (B.A. Clayton, D. Middleton, J. Bergfeld, J. Haining, R. Arkinstall, L. Wang, G.A. Marsh); University of Melbourne, Parkville, Victoria, Australia (B.A. Clayton); Duke–National University of Singapore Graduate Medical School, Singapore (L. Wang)
Table 1
NiV type and ferret no.
Euthanasia, dpi
Resp†
Neuro
Hemorr‡
Criteria for euthanasia
Clinical signs
Bangladesh

---

---

---

---

---

---

---

B1

7
–
–
–
Obtundation
Severely obtunded; hunched posture

B2

7
+
+/−
–
Respiratory +/− mild neurologic signs
Hunched posture; possible mild neurologic disease (agitation); sneezing; >10% reduction in body weight§

B3

7
+
+/−
–
Respiratory +/− neurologic signs
Possible mild neurologic disease (continuous licking, smacking lips); dehydration;¶ vomiting; rapid deterioration in clinical condition after sampling at 7 dpi

B4

7
+
+
–
Respiratory signs, neurologic signs, and obtundation
Fine tremors/myoclonus of forelimbs; nasal discharge

B5

8
–
+
–
Neurologic signs and obtundation
Hind limb myoclonus/paresis, ataxia; dehydration; periorbital/facial/ventral neck edema

B6

9
+
+
+
Respiratory signs, neurologic signs, hemorrhage, and obtundation
Forelimb myoclonus; sneezing; mucoid nasal discharge; reduced feces production; periorbital/facial edema; hemorrhage of oral mucosa at euthanasia time point; >10% reduction in body weight

B7

8
–
+
–
Neurologic signs
Myoclonus and muscular spasm affecting the tail, ataxia; ventral neck edema

B8

---

8

---

+

---

+

---

–

---

Respiratory signs, neurologic signs, and obtundation

---

Myoclonus of the flanks, ataxia, hind limb paralysis; vomiting; ventral neck edema

---

Malaysia

M9

7
+
+
+
Respiratory signs, neurologic signs, hemorrhage, and obtundation
Severe ataxia, facial and hind limb tremors, head tilt and torticollis (left); sneezing; nasal discharge; facial edema; hemorrhage of rectal mucosa at euthanasia

M10

7
+
+
+
Respiratory signs, neurologic signs, hemorrhage, and obtundation
Dyspnea with prolonged expiration phase; mild ataxia; reduced feces production; facial and ventral neck edema; hemorrhage from nose and mouth at euthanasia

M11

5
NA
NA
NA
NA
Euthanasia at 5 dpi for humane reasons; no evidence of clinical disease associated with NiV infection

M12

8
–
+
+
Neurologic signs and severe hemorrhage
Spastic paralysis of right forelimb, rhythmic myoclonus of right trunk, ataxia; sneezing; nasal discharge; facial edema; extensive cutaneous petechial hemorrhages and facial bruising

M13

9
+
+/−
+
Respiratory signs, hemorrhage, and obtundation
Mild neurologic disease (hind limb paresis) at 6 dpi but not apparent at euthanasia; nasal discharge; facial edema; inappetence; >10% reduction in body weight

M14

8
–
+
+
Neurologic signs, hemorrhage, and obtundation
Hunched posture; spastic paralysis of hind limbs, fine muscular fasciculations over flanks, ataxia; hunched posture; dehydration; nasal discharge; cutaneous petechial hemorrhages; >10% reduction in body weight

M15

10
–
+
+
Neurologic signs, hemorrhage, and obtundation
Sporadic hind limb myoclonus; recumbency; nasal discharge; cutaneous petechial hemorrhages and hemorrhage from mouth; >10% reduction in body weight
*NiV, Nipah virus; dpi, days postinfection; resp, respiratory involvement; neuro, neurologic involvement; hemorr, hemorrhage; +/–, vague clinical signs that might indicate neurologic involvement; NA, not applicable.
†Increased respiratory effort and/or rate unless otherwise stated under clinical disease.
‡Cutaneous hemorrhages or frank hemorrhage from oral, nasal, and rectal mucosa.
§Based on weight data collected before experimental infection.
¶Based on the observation of reduced skin turgor at physical examination.
The conclusions, findings, and opinions expressed by authors contributing to this journal do not necessarily reflect the official position of the U.S. Department of Health and Human Services, the Public Health Service, the Centers for Disease Control and Prevention, or the authors' affiliated institutions. Use of trade names is for identification only and does not imply endorsement by any of the groups named above.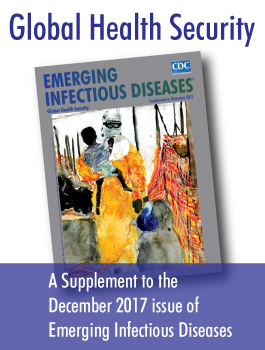 Antimicrobial Drug Resistance and Gonorrhea— (Length: 8:35)
Related Information
Additional Resources
Page created: November 20, 2012
Page last updated: November 20, 2012
Page last reviewed: November 20, 2012