Volume 18, Number 12—December 2012
Research
Transmission Routes for Nipah Virus from Malaysia and Bangladesh
Bronwyn A. Clayton, Deborah Middleton, Jemma Bergfeld, Jessica Haining, Rachel Arkinstall, Linfa Wang, and Glenn A. Marsh

Author affiliations: Author affiliations: Commonwealth Scientific and Industrial Research Organisation Livestock Industries, Geelong, Victoria, Australia (B.A. Clayton, D. Middleton, J. Bergfeld, J. Haining, R. Arkinstall, L. Wang, G.A. Marsh); University of Melbourne, Parkville, Victoria, Australia (B.A. Clayton); Duke–National University of Singapore Graduate Medical School, Singapore (L. Wang)
Table 4
Virus strain, cage no. (ferret no.)
log10 NiV copies/mL†

---

Dpi 1

---

Dpi 2

---

Dpi 3

---

Dpi 4

---

Dpi 5

---

Dpi 6

---

Dpi 7

---

Dpi 8

---

Dpi 9

---

Dpi 10

---

U
F
U
F
U
F
U
F
U
F
U
F
U
F
U
F
U
F
U
F
Bangladesh

1 (B1, B2)

–
–
–
–
–
–
–
–
–
–
–
–
5.1‡
–
NA
NA
NA
NA
NA
NA

2 (B3, B4)

–
–
–
–
–
–
–
–
NS
NS
–
–
5.2‡
4.1
NA
NA
NA
NA
NA
NA

3 (B5, B6)

–
–
–
–
–
–
–
–
–
–
–
–
4.1
3.4
4.6‡
–
5.3‡
4.6
NA
NA

4 (B7, B8)

---

–

---

–

---

---

–

---

–

---

---

–

---

–

---

---

–

---

–

---

---

–

---

–

---

---

–

---

–

---

---

3.6

---

4.3

---

---

–

---

4.9‡

---

---

NS

---

–

---

---

NA

---

NA

---

Malaysia
–
–
–
–
–
–
–
–
–
–
–
–
–
–
–
–
–
–
NA
NA

5 (M9)

–
–
–
–
–
–
–
–
–
–
–
–
4.9‡
–
NA
NA
NA
NA
NA
NA

6 (M10, 11)

–
–
–
–
–
3.6‡
–
–
–
–
–
–
4.9‡
–
NA
NA
NA
NA
NA
NA

7 (M12, 13)

–
–
–
–
–
–
–
–
–
–
5.1‡
–
–
–
4.9‡
–
–
–
NA
NA

8 (M14, 15)

–
–
–
–
–
–
–
–
–
–
–
–
–
–
4.6‡
–
3.6
–
–
–
*NiV, Nipah virus; dpi, days postinfection; U, urine; F, feces; –,negative; NA, not applicable because cage was empty after euthanasia of ferrets; NS, no sample available.
†Calculated from standard curve generated for NiV N gene copies by reverse transcription PCR. Samples with mean cycle threshold ≤39.1 (based on duplicate reactions) were defined as NiV positive.
‡Sample was also NiV positive by virus isolation.
The conclusions, findings, and opinions expressed by authors contributing to this journal do not necessarily reflect the official position of the U.S. Department of Health and Human Services, the Public Health Service, the Centers for Disease Control and Prevention, or the authors' affiliated institutions. Use of trade names is for identification only and does not imply endorsement by any of the groups named above.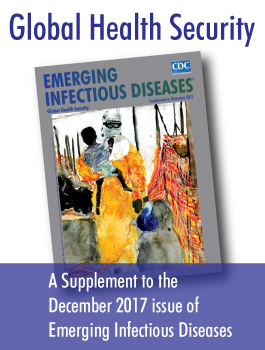 Antimicrobial Drug Resistance and Gonorrhea— (Length: 8:35)
Related Information
Additional Resources
Page created: November 20, 2012
Page last updated: November 20, 2012
Page last reviewed: November 20, 2012